Officially reopening on the 25th of January 2024, The Disneyland Hotel is much more than a hotel, its your royal fairy tale and the ultimate 5-star destination where everyone can celebrate magical stories and write their own.
Once you step into the enchanting lobby of the hotel, a Royal Greet awaits to welcome you int oa magical library. Along with La Troupe Royale, the Story Keepers are poised to unveil the hidden details of the wondrous hotel located directly above the entrance of Disneyland Park, Disneyland Paris.

The Disneyland Hotel Theme
MORE THAN A HOTEL… YOUR ROYAL FAIRY TALE
Welcome to the newly reimagined Disneyland Hotel, the ultimate 5-star destination where everyone can celebrate magical stories and write their own.
From new "Beauty and the Beast" lobby at Disneyland Paris, we've now seen additional concept art at today's special fan event to celebrate the Parks Anniversary. It has now been confirmed that 11 Disney stories will be represented within the rooms at the Disneyland Hotel!
Along with the confirmed Cinderella, Belle and Frozen themed rooms, we can now confirm that Raya (and the Last Dragon), Moana and Tiana (Princess and the Frog) will be featured throughout the Disneyland Hotel when it opens in 2024.
Disneyland Hotel Room Types & Review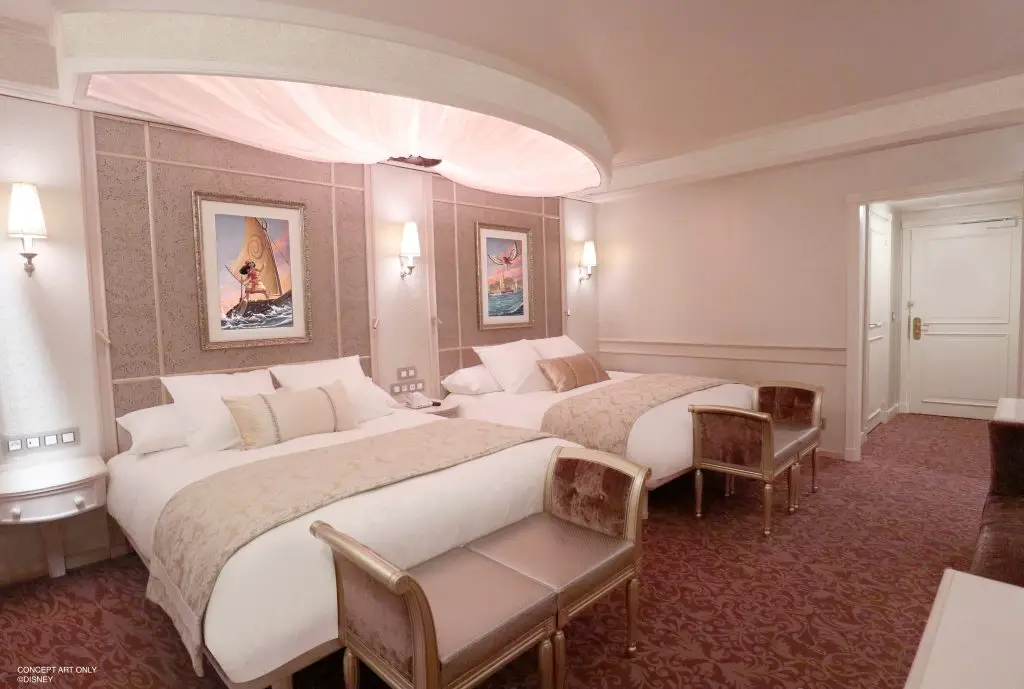 Welcome to a world where dreams come true! As Disneyland Paris prepares to reopen its enchanting Disneyland Hotel on January 25th, 2024, we invite you to embark on a magical journey like no other. Step into a realm of royalty, as we unveil the brand new Royal Rooms inspired by Disney princesses. These exquisitely designed accommodations will transport you to the fairy tales you've cherished since childhood, offering an immersive and regal experience that's fit for a prince or princess.
See our complete Disneyland Hotel Room Guide here
Disneyland Hotel Standard Rooms
Disneyland Hotel Deluxe Rooms
Disneyland Hotel: Castle Club Rooms and Suites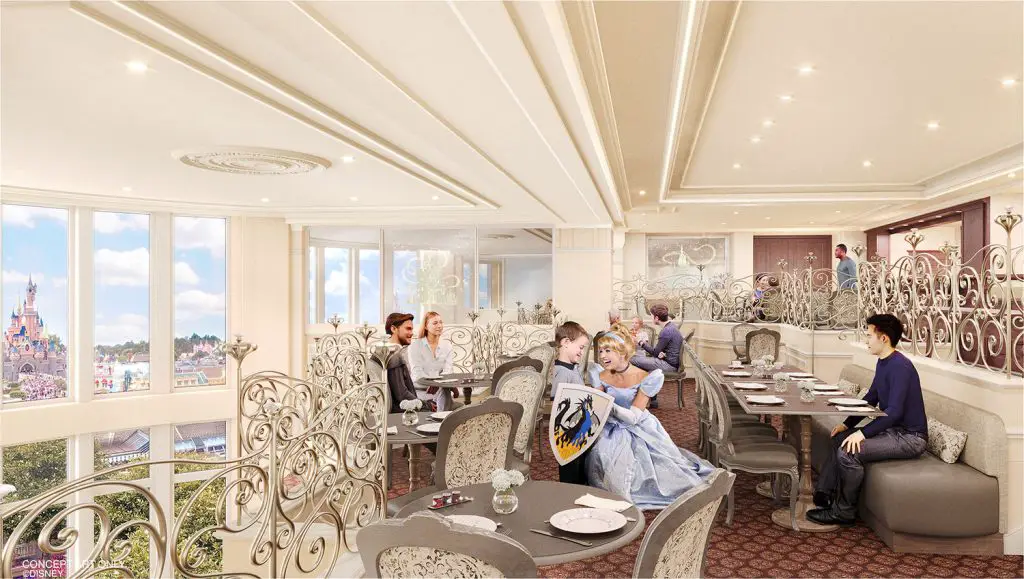 Take your stay to new heights in a Castle Club Room or Suite and enjoy greater comfort, and extra amenities included in your booking. When you choose to stay in the club rooms or suites you also get exclusive access to the Castle Club Lounge for private breakfast with characters, drinks and afternoon snacks, valet parking, a private reception desk and elevator to the park!
Hotel Amenities
They are many amenities and facilities at the Disney Hotel New York – The Art of Marvel. The hotel even offers an exclusive guided Artwork tour to showcase and discuss all the artwork located around the hotel!
The Crystal Pool & Health Club
With a swimming pool, sauna, high-end fitness suite and meditation and yoga space, this is the perfect place to unwind after a day of adventure in the Disney Parks.
A Disney Royal Encounter
Hold court with royal Disney Characters* in a truly magical one-to-one encounter. Make sure you have your most regal pose ready for photos!
My Royal Dream: a fairytale makeover
Give your child the opportunity of a lifetime to become a princess or prince for the day with this royal experience, including hair, make-up and a royal costume, depending on your selected option.
Click here to see all Childrens activities within the Disneyland hotel
Royal Kids Club – activities for princes and princesses!
Make the most of free day care filled with magical activities for 4 to 11 year olds included, and a treasure trove of interactive stories and creative workshops for kids of all ages with the Magic Library experience
Additional benefits of staying at Disneyland Hotel are:
Disneyland Hotel Location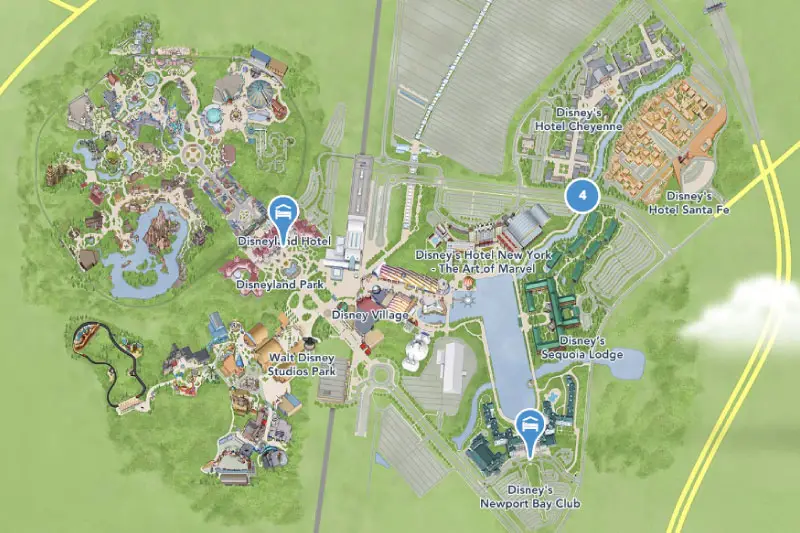 Located directly above the entrance to Disneyland Paris, the hotel is the closest hotel to the park, in fact some Castle Club rooms will have views of Sleeping Beauty Castle!
The hotel offers guests a dedicated entrance into the park, to ensure guests can benefit from easy access and reduced queues.
Restaurants, Bars & Stores
We have created a separate guide discussing the new restaurants coming to the Disneyland Hotel, as well as a special meal plan only available to guests staying within the hotel.
Disneyland Hotel FAQ
We asked our Instagram followers what questions they always want to know when booking a Disney Hotel. Here are some of the most popular questions we were asked. If you have any other questions please do leave us a comment….
Do you have any other questions about this hotel? Let us know in the comments below and we will do all we can to help!
Check latest Disneyland Hotel Offers
Use the Disneyland Paris hotel price estimator to see the best prices for stays at Disney Hotel New York – The Art of Marvel and compare similar dates or hotels to ensure you are always paying the best price! Don't forget, by Booking direct with Disneyland Paris, you get the benefits of their Zen Guarantee and Price Promise!