We have been asked many times how we buy our Disneyland Paris Annual Pass online, as many of our followers and website visitors are unable to see a purchase option when viewing the Disneyland Paris website. Therefore we have created this helpful guide to show you how you can buy a Disneyland Paris Annual Pass online!
You can only purchase a Disneyland Paris annual pass online when the website language is set to French.
We have noticed that in most cases people are unable to see this "to buy" option due to the language settings on the website.
We are unsure why this is the case, but usually, the "French" language version of the Disneyland Paris website provides more information. For example, see the two screenshots below…
I don't speak or understand French, can I still buy a Disneyland Paris Annual Pass online?
Yes, you don't need to speak or understand french to buy a Disneyland Paris Annual Pass online. We have a great tip to help you use the french language website but display the text in your native language.
If you use the Google Chrome browser this has an option to translate any webpage. See the screenshots below which shows the same page with the additional option, but it is now displayed in english using this option.
How to Buy a Disneyland Paris Annual Pass Online
Download and use Google Chrome Browser – click here to download
If you already have this browser installed please skip this step.

Once installed please follow this link to purchase your Disneyland Paris Annual Pass Online

By default, this will load the Disneyland Paris Website in your native language. Please change the language to French by clicking on the Flag icon (UK flag shown on the screenshot below) on the top right-hand side of the page. A pop up will show on screen, please choose Europe followed by the France option.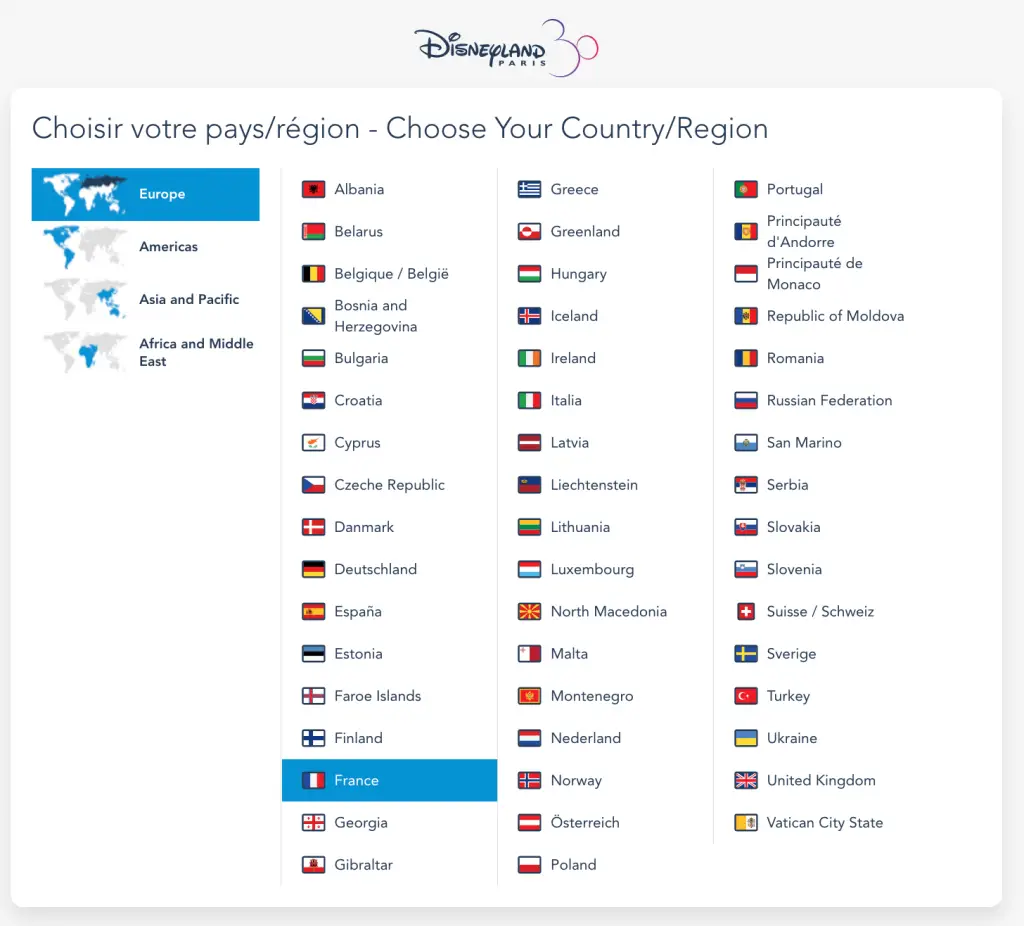 The website will then load the French language version (in some cases this will take you back to the Homepage). However, you should notice a small popup occur in the top right-hand corner of the website asking if you would like to translate the page. Make sure you choose to translate the page and tick the box which says "Always Translate French".

If you were redirected back to the Disneyland Paris Homepage, please follow these steps to navigate back to buying a Disneyland Paris Annual Pass Online.
Hover over "Tickets and Stays" and click on "Annual Passes"
This will now load the Disneyland Paris Annual Pass Page, and you should be able to see the purchase options. Click the "To Buy" button on the page to start the checkout process.
Disneyland Paris Annual Pass Checkout Process
Once you have reached this page, you can simply follow the online steps to buy your Disneyland Paris Annual Pass online.
Payment Options
They are two options available when choosing to pay for your Annual Pass, a single payment option or a pay monthly option. If you choose to pay monthly, you would have a single upfront cost followed by a smaller monthly fee. The amount you pay each month will depend upon the Pass level chosen.
When choosing the single payment option, we would advising using PayPal as the process is far easier. You can still use any credit or debit card and you simply choose or enter your card details on the PayPal popup screen.
Delivery Options
They are also two options on the way you can receive your Annual Pass, either "Sending your Pass at Home" or "Printing a Temporary Pass". They are benefits of both of these options.
If you choose to print a temporary pass, this means you would be able to book a single day within the Advanced Registration system, and then collect your Annual Pass on your first day at Disneyland Paris. This would mean your Annual Pass would start from your first visit.
If you choose to have the pass delivered to you, this means the pass would start on the day it was dispatched to you. This also allows you to book up to 3 days on the Advanced registration system and use all the other benefits before your visit, such as hotel discounts, privilege tickets and booking VIP areas (for Infinity Pass Holders)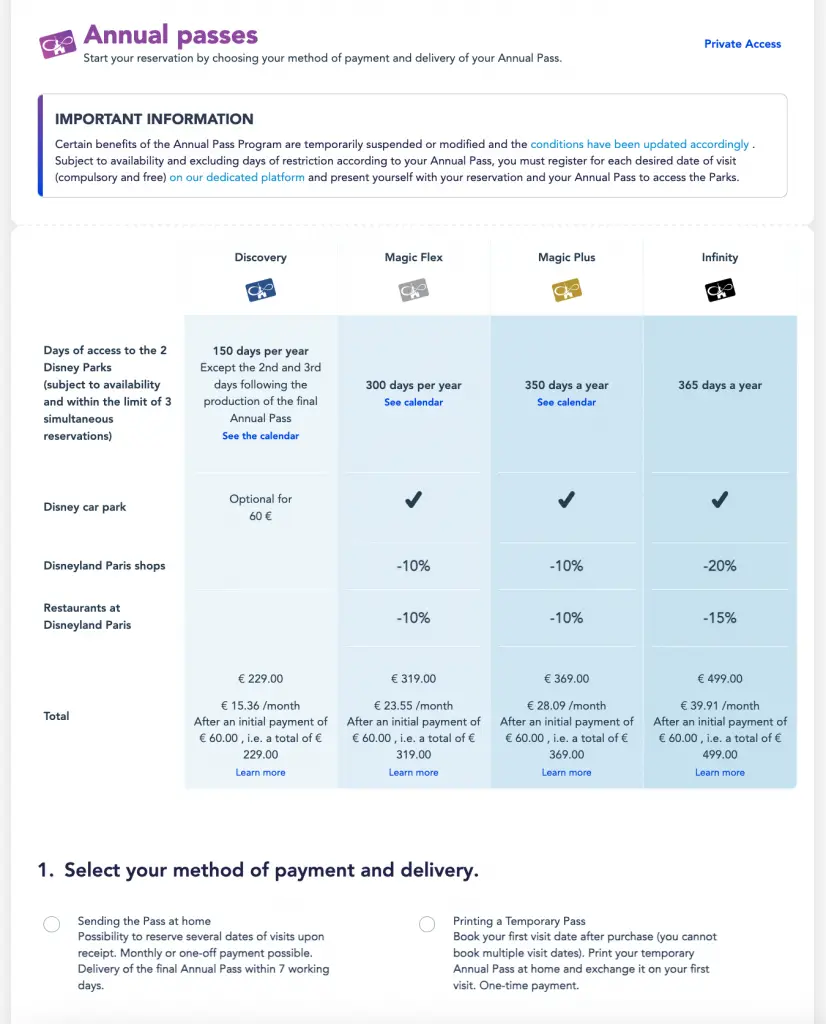 Confirmation email from Disneyland Paris
A few moments after completing the checkout, you should receive a few emails from Disneyland Paris. Please keep a close eye on an email with the following subject line…
Confirmation de votre achat Disneyland® Paris (#XXXXXXXX)
This email will contain the following…
A link to your Order
Your username: your e-mail address
Your reservation number: 11111111
Your secure key: XXXXXXXX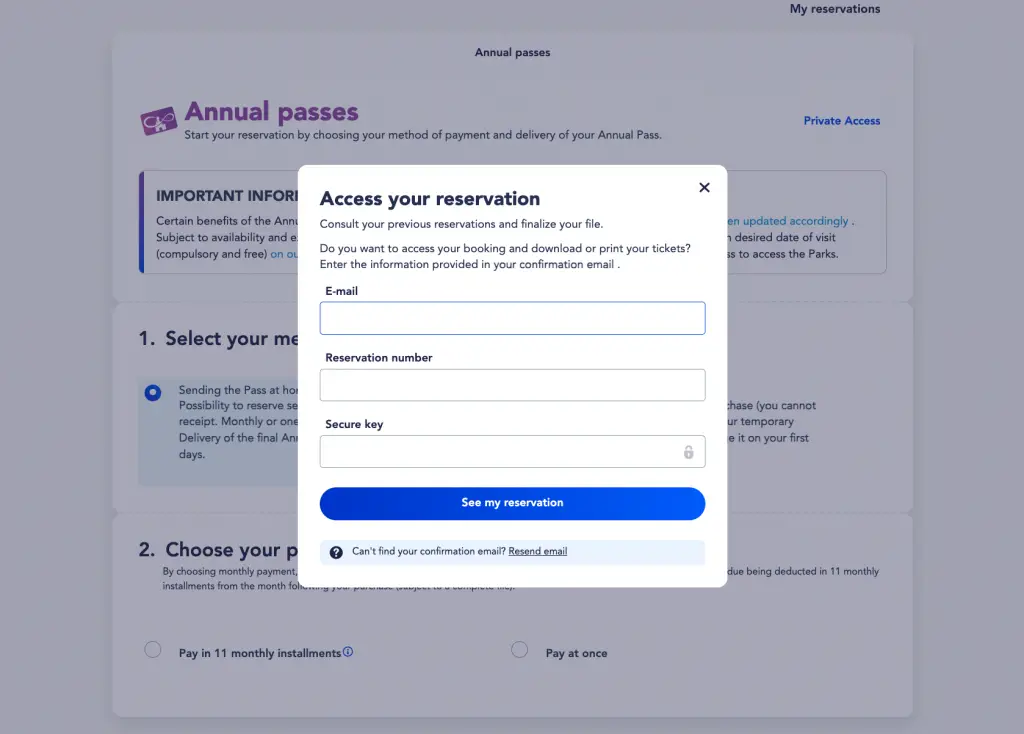 Please ensure you have the following information ready to complete all the required information.
A passport-style photo is uploaded from your computer. This has the usual restrictions such as plain expressions, eyes and mouth closed, no head coverings etc.

If choosing to pay monthly, please also have your Bank Account IBAN number to hand. An IBAN number is your International Bank Account Number, which you can use when making or receiving international payments. This is usually shown alongside your Account number and Sort code.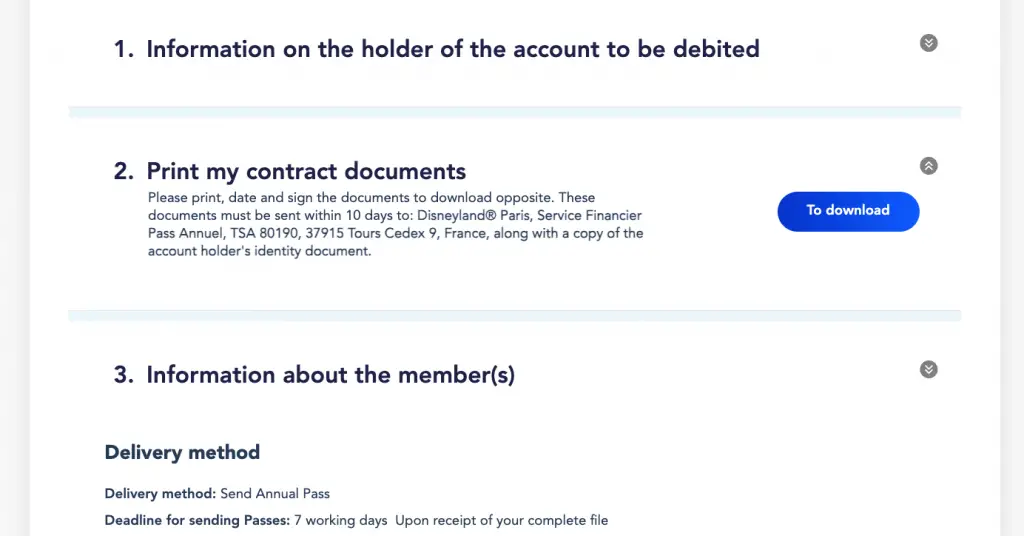 That's it, you have now purchased your Disneyland Paris Annual Pass online!
If you have any questions please do leave us a comment, or send us a message on our Instagram page @my_castle_club