We know booking a Disneyland Paris is not a spur of the moment decision, and a lot of planning goes into each and every trip to ensure you get the best Disney holiday for your family! In this guide we are going to explore the best Disneyland Paris hotels for families, kids and toddlers. Whether your looking for a luxury on-site hotel, multiple activities for the children, or something more low-key and budget friendly we've got you covered!
So how do we know which Disneyland Paris Hotel is best for families? Not only have we have stayed in every Disneyland Paris hotel (multiple times) but we can use our personal knowledge and experience to advise people which hotel may be best for you and your family. We have also reached out to our Disney community, checked guest reviews online, distance from the parks, value for money and the facilities each hotel has to offer to allow us to compare all hotels to ensure you get the the most magical trip for you and your family. 
FOR THOSE IN A HURRY
You'll get the most immersive Disneyland Paris experience as well as some unique benefits only available to guests staying within one of the official Disneyland Paris hotels. One of the major benefits of staying in an official Disneyland Paris hotels is access to Extra Magic Time. This time is priceless for families visiting Disneyland Paris as you have an hour to explore the park, ride attractions and meet characters before the parks open to 'normal guests'.
Best family hotels at Disneyland Paris
On a personal level, our favourite Disneyland Paris hotel for families are Hotel New York – Art of Marvel and Hotel Cheyenne.
The Hotel Cheyenne, is one of the best themed hotels we have visited, it even has pony riding during the Spring/Summer months. It's a fantastic 'budget' option, and due to its theming, outdoor play forts and play areas and morning character meets it's a great hotel for families!
On the opposite end of the price structure, Hotel New York – Art of Marvel is another fantastic family hotel. With activities exclusive to hotel guests such as MARVEL Character meet and greets, Marvel Hero Photo Stations, MARVEL Design Studio, Hero Training Zone, indoor and outdoor heated pools, the hotel offers the most activities for families and young children than any other Disney on-site hotel!
---
Kids rule at Disneyland Paris!
As with all Disney Parks around the world, Disneyland Paris caters to both Adults and Children, creating a magical place for families! Disneyland Paris offers a complete range of services for little ones from free baby cots for the rooms to a babysitting service, as well as special activities within its parks and hotels!
Of course, children are welcome in all the restaurants and bars at Disneyland Paris, where you'll find healthy menu options and drinks created especially for them. What's more, each restaurant has high chairs, microwaves and bottle warmers available upon request!
In addition to this you'll able to purchase additional baby products like baby food and nappies and get further assistance within the Baby Care Centre.
Benefits of Staying in a Disney hotel
Staying at an official Disney Hotel at Disneyland Paris will offer you and your family some fantastic perks, from meeting Disney characters within your hotel, themed hotel rooms, early access to the parks and a quality service we have come to expect from Disney.
By staying in a Disney hotel you will also allow you to save money with the Disneyland Paris meal plan and secure those hard to get reservations and character dining meals with early restaurant booking (up to 12 months in advance)!
The benefits are really special and allow your complete family to be immersed into the Disney magic. 
How much does it cost for a family to go to Disneyland Paris?
When creating our guides this is one of the most difficult questions to answer. As with any Disney holiday, prices really can vary drastically depending on which hotel you choose, the time of year you visit and how early you book. We have seen Hotel & Tickets packages as low as £800, and some holidays staying at peak times in the best hotels charging to £3000, and that's not including the club or suite levels!
Cheapest School Holiday to Visit Disneyland Paris
In most cases English and French school holidays overlap and take place at the same time, however, they are two key school holiday period where you could see lower prices and quieter parks.
February half term is one of the cheapest times to visit during the School Holidays. During this holiday period you can expect to see lower crowd levels due to the colder weather and that many families within France and Europe tend to go skiing during this school holiday. In February you can expect the park to close earlier at around 7pm or 8pm, which is also great for children's bedtime routines and allows them to watch the amazing night-time castle shows and fireworks!
May half term school holidays is another fantastic time to visit Disneyland Paris as this is not a school holiday in France. May will see warmer weather than February, and you'll also get more time in the park, as the parks are open until much later in an evening, usually 10pm or 11pm! With longer time in the park, you will have more time to meet characters and ride attractions, and visiting during May school holidays will work out the cheapest by the hour!
For more information read our guide on the cheapest time to visit Disneyland Paris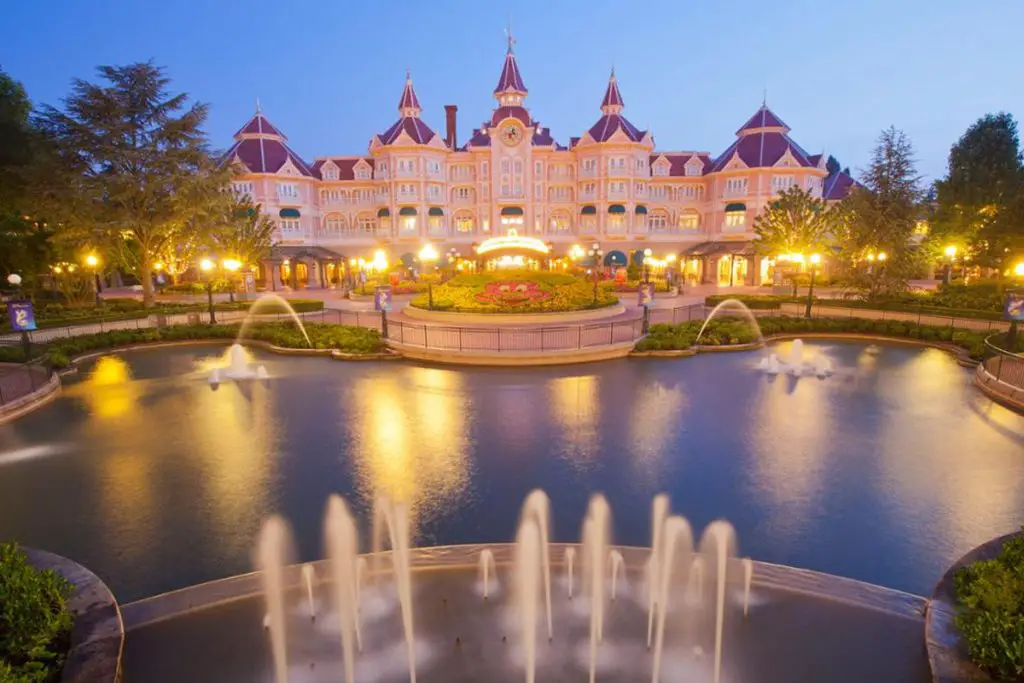 Disneyland Paris Hotels Overviews
To help you choose the best Disneyland Paris hotel for your family, we are going to explore each hotel and highlight what activities and facilities they have to offer.
Hotel New York – Art of Marvel: Most Family Friendly Activities
0.6km (8 minute walk) from the park
MARVEL theme
Free shuttle available
Indoor / Outdoor pool
Hero Training Zone: Outdoor Play Area
Indoor Children's Marvel Design Studio
Exclusive MARVEL character meets for hotel guests only
Access to Extra Magic Time
Welcome to New York, your super hero playground and the perfect hotel for all superhero families, where you can live the high life and enjoy Manhattan-style comfort, whilst your children get immersed within the MARVEL universe.
At Disney Hotel New York – The Art of Marvel, you won't only find the largest number of children's activities, but you'll be able to enjoy some unique experiences that they can't find anywhere else!
With high chairs, baby food and healthy menu options available for kids, the complete family can enjoy some of the best restaurants and bars located within Disneyland Paris.
The hotel even offers a complete range of services for little ones, including bottle warmers and babysitting services, making their stay even more special and yours even more convenient.
Share a moment with a Marvel Super Hero
Exclusive to hotel guests only, you and your family can head to one of the Marvel Hero Photo Stations to fulfill your superhero destiny in an immersive photography experience, including sets inspired by Guardians of the Galaxy, Captain Marvel, Iron Man, Ant-Man, The Avengers, Thor, SpiderMan and Doctor Strange.
Become a comic book artist!
This creative space for families with kids was inspired by the Marvel Animators Bull Pen – where the artists draw, ink and color the comic books. The Marvel Design Studio is the ideal location to allow your child to unleash their creativity and learn how to be a Marvel comic book artist with tutorials to draw many inspiring Super Heroes and enjoy many Marvel digital activities on dedicated tablets including reading some of their favorite comic books and creating their own adventures with Marvel toys on display.
Train and play like an Avenger
Families Assemble at the outdoor Hero Training Zone, and train like an avenger! This outdoor 420m2 multisport field inspired by the look and feel of New York and Marvel Super Heroes will provide dedicated areas for for the whole family including activities such as basketball, fitness and yoga.
Take a dip in the Metro Pool
The hotel offers a heated indoor and outdoor pools, a kid's paddling pool and a hot tub!
Click here to check the latest hotel prices and discounts
Hotel New York – Art of Marvel Overview
---
Hotel Newport Bay Club: Largest Hotel at Disneyland Paris
0.95km (14 minute walk) from the park
Free shuttle available
Indoor / Outdoor pool
Hotel treasure hunt activity
Meet Disney characters at your hotel
Access to Extra Magic Time
Set sail with Mickey and Minnie to this majestic seaside resort nestled on the shores of Lake Disney. Hotel Newport Bay Club is the largest hotel at Disneyland Paris with 1,097 rooms and with it's beautiful nautical theme the hotel is a family favourite and with some rooms offering a stunning view of the large Lake Disney, it has a place on everyone's bucket list.
As an official Disney hotel, you'll be able can meet Disney characters on-site as well as benefit from Extra Magic Time, early entry into the parks. If you want to take a break for the parks, you can relax whilst the children enjoy the indoor/outdoor heated swimming pools.
The hotel also offers an exclusive activity the whole family can enjoy in less than a hour. Discovery Quest is an interactive treasure hunt where hotel guests follow a map to find clues, solve riddles and learn fun facts about the Hotel and Parks.
However, a downside to staying in the Newport Bay is that the theme is more traditional and not catered to children, like Hotel New York, Cheyenne or Santa Fe.
Click here to check the latest hotel prices and discounts
Hotel Newport Bay Club Overview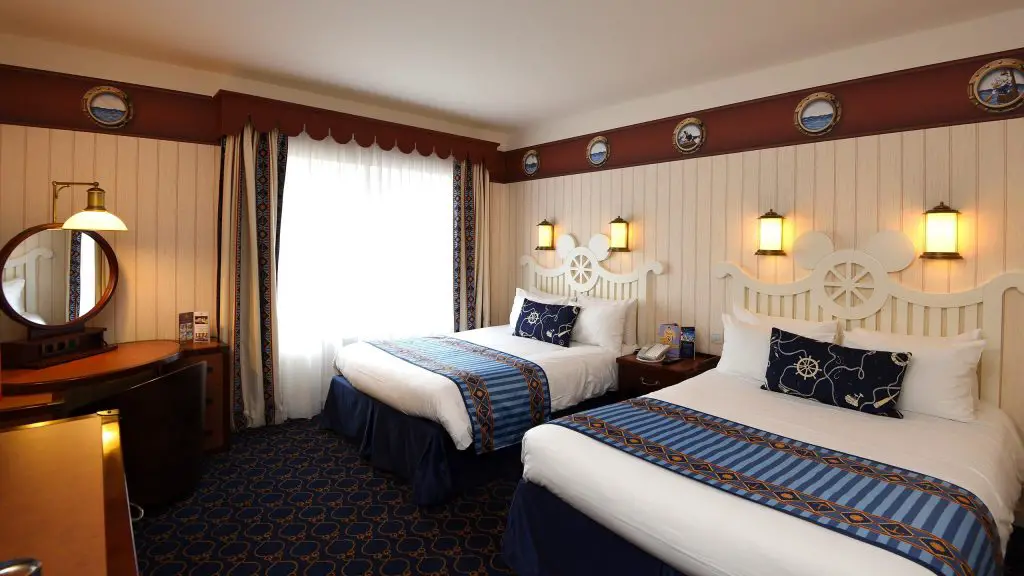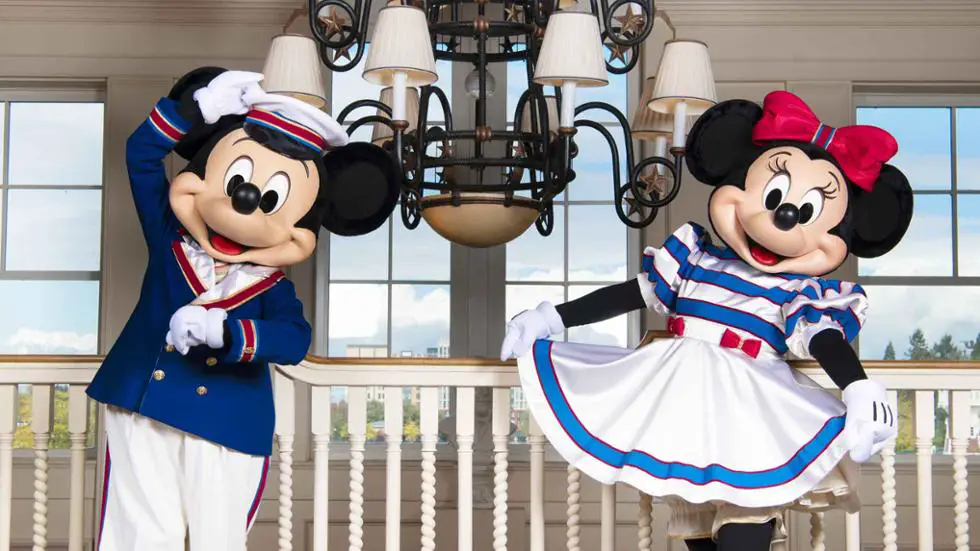 ---
Sequoia Lodge: Most relaxing hotel
0.85km (12 minute walk) from the park
Bambi Theme
Free shuttle available
Get back to nature in a cosy forest lodge
Indoor / Outdoor pool, gym, Little Prairie Kids Corner
2 all you can eat buffets and a bar
Meet Disney characters at your hotel!
Surrounded by lush pines and sequoias, this hotel takes inspiration from Bambi and is a perfect combination of location, children activities and price! Located on the edge of Lake Disney, Sequoia Lodge is just a short walk to the Disney Parks.
The hotel is cheapest on-site hotel with a swimming pool, and it has one of the best pools at Disneyland Paris. With 2 heated pools in a natural setting, your children will enjoy the water games and slides.
The hotel has a Little Prairie Kids Corner where your children can enjoy some indoor fun, watch cartoons and play video games.
Click here to check the latest hotel prices and discounts
Sequoia Lodge Overview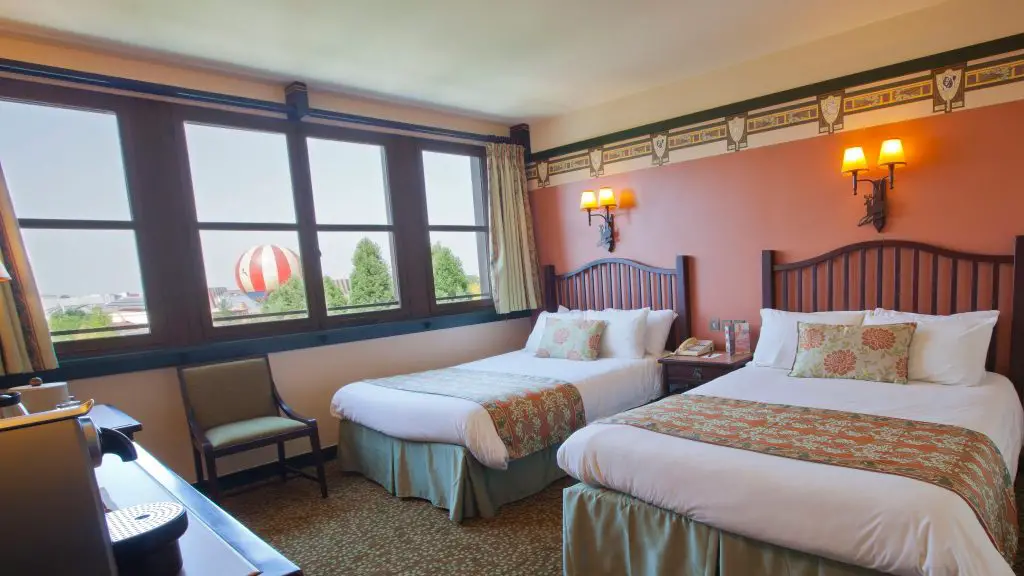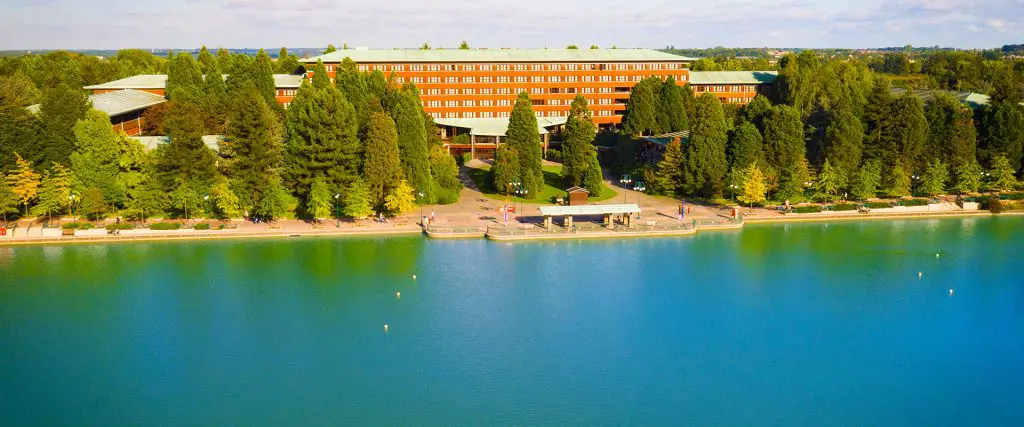 ---
Hotel Cheyenne: Best Themed Hotel
1.1km (18 minute walk) from the park
Toy Story Theme
Free shuttle available
Indoor & Outdoor play areas,
Pony rides
Vegetable garden, nature paths, and more
Meet Woody or Jessie at your hotel!
NO Swimming Pool!
Disney Hotel Cheyenne awaits you for an old-time Wild West escape and if you're looking for more bang for your buck, this is the place for you! Not only is this the best themed hotel at Disneyland Paris, we also think this is the one of the best hotels for families on a budget, as you get the enjoy all the benefits of staying in a Disneyland Paris hotel, without a premium price tag!
The wild-west themed hotel takes inspiration from Toy Story, with both subtle and impactful references throughout the hotel and rooms. Children who love the Wild West or Toy Story will fall in love with this hotel, and will be excited to meet Woody or Jessie in the hotel lobby in a morning.
Hotel New York has the most children's activities, however, Hotel Cheyenne is not far behind many activities catered for young children including…
Pony rides
Young cowboys and cowgirls can saddle up for a pony ride through the Wild West!
Explore the Wild West
Children have an amazing outdoor play fort with Indian teepees and cowboy wagons!
Small indoor play area
Within the hotels lobby is a small play area where young children can saddle up and watch cartoons and draw you favourite Toy Story characters!
Click here to check the latest hotel prices and discounts
Hotel Cheyenne Overview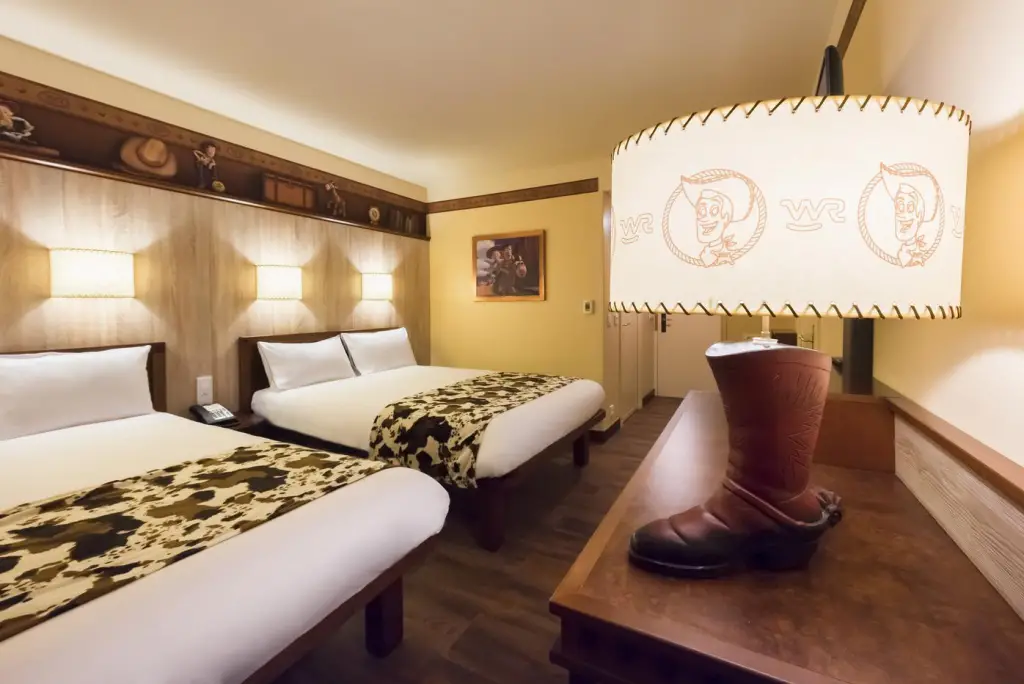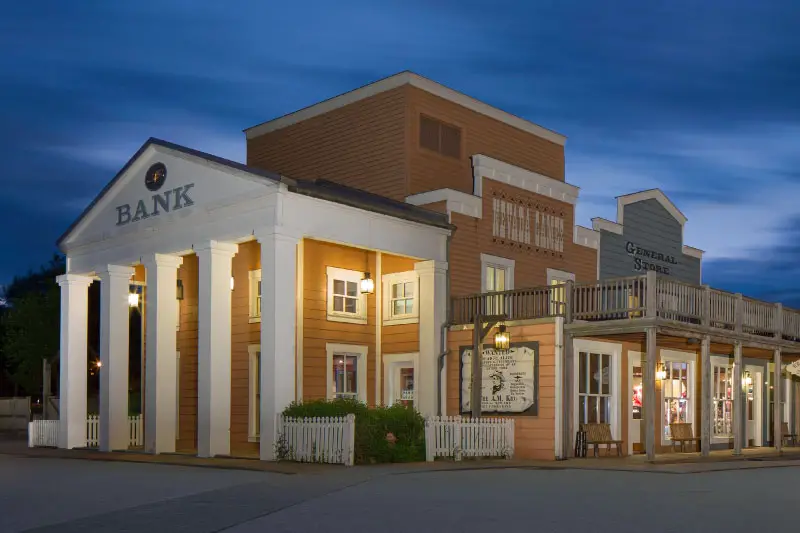 ---
Hotel Santa Fe: Best Budget Hotel (on-site)
1.3km (20 minute walk) from the park
Cars Theme
Free shuttle available
Start your engines! Disney Hotel Santa Fe awaits you along Route 66.
Indoor play areas, worlds smallest volcano, nature paths, and more
NO Swimming Pool
Doesn't have air conditioned rooms.
Meet Disney characters at your hotel!
Follow Route 66 to Disney Hotel Santa Fe! If your children love the world of Cars, they'll feel right at home at this warm, colourful homage to Route 66, the American Southwest and Cars.
This is the best value hotel at Disneyland Paris, as it's geared for all budgets! This hotel will often be one of the cheapest when visiting Disneyland Paris, and is a great choice for large families who want more theming than activities.
The hotel doesn't offer air conditioned rooms, or a swimming pool, but it still has the other perks of a Disney hotel. Your children will be able to meet Disney characters in your hotel (with far shorter queues that inside the park) and benefit from Extra Magic Time within Disneyland Paris.
Click here to check the latest hotel prices and discounts
Hotel Santa Fe Overview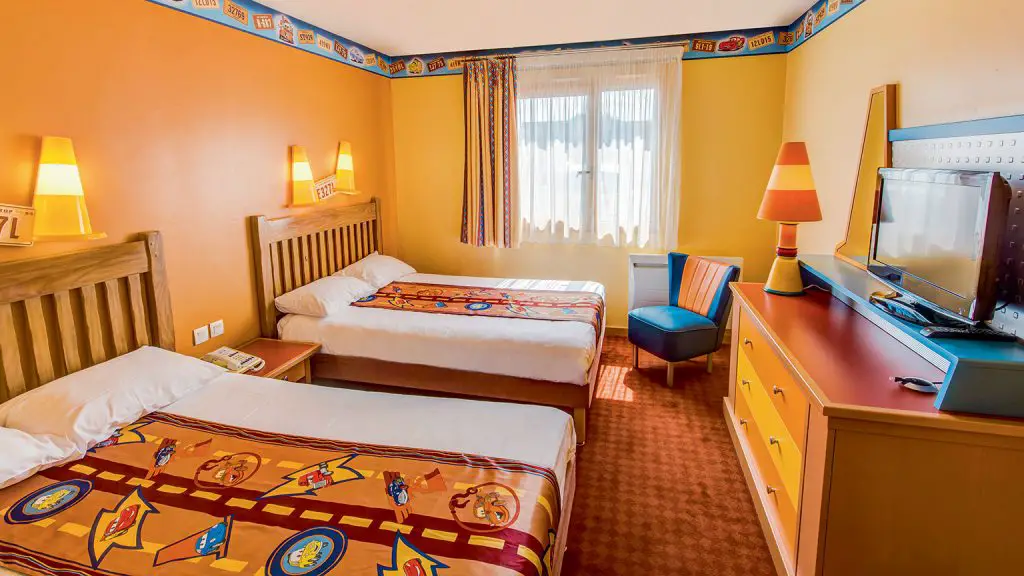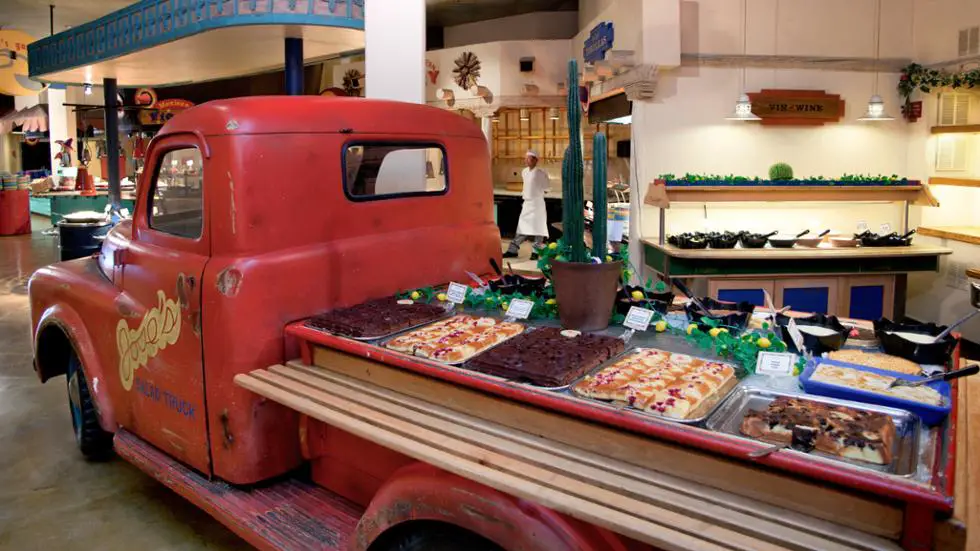 ---
Davy Crockett Ranch: Best Budget Hotel (Off-Site)
8.8km (15 minute drive) from the park
NO shuttle available – ideal for people who drive to Disneyland Paris
Unwind in the land of pioneers in the heart of nature at this 3-star residential leisure park!
Self-catering cabins with barbecue, with dog friendly cabins available!
Indoor tennis court, mini golf, outdoor play area, video game arcade, indoor pool
All you can eat buffet and a bar
This will be the cheapest hotel option at Disneyland Paris 99% of the time! Located just a 15-minute drive from the Disney Parks, the friendly atmosphere of Disney Davy Crockett Ranch and its cabins area perfect place to relax after a day in the park.
This hotel option is a family favourite for guests who drive to the parks. Each forest bungalow comes complete with a kitchen, room for up to 6 people and a reserved parking space. Outside, you'll have a private deck with picnic table and BBQ area. It's the perfect setting to share magical moments together!
The activities and facilities make it great option for families, with an indoor tennis court, mini golf, outdoor play area, video games arcade and one of the best swimming pools at Disneyland Paris. Get ready to explore all the nooks and crannies of this heated indoor pool, complete with waterfalls, rivers and whirlpools.
The partnership with Avis, does mean that car rentals will be coming to Disneyland Paris very soon. This could open this hotel to a much wider audience!
Click here to check the latest hotel prices and discounts
---
Disneyland Hotel: Currently Closed
The Disneyland Hotel is currently closed for a "royal transformation" and is planned to reopen in 2024. To ensure the accuracy of this guide, we have removed this section until we get more details on the re-imagineering of the hotel.
The Disneyland Hotel will be transformed into a fairy tale kingdom fit for our beloved Disney Princesses and Princes. From classics like Beauty and the Beast, Cinderella and Sleeping Beauty, to more recent hits like Frozen and Tangled. Expect refined, storytelling décor and magical touches that will surprise and delight the whole family, as only Disneyland Paris can do.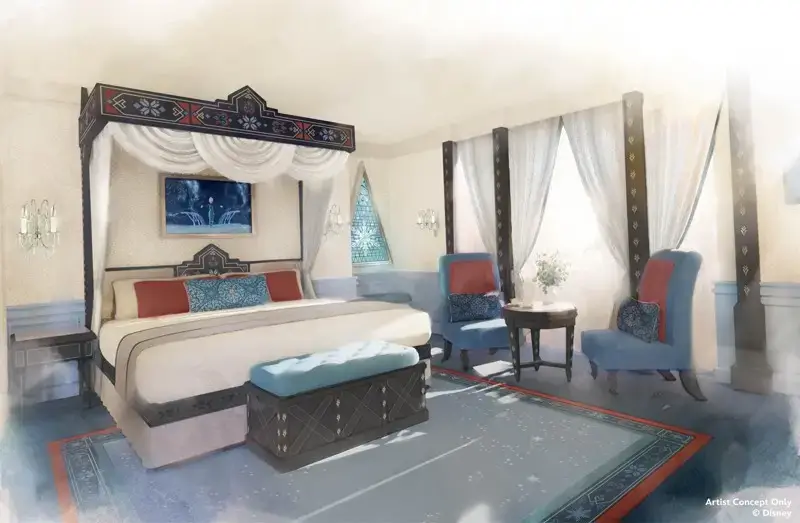 ---
So…which is the best Disneyland Paris hotel for families?
The "best" hotel will depend on many factors, which will be different for each person and family, for example price may be more important to some people, whilst others may want to focus on children's activities and ways to relax within the hotel. Each hotel has its benefits, and nobody knows your family like you do and hopefully this guide helps you find the best Disneyland Paris hotel for your family.
If we wanted that most magical experience and money was no object, and if it was open we would always choose the Disneyland Hotel every time! It's located directly above the entrance to the parks, has amazing restaurants, constantly gets fantastic reviews.
If you are looking for an on-site hotel with the most activities and the closest hotel to the parks then Disney's Hotel New York – The Art of Marvel would be your pick. This is one of the best hotels at Disneyland Paris, and has some of the most up-to date rooms and facilities, along with the best restaurants and bars within any hotel! However, this does come with a higher price tag.
The theming, location, activities, price and reviews all make Hotel Cheyenne a great family hotel choice at Disneyland Paris.
For guests looking for a budget to mid priced hotel with a pool, you may want to consider the Sequoia Lodge or Newport Bay Club. These hotels are usually a few hundred pounds cheaper than Hotel New York, and are within a a short walking distance to the parks and are a great balance of price and functionality!
For overall value, you would have to pick either Santa Fe or Davy Crockett Ranch. They're always the cheapest hotels at Disneyland Paris, but the one you choose would highly depend on how you're travelling to Disneyland Paris.
If you are driving to the parks Davy Crockett is the one for you! It has one of the best pools at Disneyland Paris and the range of hotel and in-room facilities is far greater than other Disney hotels. You'll also get larger rooms and living spaces, but the downside is you'll need to drive to the park each day.
If you're not driving to Disneyland Paris, but still want that budget friendly option, then choose Santa Fe.
---
SAVE MONEY WITH THE DISNEYLAND PARIS PRICE ESTIMATER
Compare and book your next Disney vacation today and benefit from the best price possible, by using the DLP Price Promise and the Disneyland Paris price estimator.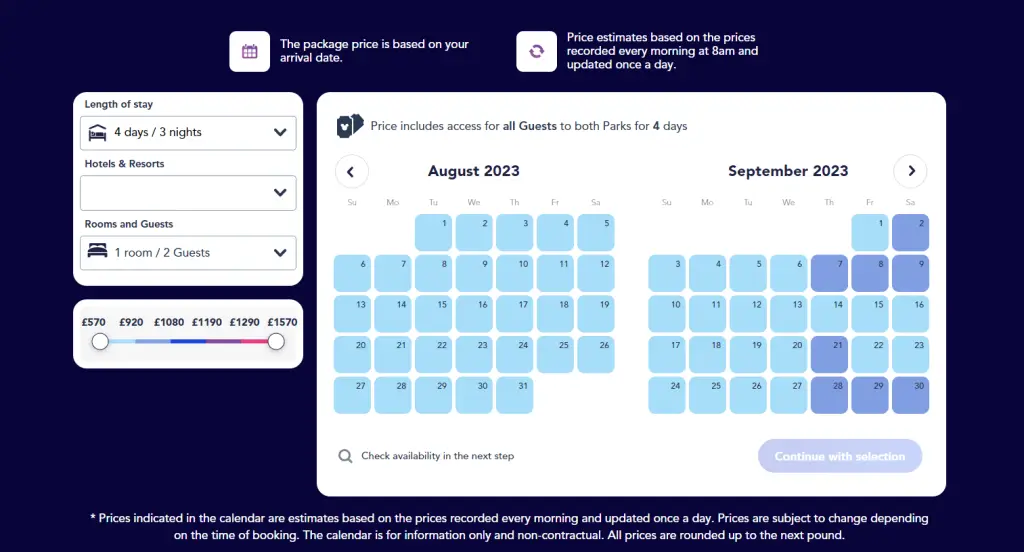 Which Disneyland Paris Hotel is BEST
Which Disneyland Paris hotel is best?
The best hotel at Disneyland Paris will depend on yours and your families needs and budget! Read our guide to see which hotel is closest, is best for families, is best for budgets, is best for activities, is the best reviewed and so much more!