Celebrate all things sea-faring at Disney Newport Bay Club. Set a course for relaxation and enjoy the atmosphere of a 1920s New England mansion on the shores of Lake Disney. With character meets, selection of restaurants, Captain's Quarters bar, swimming pool, sauna, whirlpool bath and fitness room the 4 star hotel is a great choice for guests visiting Disneyland Paris.

Disney Newport Bay Club Theme
Welcome aboard! Calling all sea lovers
Let the emblematic lighthouse of Disney Newport Bay Club steer you and your crew toward a 4-star experience where relaxed elegance awaits you at every turn.
Set sail with Mickey and Minnie to this majestic seaside resort nestled on the shores of Lake Disney.
Sail back in time to the lakeside holiday homes of the 1870s and enjoy a taste of the yacht club lifestyle. When the hotel opened in 1992, it was Europe's largest hotel with over 1000 rooms, and it has been a fan favourite ever since. The maritime charm is perfectly balanced between romance and the Disney magic. Inside you will find plenty of opportunities to relax, whilst outside you will find its very own lighthouse!
Disney Newport Bay Club Room Types & Review
The nautical themed rooms take inspiration from the sea. The recent hotel refurbishment provided a warmer colour scheme, with touches of sea blue. The new bedframes and carpet design have been cleverly designed to include hidden Mickeys, whilst you will once again find popular Disney characters within the wallpaper borders.
Types of Rooms Available
Discover your sleeping quarters
Fall asleep in a cosy and elegant room and wake up in a world of maritime magic.
Superior rooms, with relaxed elegance Plush and relaxing by nature, our rooms mix elegance and coastal comfort. Choose from a range of Superior Rooms: those adapted for Guests with reduced mobility, with a lake view or terrace or even a Superior Family Room.
Disney Newport Bay Club Standard Rooms
Disney Newport Bay Club Compass Club & Suites

If it's a special occasion or you'd just like the additional space, upgrade to a beautiful Compass Club for that premium Disney experience: comfortable, spacious rooms and many exclusive benefits. Guests staying at the Compass Club have access to the personalised private check in, all you can eat breakfast (from 7am until 11am), with snacks and free non-alcoholic drinks (all day) along with afternoon tea in your private lounge from 4pm to 5:45pm every day!
Disney Newport Bay Club Character Meet & Greets
Hotel Amenities
They are many amenities and facilities at the Disneyland Paris Newport Bay Club hotel. The hotel features treasure trove of details that maritime explorers of all ages will adore!
Heated Indoor and Outdoor Swimming Pool
Take a lap in the Nantucket Pool, the hotel's very own heated indoor and outdoor pools. Open 7am to 10pm (subject to seasonal modification).
Fitness Center
Head over for some fitness fun in the full-service gym. Open 24 hours a day (subject to seasonal modification).
Unwind with a sauna and other facilities
Relax the body's muscles, improve circulation and stimulates the release of endorphins
Additional benefits of staying at Disneys Hotel Newport Bay are:
Disney Newport Bay Club Location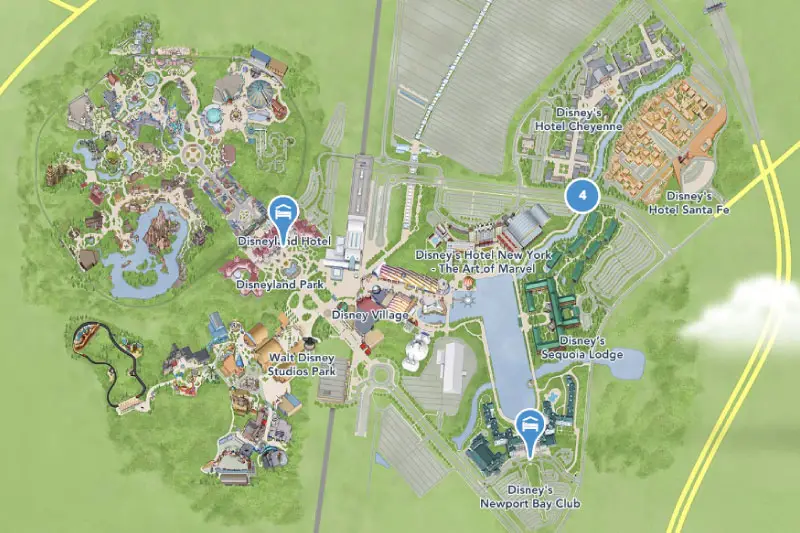 Located at the end of Lake Disney, this homely retreat at the heart of nature is only a short 10 minute minutes walk through Disney Village to the Disney Parks.
As well as walking to the parks we also took advantage of the free shuttle service. The bus pick up and drop off location is located at the front of the hotel and takes you to the Chessy Marne la Vallée Bus Station located just outside the entrance to the parks.
Restaurants, Bars & Stores
Disney Newport Bay Club FAQ
We asked our Instagram followers what questions they always want to know when booking a Disney Hotel. Here are some of the most popular questions we were asked. If you have any other questions please do leave us a comment….
Do you have any other questions about this hotel? Let us know in the comments below and we will do all we can to help!
Check latest Newport Bay Club Hotel Offers
Use the Disneyland Paris hotel price estimator to see the best prices for stays at Disney's Newport Bay Club hotel and compare similar dates or hotels to ensure you are always paying the best price! Don't forget, by Booking direct with Disneyland Paris, you get the benefits of their Zen Guarantee and Price Promise!