Disneyland Paris is well known for being the most beautiful Disney park in the world, with stunning attention to detail. These details are carried through from the gold snails on the castle, right through to the themes and food within its restaurants. In this post, we're going to sit down at the table and discuss our Best Restaurants at Disneyland Paris. This will include restaurants within the Parks (Disneyland Paris & Walt Disney Studios), Disney Village, and the Disney Hotels.
After our first trip to Disneyland Paris, we were surprised at how good the restaurants were and how much theming and hidden details each restaurant had. As with most short trips, we weren't able to visit them all. By going back again and again we've now managed to eat at most places. Whilst some have been a one off, others have quickly become a must book restaurant for our Disney trips.
Our favourite Disneyland Paris restaurants
Within this list, we would like to offer our personal Castle Club award for our favourite restaurant, best buffet, best fine dining, best experience, best quick service (or fast food), best character dining, and more!
When we started to talk about ranking the restaurants at Disneyland Paris with friends and other guests to create our list, they talked about the food, the service, the theming, the location. Everybody had their own experiences and everybody remembers different aspects. Its all about the food for some, whilst others couldn't remember what they ate but could remember the decor and theme. Therefore, we're not just focusing on the the food or just on the theme to create our favourites list, but the overall experience within the restaurant.
So lets start talking about the Best Restaurants at Disneyland Paris….
updated 25th July 2021
---
Captain Jack's – Restaurant des Pirates
Castle Club Award : Best Themed Restaurant at Disneyland Paris
Location: Adventureland, Disneyland
Opening times: Mon- Sun 10:00am – 8:00pm
Meal cost: Adults from €42 excl. drink, Children from €20 inc. drink,
view menu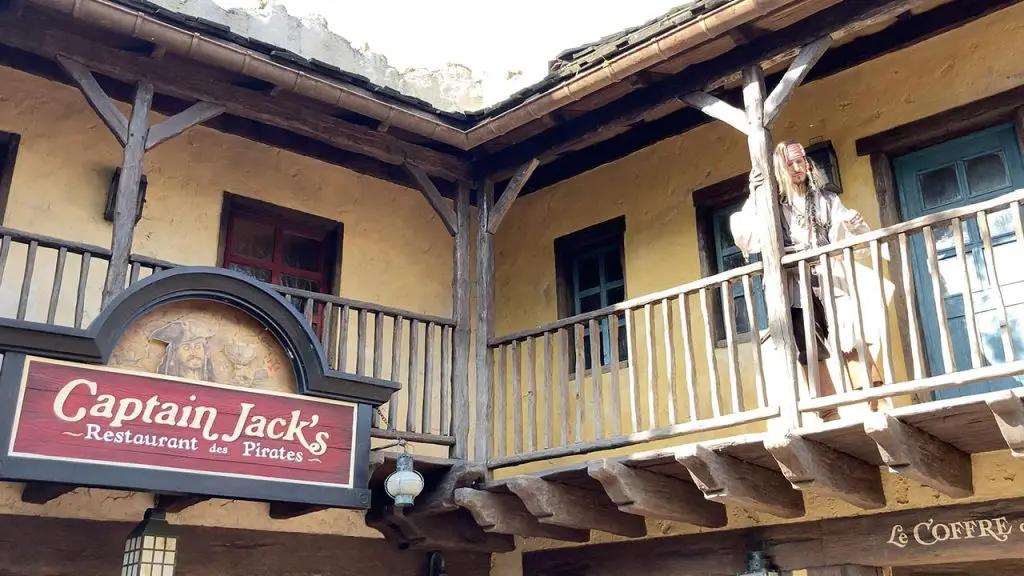 Our Tip: Try to get a table near the water front of the restaurant to watch guests ride past in the boats of Pirates of the Caribbean as you enjoy your meal.
Set along the banks of the Pirates of the Carribean attraction, Captain Jack's – Restaurant des Pirates, is the only restaurant set inside a Disney attraction. The sea water smells from the attraction, combined with the dimly lit lanterns, tropical setting and overall theme of the restaurant gives a one of a kind atmosphere.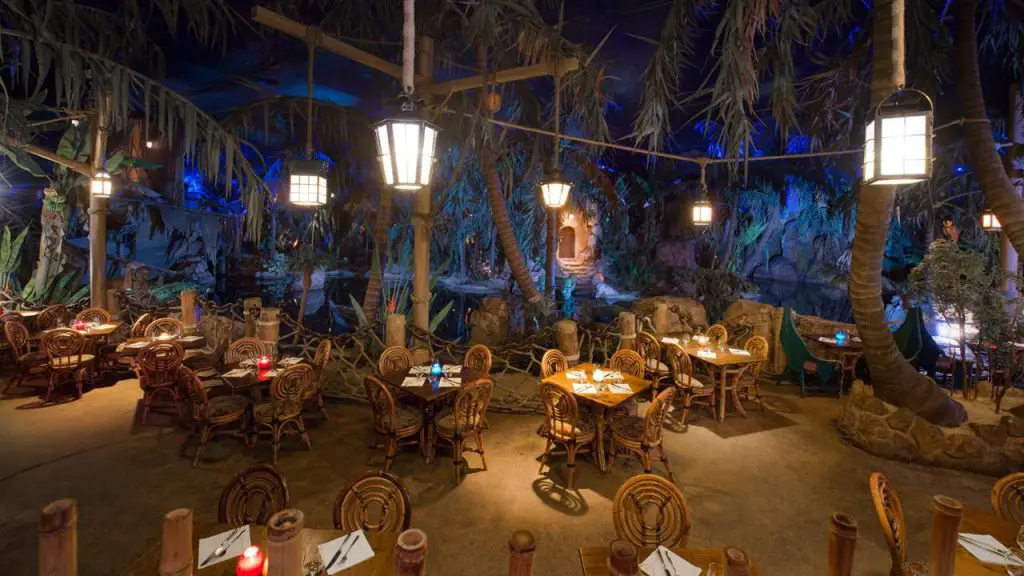 Before the restaurant refurbishment, guests saw this as a sea food only restaurant. However, the refurb brought a new menu which is now more guest friendly. Along with seafood you can now experience some Caribbean and Creole favourites such as Caribbean chicken, vegetable curry and plantain. This is also a great place for vegetarians as it has a much larger menu choice than other restaurants in the park.
The service here can be slow, but its more time to enjoy the atmosphere and experience of dining at Captain Jack's. Although we have never seen Captain Jack inside the restaurant, only outside, other guests have had him join them at their table. So you may be in luck!
---
Bistrot Chez Rémy
Castle Club Award : Best Themed Restaurant at the Walt Disney Studios
Location: Walt Disney Studios
Opening times: Mon- Sun 11:00am – 4:00pm
Meal cost: Adult from €34 excl. drink, Child €20 incl. drink
view menu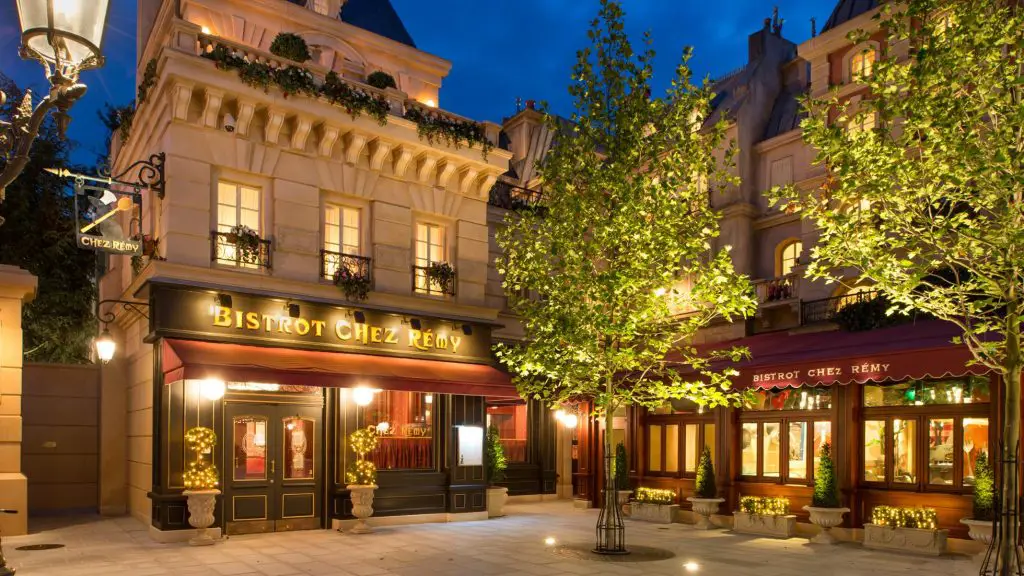 Our Tip: Bistrot Chez Rémy closes earlier than most restaurants within the Park. Therefore, it's best to eat lunch here. For the best tables, ask for a dinner plate booth or umbrella table!
Bistrot Chez Rémy Disneyland Paris is the of the most popular table service restaurants within the Walt Disney Studio Park. Located near the Ratatouille attraction, in the La Place de Rémy mini land. Emulating the streets of Paris, the overall area is beautiful and is a popular photo spot for guests!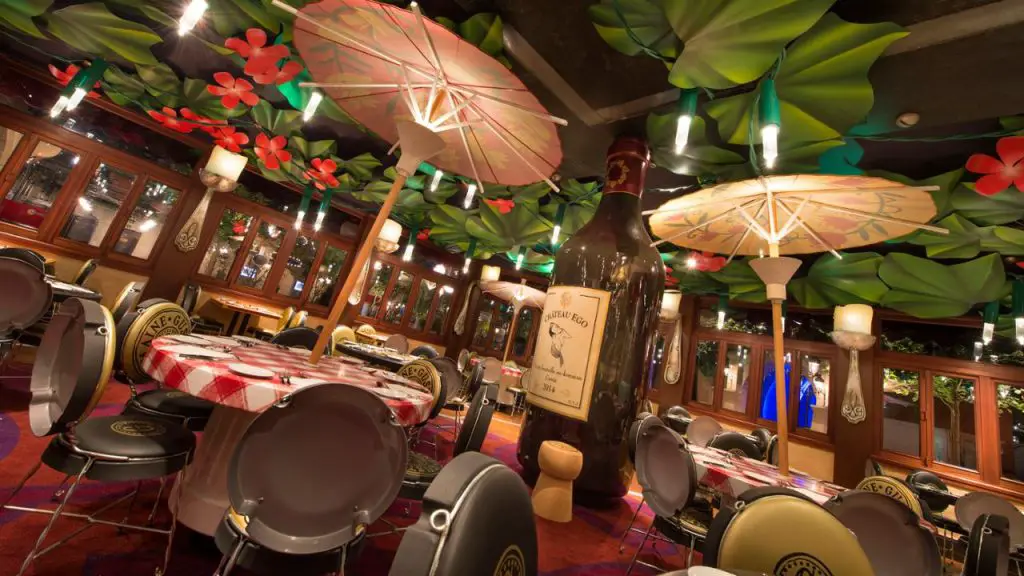 It's no surprise that Bistrot Chez Rémy restaurant is inspired by Remy's restaurant in the Disney-Pixar film Ratatouille. As soon as you walk in you are shrunk down to the size of Remy, and are immersed into the world of of the film.
Many guests place this restaurant in their top 3 of all restaurants within the Parks. Children will love the oversized props of silverware, champagne corks, jam jar lids and other props integrated into the restaurant. Adults and foodies, will also love the food, as the food here is some of the best within the Parks. The exquisite french cuisine includes, beef fillet steaks, sea bass fillet, dauphinoise potatoes, and the signature ratatouille. The children's menu is little less picky, with options of chicken, pasta dishes and the famous chocolate mousse.
There is no doubt, whether you have kids or not, that you should make a reservation here and experience it for yourself.
---
Manhattan Restaurant
Castle Club Award : Best Restaurant Outside the Park
Location: Hotel New York – Art of Marvel
Opening times: Mon- Sun 10:00am – 8:00pm
Meal cost: Adults from €42 excl. drink (€62 with wine),
view menu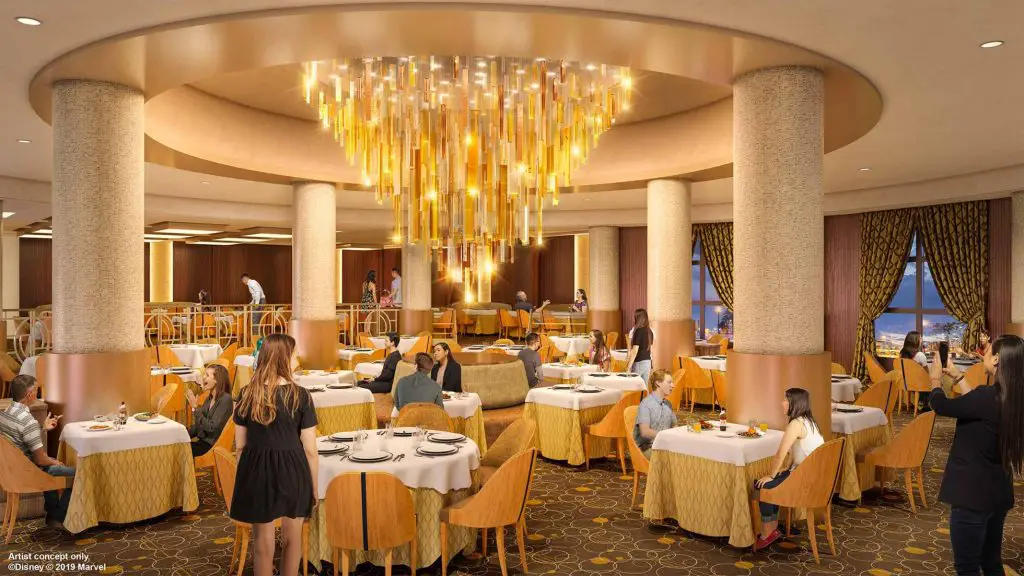 Our Tip: Book Early up to 60 days in advance! The focus point of this restaurant is the chandelier of Asgard and you can sit directly underneath it, but a table just a bit further away can be better for photos.
The Manhattan Restaurant offers a fantastic experience and the Greenwich Village menu offers great value for money. Disney say this is a contemporary casual restaurant, but the atmosphere and decor offers a more upscale feel. But it is a restaurant for all, although we have seen people dressed up in shirts, we have also seen people in park attire and even kids in a Spiderman costumes!
If you like Italian food, you will love this restaurant, and it far exceeded our expectations on our first visit. We have eaten fantastic lasagna bolognese, creamy risotto, fresh pasta, sea bass and a selection of antipasti and have never been disappointed. This was the first restaurant we booked for our next trip!
---
Restaurant Agrabah Café
Castle Club Award : Best Oriental Buffet at Disneyland Paris
Location: Adventureland, Disneyland
Opening times: Mon- Sun 10:00am – 8:00pm
Meal cost: Adults from €35.99 inc. drink, Children from €18.99 inc. drink,
view menu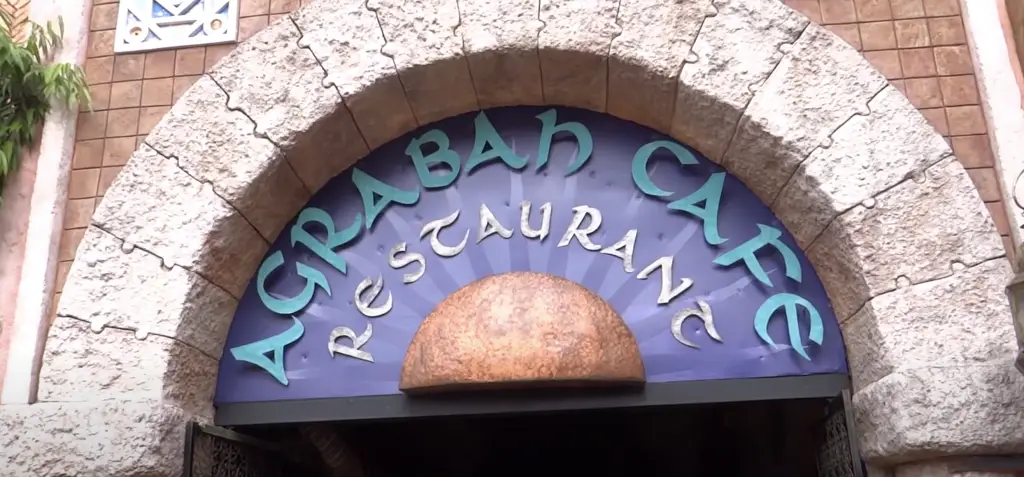 Our Tip: If you want to enjoy the delights of Agrabha, be aware this restaurant is not always open, make sure you check with the Reservations team and plan your other meals around here.
Please note, this buffet restaurant is currently offering table service only
Agrabah Cafe is located in the old Adventureland Bazaar shopping arcade. Redesigned into a restaurant, the Agrabah Cafe is a gem of Disneyland Paris. Due to the previous arcade layout, they are many intimate areas and fantastic theming to create an authentic Arabian dining experience. The atmosphere of this restaurant is so immersive and brought to life by the design and decoration. As well as taking inspiration from One Thousand and One Nights, you'll also find many Aladdin details throughout the area.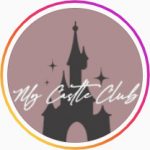 The food here is is very good, as a buffet restaurant, you can eat as much or little as you like, as well as trying dishes you wouldn't usually eat. Based around Oriental and Middle Eastern cuisine its a long way from the usual fast food or usual buffets around Disneyland. However, they also offer a few 'standard' options such as chicken and pasta dishes.
---
COWBOY COOKOUT BARBECUE
Castle Club Award : Best Quick Service Restaurant at Disneyland Paris
Location: Frontierland, Disneyland
Opening times: Mon- Sun 10:00am – 8:00pm
Meal cost: from €13.99 excl. drink,
view menu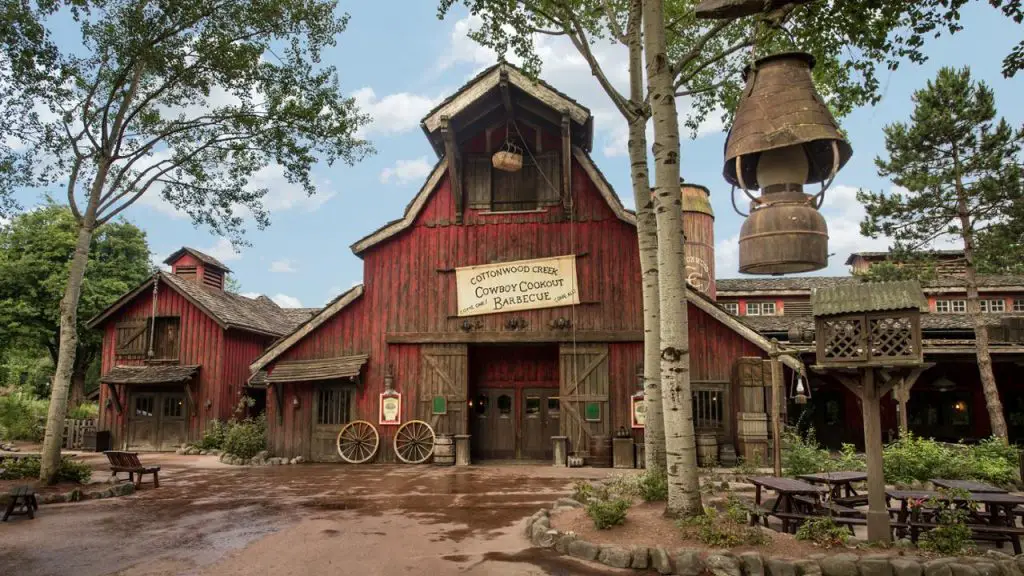 Our Tip: Weather permitting try to grab a table outside. There's usually a few character meet and greets nearby which you can watch, and when they need to take a short break they'll be walking right by you.
Giddy up down to this BBQ cookout, where mouthwatering grills tantalise your tastebuds. Frontierland has some great options for food, and the Cowboy Cookout BBQ is one of the biggest quick service restaurants in Disneyland Paris. Located in a spacious barn on the edge of Frontierland, this quick service can be easily missed. However, if you head towards to the Frontierland Railroad you will see it on your right.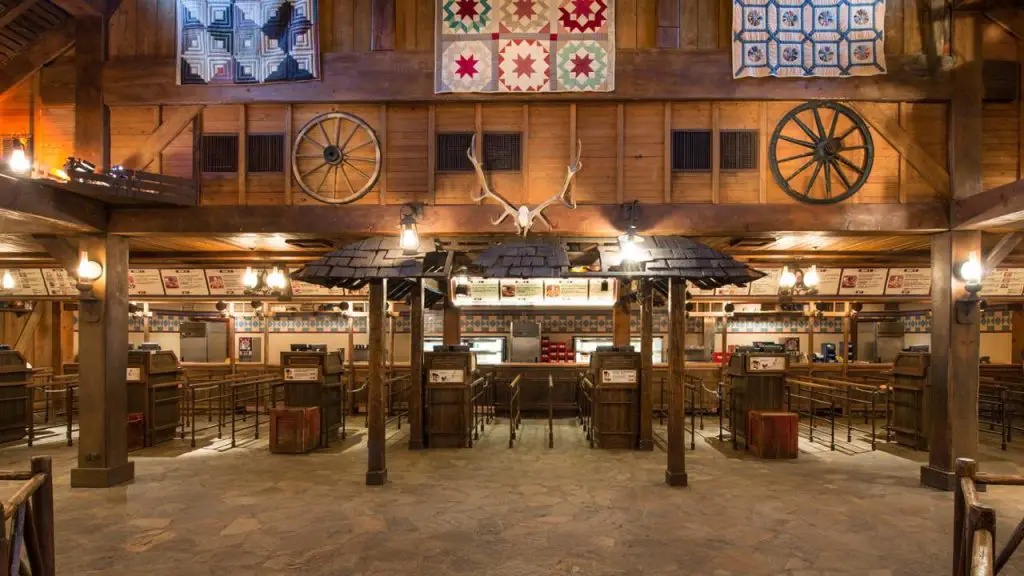 Cowboy Cookout Barbecue, is the place we always head to for some quick service food that doesn't cost a fortune. As we tend to eat light through the day, "Menu 4" consisting of sausage, ribs, chicken and chips is a great size to share between 2 for a lighter lunch.
Due to the size and layout, you never feel cramped, and there's even an outdoor dining section, perfect for those sunny days. As a bonus, you can often see the Disney characters come out and walk straight through the outside tables on their way to meet and greets around Frontierland. Perfect for adults to enjoy some good BBQ food, with a goods kids menu, and an unplanned Disney character spotting session.
---
Inventions (currently closed)
Castle Club Award : Best Character Dining at Disneyland Paris
Location: Disneyland Hotel
Opening times: Mon- Sun 12:30pm-2:30pm, 6pm-10:30pm
Meal cost: Adult €70 excl. drink, Child €40 incl. drink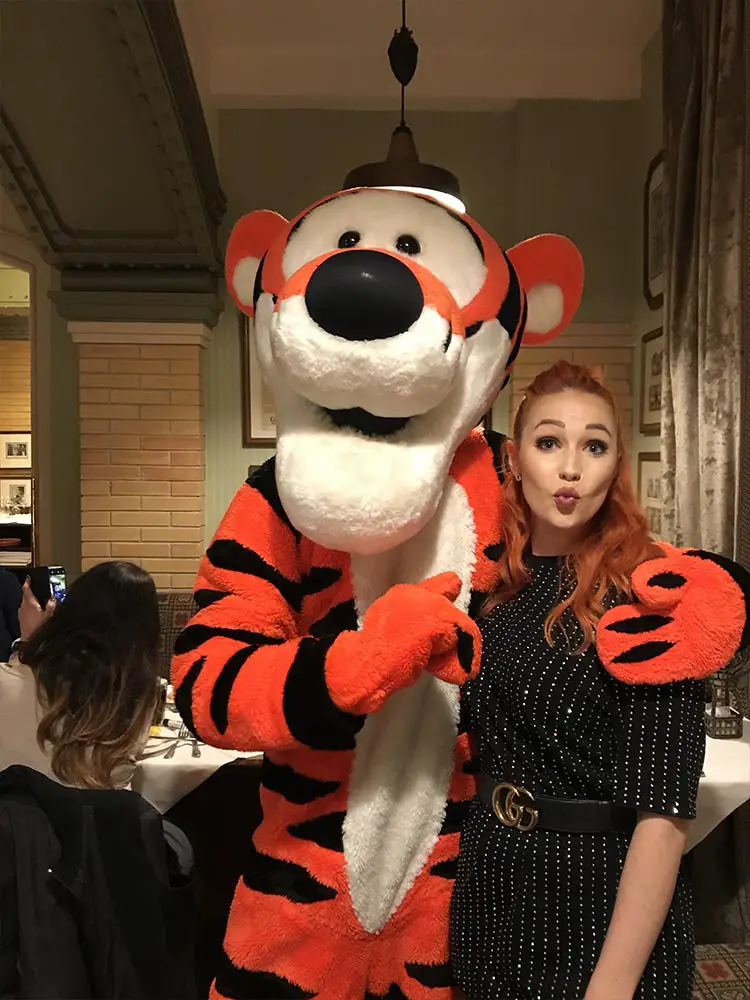 Our Tip: Inventions is one of the most popular restaurants in Disneyland Paris. We cannot stress enough if you want to visit make sure you make a reservation, you can do this up to 2 months in advance. You can also request a window seat to make sure you get a view down Main Street and of the Castle.
Like many other guests, Inventions is one of our favourite restaurants at Disneyland Paris. This is one of our must visit restaurants every time we visit Disneyland Paris. The restaurant gets its name 'Inventions' because the walls and ceilings are decorated with a number of great technological imaginations well as many conceptual art images.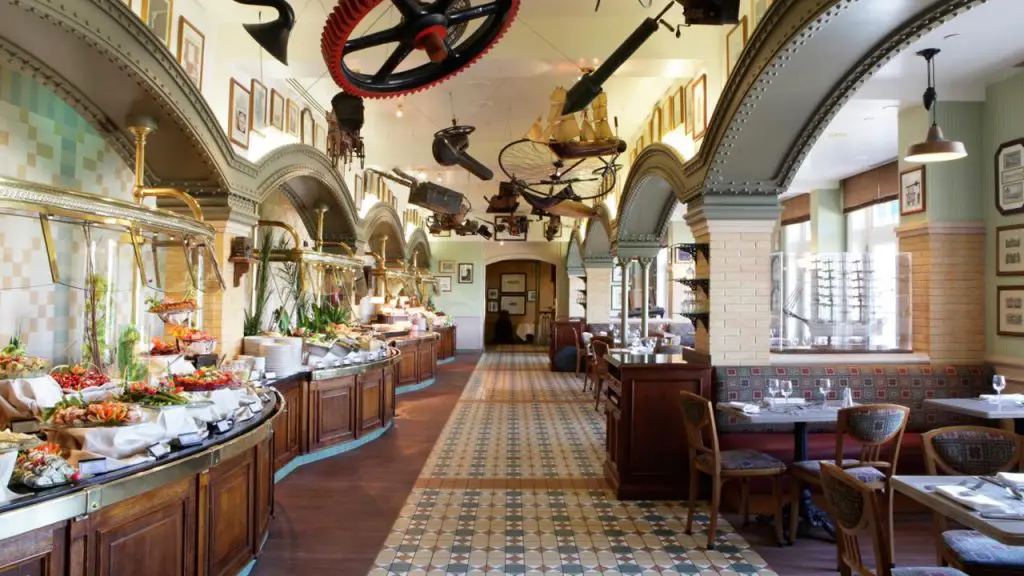 Inventions is located inside the Disneyland Hotel, you'll get the chance to view this beautiful hotel on your way to the open-kitchen buffet restaurant which also overlooks Main Street, U.S.A.
The restaurant offers the best Disney character dining experience in Disneyland Paris. This is the place we've seen the most, and biggest range of Disney characters, from the sensational six of Mickey, Minnie, Donald, Daisy, Goofy and Pluto, all the way to Gepetto, Hook, Tigger, Woody, and more. You never really know who's going to join you, but we've always had 6 or more different characters sit at our table during our meal. The character interactions aren't hurried, we once had Goofy with us for over 15 minutes, making us drinks, closing the curtains and even doing some 'magic' tricks, which ended with a napkin over my head. You'll love it, your kids will love it, your grandparents will love it, it's a perfect Disney meal. You can also see our best character dining restaurant guide here.
Although its a very busy restaurant, in terms of booking a table, surprisingly, if never feels that busy or rushed inside. I guess with a number of characters within the restaurant keeping guests busy, this keeps the buffet free for others.
The restaurant can be pricey, even by Disney standards, but for the character interaction and good buffet food, it's worth every penny.
---
Walt's – an American restaurant
Castle Club Award : Best Fine Dining Restaurant at Disneyland Paris
Location: Main Street U.S.A., Disneyland
Opening times: Mon- Sun 11:00am – 8:00pm
Meal cost: à la carte and set menus, set menus from €40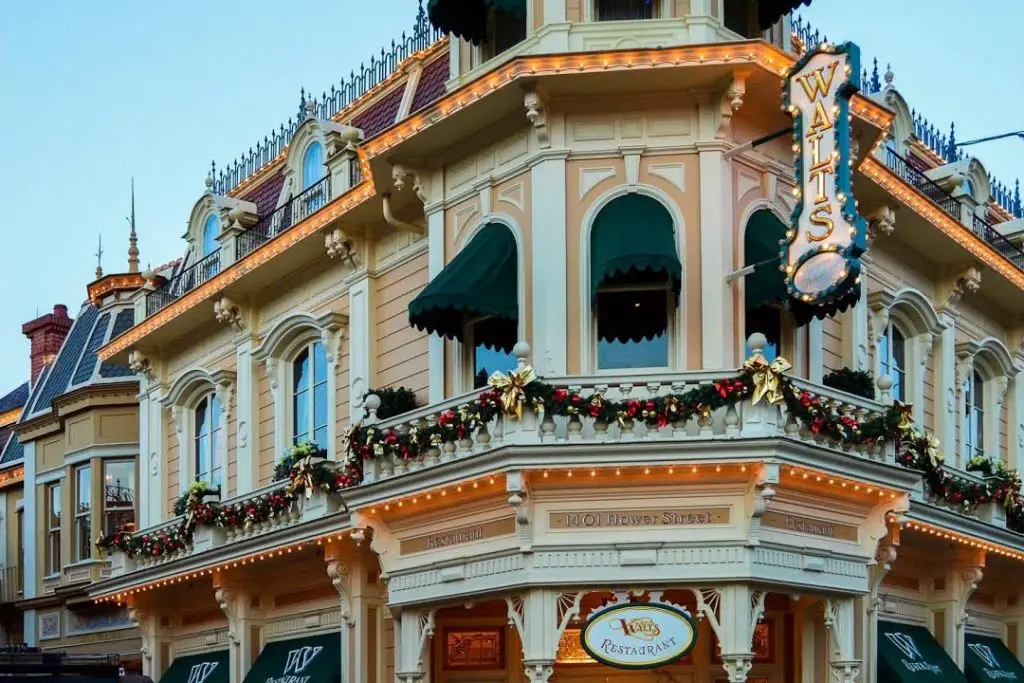 Our Tip: It's not as expensive as you'd think! You can even enjoy 3 glasses of wine to accompany your meal, at a price of €25.
There will never a be list of the best restaurants at Disneyland Paris without the inclusion of Walts. Located on Main Street USA, this is often seen as a standard guests Club 33. There's so much detail and history in any place you look.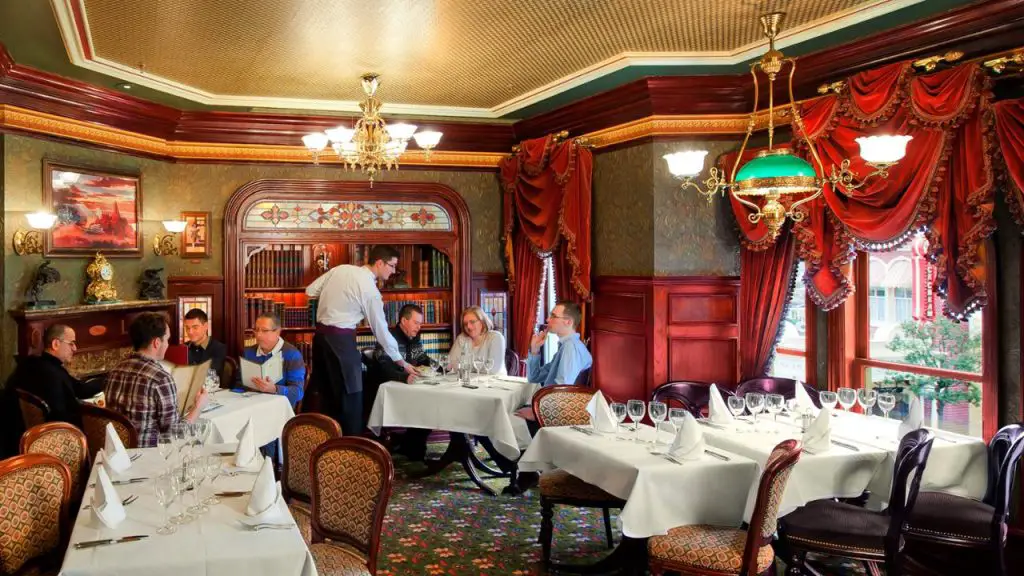 A blend of à la carte and set menus ensures theres a meal for everyone. Some of the set menus include a gourmet vegan option aswell as Walts Menu containing some of his favourites. Any Disney fan should eat here at least once to experience fine dining in a beautiful setting of Walts ideal restaurant.
---
Other popular places to eat at Disneyland Paris
Cable Car Bake Shop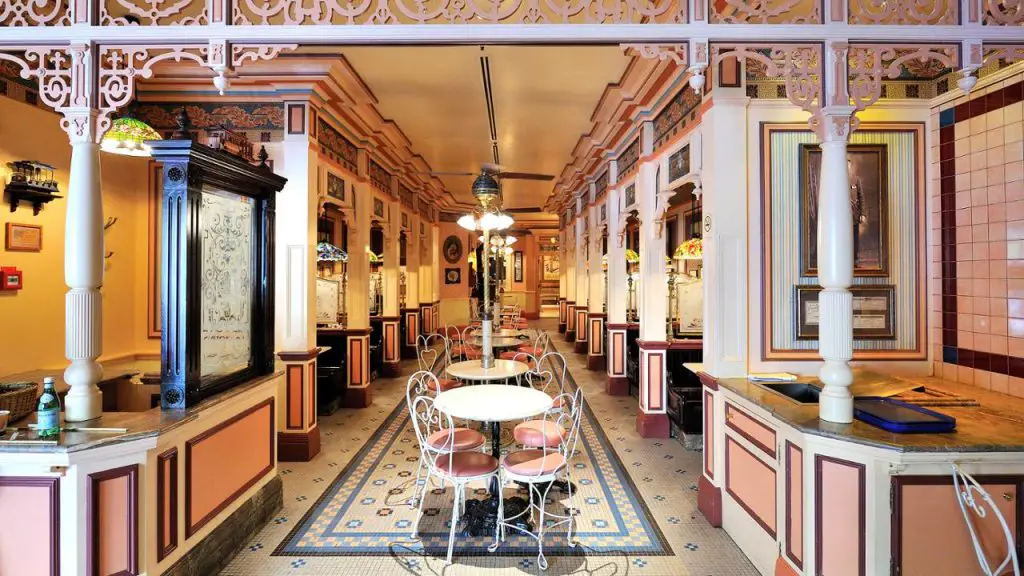 If you love an intimate bakery this one reminds us of the many delicatessens you see around Paris. Although it's small compared to other places to eat and drink, the restaurant is beautiful. From cable car artwork on the walls to the fine stained glass light fixtures. We often find ourselves sitting in here on the colder days with a hot drink watching the world go by.
SILVER SPUR STEAKHOUSE
Personally, we're not massive fans of large open dining areas. We much prefer the more diverse or intimate settings. However, this place is worthy of a mention, the fine folk of Thunder Mesa have done a fantastic job at creating an elegant western style establishment, serving some of the best steaks at Disneyland Paris. The restaurant has a fitting Frontierland western theme where you will be dining around Winchester art, deep woodwork, 'cow leather' seating, and beautiful paintings
The Lucky Nugget Saloon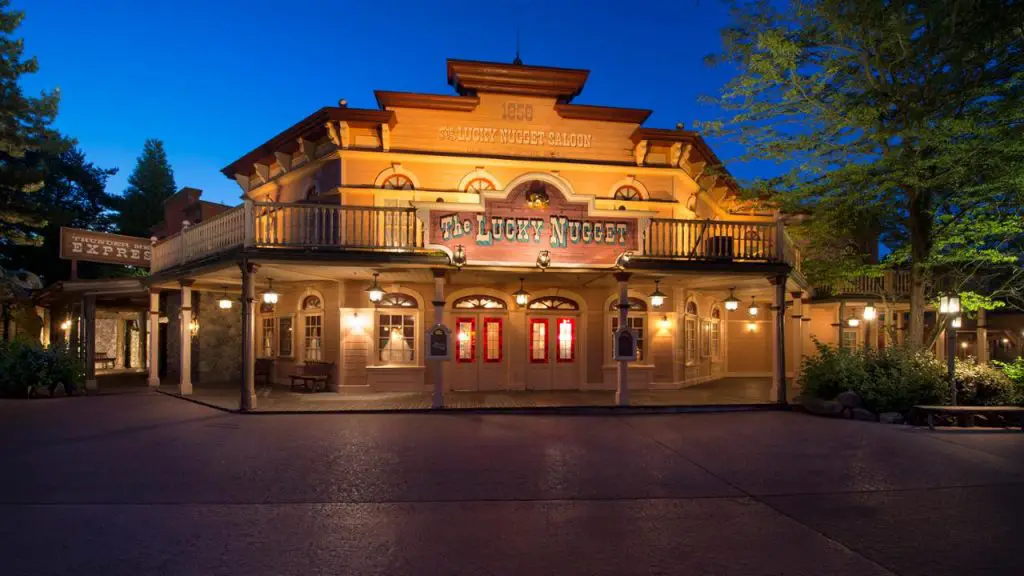 The Lucky Nugget is another Frontierland restaurant to make it on this list. Both have very fitting theming to go alongside Thunder Mesa, but if I had to pick between the two I would pick this one. Originally inspired by the Golden Horseshoe at Disneyland (CA), its design and appearance seems to outshine its initial inspiration, and is topped with a fantastic mural of Thunder Mesa behind the stage.
When we first walked into the restaurant we were shocked as it felt like we'd stepped into a western film. As with any old fashioned saloon all the tables and chairs face towards the stage, where occasionally you can sit and watch a show with your meal. Always check the board outside to see the show times.
Unlike the name, you wont find chicken nuggets here. Instead you will find a selection of pub classics including burgers, fish and chips and pork spare ribs.
Fuente del Oro Restaurante
Savour the fiery flavours of the American South-West in this peaceful cantina, offering Fajitas, nachos, chilli, burritos and churros! None have been overly hot, but full of spice, you can enjoy the taste without the heat.
With the recent Coco inspired revamp, this is a guest favourite Mexican style restaurant. Its a great place to enjoy some good quick service food whilst people watching in Frontierland. With a homely feel of a real small town restaurant, we've always found it to have a great atmosphere, even more so when Coco is playing his guitar or a mariachi band is outside.
CAFE HYPERION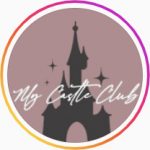 When first opened in 1992, Café Hyperion was Europe's largest fast food restaurant! As with most fast food locations you'll find a selection of America cuisine, including burgers, fries, and multiple desserts for guests to choose from.
This quick service restaurant makes this list due to its steampunk theming with a giant zeppelin airship moored over the entrance. Originally planned for Disneyland (CA), this was adapted and brought to Paris.
PIZZERIA BELLA NOTTE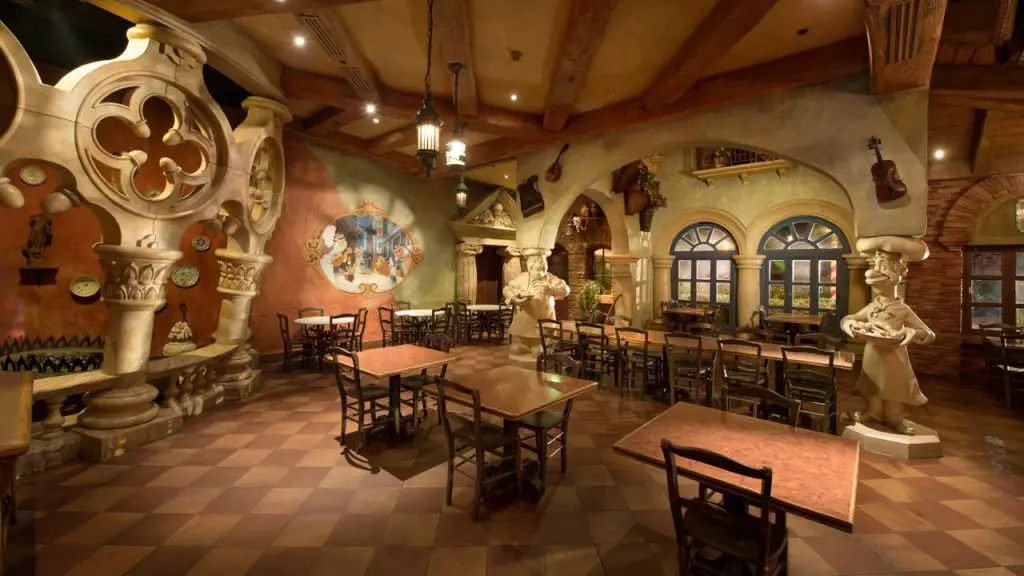 One of the best counter service Italian restaurants, Pizzeria Bella Notte is a guest favourite in Fantasyland, serving pizza and pasta dishes. For the perfect photo, you can sit in front of a Lady and the Tramp mural and recreate this iconic scene with a loved one. You'll also find a lot of the decor is also based around the film and many other Italian sites. It may look a bit miss-matched but Imagineer Tom Morris said this the authentic look they wanted to achieve.
Its on our list not only because we love Italian food, but the pizza and meatballs were pretty good!
HAKUNA MATATA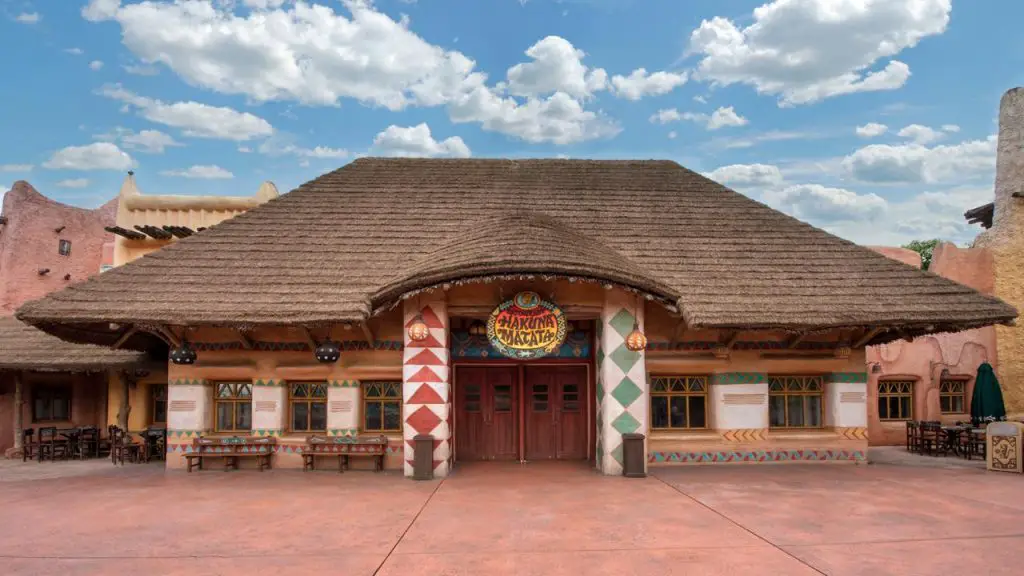 Originally name Aux Epices Enchantées, on the opening day of Disneyland Paris, this location was renamed after the release of the Lion King. A few additional touches and decor was added, but the main design is from the original restaurant.
This quick service restaurant offers African fast food, with a selection of chicken, rice and salad dishes. Far better than Timon & Pubma's grub, and a great place to stop and grab a quick bite. Although on a lot of our trips we have only seen this open a few times, on the busy days, so it may be worth checking the opening time beforehand. Lets hope they bring back those corn fries!
---
How to book a table.
They are many more restaurants at Disneyland Paris not on this list, you can view all the restaurants at Disneyland Paris here.
To make a dining reservation you can do either of the following…
call the Dining Reservation Service on +33 1 60 30 40 50 (international call rates apply, cost may vary according to network)
on the Disneyland Paris mobile App
Through the reception desk at your Disney Hotel
Direct with the restaurant