Welcome to the Disneyland Hotel, where every meal is a journey into the heart of Disney magic! In this gastronomic adventure, were invited to explore the enchanting dining options that await within the regal walls when the hotel reopens on the 25th January 2024. From character dining fit for royalty to princess-inspired feasts, our culinary offerings promise to be as memorable as the timeless tales that inspire them.
As part of the large-scale royal transformation, all Disneyland Hotel restaurants, bar, and lounges have been reimagined to spotlight the rich diversity of Disney Animation royal stories. Steeped in the same powerful storytelling enjoyed in other parts of the hotel, these spaces will offer a unique gourmet dining experience infused with a French savoir-faire and the spirit of creativity inherent to all things Disney.
Step into the grandeur of the Royal Banquet Buffet Restaurant, where cherished Disney characters come to life as you dine. Here, your favorite friends from the Disney universe will join you for an unforgettable meal, adding a sprinkle of magic to every bite.
Or venture into the ethereal La Table de Lumière, where the elegance of Disney princesses is celebrated through a dining experience like no other. Immerse yourself in a world of enchantment as you savor dishes inspired by these beloved royals, each bite a taste of the fairy tales that have captured hearts for generations.
Please note, to ensure Disneyland Paris deliver a unique experience for Disneyland Hotel guests access to the hotel will be limited to Disneyland Hotel guests and visitors who have a reservation for lunch at Royal Banquet, for My Royal Dream or or a spa treatment. Guests staying at any other Disney hotel will be able to be book these restaurants by adding them to your package.
Royal Portraits Gallery at The Royal Banquet Buffet Restaurant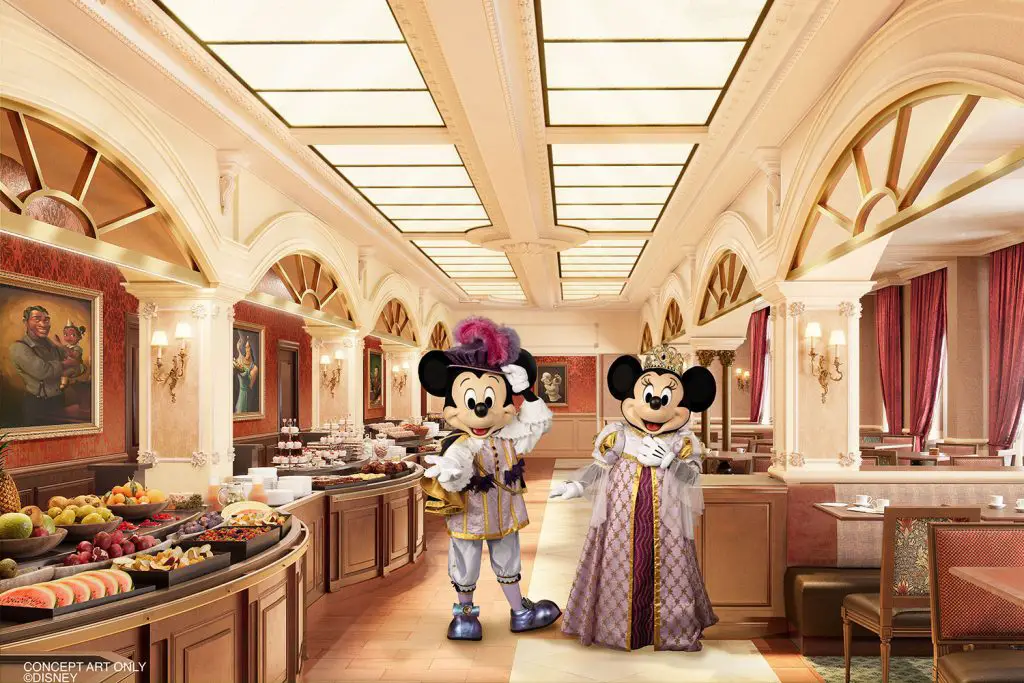 Offering breakfast, lunch and dinner
Pre-advertised price for dinner is €100
Lunch available to guests staying in a Disney hotel
Dinner only available to Disneyland Hotel guests
Inspired by the opulence of vast reception rooms found in every castle, The Royal Banquet invites guests to attend a royal feast amidst a gallery of paintings portraying numerous Disney royal families, such as King Triton and his 7 daughters from The Little Mermaid, the Queen of Hearts from Alice in Wonderland, Prince John from Robin Hood or even Kronk from The Emperor's New Groove. Guests will choose from dishes influenced by the diverse cultures that inspired many beloved Disney stories like Spicy Cajun Shrimp dish that will pay tribute to Tiana's native Louisiana.
And for those with hearty appetites, a sumptuous oyster and seafood bar and meat carving stand will be on hand, filled with premium products. Young guests will also be in for a treat with a full dedicated variety of products such as a personalized dessert that they can customize themselves.
To top off this king and queen-worthy fare, The Royal Banquet will give guests the chance to meet and dine at lunch and dinner with Mickey Mouse, Minnie Mouse, and their friends(3) decked out in their finest new and exclusive regal attire. Having received an invitation to join a festive banquet celebrating the royal families from across the lands, these very special attendees will enchant guests from far and wide, posing for photos and taking part in interactive moments for future treasured memories.
Fine Dining at La Table de Lumière Table Service Restaurant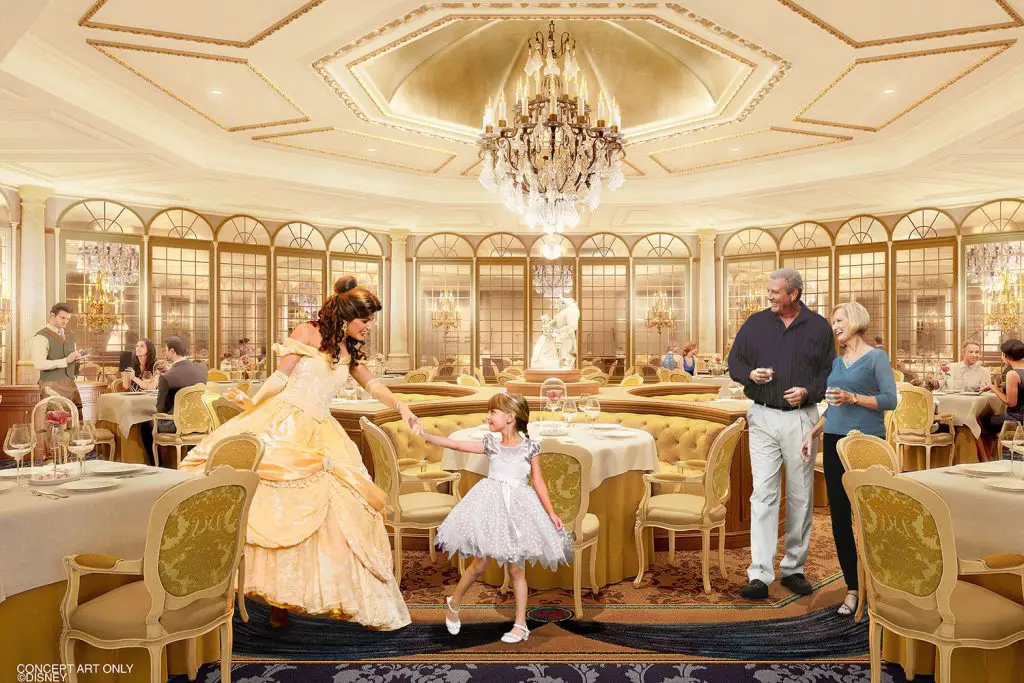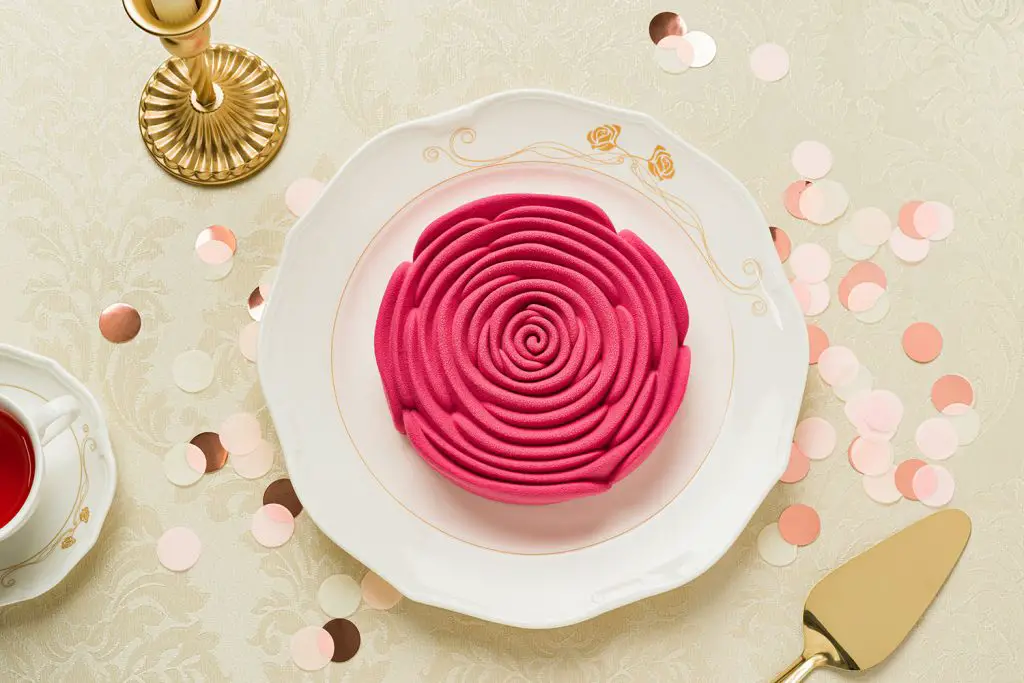 Offering Dinner options only
Pre-advertised for dinner is €120
ONLY available to guests staying at the Disneyland Hotel
At La Table de Lumière, guests will enjoy table service dinner in a space paying homage to the Beauty and the Beast ballroom scene, which itself was inspired by the Hall of Mirrors in Versailles Castle. Elegant mirrors and crystal add sparkle to an elegant atmosphere finished off with distinguished tableware including rose-emblazoned china and thorn-themed napkin rings. The menu will feature French fine dining using local, gourmet delicacies such as roses from Provins, and will serve sea treasures like sole fished off the coast of France or European lobster with white cabbage and Meaux mustard remoulade.
Guests craving quality meat will delight in the open rotisserie while those looking for other options will discover a wide variety of plant-based options such as a delicate mushroom velouté sourdough bread croutons and roasted hazelnut served with pepper-spiked Isigny cream, famous French dairy product used in several recipes as a wink to Walt "D'Isigny" ancestors in Normandy. Also on the menu, a dish of quinoa with broad beans and morels, vegetable juice with red peppers and pomegranate seeds.
Additionally, a large selection of wine and champagne will pair perfectly with the dishes created by the hotel's chefs. For dessert, guests can end their gourmet experience with delicacies paying tribute to royal Disney stories while a celebration cake inspired by Belle's rose will mark special occasions.
At Table de Lumière, guests are invited to enjoy their regal meal in the company of Royal Disney Couples (3) including Belle and her Prince (Beauty and the Beast), Aurora and Philip (Sleeping Beauty) or Tiana and Naveen (Princess and the Frog) in all-new exclusive regalia to meet and exchange in a grand setting for an interactive and unforgettable experience.
For Refined Drink and Snack – Fleur de Lys Bar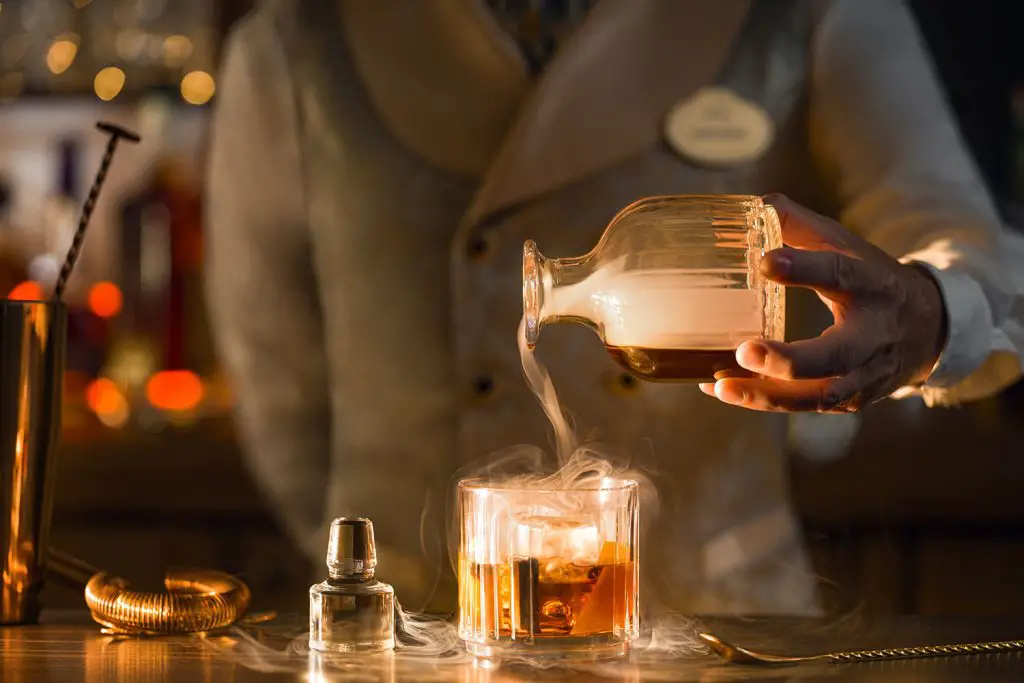 For a relaxing toast to their day of adventure in the Disney Parks, guests can take in a spectacular view of Fantasia Gardens, at the Fleur de Lys Bar, in a fleur-de-lys (French royal symbol) themed setting cast in regal shades of blue and silver. The whole family is sure to quench their thirst with something from the menu featuring flower-themed signature cocktails and a large selection of quality wines.
Guests can also purchase an exclusive premium afternoon tea offer, a snacking offer as well as Champagne experience serving premium products and exclusive Disneyland Hotel Cuvée, produced by the Maison Pierre Mignon, a 5- generations family champagne producer based close to Epernay (France). Just outside the bar, guests will marvel at the central rotunda.
Providing access to all hotel wings and restaurants, this elegant lounge area is adorned with blue décor accentuated by fleur-de-lys stitching, a dramatic cathedral ceiling, as well as mirrored walls and a central banquette shaped as a royal crown, both designed by with the collaboration of a French family-owned business specializing in fittings and joinery since 1877, who have also contributed to the design of many of the hotel's features, such as the libraries of the lobby and the Royal Kids Club.
Two Intimate and Elegant Lounges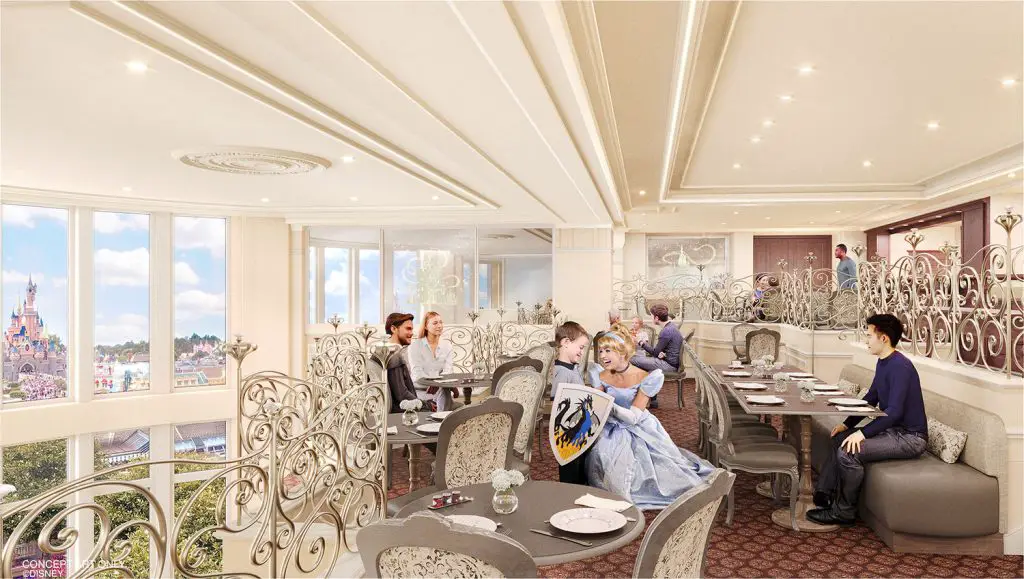 Breakfast, afternoon snacking and all-day drinks
The Deluxe Lounge will welcome guests staying in Deluxe Rooms, offering an enticing view of Fantasia Gardens for peaceful buffet breakfasts and complimentary afternoon sweet and salty snacks.
Reserved for guests staying in Castle Club rooms and suites, the Castle Club Lounge delivers a breathtaking view of Sleeping Beauty Castle and has refined, bright décor inspired by several Disney castle interiors and elegant engravings designed by the Walt Disney Imagineering Paris teams and handmade using ancestral techniques.
Castle Club guests will benefit from a gourmet breakfast buffet topped with an à-la-carte menu, complimentary tea time with a selection of hot and cold beverages and sweet and savory snack options, all served in delicate tableware specially created by Maison Haviland, manufacturer specialized in Limoges porcelain founded in 1842, that combines modernism and creativity and whose finishing touches and artistic decoration are carried out by hand by highly skilled craftsmen. This experience is crowned every day at breakfast by an encounter with Disney Princess Characters such as Aurora, Rapunzel, Merida, Cinderella or Moana.
Plan your stay with the Disneyland Paris price estimate calendar