Welcome to a world where dreams come true! As Disneyland Paris prepares to reopen its enchanting Disneyland Hotel on January 25th, 2024, we invite you to embark on a magical journey like no other. Step into a realm of royalty, as we unveil the brand new Royal Rooms inspired by Disney princesses. These exquisitely designed accommodations will transport you to the fairy tales you've cherished since childhood, offering an immersive and regal experience that's fit for a prince or princess.
In this post, we'll take you on an enchanting tour of these magnificent Royal Rooms, where every detail has been carefully crafted to capture the essence of beloved Disney princesses. From a glass slipper to an enchanting rose, these rooms are a true testament to the magic of Disney.
The moment you've been waiting for has arrived. Bookings for the Disneyland Hotel's Royal Rooms are now open, and your royal adventure awaits. Don't miss out on the chance to be among the first to experience this enchanting transformation.
Are you ready to live your own fairy tale? Secure your reservation today and prepare to be swept away into a world of Disney enchantment!
Tell Royal Tales with the brand new Rooms and Suites
Disneyland Hotel proposes 487 rooms and suites including 346 Superior Rooms, 82 Deluxe
Rooms, 41 Castle Club Rooms, 16 Signature Suites, one Princely Suite and one Royal Suite,
providing guests with all-new, elegant interiors infused with the tradition of Disney storytelling and
modern comfort. From dream-inspiring artwork to subtle accents in the décor, guests enjoy an
atmosphere celebrating unforgettable moments from royal Disney stories in every detail.
All bathrooms have been designed to royal standards, providing relaxation spaces that draw inspiration from Disney Animation movies such as The Little Mermaid or Snow White and the Seven Dwarfs. Guests will indulge in premium bath linens and accessories to top off divinely regal accommodation.
Last but not least, all rooms feature luxury amenities, while Castle Club rooms and suites offer access to select VIP services as well as upgraded amenities.
Superior Rooms (346 total, up to 40,7m2)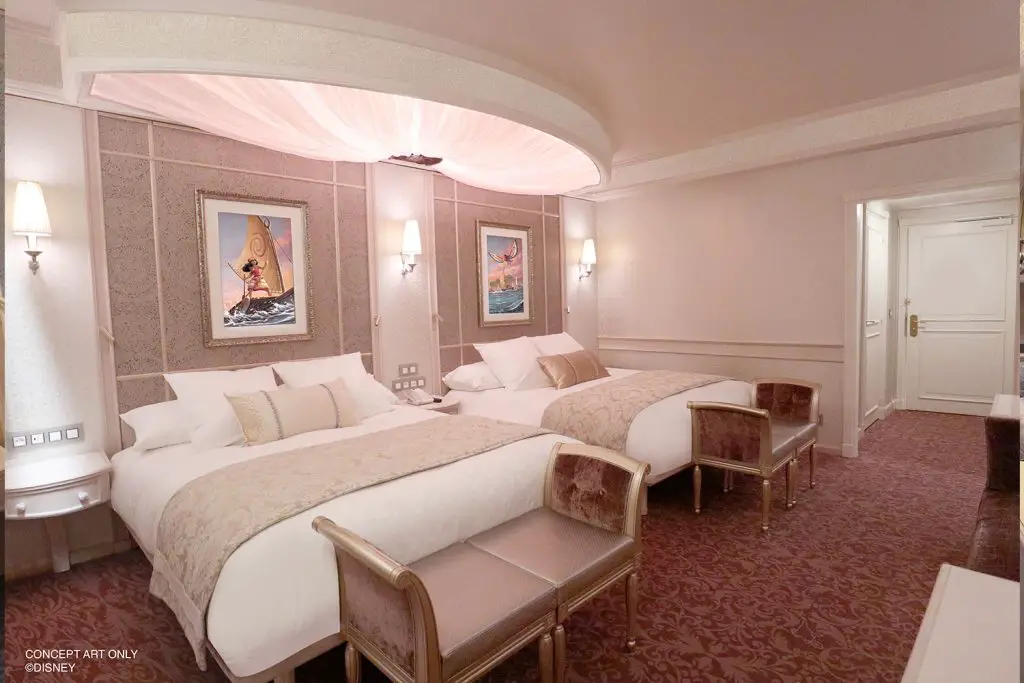 Disneyland Hotel Superior Room offers a relaxing, elegant space with blue and silver tones featuring exclusive works of art depicting moments from one of 11 classic and contemporary animation movies from the creators at Disney Animation: Snow White and the Seven Dwarfs, Cinderella, Sleeping Beauty, The Little Mermaid, Beauty and the Beast, Aladdin, The Princess and the Frog, Tangled, Frozen, Moana, and Raya and the Last Dragon.
Carefully selected elements of design and décor include the golden mirror frame recalling Rapunzel's golden hair or Aladdin's magic lamp cleverly woven into the carpet. After a visit to the park, guests will enjoy a much-deserved royal rest in comfortable beds fitted with premium linens while watching their favorite programming on a magical mirror that transforms into an Ultra HD TV. And if refreshment is desired, a stylish jewelry box offers all the makings for delicious coffee and tea.
If you book a superior room, breakfast will come as a supplement to your package.
The Deluxe Room (82 in total, up to 40,7m2)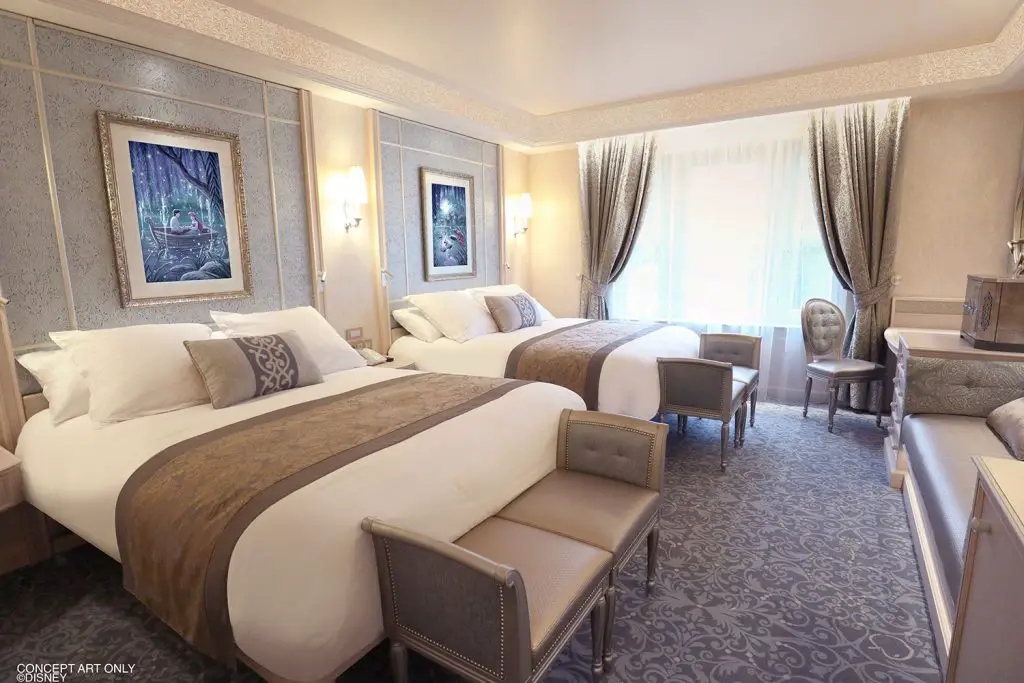 Exclusive access to Deluxe Lounge
Magical bedtime ritual experience
Dedicated check in and concierge desk
Breakfast included in the price of your room (no characters)
The Deluxe Room takes guests one step further in the celebration of the 11 featured Walt Disney Animation Studios royal stories. For the magical bedtime ritual experience, an illuminated animated canopy above the bed, along with exclusive artworks showcasing iconic moments from these Disney stories will magically come to life with a special enchantment in the room.
Guests will relax in a space graced with exquisite, soft pearly and powdery colors and equipped with amenities and details that guarantee their every comfort. Guests will also enjoy dedicated checkin and concierge services and exclusive access to the Deluxe Lounge.
The Castle Club – exclusive hotel within the hotel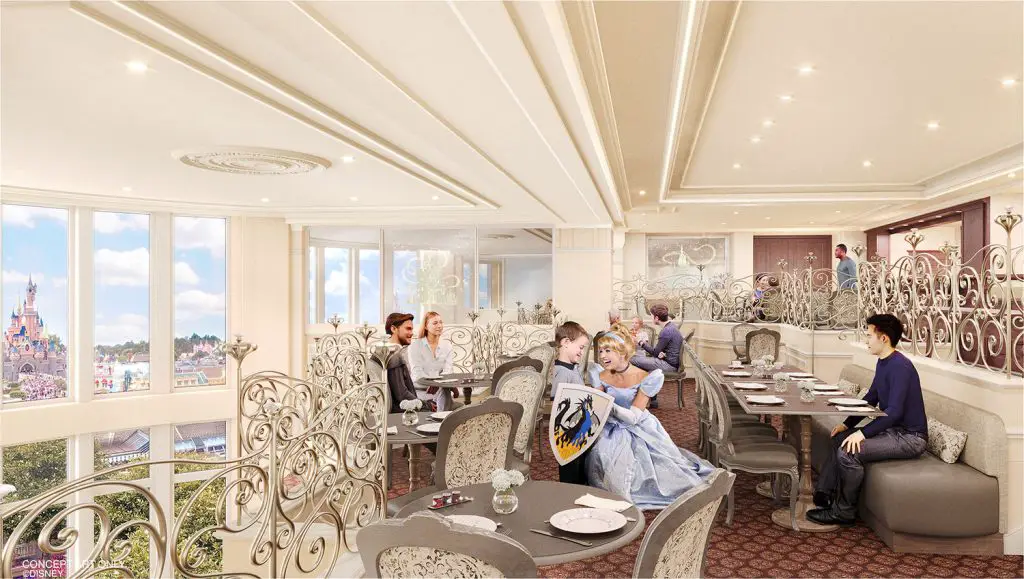 The Castle Club offers the ultimate Disneyland Hotel experience, elevating a memorable stay to an unforgettable one thanks to exclusive benefits and enhanced magic.
Expertly interweaving privacy and personalization to create a refined, distinctly Disney atmosphere, this hotel-within-a-hotel will pamper guests as only a Disney five-star hotel can. Located on the top two floors, it provides the discretion of a private elevator and a dedicated check-in area and all new and upgraded luxury amenities.
Reserved for guests staying in Castle Club rooms and suites, the Castle Club Lounge delivers a breathtaking view of Sleeping Beauty Castle and has refined, bright décor inspired by several Disney castle interiors and elegant engravings designed by the Walt Disney Imagineering Paris teams and handmade using ancestral techniques.
Guests staying in a Castle Club room or suite will also have access to the Castle Club Lounge that offers a breakfast with Disney Princess Characters
Exclusive access to Castle Club Lounge
Breakfast at the Castle Club Lounge in the company of Disney Princesses is included
Castle Club themed bedroom amenities
Themed bathroom amenities by Clarins
Exclusive set of cosmetics from Nougatine for children
Magical bedtime ritual experience
Dedicated seated check in or in-suite check in
Private reception, concierge and elevators
The Castle Club Room (41 in total, up to 42m2)
When staying in one of the Castle Club Rooms, guests will embark upon a celebration of the 11 featured Disney royal stories while the magical bedtime ritual experience adds an enchanted atmosphere to the room. Decorated with gold-standard elegance and royal refinement, these rooms offer an exclusive access to the Castle Club.
16 Signature Suites, 1 Princely Suite, 1 Royal Suite
The 16 Signature Suites, the Princely Suite and the Royal Suite, a part of the Castle Club offering, deliver the hotel's most high end and immersive experience as they feature unique design elements directly inspired from Disney royal classics that will transport guests into these beloved stories throughout their stay. Guests can pamper themselves with deluxe products and amenities such as walk-in closets and spacious spa bathtubs
Cinderella Signature Suites (3, up to 90m2)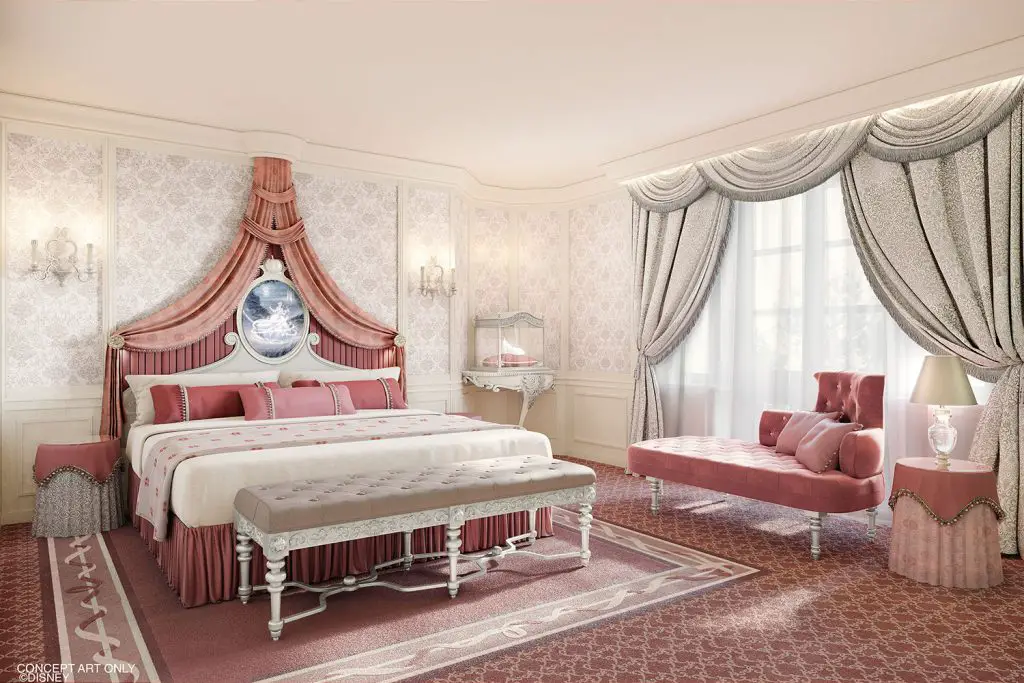 With designs inspired by Cinderella's home, this suite has been imagined as a boudoir: elegant furniture and materials with a soft and powdered color palette – pink in the bedroom, blue and ivory in the living room. Guests will be in awe of all the references to the décor, story and characters from Cinderella's home details including the chimney, her ball gown sewn by her animal friends or even her famous glass slipper that will magically light up.
Rapunzel Signature Suites (4 up to 60m2)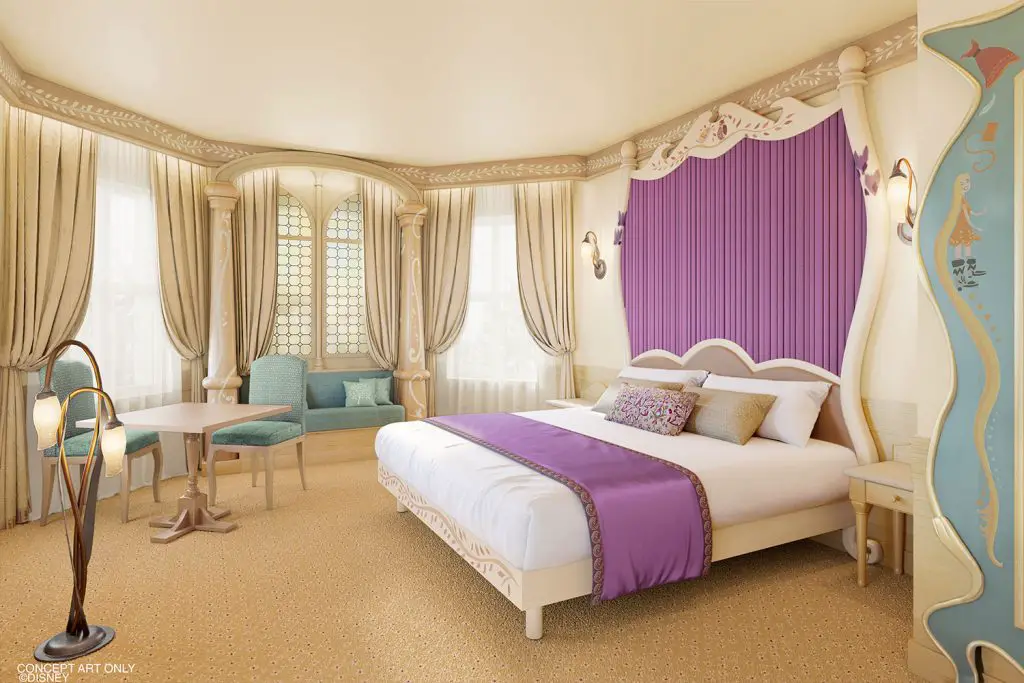 Imagined as an invitation to stay in Rapunzel's creative bubble, these suites are cozy havens thanks to their wooden elements, and a warm color palette including subtle hints of purple. Many unique elements from Rapunzel's story will be brought to life, such as the Sundrop flower that lets its power shine throughout the room, as Imagineers worked closely with Disney Animation and talented craftspeople such as Atelier Bournillat, a local and historical supplier of Disneyland Paris specialized in decor creations to ensure that every detail matched the animated reference from Tangled
Beauty and The Beast Signature Suites (3, up to 90m2)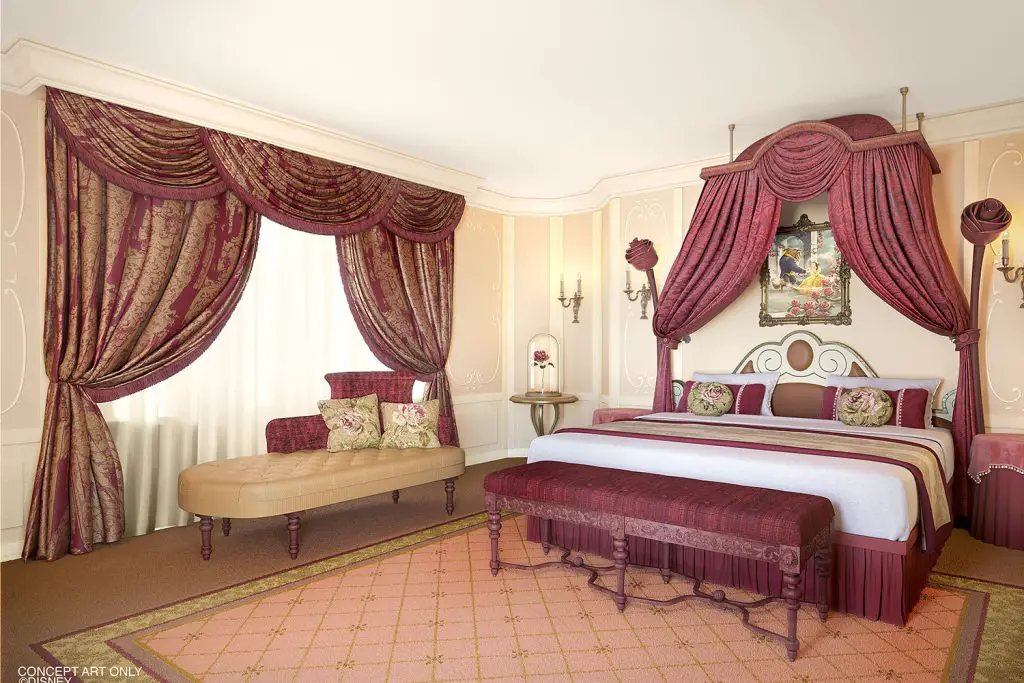 This immersive suite will transport the guests into the magnificent Beast's Castle and its mythical fireplace surrounded by a large display of books and warm and elegant materials. Guests will even encounter Belle's enchanted friends such as Lumière and the Wardrobe. The mystical Enchanted Rose will also illuminate the place.
Frozen Signature Suites (3, up to 90m2)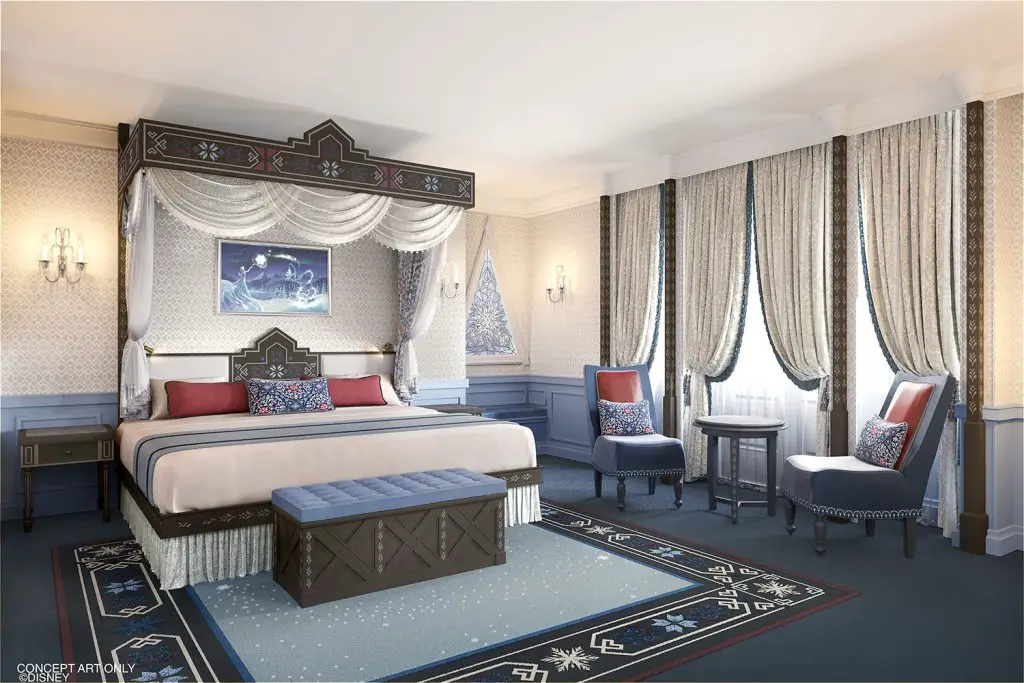 The warm atmosphere inspired by Scandinavian interiors is embellished by designs and motifs characteristic of Arendelle, including the crocus flower, its official emblem symbolizing rebirth and spring. It is an invitation to travel and to let the imagination set free at the sight its detailed decors such as the magnificent mantelpiece featuring a portrait of Anna and Elsa together, or a window overlooking an all-year-long magically glittering snowflake.
Sleeping Beauty Signature Suites (3, up to 90m2)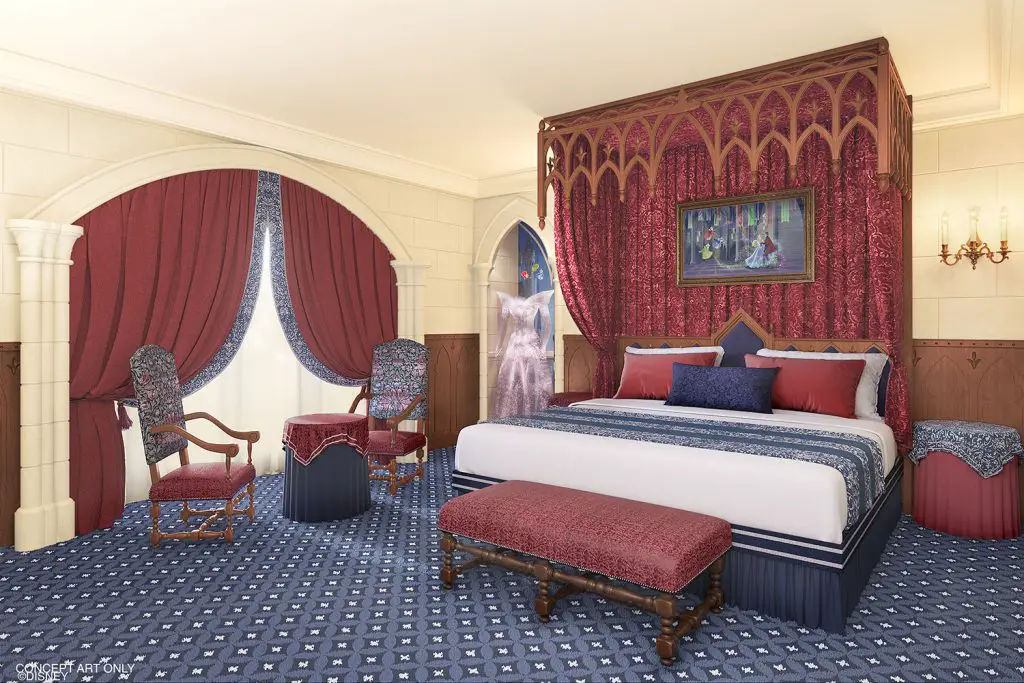 Transporting guests back to late medieval times with its stone walls, columns, arches, wooden finishes and elegant deep reds and blues, this suite features decorative recreations of décor elements from the Walt Disney Animation Studios classic such as Aurora's dressing table or even her elegant dress that magically changes color according to the wishes of her fairy friends.
Princely Suite Beauty and the Beast (1, 116m2)
Guests in the Princely Suite will step inside the live-action retelling of Beauty and the Beast. Inside, they will discover lavish baroque décor. From the bedroom to the 'lounge-turnedballroom' and bathroom, every detail of this spacious residence is truly enchanted by a tale as old as time with its chandeliers, fireplace and glittering rose adorning the headboard.
Royal Suite Frozen (1, 206m2)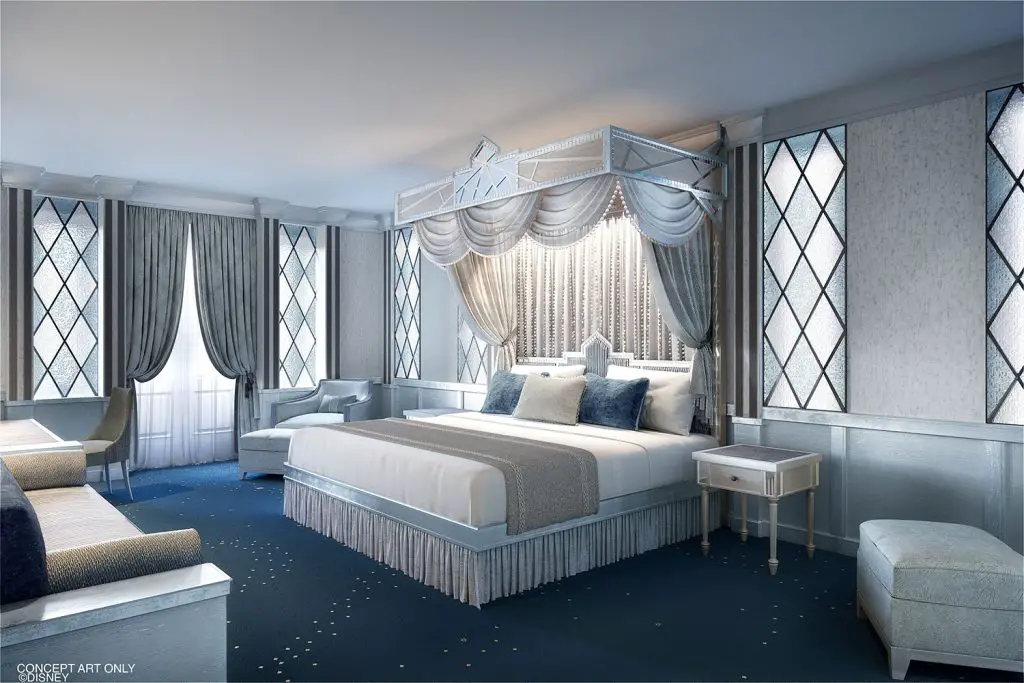 Kitchen fully equipped
Separate dining room
Balcony view over Main Street and Sleeping Beauty Castle
Grand piano
Whirlpool
In the breathtaking Royal Suite, guests will be transported to Queen Elsa's Ice Palace atop the North Mountain from Frozen where they will enjoy the hotel's grandest and most immersive experience yet with its bedroom, living room, bathroom, kitchen and dining room all decorated with a flurry of ice magic.
A shimmering ice chandelier elevates the room's elegant silver and blue décor as elegant materials that create transparency, lights and reflection enhance every detail to ensure guests can feel an emotional connection with the beloved story. To top it all, this one-of-a-kind suite offers a balcony overlooking Disneyland Park with a breathtaking view onto the iconic Sleeping Beauty Castle.
---
Plan your stay with the Disneyland Paris price estimate calendar