The enchantment of Disneyland Paris has been captivating hearts for three decades, creating cherished memories and unforgettable moments. If you're eager to know when this magical milestone is being celebrated, you're in for a treat. In this article, we'll unveil the details of Disneyland Paris's 30th anniversary and the festivities that await visitors during this special time.
Marking the 30th Anniversary
Disneyland Paris 30th Anniversary will start on April 12th, 2022.
Disneyland Paris 30th Anniversary will end on September 30th, 2023.
The 30th anniversary of Disneyland Paris is a momentous occasion that holds the promise of extra enchantment, surprises, and celebrations. This remarkable milestone pays homage to the decades of magic that have been shared with millions of visitors from all around the world.
April 12th 2022 marked 30 years since the opening of Disneyland Paris, with guests being invited to join Mickey, Minnie, and all of their friends to dream bigger and laugh louder than ever before. 
The official 30th anniversary of Disneyland Paris is slated to be a magical and joyous event, creating unforgettable memories for both longtime fans and first-time visitors alike. While the exact date of the 30th anniversary is important, the special anniversary events will take place until the 30th September 2023!
What to Expect:
Special Events: Disneyland Paris is known for its spectacular events, and the 30th anniversary is likely to be no exception. From a brand new Dream and Shine Brighter parades, Drone shows, dazzling fireworks displays, and entertainment offerings that pay tribute to the rich history of the park.
Commemorative Merchandise: Commemorate the occasion with limited-edition merchandise that captures the essence of the 30th anniversary. From collectible pins to unique apparel, these treasures will serve as lasting mementos of your visit during this remarkable time.
Themed Experiences: Immerse yourself in themed experiences that celebrate the park's journey through three decades of enchantment.
What's taking place during the Grand Finale?
Prepare to be amazed by the return of the "Dream…and Shine Brighter" joyful daytime show specially created for the parks 30th Anniversary! Dance along to the music and see your favourite Disney Characters, dressed in their shiny 30th Anniversary costumes, celebrating in front of Sleeping Beauty Castle. During the show guests can expect to see over 20 characters including Mickey Mouse, Minnie Mouse, Donald Duck, Daisey Duck, Goofy, Pluto, Chip and Dale, Clarice, Nick Wilde, Judy Hopps, Tiana, The Mad Hatter, Alice, The Genie, Joy, Miguel, Woody and Jessie!
The brand new show Pixar: We Belong Together starts at Disneyland Paris! Let your beloved Pixar Pals take you on an uplifting emotional journey celebrating friendship and togetherness. Don't miss this heartwarming show, opening in the summer at Studio Theater in Walt Disney Studios Park.
As night falls, prepare to be amazed by the award winning Disney D-Light (Park World Excellence Awards Best Live Entertainment 2022) spectacular drone light choreography that illuminates the sky over Sleeping Beauty Castle!​ ​
Admire the enchanting Gardens of Wonder, 30 unique sculptures of Disney Characters bringing a world of magic to life like never before! Make sure you take a close look to find loads of hidden details and make sure to pop by during the night for a whole new experience.
Thats not all…as part of the Grand Finale of the 30th Anniversary celebrations at Disneyland Paris Disney Dreams! returns on April 12th and guests will be able to watch a brand new nightly MARVEL Drone Show  "Avengers: Power the Night" within the Walt Disney Studios from 28th Jan- 8th May!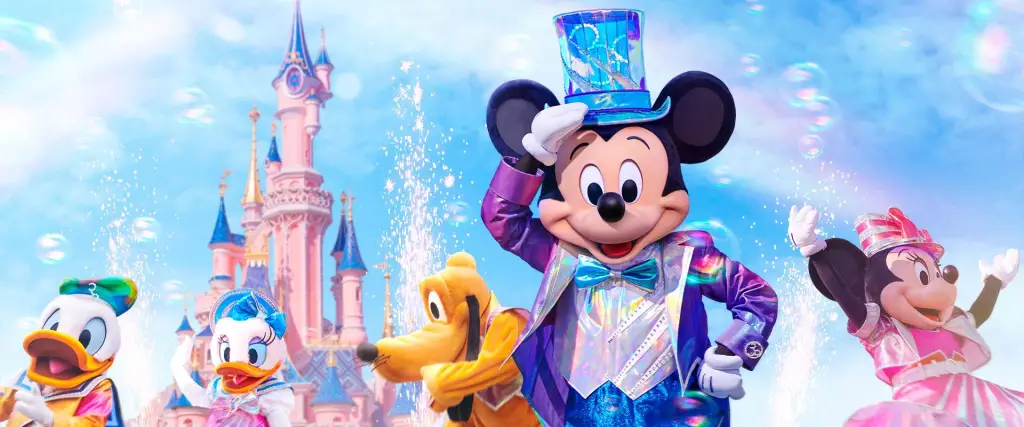 Planning Your Visit
As Disneyland Paris celebrates its 30th anniversary, the park's legacy of enchantment, wonder, and cherished memories continues to shine brightly. Be prepared to be swept away by the magic, as Disney welcomes you to join in the festivities and create your own treasured moments. Whether you're a longtime fan or experiencing the enchantment for the first time, the 30th anniversary of Disneyland Paris promises a journey filled with wonder, joy, and the everlasting magic of Disney.
Sign up to our FREE newsletter and stay up to date with the latest Disneyland Paris News.
Plan your stay with the Disneyland Paris price estimate calendar
Compare and book your next Disney vacation today and benefit from the best price possible! As Disneyland Paris use an availability pricing model, the earlier you book the cheaper it will be!
Take advantage of current Hotel & Ticket Offers, DLP Price Promise, and the Disneyland Paris price estimator to build your next trip to the heart of the Magic!