After an epic day in the Disney Parks, there is no better way to recharge your batteries than this contemporary Italian restaurant. Live like Tony Stark with fine service and tasty freshly prepared Italian dishes, while admiring the exceptional decor – and in particular, the sublime Asgard-inspired chandelier.
As the Opening of Disney's Hotel New York – The Art of Marvel get closer, it appears Disneyland Paris are slowly releasing more information for the highly-anticipated hotel. Today update was all about the Food options at the hotel, with the release of the complete menus for the Manhattan Restaurant and the Downtown Restaurant!
Manhattan Restaurant Menu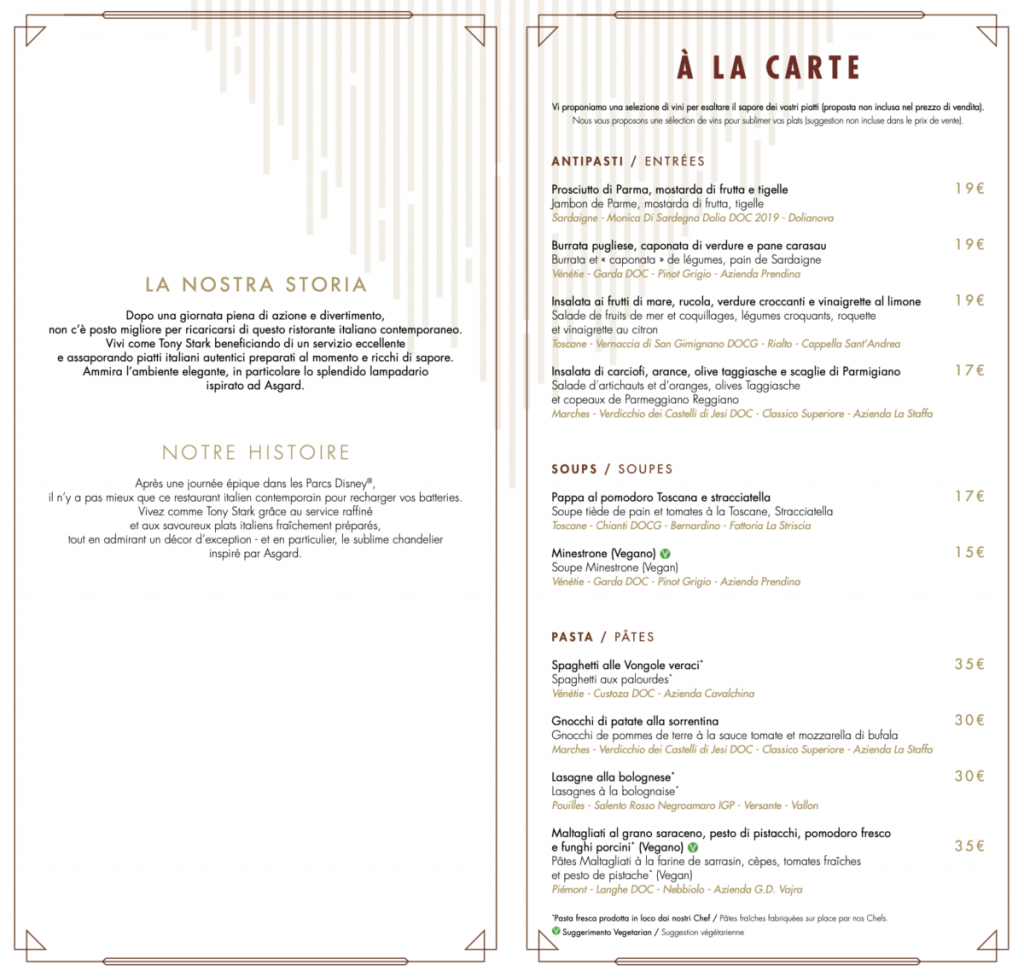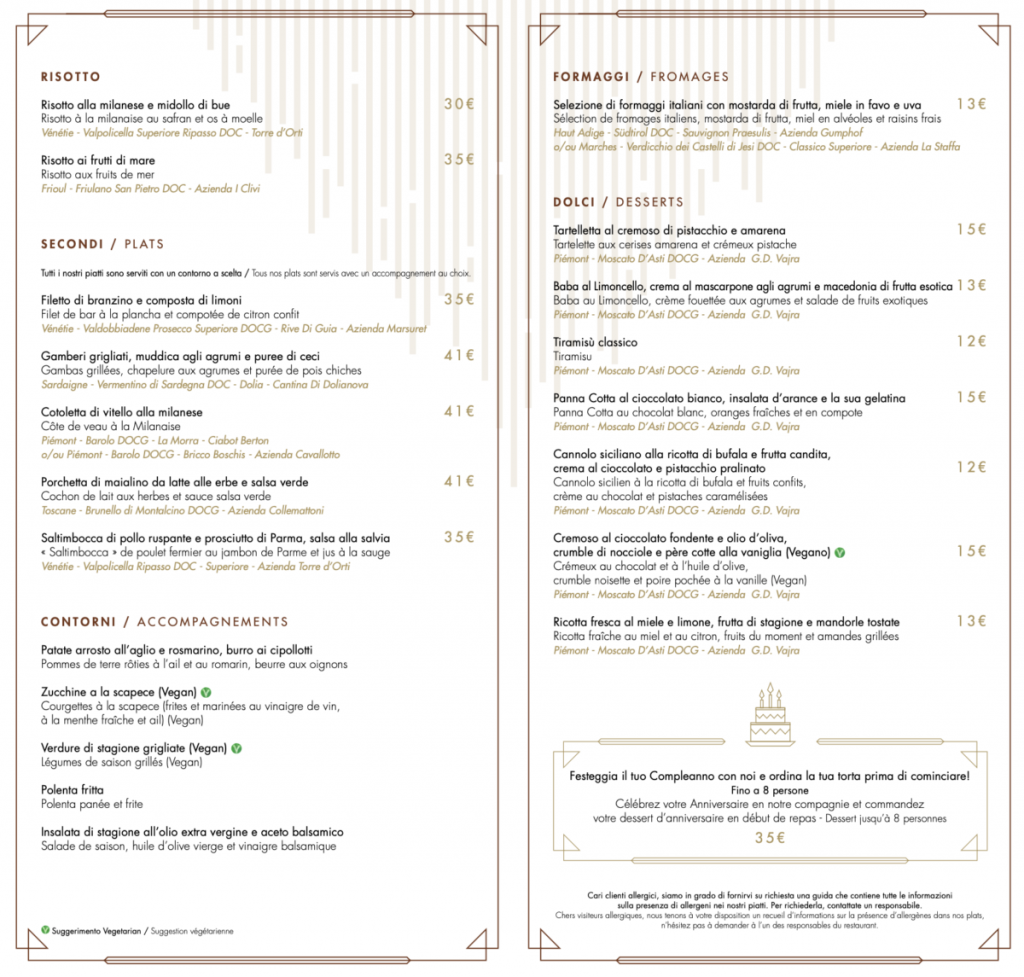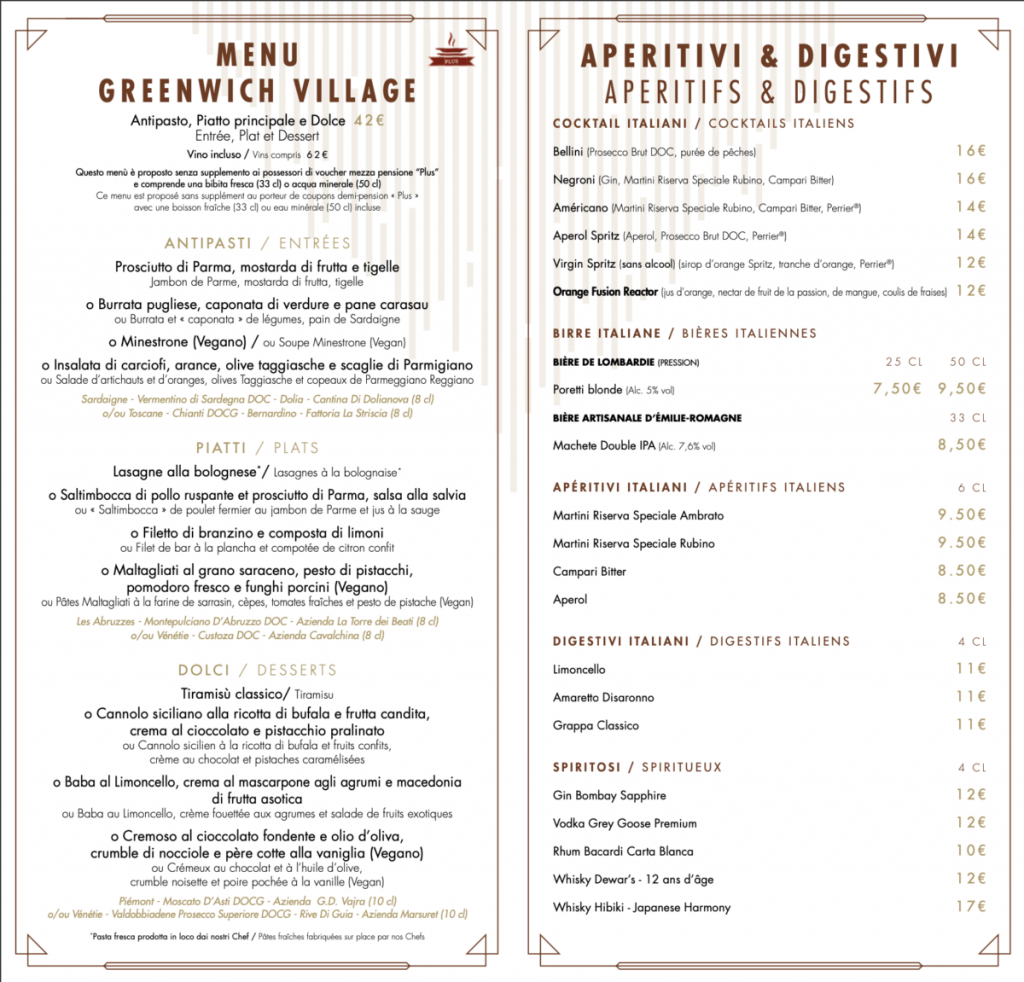 For the a la carte menu, Guests are given the following options:
Antipasti
Parma ham, fruit mustard and tigelle – €19
Apulian burrata, vegetable caponata and carasau bread – €19
Seafood salad, rocket, crunchy vegetables and lemon vinaigrette – €19
Salad of artichokes, oranges, Taggiasca olives and flakes of Parmesan – €17
Soups
Tuscan tomato soup and stracciatella – €17
Vegan minestrone – €15
Pasta
Spaghetti with clams – €35
Sorrentine-style potato gnocchi – €30
Lasagna Bolognese – €30
Buckwheat maltagliati, pistachio pesto, fresh tomato and porcini mushrooms (Vegan) – €35
Risotto
Milanese risotto and ox marrow – €30
Risotto with seafood – €35
Main Course
All dishes include one side.
Sea bass fillet and lemon compote – €35
Grilled prawns, citrus muddica and chickpea puree €41
Milanese veal cutlet – €41
Suckling pig with herbs and green sauce – €41
Free-range chicken saltimbocca and Parma ham, sage sauce – €35
Sides
Roasted potatoes with garlic and rosemary, onion butter
Zucchini a la scapece (Vegan)
Grilled seasonal vegetables (Vegan)
Fried Polenta
Seasonal salad with extra virgin olive oil and balsamic vinegar
Cheeses
Selection of Italian cheeses with fruit mustard, honey in comb and grapes – €13
Desserts
Tartlet with creamy pistachio and black cherry – €15
Baba al Limoncello, mascarpone cream with citrus fruits and exotic fruit salad – €13
Tiramisu – €12
Panna Cotta with white chocolate, orange salad, and jelly – €15
Sicilian cannolo with ricotta and candied fruit, chocolate cream and praline pistachio – €12
Creamy dark chocolate and olive oil, hazelnut and pear crumble cooked with vanilla (Vegan) – €15
Fresh ricotta with honey and lemon, seasonal fruit and toasted almonds – €13
Birthday Cakes
Guests may also order a special birthday dessert for an additional €35.
Additional Info
Guests may also choose to order the prix fixe Greenwich Village set, this comes with an appetizer, pasta, and dessert for €42, or €62 with wine.
You can also find a number of alcoholic and non-alcoholic beverages on the menu, and a perfect wine pairing recommendation underneath most food options.