This past week has been an exciting time for Disneyland Paris fans, as we were finally given the Parks reopening date of the 17th June, but we were also treated to the official opening date of Disney's Hotel New York – The Art of Marvel on the 21st June 2021. Bookings for the worlds first hotel dedicated to Marvel began on the 18th May, with a launch offer of an exclusive Marvel print and 1 free non-alcoholic drink per Guest, for bookings made before 29 July 2021 and with an arrival date before 30 March 2022. With more and more information released each day, this post will be your one stop guide and include everything you need to know about Disney's Hotel New York – The Art of Marvel.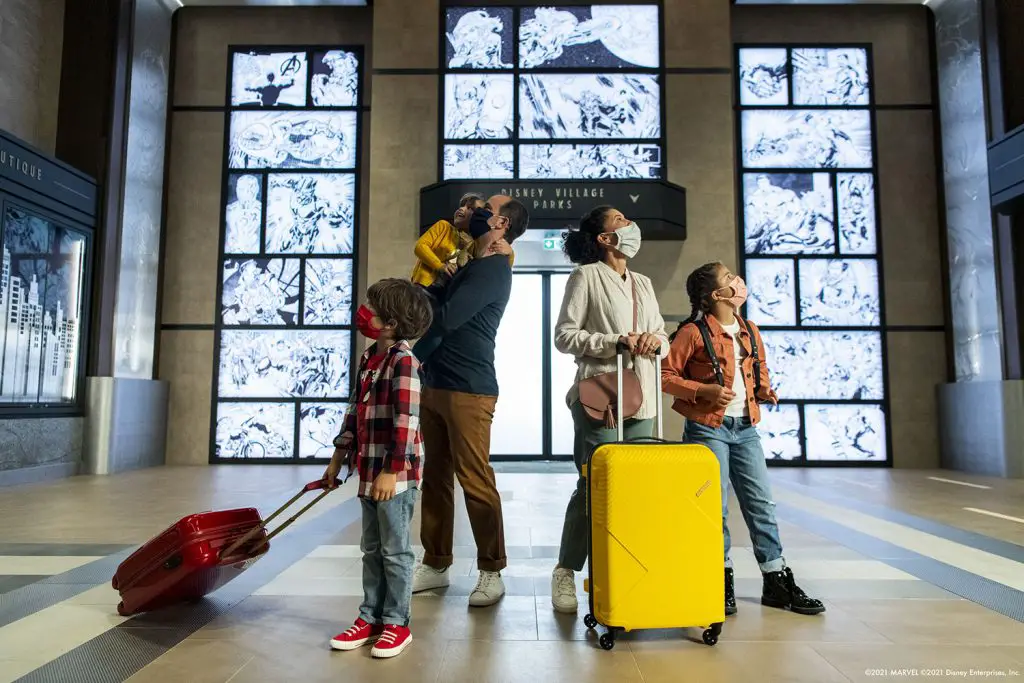 Overview
The 4 star rated Hotel New York – The Art of Marvel, is the new home of many Marvel Super Heroes (and villains!), and showcases the fantastic artists who have created them over the years. Created with a perfect mix of New York culture and vibrant energy, the hotel offers premium comfort and personalised services to all its guests.
Location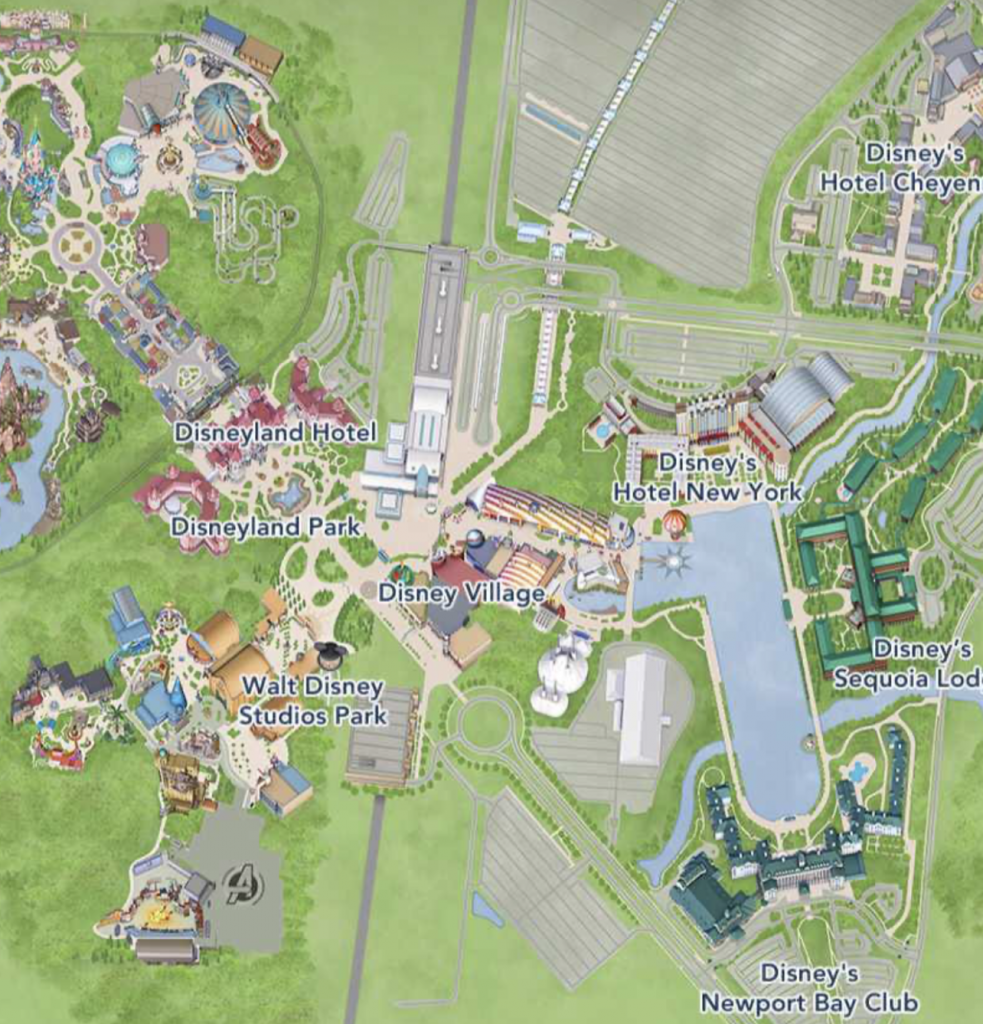 Hotel New York – The Art of Marvel, is just a Thor hammer throw from the Parks and is one of the closest hotels to the entrance of Disneyland Paris and the Walt Disney Studios Park. A short 5-10 minute through Disney Village and you will see this fantastic hotel sitting alongside Lake Disney, making it ideal for late nights and early mornings!
The hotel is also offering a free shuttle bus to the bus stops located by Marne-la-Vallée Chessy Train Station. The website says the shuttle service will take around 8 minutes.
Looking at the map and the new road layouts, we think it may be easier and quicker for most guests to simply walk to the park. However, we will test this when the Hotel officially opens.
Characters & Experiences
Disney's Hotel New York – The Art of Marvel offers unique Character experiences for children and adults alike, that cannot be found anywhere else! Remember you do not need to stay at the hotel to take advantage of these character experiences and discover your inner super hero!
SUPER HERO STATION
This is SpiderMan's meet and great location, or depending upon the current guidelines the SpiderMan Selfie Spot. As well as meeting SpiderMan, guests can also take part in exclusive action packed CGI photoshoot where you are transported into iconic Marvel movies scenes from The Avengers, Guardians of the Galaxy, Iron Man, Captain Marvel, Thor, Ant-Man, Doctor Strange, and of course SpiderMan!
MARVEL DESIGN STUDIO
Have you ever wanted to learn how to draw your favourite superhero or become a comic book artist? The Marvel Design Studio is the place you can unleash your creative juices can make this happen! Inspired by the Marvel Animators Bull Pen, this design studio offers many drawing tutorials, as well as many other Marvel digital actives, comic books and Marvel toys for the little ones to enjoy.
HERO TRAINING ZONE
No place in this hotel is not touched by the Disney Imagineers, and they have even reimagined the leisure experiences for the whole family within Hotel New York – Art of Marvel. As well as having an indoor and outdoor Metro swimming pool (with a children's pool), the hotel will also have a 420m2 Hero Training Zone. This multisport area will immerse you into the New York Marvel Super Hero world, with activities such as Basketball. The hotel will have complete fitness center, as well as other fitness and yogo activities, if you are not tired after a day in the park!
Rooms
The four-star Disney's Hotel New York – The Art of Marvel has a total of 561 rooms, each providing the greatest level of comfort and are designed to reflect Tony Starks premium and sophisticated taste, including an ultra-HD TV hiding in a wall mirror!
Superior Rooms
The 471 Superior Rooms are split into three categories; Superior Room, Superior Room with Garden view and Superior Room with Garden Terrace and each sleeps up to 4 people. These rooms are priced from £330 to £1030 per night depending upon the season, with July dates being the most expensive and November having some of the cheapest stays.
Empire State Club and Suites
The hotel features 65 Empire State Club rooms and 25 Suites dedicated to Spider-Man, The Avengers or other Marvel Super-Heroes, with even more subtle furniture details and exclusive Marvel artwork right inside your room! Guests staying in the Empire State Club room or Suites also have access to exclusive perks. This includes a private reception desk, free car valet services and access to the Empire State Lounge where they can enjoy breakfast, and day-long drinks, snacks and share a special moments with friends and family with The Art of Tea Time. Within the rooms, you will also find premium amenities such as spa bathtubs themed umbrellas and bathrobes.
The Disney Imagineers and creative teams have done the hotel and Marvel proud with subtle touches around the rooms. For example, in the SpiderMan suites, they are subtle red tones, the outline of the city skyline on the floow and the ceiling decor is inspired by SpiderMan's iconic web. The furniture within the room also has a Marvel touch, from Captain America's colours portrayed in chairs, to the headboard shaped to Thor's realm of Asgard.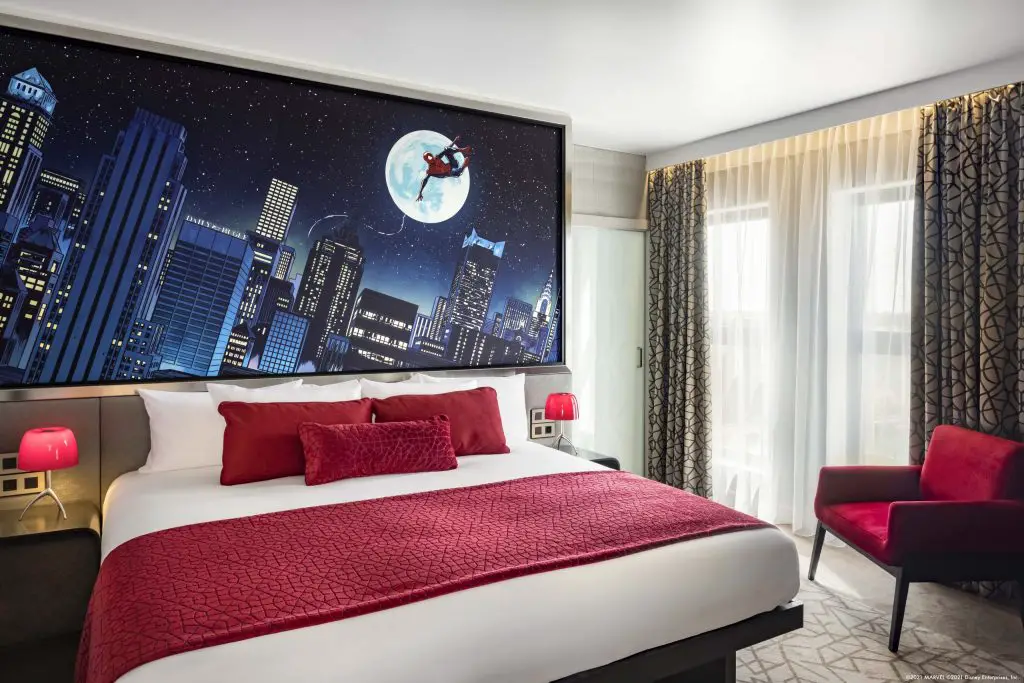 The Art of Marvel Presidential Suites
Spend you stay at Disneyland Paris living like Tony Stark in one of the sensational Art of Marvel Presidential Suites. With a double floor room, sleeping up to 5 people, the sophisticated room has touches of elegance and decadence throughout and even has its own exclusive Marvel artwork on display which is only available in these rooms..
…AND DIGITAL ENHANCEMENTS…
Hotel New York – The Art of Marvel, is the first Hotel as Disneyland Paris which will be offering an online room checkin and pre-register to help reduce lines and waiting times in the lobby. If used, this will mean guests can simply pick up their Magic Pass at reception and head straight into the Park and you will get a SMS once your room is ready for you!
You can also reserve a Spider-Man selfie timeslot up to 7 days before your arrival via the Super Hero Station Mobile Booking system.
Dining Options
The hotel will be home to 2 restaurants, skyline bar and a lounge which offer Manhattan inspired specialties and Marvel themed menu's as well as special kids menu's.
MANHATTAN RESTAURANT
This is the flagship dining option within Hotel New York – Art of Marvel and features the iconic crystal chandelier of Asgard. This restaurant offers a traditional Italian menu in a contemporary setting with a combination of Marvel and New York themed decor.
Click here to download the Manhattan Restaurant menu
DOWNTOWN RESTAURANT
The all you can eat buffet at the Downtown restaurant features a mix of speciality Chinese, American and Italian food options, they are even some dishes prepared and cooked in front of you by the chef. With a New York City art deco vibe, the restaurant also has over 90 unique pieces of art on display!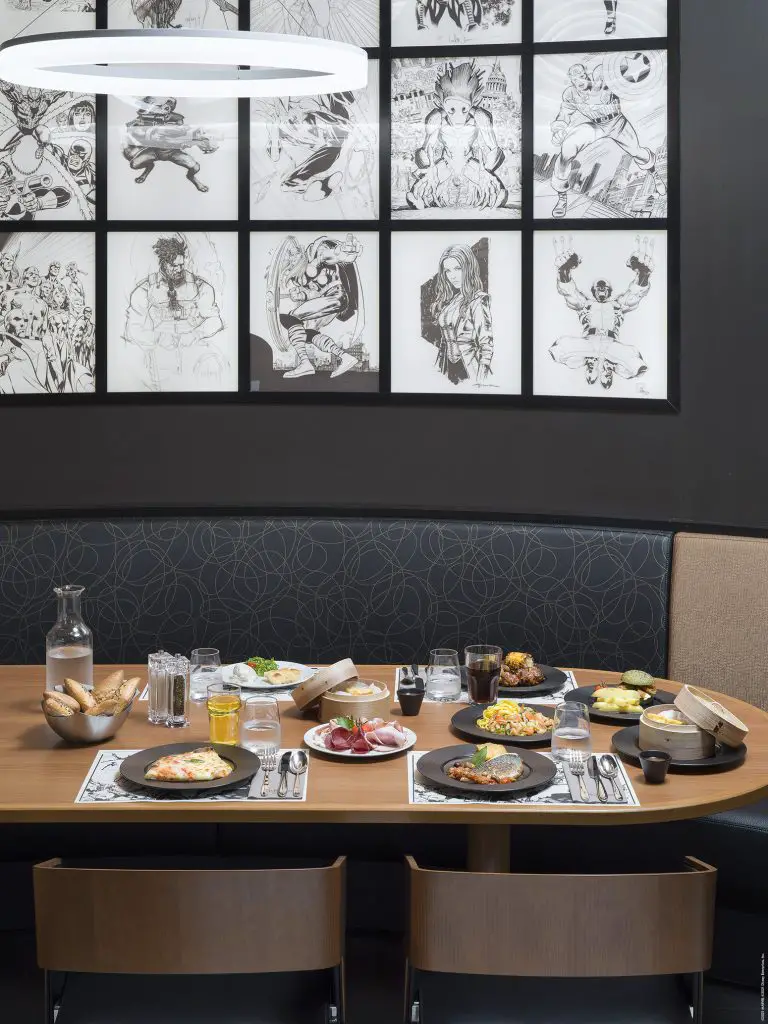 Click here to download the Downtown Restaurant Menu
SKYLINE BAR
The Skyline Bar offers some of the best martini cocktails in Disneyland Paris, as well as other beverages and American snacks. When walking into the lounge you are quickly transported to the top of a New York skyscraper, with the design and decor to the taste of Tony Stark. Featuring a set of 'panoramic windows' around the bar, you feel like your overlooking New York, and if you keep an eye on these windows you may even see some of your favourite flying heroes!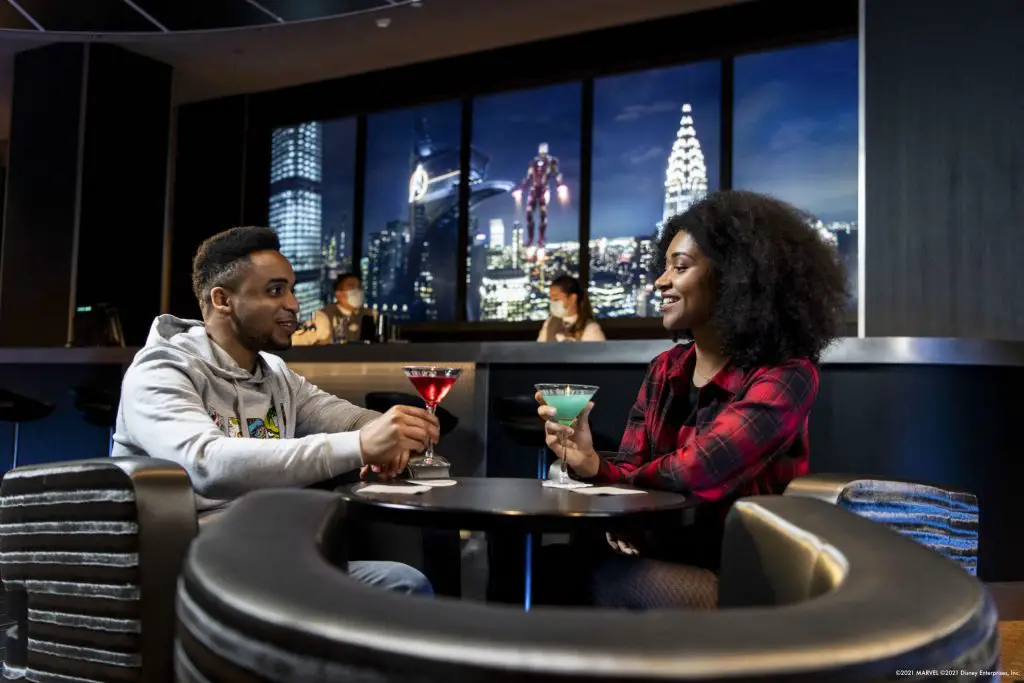 BLEECKER STREET LOUNGE
IF you love craft beers, organic wines or even coffee this will be one of your favourite spots in the hotel. This loft-style area in accentuated by exposed brick and concrete walls, and as a subtle nod to Doctor Strange and the Sanctum Sanctorum on Bleecker Street in Greenwich Village. The Doctor Strange theme is carried over into the drinks and snacks menu. This lounge will be a popular spot to to sit back, relax and take in the views of Lake Disney after a day in the Parks.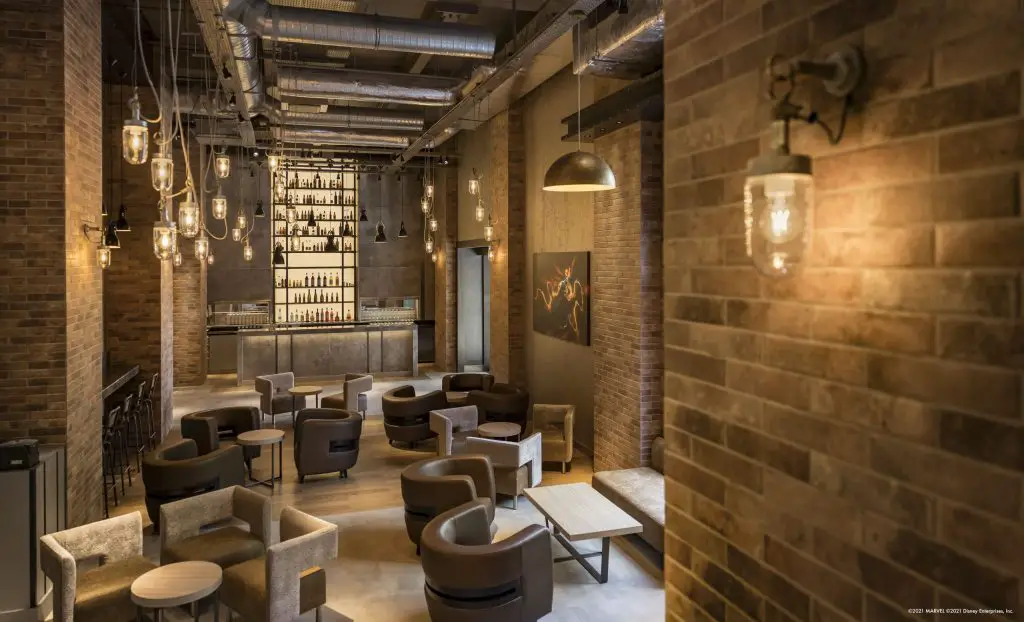 The Marvel Artwork
We cannot have a guide on this hotel without discussing the 350+ pieces of Marvel artwork on display throughout the hotel. Created by over 110 artists from around the world, it is the largest publicly viewable collection of Marvel artwork and will feature around 50 exclusive pieces.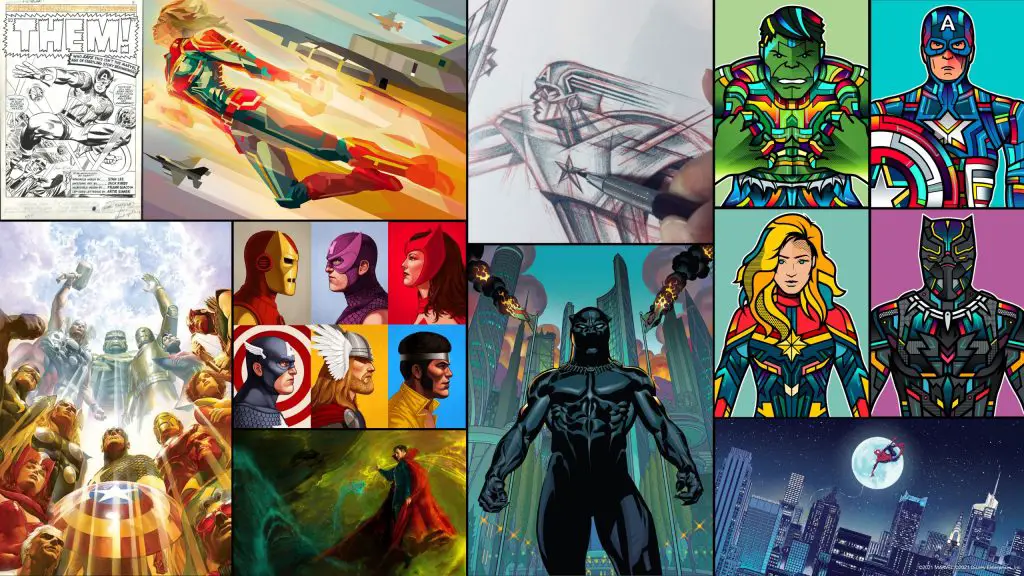 The talented artists from Marcel Comics and Marvel Studios have created this unique collection to showcase the Marvel Universe and includes comic book covers, film illustrations, sketches, posters, storyboards and more. As well as showcasing the Marvel Universe the artwork on view will also contain a wide range of artistic styles from black and white, pop art, street art, hyperrealism, collage art, engraved metal and technics.
The hotel will also have a dedicated space, the Jack Kirby Legacy Gallery, to showcase temporary art exhibitions as well as being a permanent home to showcase "the Kind of Comics" work including with 21 comic book covers drawn by Jack. After all it is due to him that we have the creation of the Thor, Avengers, X-Men, Incredible Hulk, and the Fantastic Four!
As well as artwork, the hotel will also feature many Marvel iconic props, for example, as you enter the lobby you will instantly see the Captain America shield and 3 life size Iron Man suits!
Top Tip : If you want to know more about any artwork on display within the Hotel, they are specially trained Cast Members called Art Guardians who hold the key and knowledge.
Behind the Art at Hotel New York – Art of Marvel
Take a look at the design construction of the hotel…
Disney's Hotel New York – The Art of Marvel construction has been featured in many Disneyland Paris Youtube videos. We have gather some of the most popular below to allow you to see the hotel take shape and dive straight into the action.
COVID-19
When Disney's Hotel New York – The Art of Marvel opens, a deliberate approach to health and safety measures will be implemented. Guests are invited to check www.disneylandparis.com for the most current information.