Tuck into the famously cosmopolitan tastes of New York in this art-deco restaurant. Be prepared for a mouthwatering culinary tour of Spider-Man's hometown, sampling Asian, Mediterranean and American classics – all lovingly prepared before your eyes. This is like one of those city hotspots decorated with signed photos of celebrities, but here, it's the hotel's largest collection of MARVEL sketches that fills the walls.
As the Opening of Disney's Hotel New York – The Art of Marvel get closer, it appears Disneyland Paris are slowly releasing more information for the highly-anticipated hotel. Today update was all about the Food options at the hotel, with the release of the complete menus for the Downtown Restaurant and the Manhattan Restaurant!
Downtown Restaurant – All You Cat Eat Buffet
This restaurant is an all you can eat buffet, with a price of of €40 for adults and €30 for children (ages 3-11)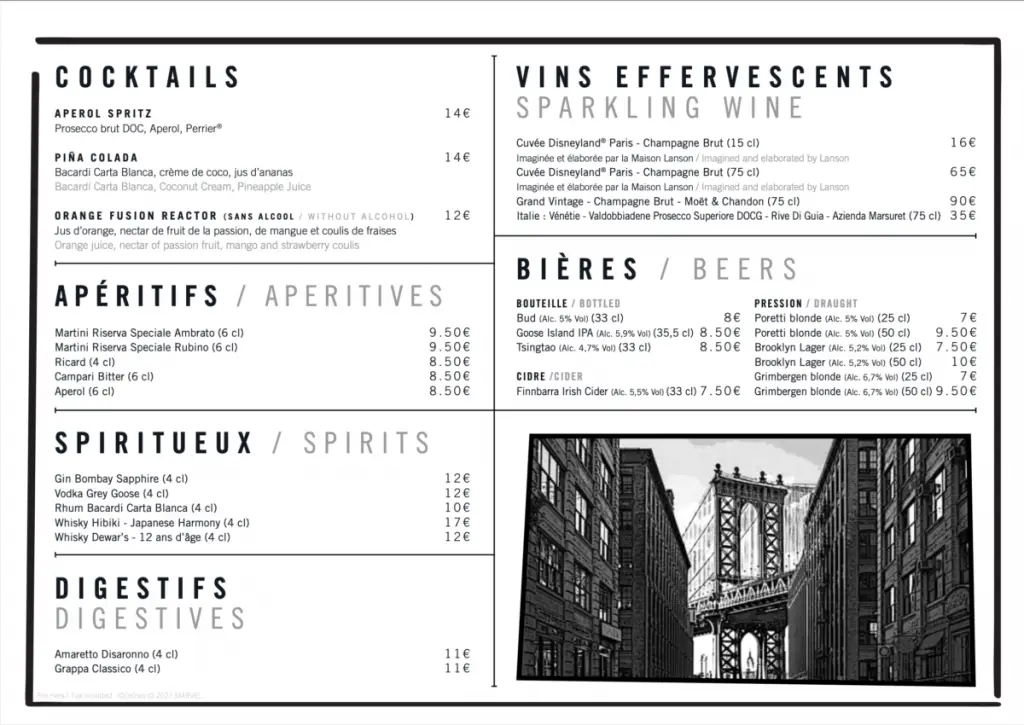 The entire menu is divided into 3 main areas :Chinatown, American, and Italian.
Starters
Chinatown
Noodle Soup with Black Mushrooms, Chinese Chicken Salad, and/or Assorted Dim Sum.
American
Tomato Clam Chowder, Smoked Salmon Bagel, and/or Einkorm Wheat and Kale Salad.
Italian
Italian Deli Meat Platter, Tomato and Mozzarella di Bufala Salad, and/or Minestrone Soup.
Mains
Chinatown
Shrimp with Chilli Sauce and Sauteed Noodles, Sweet and Sour Pork with Steamed Rice, and/or Roast Duck, Hoisin Sauce and Vegetable and Coriander Stir-fry
American
Beef Burger, Roast Potatoes and Coleslaw, Vegan Burger, Steamed Potatoes and Roasted Tomato, Chicken Wings, BBQ Sauce, Roast Potatoes and Corn on the Cob, and/or Beef Brisket with Smoked Pepper, Roast Potatoes and Green Beans.
Italian
Pasta of the Day, Choice of Sauce (Bolognese, Gorgonzola Cheese or Pesto), Pinsa with Tomato Sauce, Mozzarella and Basil, Vegan Pinsa, and/or Sea Bream, Tomato and Olive Sauce, Aubergine Parmigiana.
Children Menu
Spring Rolls, Steamed Rice and Asian Sauce, Mac 'n Cheese, and/or Beef Meatballs, Pasta and Tomato Sauce.
Desserts
Chinatown
Exotic Fresh Fruit Platter and/or Assorted Asian Desserts: Mango and Passion Dessert, Coconut Cup, Egg Tart and Avengers Macaroon (Lychee).
American
Assorted Cheeses: Monterey Jack, Pepper Jack, Cheddar, and/or Assorted American Desserts: New York Cheesecake, Carrot Cake, Chocolate Babka and Baby Groot Chocolate Mousse.
Italian
Spoonable Gorgonzola with Focaccia and/or Assorted Italian Desserts: Captain Marvel Meringue Cream Crunch, Captain America Panna Cotta, Lemon Tart, Chocolate Cannoli
Birthday Cakes
Celebrate their birthday with a special birthday dessert, for up to 8 people, for €35.