Get ready for a spook-tacular adventure at Disneyland Paris this Halloween Season! Join us in the celebration where Disney Villains bring the boo-tilicious party to life. Whether you're a first-timer or a regular visitor, our Disneyland Paris Halloween guide unveils the must-dos, from encountering mischievous villains to savoring delectable treats.
Don't forget to charge your phone – you'll want to capture every magical moment of this hauntingly delightful experience!
What you need to know about Halloween at Disneyland Paris
Unlock the secrets of the Halloween season at Disneyland Paris 2023 with our guide! From enchanting must-dos that will leave you spellbound to delectable must-eats that will tantalize your taste buds, and magical must-meets that bring the enchantment to life, we've got you covered with all you need to know for an unforgettable Disney Halloween experience!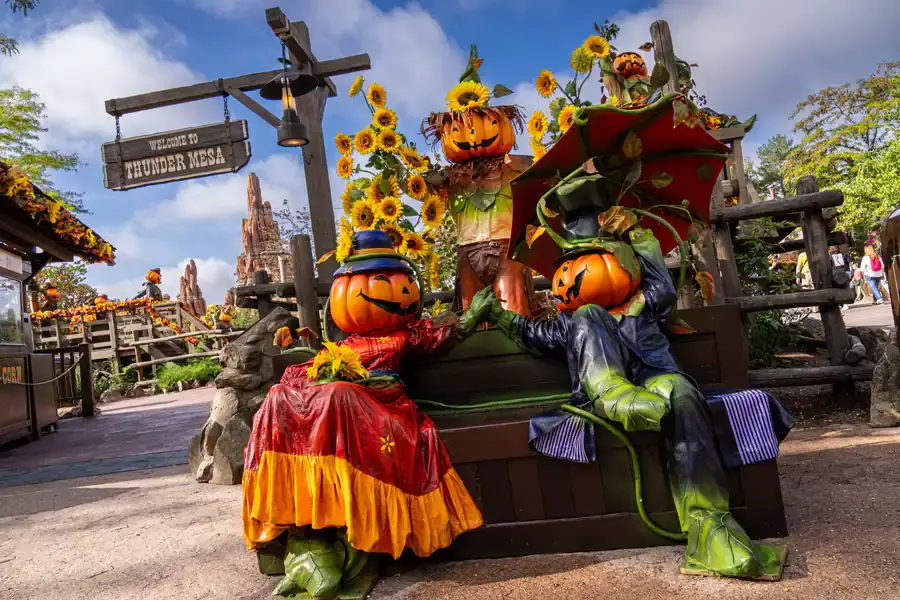 When is the Halloween season at Disneyland Paris?
This year, the big difference is that Halloween starts following the Grand Finale of the Disneyland Paris 30th Anniversary Celebration. Get ready for a seamless transition from the grandeur of the 30th-anniversary celebrations to the enchanting Halloween festivities at Disneyland Paris!
The 2023 Halloween season will take over Disneyland Paris from October 1st to November 5th.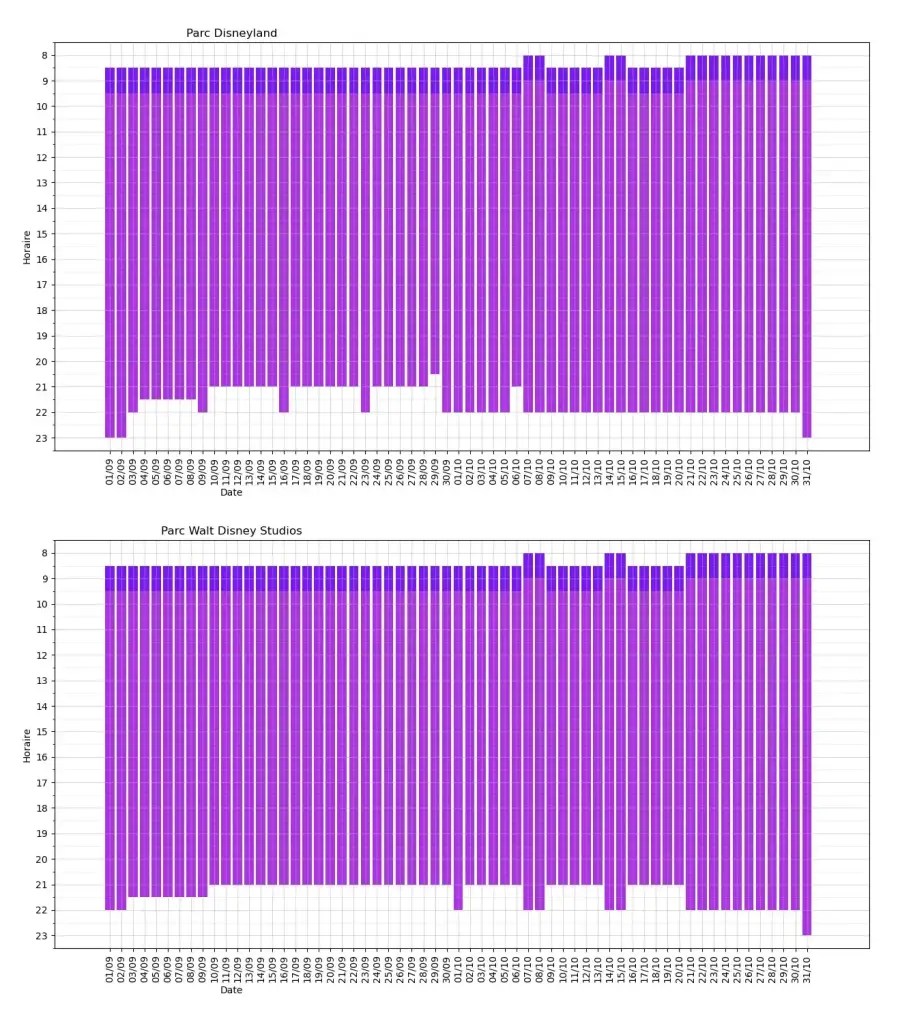 Disneyland Paris Park hours for October 2023
Weekdays: 9:30 am to 10:00 pm (1-20 October 2023) (aside from 6th October, when the park closes at 9 pm)
Weekends and from the 21st of October, the park will open earlier at 9am
Disney Hotel guests and Gold Disneyland Passholders will have access to Extra Magic Time allow them to enter the park 1 hour earlier than the standard time
Walt Disney Studios Park hours for October 2023
Weekdays: 9:30 am to 9 pm (1-20 October 2023)
Weekends and from the 21st of October, the park will open earlier at 9am
Disney Hotel guests and Gold Disneyland Passholders will have access to Extra Magic Time allow them to enter the park 1 hour earlier than the standard time
What tickets do I need?
This year Disneyland Paris will not be offering any hard-ticket Halloween parties, meaning all the Halloween festivities will be available to all guests and take place during the regular park hours.
Remember: Disneyland Paris are still not offering ticket sales at the dates of Disneyland Paris. We recommend you buy your park tickets before visiting the parks.
We have guides on the cheapest tickets for Disneyland Paris and the new annual pass system (now called the Disneyland Pass). 
Is it crowded at Disneyland Paris in October?
The crowd levels you'll encounter at Disneyland Paris often vary with Halloween increasing in popularity. Crowd levels historically increasing on weekends, during the school break and during Halloween week. We usually recommend visiting on a weekday to experience lower crowd levels.
After the success of the 30th Celebrations, we are seeing lower crowd levels so far this Halloween season as many guests visited during the switch over between the 30th and Halloween to allow them to experience both seasons. Read our guide about visiting Disneyland Paris in October.
Halloween Attractions at Disneyland Paris
Unlike the USA parks, Disneyland Paris does not have Halloween ride overlays such as the Nightmare Before Christmas at Disneyland California's Haunted Mansion, however, they do have some popular attractions they usually include within their Halloween promotions.
These are attractions include:
Phantom Manor – This is one of the best 'Haunted Mansions' from any Disney Park, and has grown to be a guest favourite attraction! Don't forget to visit Boot Hill to see all the gravestones and hear the beating heart!
Tower of Terror – Located in Walt Disney Studios, this attraction based on the Twilight Zone. With 3 lifts, all offering a different story and experience you'll never know if you'll be lost in the 5th dimension or taken over by monsters!
La Tanière du Dragon – One of the best secrets at Disneyland Paris is that it has a living dragon under Sleeping Beauty Castle!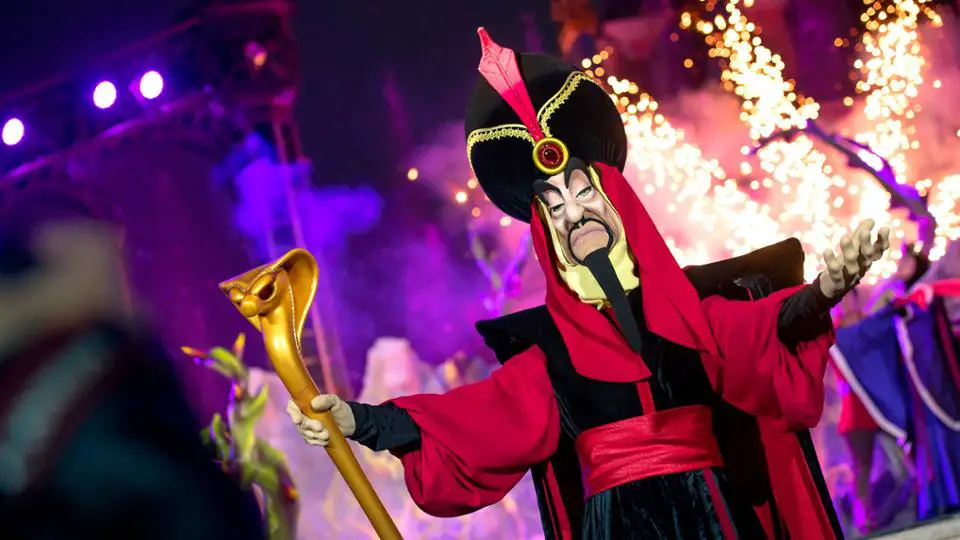 Can you meet Character and Villains at Disneyland Paris?
We all love meeting Disney characters in the parks, and Halloween offers some unique meet and greets, with more villains roaming the lands and our favourite Disney characters in their trick or treat outfits!
Disneyland Paris has shared this year line up for the Halloween meet and greet, and for the first time this includes Sally with Jack Skellington! Read our guide here on the Halloween Meet & Greets
Do Disneyland Paris have a Halloween Parade?
You can also see many Disney characters during the Halloween parade, with is performed twice a day! Keep your eyes peeled and let us know how many outfits Mickey Mouse wears on the Phantom Manor-themed float.
For the first time this year guests will see Goofy and Max included in the parade!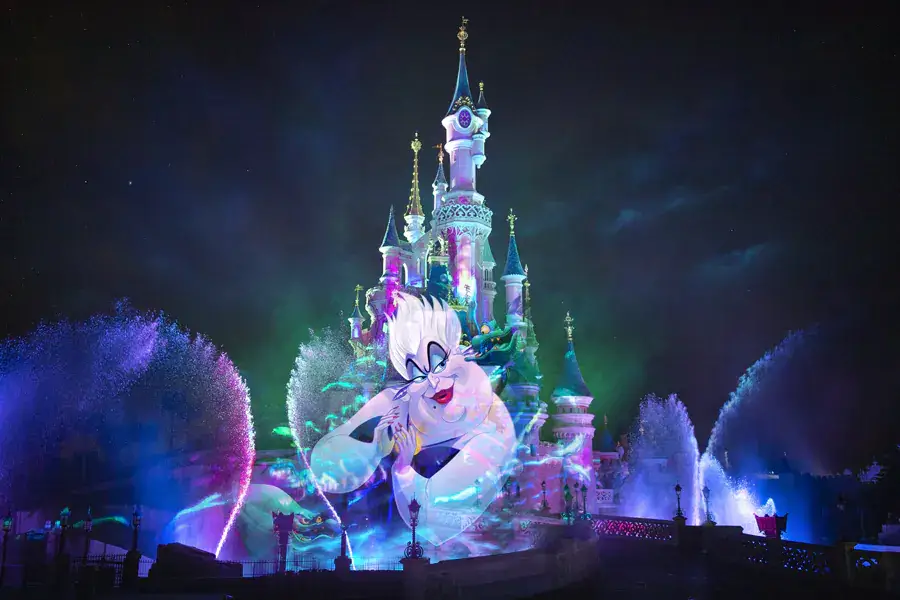 Is there a Halloween Castle Projection Pre-Show?
As nightfall's the villains will take over the projections on Sleeping Beauty Castle for a special pre-show to Disney Dreams!
As night falls, just before the incredible Disney Dreams! nighttime show—a blend of cutting-edge technology, projections, laser games, water jets, and pyrotechnic wizardry—this infamous crew has a spine-tingling surprise for visitors with "A Twilight with the Disney Villains."
Can you buy Halloween-themed merchandise?
Every season the Disney parks around the world release exclusive Halloween merchandise, and Disneyland Paris is not an exception. In fact as well as having a Christmas shop, they also have a 'Halloween' shop (Thunder Mesa Mercantile Store) all year round with many items dedicated to the Nightmare Before Christmas and Disney villains!
Whether it's children's costumes, mugs, keychains, or even headbands, you'll find something for everyone. Don't forget to visit the Emporium, Thunder Mesa Merchantile Building, Le Coffre du Capitaine, Tower Hotel Gifts, and World of Disney stores.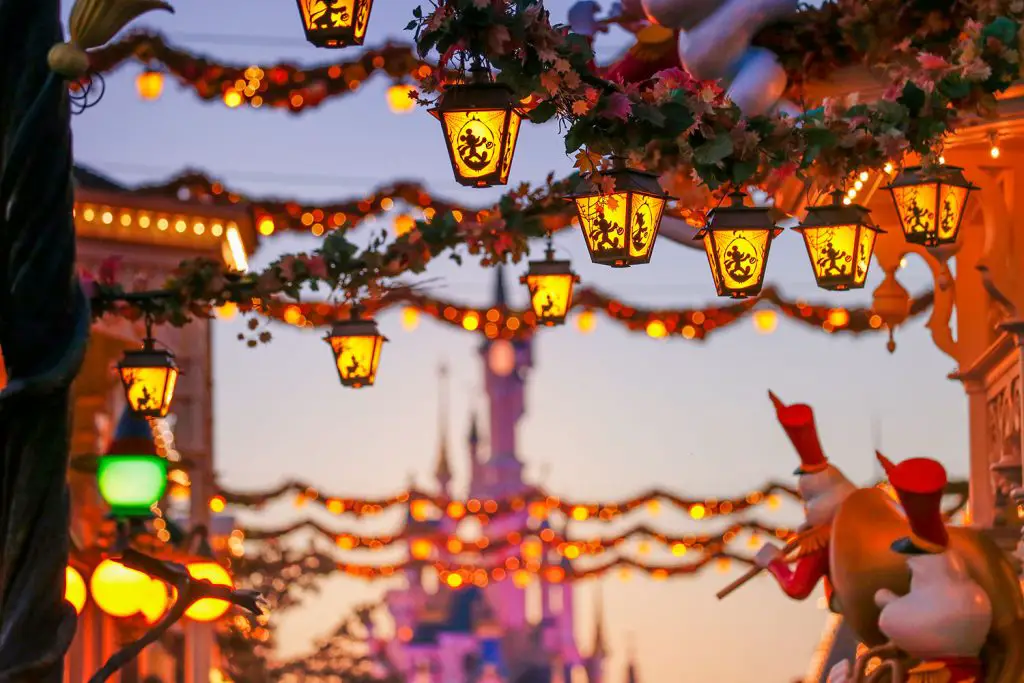 Are there Special Halloween decorations at Disneyland Paris?
You;ll find Mickey-shaped pumpkins, autumnal garlands, pretty lanterns, and spooky décor throughout parks, but our favourite spot is Frontierland!
Frontierland is the home of Día de los Muertos decorations, and the area looks even more delightful at night!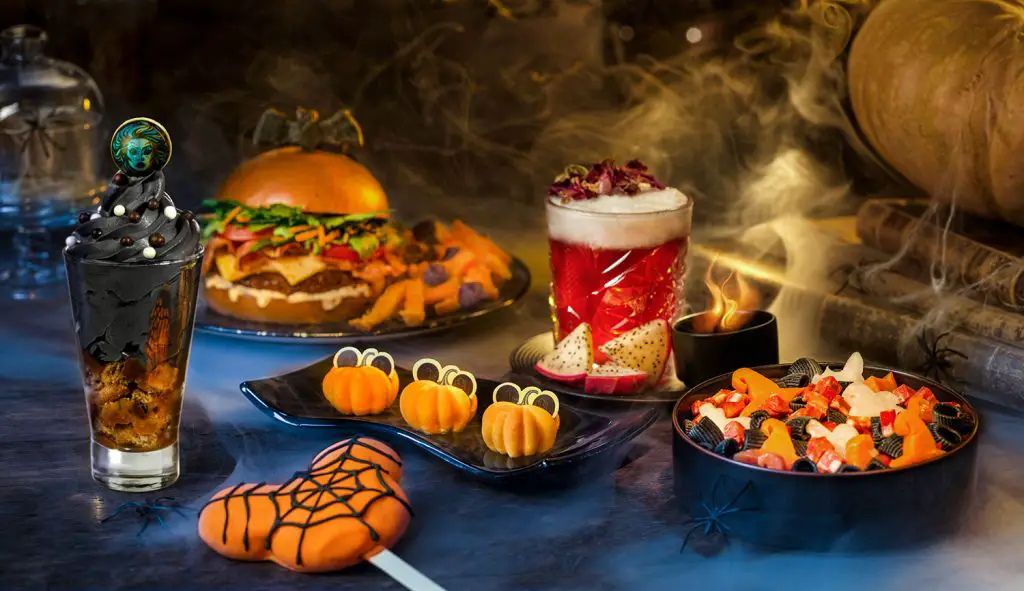 What are the Halloween-themed snacks at Disneyland Paris?
Disneyland Paris has released their range of Halloween Treats, Snacks and Drinks. From Mickey Mouse vampire cookies to a Madame Leota Sundae, this year Disneyland Paris will be offering a wide range of spooky snacks!
These devilishly delicious offerings will be available at select restaurants (within the parks, Disney Hotels, and Disney Village) from September 29 to November 9.
Read our complete Disneyland Paris Halloween Snacks, Treats and Drink Guide
Is there any Halloween celebrations in Disney Village?
From October 21 to November 5, M&M'S®, the official partner of the Halloween season, invites thrill-seekers to enter the heart of its mysterious "Fun and Thrills" mansion at Disney Village for the very first time. This unique experience offers guests the chance to take on a series of challenges around the smoking cauldron, the spooky cupboard, and even the famous portrait gallery. Thrills are guaranteed!
Can I do Disneyland Paris in 1-day at Halloween?
You can experience Halloween at Disneyland Paris in a single day, however, we would usually recommend 2-3 days so you don't have to rush if you want to meet many Disney Characters in their Halloween costumes.
As the Halloween celebrations only take place in Disneyland Park (apart from the Tower of Terror attraction) you can focus your attention within one park, and around the Halloween Parade / Show times!
Can I wear a fancy dress costume during Halloween season?
Disneyland Paris has a strict costume policy.
Unfortunately for adults, costumes are not allowed at Disneyland Paris during the Halloween season apart from on the 31st of October. Guests wearing a costume on this date will not be able to pose for photographs with guests or sign autographs and must still stick within specific costume rules such as family friendly and no face coverings.
However, children aged 12 and under are allowed to wear costumes any day of the year.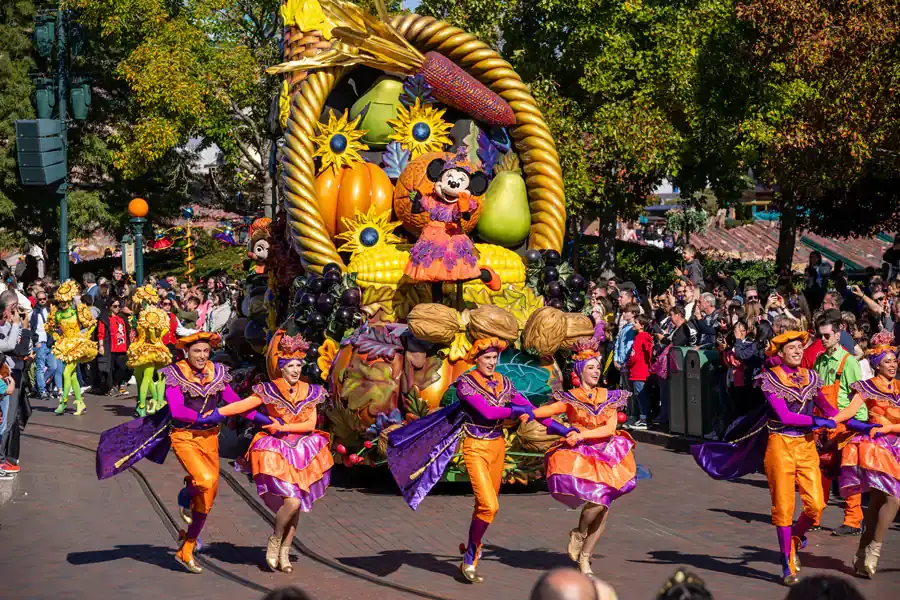 Plan your stay with the Disneyland Paris price estimate calendar