Since Disneyland Paris paused the sales of new Annual Passes, guests have been searching for the best ways to save money on park tickets and are looking for when Disneyland Paris Tickets are the cheapest. We've checked the current prices at Disneyland Paris to let you know the cheapest time to visit and how you can save money when buying your next Disneyland Paris Park Ticket.
For those in a hurry
With many options including number of days and dated/undated ticket is can be confusing, but Disney have made the process of buying Disneyland Paris Park tickets online really simple.
If you don't have the time to read our complete guide, you can just save yourself some time and money by visiting Monday to Wednesdays in January or February, with the next cheapest dates in March, September, October, November or December!
Continue reading our guide to see how you can use the Disneyland Paris ticket checkout process to find the best ticket prices for your next visit
Should I buy a Dated or Un-dated ticket at Disneyland Paris?
If you're looking to save money on your Disneyland Paris park ticket, dated tickets will always save you money compared to un-dated tickets. Dated tickets are also the easiest option for guests as they include your advanced registration. This means when you buy your park tickets, you are guaranteed entry into Disneyland Paris! If your plans change and you can no longer make your pre-booked dates, you can cancel your tickets up to 3 days before your arrival for a refund and without any fees.
Undated tickets are a great gift idea as they're valid for 1 year. With these tickets, you have the flexibility to use them on any day after your purchase, but you cannot use them on the same day as your purchase. With this ticket type you need to remember to book your advanced registration separately and in advance of your visit. Please note, that this ticket type is non-refundable.

How to Buy Disneyland Paris Park Tickets online?
Buying your park tickets on the official Disneyland Paris website is very simple, and can also allow you to add on additional options straight away, such as Premier Access, secure your seat for certain shows and even a shuttle bus direct from Paris!
What days at Disneyland Paris Tickets the cheapest?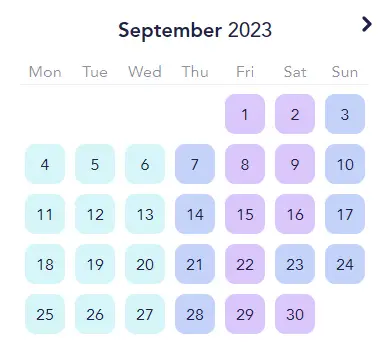 You can save up to 20% on your Disneyland Paris ticket by visiting at the start of the week. Using the ticket estimator and booking system we found ticket prices during these dates were always the cheapest, no matter the month.
Take September for example, Monday to Wednesday are the cheapest dates, whilst Fridays and Saturdays are the most expensive!
What Month is it cheapest for Disneyland Paris Tickets?
We've looked at the prices of single day 'dated' tickets, over the next 12 months. We know that Disneyland Paris incorporate three pricing models into their ticket prices, based on peak/off peak, availability and number of days.
After checking the Disneyland Paris ticket prices we can see that January and February are the cheapest months and the overall year can be split into 4 pricing zones.
Price Zone 1: from €81 per adult, €77 per child
Price Zone 2, from €87 per adult, €82 per child
September
October
November
December
March
Price Zone 3, from €92 per adult, €87 per child
Price Zone 4, from €109 per adult, €103 per child
Full Year Breakdown
April, from €114 per adult, €107 per child
May, from €92 per adult, €87 per child
June, from €92 per adult, €87 per child
July, from €109 per adult, €103 per child
August, from €109 per adult, €103 per child
September, from €87 per adult, €82 per child
October, from €87 per adult, €82 per child
November, from €87 per adult, €82 per child
December, from €87 per adult, €82 per child

January, from €81 per adult, €77 per child
February, from €81 per adult, €77 per child
March, from €87 per adult, €82 per child

The Longer you stay the cheaper it gets!
The longer you stay at Disneyland Paris, the cheaper you park tickets become. On the cheapest date of the year,
single dated tickets start from €81 per day,
two day tickets start from €71 per day,
three day tickets start from €67 per day,
four day tickets start from €59 per day!
How many days do you need for Disneyland Paris?
We always say 3-4 days is perfect for Disneyland Paris. This allows you to relax and fully experience everything both parks have to offer. If we break this down, this allows two days for Disneyland Park and its five magical themed lands, one day for Walt Disney Studios Park and its four action-packed zones, and your final day to experience your favourite parts all over again!
What the most expensive Month for Disneyland Paris Tickets?
After looking at the cheapest ticket prices at Disneyland Paris, its only fair we look at the most expensive tickets and dates to visit.
The most expensive single day ticket is priced at €124 per adult, and this is for tickets within the next 2 days. As you cannot purchase tickets at the park, this means last minute bookings can cost the most! Make sure you book your tickets early to get the best prices possible!
The next time Disneyland Paris tickets will be the most expensive are from the 21st October to the 3rd of November, and 23rd of December to the 6th of January.
Is it cheaper to buy Disneyland Paris tickets online or at the park?
This is one of the most popular questions we are asked about DLP Park tickets and we can confirm its always cheaper to buy your tickets online. It's also important to be aware that you cannot currently purchase park tickets at the gates of Disneyland Paris (apart from special rate tickets such as Disability tickets).
When should you buy your Disneyland Paris Tickets?
You should book your ticket as soon as you know what dates you'll be visiting. If you want to save time and money, our best tip is that you buy your tickets in advance and direct from Disney. The sooner you book, the better price you'll get on your park tickets, and using the price estimator and price promise you can ensure you get the best prices possible. We would also advise you book your park tickets at least 8 days in advance to avoid any sudden increases in prices!