When visiting a Disney park you want to make sure you understand their Disney FastPass system, as each parks system is different. By planning and understanding the Disneyland Paris FastPass system you can make sure you get to enjoy more of the major attractions and spend less times in queues. Our Disneyland Paris FastPass Guide provides you all the information about the FastPass system, paid for upgrades, as well as our FastPass Strategy and Tips.
---
Our Disneyland Paris FastPass Strategy
Depending upon which Park you want to visit at rope-drop, depends on where you need to head to first. Here we'll let you know our FastPass Strategy for Disneyland Paris and the Walt Disney Studios Park.
Please keep in mind that this guide is to be used as a reference point. Crowd levels, attraction preferences and refurbishments may impact your day or the order you wish to ride attractions. During special events, such as Halloween, there may also be additional entertainment, character meets or parades which you'll need to consider.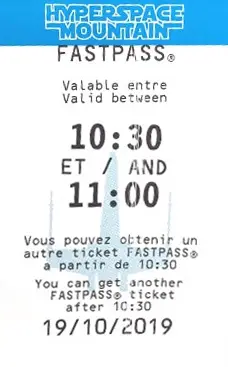 Our Three Biggest Tips before we start
Check current attraction wait times, and current fast pass time slots. We've seen many wait times at over 60 minutes, but the fast pass time slots allow you to ride the attraction within 15-30 minutes. Why wait if you don't have to? Grab a fast pass and reduce the wait time!
Always have a FastPass booked. This allows you to enjoy the other wonderful delights or attractions within Disneyland Paris whilst you wait for your allocated time slot.
Keep an eye on the time at the bottom of the FastPass ticket. This shows you the time you can get your next fast pass. In some cases, this will be before you use your current FastPass!
Disneyland Paris FastPass Guide
Disneyland Paris has over 40 Attractions in total, and depending upon your age or attraction preferences they are many different routes to creating your perfect day within the Park. Based on our love of Rollercoasters and Disney Classic rides this is our Disneyland Paris FastPass Guide
Be at the Park Entrance at least 15-20 minutes before the opening of Extra Magic Time, to make sure your one of the first into the park.
The plan here is to ride as many attractions before 10am and the opening of the Free FastPass Tickets. We have two usual routes, firstly we head over to popular attractions close to Big Thunder Mountain, such as Phantom Manor and Indiana Jones. Secondly, we head towards Hyperspace Mountain and Buzz Lightyear.
Once the FastPass system opens, head straight for Big Thunder Mountain or Peter Pan Flight, and grab a FastPass.
Whilst waiting for our FastPasses time to come in, we tend to ride other attractions not available to for FastPass such as Dumbo, Orbitron, Star Tours, Pinocchio, Snow White or even It's a Small World. Sometimes we just take the time to enjoy walking around the Castle, meeting Disney characters, or just relaxing.
Keep an eye on the time at the bottom of the FastPass ticket this is when you can get your next FastPass. We suggest you head in the opposite direction to the attractions you've already ridden. If you started by Big Thunder, head towards Hyperspace Mountain, or vice versa.
Whilst waiting for your next for your allocated time slot, head over to rides that don't have a FastPass system like Pirates of the Caribbean.
The rest of the day can take many routes, depending on your FastPass Times, current Shows, Parades, Character Meets and crowd levels.
If you only have a short amount of time before your FastPass time slot take advantage of the relaxing attractions to enjoy within Disneyland Paris, such as walking around the Castle, La Tanière du Dragon and Adventure Isle.
Remember Fantasyland is the first land to close at the end of the day, due to the Illuminations, make sure you ride these attractions earlier, so you can spend time in other lands whilst the Illuminations is being set up.
Walt Disney Studios Park FastPass Strategy
The Walt Disney Studios Park is currently a Half Day to Full Day Park with many attractions to enjoy including Ratatouille, Crush's Coaster and The Twilight Zone Tower of Terror. To get the most from this park it's about taking advantage of the Extra Magic Time and the FastPass system early in the day.
Be at Walt Disney Studios at least 15-20 minutes before the opening, to make sure your one of the first into the park.
Head straight to Crush's Coaster and join the queue, this tends to be the longest queue of the day with waits well over 100 minutes, and there's not a FastPass available. By heading there first we've managed to ride this within 20-30 minutes of the Park opening.
If you want to meet Characters, from Frozen or Toy Story, make sure you have the LineBerty App (iOS or Google) downloaded and you're online ready to grab a Virtual Pass. These usually become available between 9:30 – 9:45am.
Once you've ridden this attraction head over to Ratatouille and grab your FREE FastPass. Make sure you go back to ride this attraction at the time stated on the ticket.
Visit Toy Story Playground and queue for RC Racer, another popular ride with long queues later in the day. Whilst in Toy Story Playground, its best to also ride Slinky Dog ZigZag and the Toy Soldier Parachutes.
By this time you should be able to grab your Second FREE FastPass for Twilight Zone Terror of Terror. Remember you can grab this one as soon as you have used your Ratatouille FastPass, or after the time displayed on the bottom of the ticket.
The next attractions should be Cars Quatre Roues Rallye and Les Tapis Volants – Flying Carpets Over Agrabah.
At the moment, this Park is relatively small due to the on-going expansion. You should be able to complete all of the above within 3-4 hours of entering the park during Extra Magic Time. However, Park hours and crowd levels may vary.
Once you've been on the attractions, there's still plenty to do within this Park. One of the most popular areas is Studio 2 for the special seasonal character meet and greet. For example, during the Halloween season this will be the place to meet the Disney Villains. You can also meet Minnie Mouse, Goofy or Pluto in the Toon Studio and be part of Magical Selfie Spots by Terror of Terror, Stitch Live, or at the exit to Studio One.
---
What is a Disneyland Paris FastPass?
A Disneyland Paris FastPass, is a ticketed system which allows you to avoid the standard queue lines for specific attractions. This means your wait time to ride an attraction may be far shorter, allowing you to ride more attractions within the day.
---
What Attractions are included with the FastPass?
The Disneyland Paris FastPass is currently only available on 8 attractions, 6 inside the Disneyland Park and 2 within the Walt Disney Studios Park. See included attractions below:
DISNEYLAND PARK
Indiana Jones and the Temple of Peril
Star Wars: Hyperspace Mountain
Buzz Lightyear Laser Blast
Big Thunder Mountain
Peter Pan's Flight
Star Tours
WALT DISNEY STUDIOS PARK
The Twilight Zone Tower of Terror
Ratatouille: The Adventure
---
What Popular Disneyland Paris Attractions don't have a FastPass?
They are many attractions at Disneyland Paris that we would love to see have a FastPass. Two of our favourite rides within Disneyland Paris are Pirates of the Caribbean and Phantom Manor, these do not have a free FastPass option, and can sometimes have very long wait times. However, we've found at the start or end of the day, the wait times can be less than 15 minutes. Please note, Phantom Manor is included on a paid FastPass upgrades such as the Super and Unlimited FastPass.
One of the attractions within the Walt Disney Studios Parks we always see long wait times for is Crush's Coaster, this also has no FastPass option. Throughout the day it's not unusual to see wait times of over 100 minutes. A popular tip for this is to head straight for this attraction during the Magic Hours at the start of the day.
---
How much does a Disneyland Paris FastPass Cost?
In essence, the Fastpass system Disneyland Paris is designed to be free and available to all guests, with optional payable upgrades.
They are multiple levels of FastPass at Disneyland Paris, these include:
Free Disneyland Paris FastPass
The FREE Disneyland Paris Fastpass can be obtained by scanning your ticket at the entrance of the Attraction. Once scanned this will provide you with a FastPass, with a 30 minute time slot, to come back and skip the queue.
Important Note : You cannot get multiple free FastPass tickets at the start of the day. You can only obtain your second free FastPass once one of the following two criteria have been met.
The previous one has been used
Two hours after the collection of a previous FastPass. This can be confusing, but Disney make this simple for you and display this at bottom of the FastPass ticket.
Standby Pass
A StandbyPass is a new style FastPass introduced by Disneyland Paris in 2020. Slightly different to other FastPasses, but worth mentioning in this guide. This pass is required to join the queue line and ride the attraction, and was designed to help with the social distancing regulations within a queue. The pass can be obtained via the Disneyland Paris App and it will provide you with a time to come back and ride the attraction. If in operation, you cannot ride the attraction without a StandbyPass.
Super FastPass
There are two SuperFastPass options, family or big thrill . At an additional cost these FastPasses aren't limited to a specific time slot and give you a one-time speedy access to three attractions whenever you want.
Family Attractions FastPass: Ratatouille, The Adventure Peter Pan's Flight and Buzz Lightyear Laser Blast Big
Big Thrill Attractions FastPass: Star Wars Hyperspace Mountain, Phantom Manor and The Twilight Zone Tower of Terror
Please note, these attractions can change depending upon planned attraction refurbishments.
Ultimate FastPass
This provides you unlimited use to All FastPass attractions. You can ride attractions, with a FastPass option, as much as you want, whenever you want. This can be a costly option, but it can be ideal for days with high crowd levels.
Hotel FastPass
This FastPass is a single use FastPass for one attraction only. You'll be provided a dated single use FastPass for each day of your stay and can be used on any attraction with a FastPass option. This can be used alongside the free FastPass.
Only available for Guests staying at specific Disney hotels. (Check with Disney for more information)
Hotel VIP FastPass
Only available to guests within Suites or Castle Club. This allows you to enjoy unlimited access to the FastPass line for all attractions (similar to the Ultimate FastPass).
Only available for Guests staying at specific Disney hotels at Club or Suite level. (Check with Disney for more information)
---
How can I get a Free FastPass at Disneyland Paris?
Unlike other Disney Parks, Disneyland Paris still uses a paper-ticket based FastPass system. To get your free Disneyland Paris FastPass you need to follow these steps :
Visit the Ride – Usually located by the Attraction Entrance you'll see the FastPass machines.
Scan your Park Ticket at the FastPass machine. This will print you a FastPass ticket displaying your allocated 30 minute time slot. Note: You cannot pick a specific time slot.
How do I use my Free FastPass at Disneyland Paris?
Return and Join the FastPass Queue. When it's time to use the FastPass, simply return to the attraction and join the FastPass Queue. A Cast Member will be at the entrance of this queue and will check and take the FastPass ticket from you.