Avis has become the official car rental company at Disneyland Paris. The new 5 year agreement will see the introduction of a brand new agency at the Marne la Vallée Chessy station and will provide guests easy access to car rentals within the resort.
Avis & Disneyland Paris agreement
Reflecting the sustainable commitments shared by Disneyland Paris, Avis will provide guests with a selection of modern, hybrid and electric vehicles with a high quality service focussing on customer satisfaction and respect for the environment.
This new partnership will see the integration of Disney characters in marketing communication campaigns throughout Europe, which will show guests how the magic and adventure can begin on the road to Disneyland Paris in one of its vehicles.
Discounts for Disney guests
A major part of the agreement will see car rental discounts and benefits for guests staying in a Disney hotel and those with park tickets or a Disneyland Paris Annual Pass. In addition to this, Annual Passholders will also be offered an upgrade to join the Avis Preferred membership.
Discovery :
10% discount on prepaid reservations
Avis Preferred enrolment
Magic Flex :
10% discount on prepaid reservations
Avis Preferred enrolment
Magic Plus :
15% discount on prepaid reservations
Avis Preferred Plus enrolment
Infinity :
15% discount on prepaid reservations
1 free option (only when picking up the car at the Marne la Vallée Chessy Avis station)
Avis Preferred – Avis President's Club enrolment
CLICK HERE to see more discount rates for guests and ticket holders
The introduction of the new car rental service will make it easier for guests to stay at Disney's Davy Crockett Ranch. Located just a 15-minute drive from the Disney Parks, this is one of the most cost effective hotel options and is is very popular for families. With your own cabin in the woods, Davy Crockett Ranch comes complete with a kitchen, room for up to 6 people and a reserved parking space. Outside, you'll have a private deck with picnic table and BBQ area.
Autopia Attraction Updates
Finally, to fully integrate the new partnership into the guest experiences at Disneyland Paris, the Autopia attraction will get an Avis brand make-over. The classic attraction is enjoyed by millions of guests each year and was a day one attraction at Disneyland Resort, California, and is now part of three Disney Parks around the world.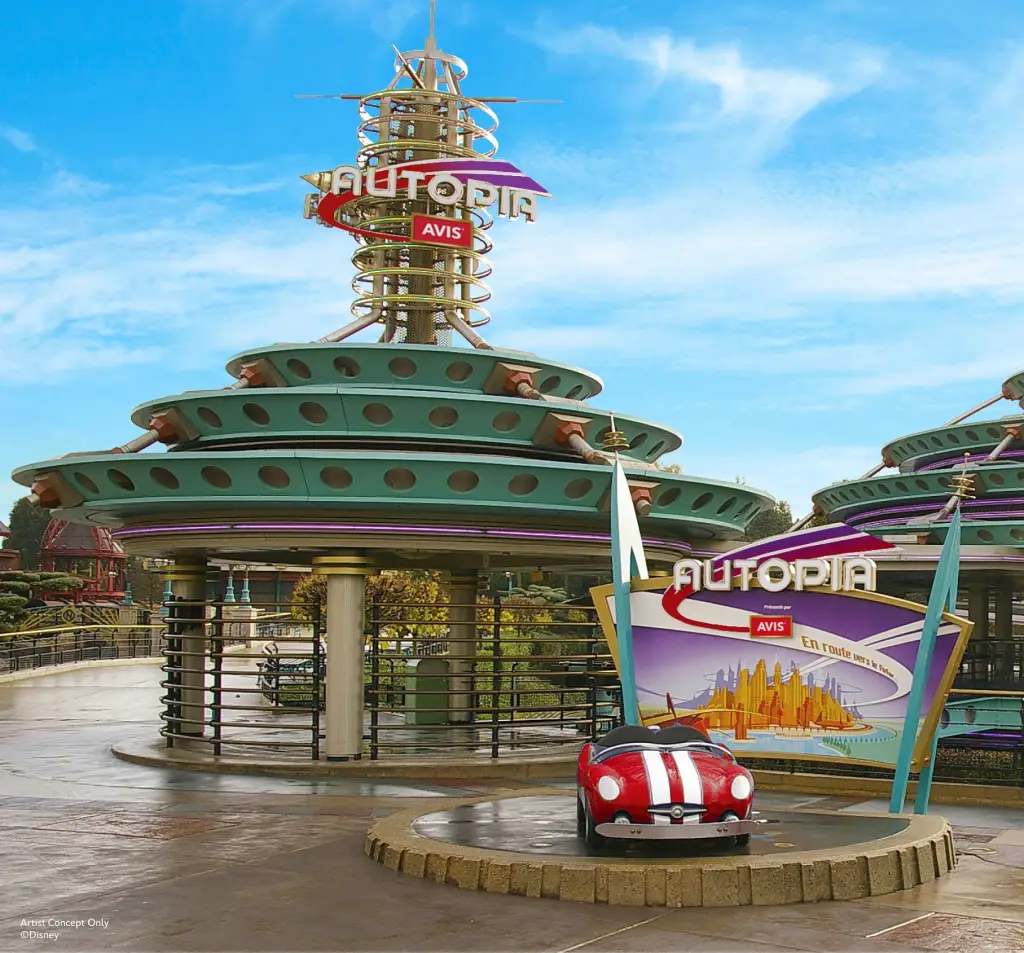 Official Statements
Pierre-Olivier Bard, General Manager, France at Avis Budget Group stated: "We're excited about this partnership, which means we are the only car rental company with a location inside Marne la Vallée – Chessy railway station – at the gates of Disneyland Paris, giving customers easy and convenient access to the Parks. Our premises will be completely renovated to offer the best possible car rental experience and we look forward to welcoming customers."

"Disneyland Paris is delighted to partner with Avis, a company which holds such a history of quality & innovation and puts customers' expectations at the heart of everything it does," said Laure Albouy, Vice President Business Strategy & Integration of Disneyland Paris. "We believe that combining Disneyland Paris endless storytelling possibilities with Avis dedication to "trying harder and doing better", will result in the most magical and efficient services to our guests as soon as they start their journey to Disneyland Paris."