Over the last few months, we have seen Disney release a lot of new information about the new Frozen land opening at Disneyland Paris as part of the expansion of Walt Disney Studios, which will see guests enter the magical kingdom of Arendelle, interact with some of their favorite frozen characters, ride new attractions, browse new stores and explore the wintery atmosphere! While the exact opening date has not yet been confirmed, previous reports now estimate that the Frozen land at Disneyland Paris would open in 2024-2025.
However, with so much exciting news being released by Disneyland Paris during its 30th celebrations, it's hard to know just what and when the Frozen land will be opening at Disneyland Paris! For fans of the Frozen franchise and Disneyland Paris here's everything we know about the expansion and what you can expect to find once you step inside the kingdom of Arendelle.
Make sure you sign up to our FREE newsletter and we will keep you up to date with the latest news from Disneyland Paris

When does the Disneyland Paris Frozen expansion open?
Ever since Robert Iger announced the plans on February 27, 2018, the most popular we are asked about the Frozen expansion, is when will it open? While the exact opening date has not yet been confirmed, previous reports now estimate that the Disneyland Paris Frozen land would open in 2024-2025.
Originally Disneyland Paris planned to have 3 brand new lands completed by 2024/2025 which included Avengers Campus, Frozen and Star Wars. (It now appears that Disneyland Paris has moved away from a Star Wars theme and are likely to replace this with a Lion King themed area.)
However, these dates were only an estimate and it's clear to see how the effects of the pandemic have impacted the original project timeframes. The construction on the new Frozen themed land has now begun at Disneyland Paris and we expect to get more official information later this year, with a potential opening in late 2025.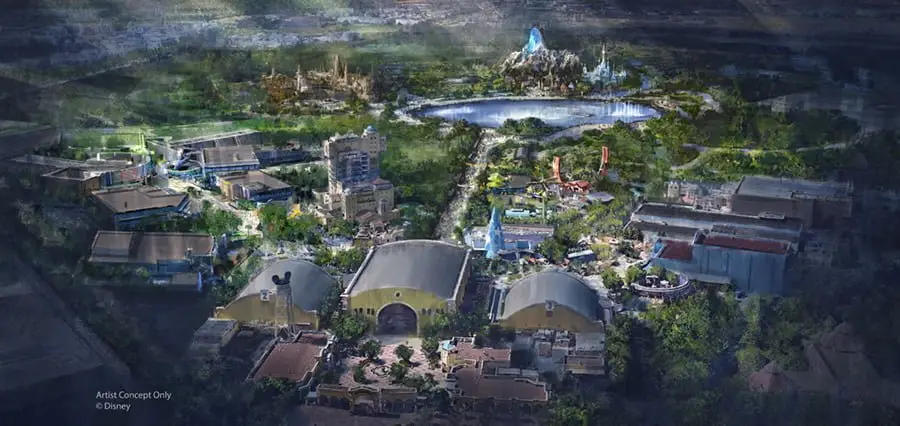 Where will the Frozen land located at Disneyland Paris?
The Frozen land expansion is taking place at the back of the Walt Disney Studios park, behind a brand new lake! Guests will be able to access the new Frozen area by walking along a picturesque promenade, "surrounded by lush landscape, green walkways and themed gardens – the perfect spot for magical daydreams." Fans of Disneyland Paris will recognise the start of the new promenade area as the location of the old Studio Tram tour.
Walkways are also been designed to connect Arendelle to Avengers Campus and Toy Story Playground.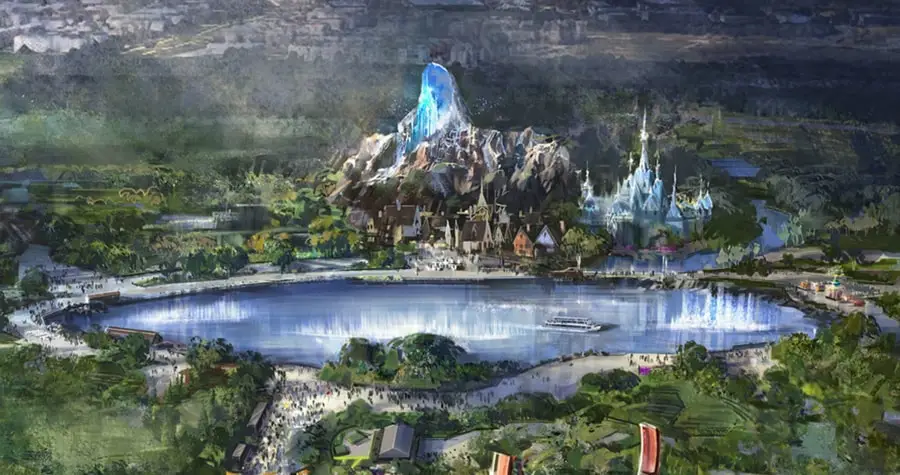 What can guests expect from the new Frozen Land at Disneyland Paris
Elsa's Ice Castle
Royal Meet & Greet
Nordic Village with shops and restaurant
Frozen themed attraction
The Frozen expansion at Disneyland Paris will completely change the park! As guests enter Walt Disney Studios, Elsa's Ice Castle will wow and beckon guests whilst standing atop of a 131-foot snow-covered mountain, right behind the new lake.
The nordic village will immerse guests in a wintery atmosphere and take inspiration from the in-film architectural style, and will be the home to areas to explore, shops, and a restaurant, inspired by characters such as Wandering Oaken, serving dishes with a Nordic touch . In addition, guests will finally be able to meet Anna and Elsa and other Frozen characters during a royal Meet & Greet inside the castle!
Disney has also confirmed that the land will be the home to a Frozen themed attraction. With Frozen Ever After attraction at Epcot, and new Frozen themed rides at the upcoming Hong Kong expansion, we are excited to see what new attractions will be opening at Disneyland Paris. Due to the concept art, we assume this will be an indoor attraction, and therefore more likely to be a clone of the Frozen Ever After attraction, but we will have to wait and see what information and details Disney share throughout the year!
Will guests be able to meet Anna and Elsa within the Frozen land?
Yes! In fact, the magical area provides all-new experiences, such as a "royal meet and greet" with Queens Anna and Elsa! Plus, Disneyland Paris has promised a new attraction will open inside the Kingdom of Arendelle land, where Guests embark on a thrilling (or maybe chilling) journey alongside "iconic Frozen characters."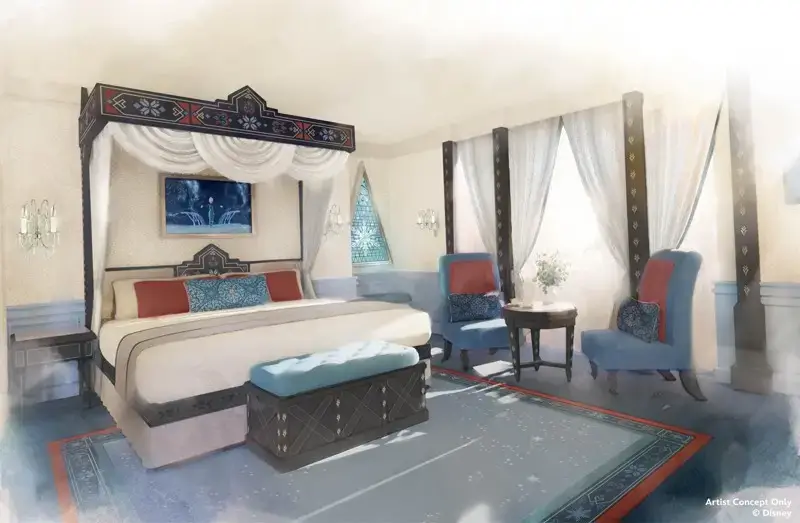 Will Frozen be incorporated anywhere else at Disneyland Paris?
Yes! Guests can currently watch a Frozen: A Musical Invitation show located within the Walt Disney Studios. This enchanting Frozen journey takes you to Kristoff's barn and along the way you'll join Sven and Kristoff for a rendition of a classic reindeer tribute, master Anna's magical dance moves in time to surprise Elsa in her Ice Palace during a joyful rendition of Let It Go. There's even the chance to see Olaf in this heartwarming adventure for the whole family.
In addition to this, you will soon be able to stay within a Frozen Themed Room at Disneyland Paris. The royal transformation of the Disneyland Hotel, will see Frozen inspired rooms being introduced within the hotel! Although no dates have been provided, we do know that the Disneyland Hotel will open in 2024
---
DISNEYLAND PARIS HOTEL & TICKET PRICE ESTIMATOR
While we wait for the Disneyland Paris Hotel to reopen, why not compare prices and book a stay in one of the other Disneyland Paris hotels?
Plan your stay with the Disneyland Paris price estimate calendar. Easily compare different dates and hotels to create your perfect trip to the heart of the Magic! View the Disneyland Paris Price Estimator here.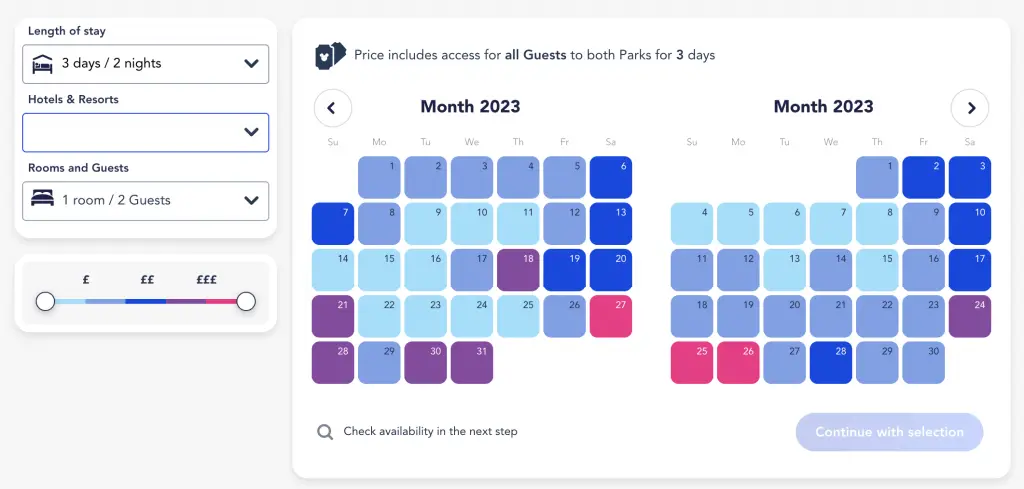 ---
What will be in the Frozen land at Disneyland Paris
Guests will be able to immerse themselves in Arendelle with Elsa's Ice castle, new stores, restaurant, meet and greets and a brand new Frozen themed attraction
Can I stay in a Frozen inspired room at Disneyland Paris
You will soon be able to stay within a Frozen Themed Room at Disneyland Paris. The royal transformation of the Disneyland Hotel, will see Frozen inspired rooms being introduced within the hotel! Although no dates have been provided, we do know that the Disneyland Hotel will open in 2024