Last week we had our monthly trip to Disneyland Paris, but this trip was like no other, staying in not one but two Disney hotels. With so many Disneyland Paris offers being for stays at the Davy Crockett Ranch we booked a stay here and we also booked a stay at the 4-star Disney's Hotel New York – The Art of Marvel (see our review here).
Although the resort is not located on Disney property, they are no free bus shuttles to the park. However, each cabin offers a lot of benefits not available within any other Disney property. Located only 10 minutes from the park, this option is ideal for guests who drive to the parks or those wanting a self catering accommodation option.
Unlike hotels, Davy Crockett is made up of around 600 cabins situated throughout a forest. Every Cabin has got it's own living area, fully equipped kitchen, bathrooms, a separate restroom and two bedrooms.
Feel at home in this American frontier village alive with adventure Located just a 15-minute drive from the Disney Parks, the friendly atmosphere of Disney Davy Crockett Ranch and its cabins are waiting for you! It's the perfect place to relax with your family for several days.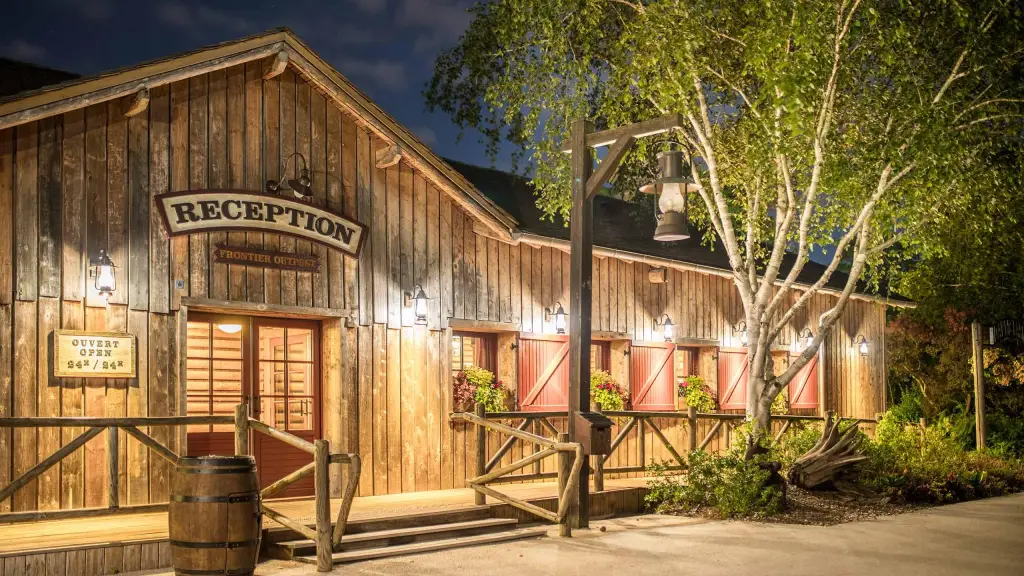 Smooth Check-In
Upon arriving at reception, we were greeted by the warm and friendly staff, eager to assist in making our stay memorable. As we arrived after 3pm, our cabin was available and we were provided with our key. The cast members also explained the facilities available to us and also how to collect our free cleaning kit at the Trading Post.
The Central Hub
We left reception and headed to the trading post to explore the convenience store, and found ourselves in the resorts central hub. From here we could see the main restaurant and bar, Davy Crockett Tavern and Cockett Saloon, as well as the entrance to the swimming pool and arcade!
Alamo Trading Post
The Alamo Trading Post is a fantastic store and we found snacks and drinks to be far cheaper here than inside the park. Along with classic Disney gifts and souvenirs, the store stocks fresh fruit and veg, frozen meals, wine, beer, and everything you need to cook or barbecue your dinner at your cabin!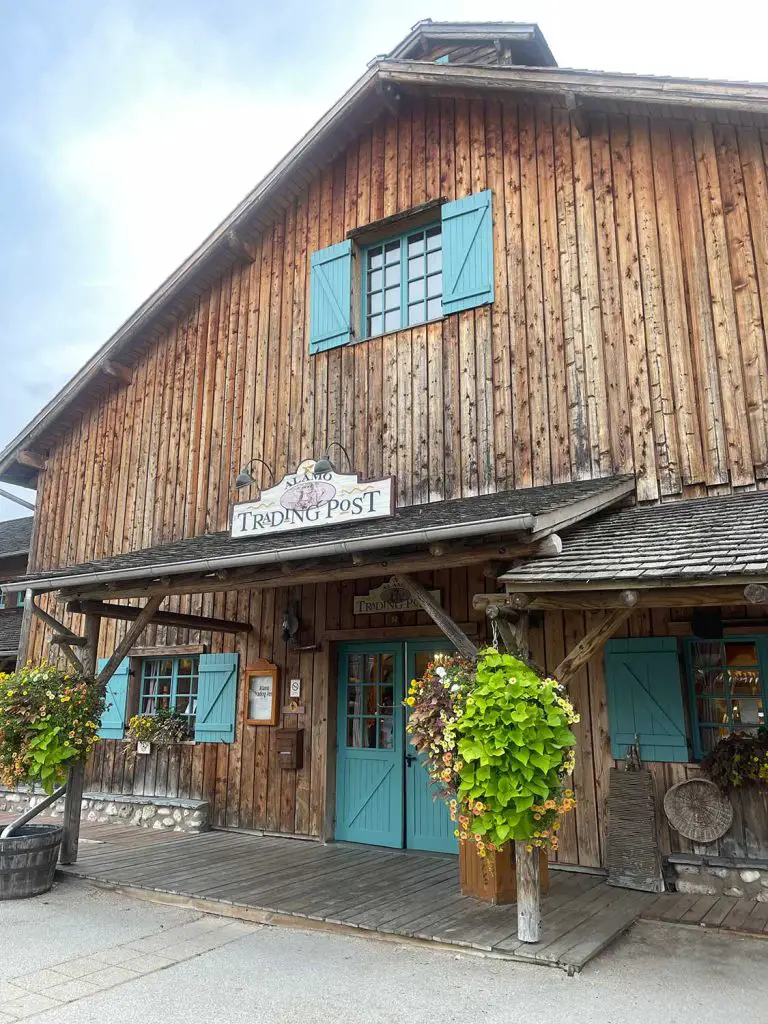 Our Retreat in the Woods
The cabins are divided into several areas, called 'trails'. Our cabin was located on the Coyote Trail, which is located in the first two blocks of cabins and only a short 5 minute walk from the resort central area. As we booked a Premium Cabin, we didn't have far to walk, as these are located close to the resorts facilities but still in the peace and quiet of the forest.
Arriving at the cabin, we were pleasantly surprised at how spacious and spaced the cabins were, with a reserved parking space directly in front of the cabin. There's only space for one car, but any additional cars can be parked free within the car park located near the reception. Its also worth noting here, any guest staying at Davy Crockett Ranch get free car parking at Disneyland Park too!
As we entered the cabin, we walked up the private deck area with a picnic table , and an outside BBQ area. It would be the perfect place to spend summer nights with friends and family!
Similar to hotel rooms, when you enter the cabin you insert your cabin key into the key slot, which turns on the cabins electricity. Its worth noting the fridge freezer in the cabin is always connected to the electricity, the key slot only activates the heating, air conditioning and general lights.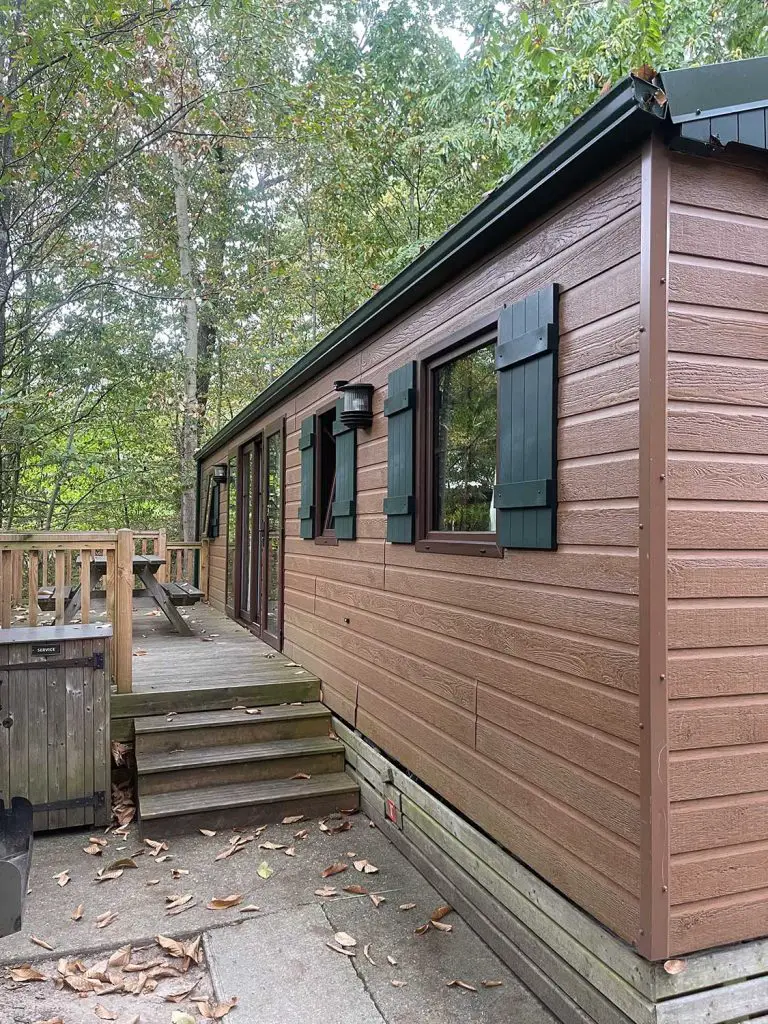 Bedrooms
At either end of the cabin you'll find the bedrooms. To the left is the main bedroom with a double bed and en-suite shower. At the other end of the cabin is a bedroom with three single beds, and an additional pull out (this pull out is available in all trails except Moccasin).
As well as being a romantic couple get away, our cabin could sleep up to 6 guests, making it perfect for larger families when looking for a cheaper way to visit Disneyland Paris.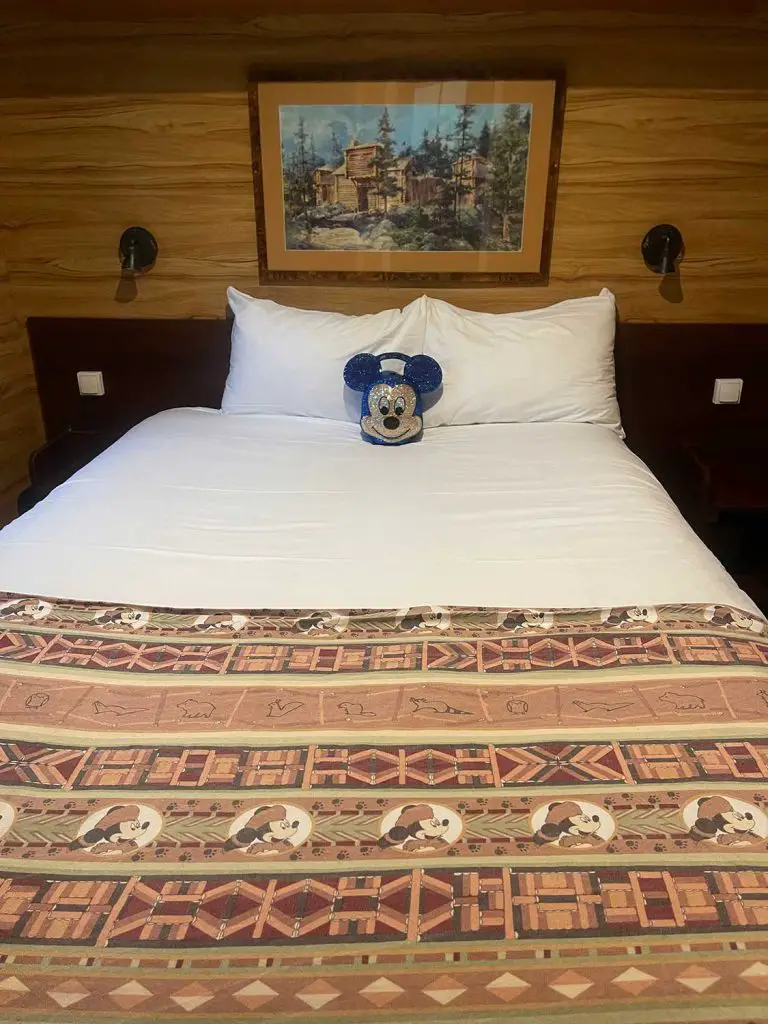 Bathrooms
Within the bedrooms en-suite, you'll find a Shower and a baby bath, with an extendable basin tap making is easy to wash a young child in the deep sink.
In the hallway, you'll find a separate shower room with sink and a sperate toilet in the opposite room. Within each bathroom you'll find miniature bottles of Shampoo, Conditioner and a bar of soup, and a multi-use large shower gel bottle within the shower area.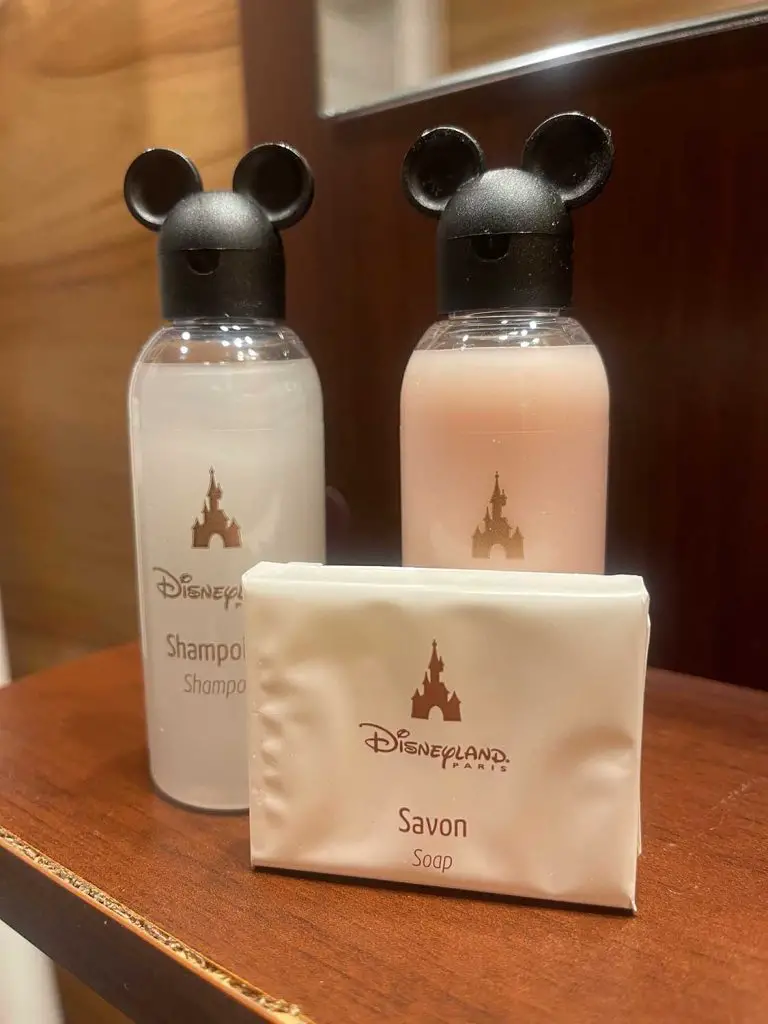 Kitchen Area
Entering into the open plan living / kitchen area, there is a large dining table, suitable for 6 people and a sofa against the back wall. Above the dining table you will find the television and beneath it there's a telephone. 
To the right is the fully equipped. kitchen including an electric hob, large dishwasher, coffee maker, kettle, toaster and microwave. The kitchen includes all the basics you';; need during your stay including cutlery, plates, cups, pots and pans. There's also a dishwasher meaning you don't have to do any dishes during your stay!
As we mentioned earlier, you get a free cleaning kit when you check in. This kit is based on the length of your stay, ours included dishwater tables, multipurpose cleaner, a sponge and a microfiber cloth.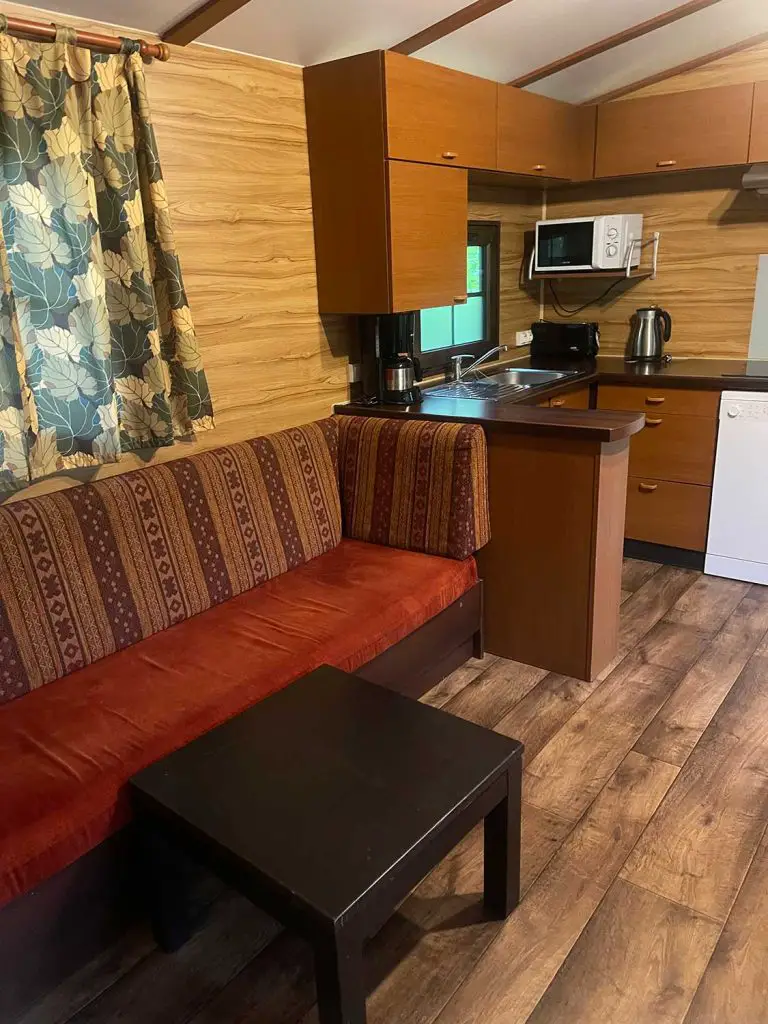 Breakfast
As the resort cater for self-catering, you have multiple options for breakfast. You can make your own breakfast in your cabin or pre-book a breakfast package which you can pick up at the cabin local outpost.
At the entrance to each block, or ring, of cabins there is a little cabin where cast members exchange your breakfast voucher for your pre-packed meal.
You can pick up bread and food items at the Alamo Trading Post or pre-book the breakfast package that you pick-up at your local outpost. Our package included a baguette, a croissant, granola bar along with instant coffee packs and an orange juice.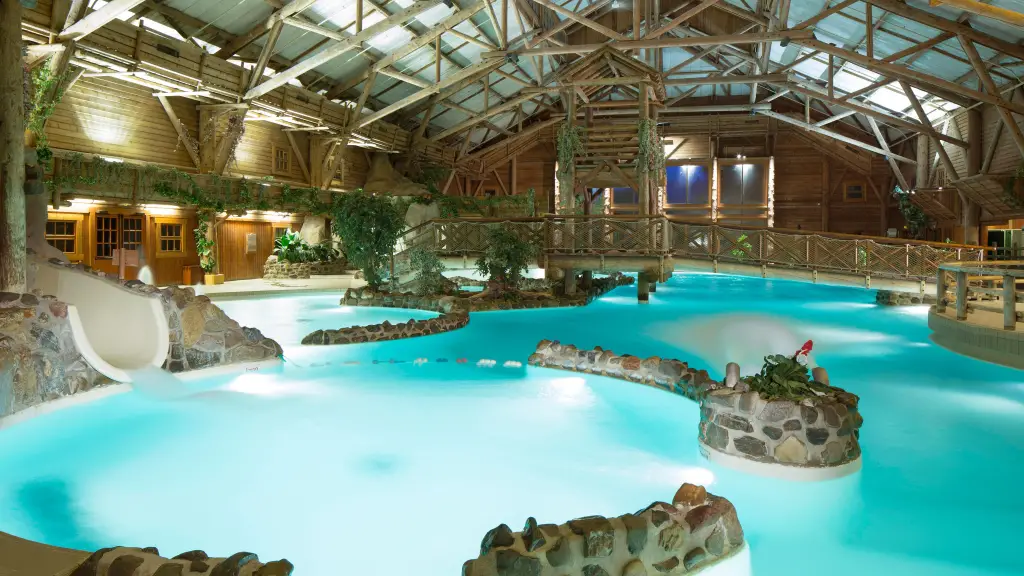 State of the Art Facilities
We have often said that the pool at the Davy Crockett is one of the best at Disneyland Paris.
The large indoor heated pool, called the Blue Spring Pool, incorporates the wilderness theme and as well as additional Jacuzzis in the caverns and a small water slide.
When entering the pool area, you have access to lockers and showers to rinse before and after your swim. If you forget your bathing clothes, you can also purchase some from the vending machine!
Is worth noting, all guests have access to the pool, but towels were not provided. You can bring them from your cabin, or you can rent one from the Alamo Trading Post for only a few euros!
The resort also has an arcade, the Lucky Raccoon, indoor tennis courts, a mini-golf course, and a large outdoor playground
Outdoor Fire Pit
One of our highlights of our stay was relaxing outside in the central area, around a large fit pit. We were told that the fire pit is not lit every night and it depends on the weather but it was a great experience sitting outside with a drink from the Saloon.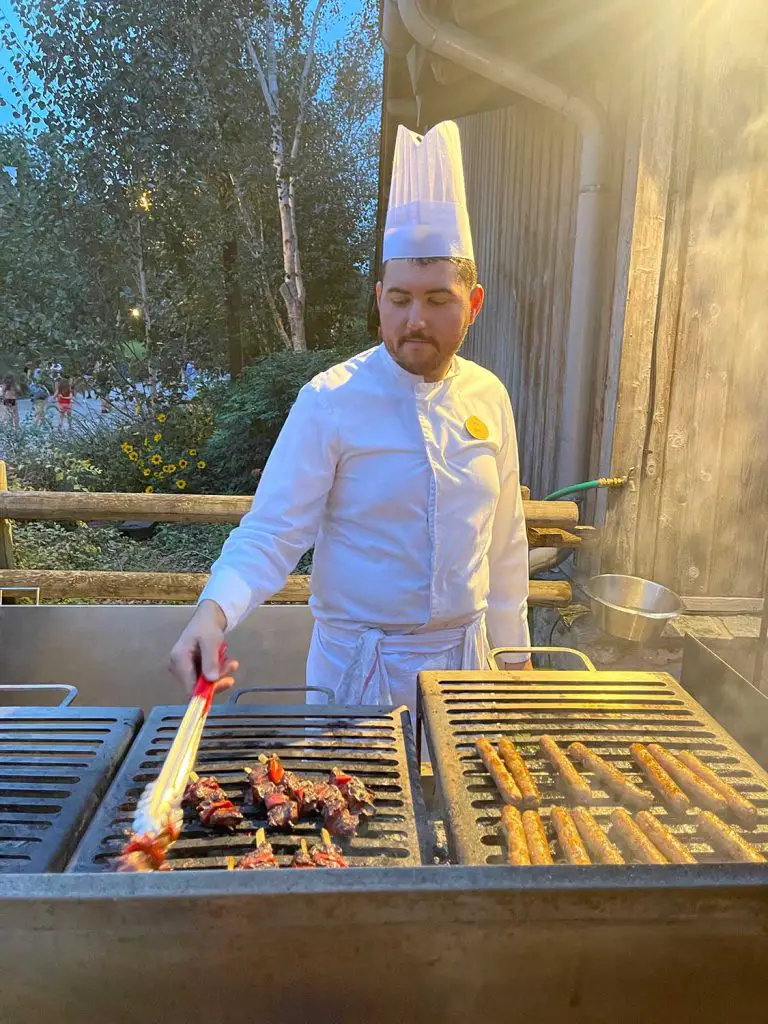 Dining at Davy Crockett Ranch
When it comes to dining at Davy Crocket Ranch, you have two main options. Firstly you can cook your own meal in your fully equipped kitchen, or you can choose to dine at the Davy Crockett's Tavern.
The all you can eat buffet serves up a hearty meat and fish options along with fresh salads and fantastic Disney desserts. But, the best part of this restaurant is the BBQ. With a chef cooking over charcoal, you can taste the true BBQ flavours!
Cockett's Saloon
If you fancy a night cap before heading back to your cabin, you can visit the Saloon. The bar offers a mix of alcoholic and non-alcoholic drinks and small snacks. Inside the bar you can watch the big screen, or have a game of pool.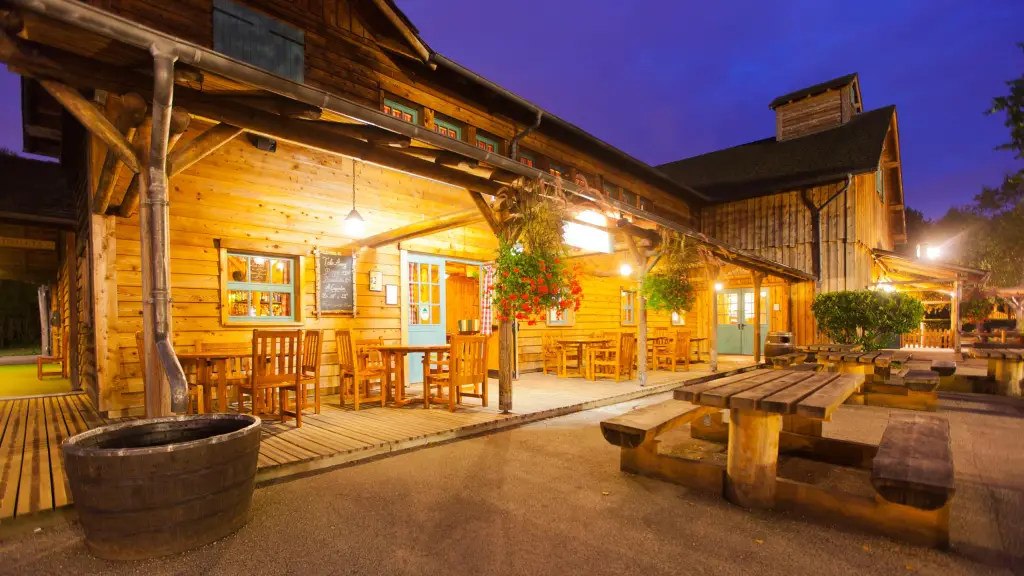 How much does Davy Crockett Ranch costs per night?
Davy Crockett is a budget resort and offers the cheapest accommodation option at Disneyland Paris, cheaper than Hotel Cheyenne and Hotel Santa Fé. On the day of arrival your cabin is ready from 3pm in the afternoon, and check-out is by 11am.
Davy Crockett Ranch is often included in the promotions at Disneyland Paris. They currently have an offer for stays in 2024 for only £91 per person per night (based on 2 adults, 2 children). This includes the cabin and your park tickets.
Summary
Nestled in the woods, our cabin became a haven of tranquility. We felt very relaxed and could imagine staying longer, and enjoying the cabin and facilities for many more days and nights.
We have always thought this resort is ideal for families or guests who drive to the park. However, after staying their ourselves without a car, its easy to get an Uber to the parks and enjoy the relaxing nature of the resort on an evening.
Our stay at Davy Crockett Ranch was everything we wanted after a busy day in the park, a nice relaxing retreat in the woods.
Check latest Disney Davy Crockett Offers
Use the Disneyland Paris hotel price estimator to see the best prices for stays at Disney Davy Crockett and compare similar dates or hotels to ensure you are always paying the best price! Don't forget, by Booking direct with Disneyland Paris, you get the benefits of their Zen Guarantee and Price Promise!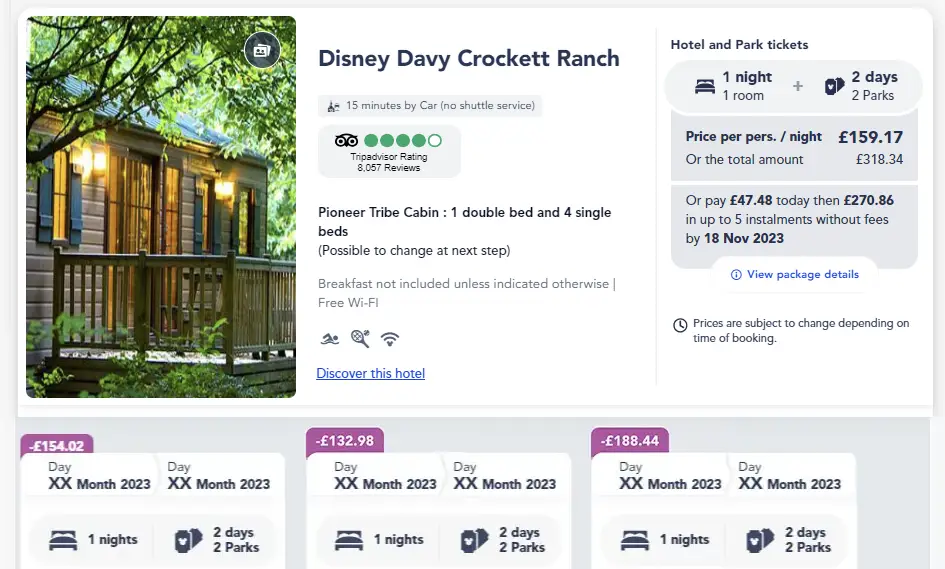 Disney Davy Crockett Ranch FAQ
We asked our Instagram followers what questions they always want to know when booking a Disney Hotel. Here are some of the most popular questions we were asked. If you have any other questions please do leave us a comment….
How can you book a room at Disney Davy Crockett Ranch?
We always advise you to cabin your Disney hotel rooms direct with Disneyland Paris.
Click here to book a cabin
Is the Disney Davy Crockett Ranch suitable for families with young children?
The hotel makes this a popular place to stay for families at Disneyland Paris. With its swimming pool, arcade, mini golf, arcade games centers and more it's one of the best family options at Disneyland Paris.
Is there a character meet and greet at Disney Davy Crockett Ranch?
No, during our visit we didn't see any characters greeting guests.
Are the rooms air conditioned?
Yes, the rooms are air conditioned.
Is there a swimming pool at the Disney Davy Crockett Ranch?
Yes, there is a heated indoor pool at the hotel.
Do you get a safe in the room
Yes, each room has its own safe. You can also store special items or larger items with a specific safe with the cast members in reception.
Is there parking at the hotel?
Yes, there is parking available at outside the cabin and in the general car parks.
Do you get breakfast included with a standard hotel booking?
No, breakfast is not included unless you choose to add a meal plan
Do you have any other questions about this hotel? Let us know in the comments below and we will do all we can to help!