After months of eerie preparations, the Disney Villains, the Mysterious Hosts, and our mischievous Prankster Spirits, Mickey, Minnie, and their pals, are brewing up a spooktacular treat for the Disneyland Paris Halloween Season, from October 1 to November 5, 2023.
This year, these three wickedly fun teams are teaming up to conjure the most devilishly hilarious Disney Halloween Festival. All you've got to do is pick your side! Get ready for a spellbinding Halloween celebration filled with immersive decor, enchanting encounters, ghoulishly entertaining activities, hair-raising attractions, and loads of surprises.
Don't forget to check out our Disneyland Paris Halloween Guide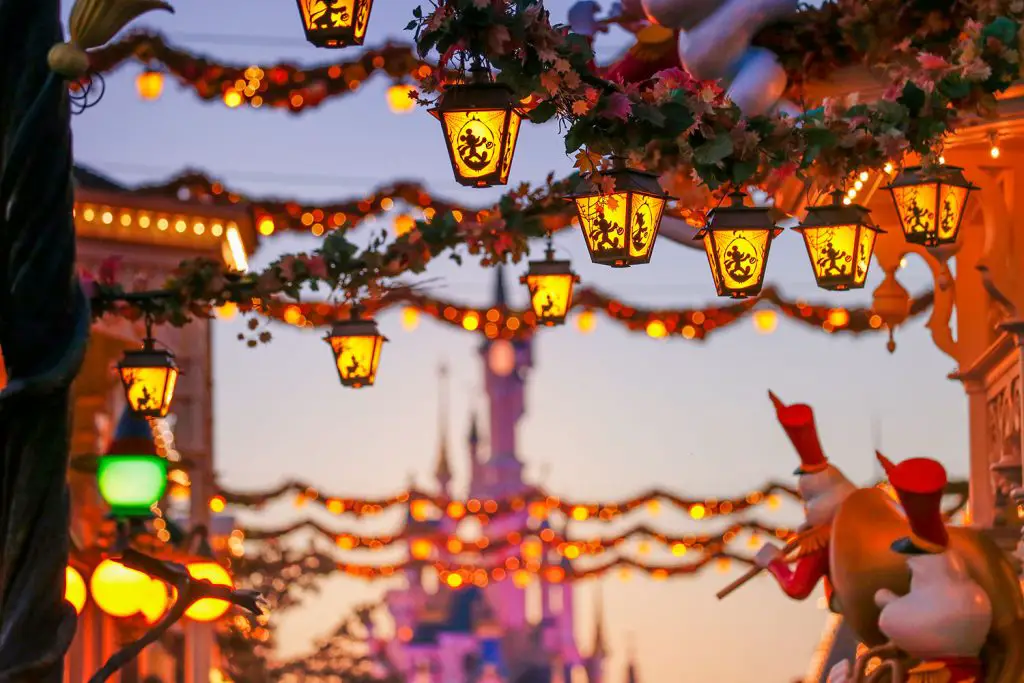 A Halloween Atmosphere
Picture grinning pumpkins, twinkling light garlands, adorable little ghosts, and a whopping 37,000 specially selected flowers and foliage to give the park a fiery fall makeover. One of these chosen plants, the Calluna Sunset Zoé, will magically transform from lime green to pumpkin orange as the season unfolds. And don't miss the vibrant spectacle awaiting you at the heart of Frontierland. This playful atmosphere guarantees total immersion in the enchanting world of Halloween.
Devilishly Funny Villains
The wicked team of Disney Villains, including Cruella, Jafar, Gaston, Captain Hook, and the Queen of Hearts, are brewing up a cauldron of mischief to send shivers down the spines of even the bravest souls during thrilling encounters.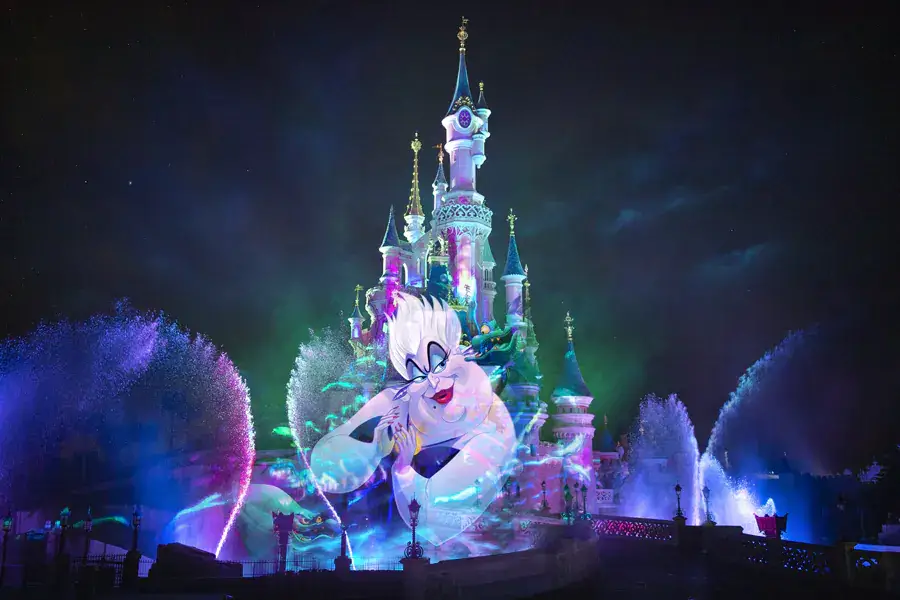 Villain Pre-Show
As night falls, just before the incredible Disney Dreams! nighttime show—a blend of cutting-edge technology, projections, laser games, water jets, and pyrotechnic wizardry—this infamous crew has a spine-tingling surprise for visitors with "A Twilight with the Disney Villains."
They'll take over Sleeping Beauty's Castle in a bewitching spectacle set to music, video projections, and choreographed fountains that's bound to leave you enchanted.
Prankster Spirits – Mickey's Halloween Celebration
Prepare for the ultimate mischief-making magic from the "Prankster Spirits"! Disney's beloved characters are conjuring up more tricks than ever to make this Halloween Festival the most enchantingly fun yet. Always ready for a good time, the mischievous "Prankster Spirits" will lead a spirited parade to toe-tapping tunes before gathering for a wild spectacle right in front of Sleeping Beauty's Castle during the must-see cavalcade: Mickey's Halloween Celebration.
Visitors will have the chance to meet this jolly crew, led by Goofy and Max and their pals decked out in their spooktacular Halloween attire, promising unforgettable moments for all.
Showtimes for Mickey's Halloween Celebration
As a reminder, Disney Stars on Parade will be performed at 11:30am
A Day to Celebrate Halloween on Its 31st
On October 31, 2023, visitors can immerse themselves in this unmissable event while dressed in their finest costumes*. To keep the fun going, the park's opening hours will be extended until 11:00 p.m., allowing you to soak up the unique Halloween atmosphere late into the night.
A Delightfully Spooky Experience at Disney Village
From October 21 to November 5, M&M'S®, the official partner of the Halloween season, invites thrill-seekers to enter the heart of its mysterious "Fun and Thrills" mansion at Disney Village for the very first time. This unique experience offers guests the chance to take on a series of challenges around the smoking cauldron, the spooky cupboard, and even the famous portrait gallery. Thrills are guaranteed!
Spooky Snacks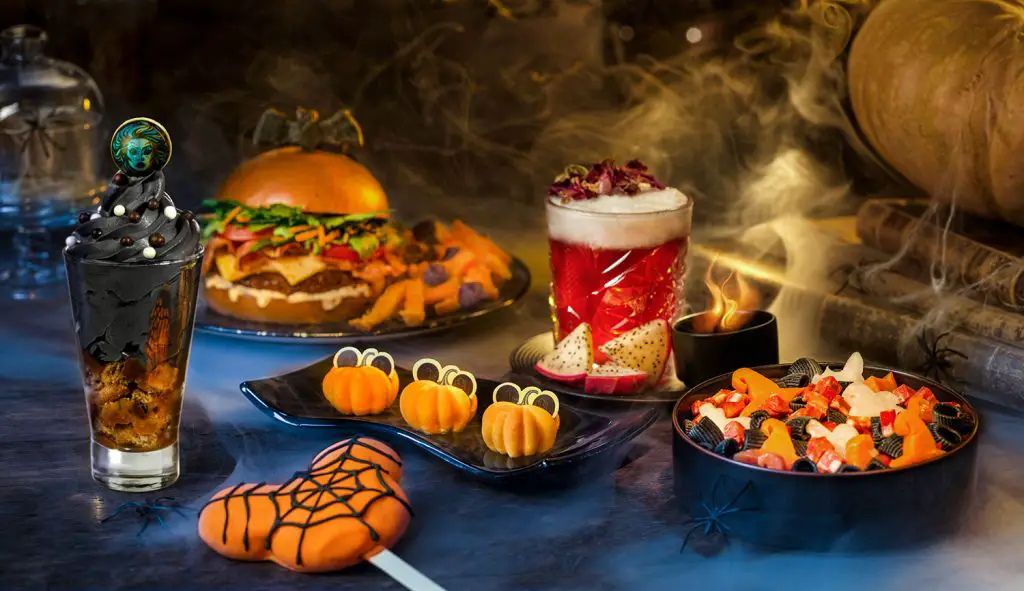 Get ready for a wickedly tasty treat with these crazy appetizing new creations! To satisfy even the hungriest of foodies, the park is serving up an exclusive array of delights inspired by the mischievous "Prankster Spirits," the devious Disney Villains, and the enigmatic Mysterious Hosts.
It's your chance to sink your teeth into a Chauve-Sour'hiii Burger, savor a Salad of Lost Souls, indulge in a Madame Leota Sundae, or experience the magic of a Sorcerer's Crumble, all while sipping on a Malicious Elixir or a Nectar Diabolical. These devilishly delicious offerings will be available at select restaurants throughout the destination* from September 29 to November 9.
(*Available at specific restaurants and food outlets in Disney Hotels, Disney Village, and Disney Parks)
Click here to see the complete Disneyland Paris Halloween 2023 Snack Guide
Irresistible Halloween Goodies
Keep the Halloween fun going with a spooktacular shopping spree! The Halloween spirit will infuse the park's shops, offering an array of irresistible gifts featuring the Prankster Spirits, Disney Villains, and Mysterious Hosts. Whether it's children's costumes, mugs, keychains, or even headbands, you'll find something for everyone. Don't forget to visit the Emporium, Thunder Mesa Merchantile Building, Le Coffre du Capitaine, Tower Hotel Gifts, and World of Disney stores.
Halloween Attractions
Phantom Manor* and Its mysterious Hosts, The Twilight Zone Tower of Terror™: Thrills for All Ages With its spine-tingling attractions, Disneyland Paris is the ultimate destination to celebrate Halloween. Guided by the enigmatic Mysterious Hosts within Phantom Manor, guests will find themselves waltzing into a grand ghostly ball. For the daring souls among us, there's the heart-pounding 13-story plunge into darkness on The Twilight Zone Tower of Terror. Anything goes! Younger visitors can seek out the hidden Witch in Snow White and the Seven Dwarfs, face off against the colossal whale Monstro in Les Voyages de Pinocchio, or try to outwit the Queen of Hearts in Alice's Curious Labyrinth. Thrills and fits of laughter guaranteed!
(*Attractions open year-round in Walt Disney Studios® Park and Disneyland® Park)
INFORMATION ON COSTUME WEARING:
Wearing a Halloween-themed costume is exceptionally authorized for the day of October 31, 2023. However, we reserve the right, at our discretion and at any time, to refuse the wearing of certain costumes such as fully masking the face and head and/or if we consider that these costumes/accessories/make-up are likely to offend the sensibilities of young people and a family audience. The same applies to the wearing of accessories considered as potentially impacting safety in our attractions or as dangerous for other Visitors (long capes, sticks, fake weapons, etc.). We also reserve the right to inspect visually or using specific equipment your clothing, coats and personal effects at the entrance to the Parks and within their enclosures for security reasons, particularly costumes covering the entire body. , in superimposed layers.
As a reminder, according to the Internal Regulations of the Parks, it is prohibited to bring the following objects into our Parks:
Any type of object or toy having the appearance of a firearm (pistol, laser, water gun, etc.)
Any mask worn by Visitors aged 12 and over (except for medical reasons or health mask)
Any clothing dragging on the ground
Visitors wishing to wear a costume of their favorite Disney character agree not to pose or sign autographs.
Plan your stay with the Disneyland Paris price estimate calendar