Disneyland Paris have today opened their "Advance Registration System" for their planned re-opening dates of 13th February 2021. As many of us have already used this system before, this allows Disney to ensure compliance of the distance regulations and limiting the number of people within the Parks each day. We are sure these dates will get booked quickly within the Disneyland Paris Advanced Registration February 2021
Along with a Disneyland Paris Park Ticket, you would need to ensure you 'book' your days into the Disney® Parks. To complete this step you would need to add your Tickets or Passes, or annual pass, to your online account and then simply choose and book your visit date (depending on your Ticket or Pass validity conditions).
Ensure you log on and book your dates in anticipation for the reopening of the park. After cancellations of our trips in November and early February, we have already booked some new dates in Feb 2021.
February School Holiday Dates
Please be aware, that we expect these dates to book quickly. Not only is this the expected reopening of Disney after a Winter lockdown in France, but this is also during school holidays. France splits their feb half term holidays based on zones, however, the reopening falls in all zones.
France School Holiday Dates are set to Zones, with the Feb holidays dates as…
A : Saturday 6th Feb 2021 to Sunday 21st Feb 2021
B : Saturday 20th February 2021 to Sunday 7th March 2021
C : Saturday 13th February 2021 to Sunday 28th February 2021

UK Holiday Dates
Around Monday 15 February to Friday 19 February.
We expect the re-opening to be far busier than the original opening of the park. Therefore, if you want to be part of this special event please ensure you log on and book your dates on the Disneyland Paris Advanced Registration for February 2021.
Disneyland Hotels Reopening Feb 2021
Along with the reopening in on the 13th Feb 2021, many of the Disneyland Hotels are also due to be opened on this date too. When looking at the opening weekend on Disneyland Paris website we noticed many of the hotels will be open. This includes Disneyland Hotel, Disney's Newport Bay Club, Disney's Hotel Santa Fe and Les Villages Nature® Paris. However, the following hotels are still not available to book. Disney's Hotel Cheyenne, Disney's Davy Crockett Ranch, Disney's Sequoia Lodge and Disney's Hotel New York – The Art of Marvel.
All of the Disney Partner Hotels are available for bookings for February 2021.
---
Update : 23rd Nov
Opening weekend Fully booked!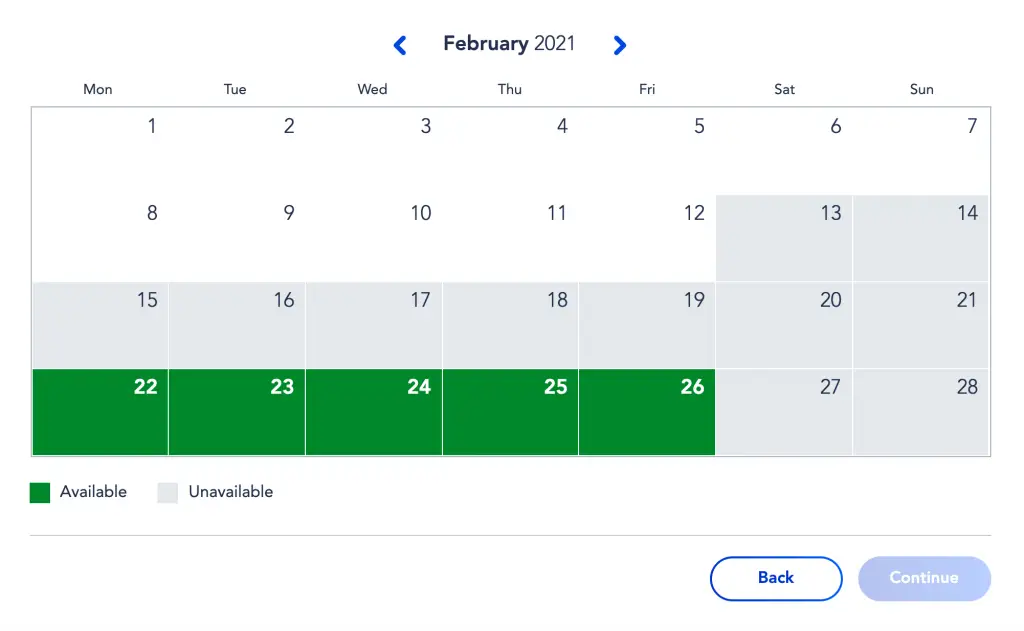 After only a few days, the Disneyland Paris Advanced Registration February 2021 opening weekend is now fully booked. In addition to this many days and all February Weekends are now also fully booked. A perfect mixture of half-term holidays in France and UK, as well as the hype around the re-opening.
The park is currently closed after new lockdown measures were imposed in France. With Disneyland Paris having one of the greatest re-opening events of the Disney parks, it is no surprise that Disney guests want to get involved for a second time.