The magic of Christmas will fill the air at Disneyland Paris from November 11th 2023 to January 7th 2024, giving guests an opportunity to get into the holiday spirit and spend cherished moments alongside their loved ones. With its majestic Christmas tree standing 24 meters high, twinkling lights, enchanting and warm atmosphere, and snowflakes falling on Main Street, U.S.A., Disneyland Park is the perfect place to celebrate the most wonderful time of the year! 
When does Christmas Start at Disneyland Paris?
Disneyland Paris is transformed into a winter wonderland with the Disneyland Paris Enchanted Christmas season starting on the 10th November, 2023, and ending on the 7th January, 2024. Two months of pure Christmas joy!
When is the Christmas merchandise released?
Get ready for a holly, jolly shopping spree! As with most Disney parks Disneyland Paris has a Christmas store open every day of the year, and each year the park starts to reveal its specific dates Christmas merchandise starting in late October.
When do the Disneyland Paris Christmas decorations go up?
While the parks start showcasing holiday touches at the start of November, the official Disneyland Paris Christmas decorations burst into full bloom on November 10th, 2023.
As you stroll through Main Street, the heart of the enchantment, you'll be immersed in a festive feast for the eyes, with a 24 foot high Christmas tree and festive garlands across Main Street USA!
Walt Disney Studios doesn't miss out on the magic either, with delightful winter decor gracing the Ratatouille area.
Now, let's unwrap the enchanting experiences that await you!
Disneyland Paris Christmas Decoration Fun Facts!
15,000 Christmas Ball Ornaments are used within the resort
Over 80 Christmas Trees, including a 24m high Christmas Tree inside Disneyland Park, weighin 25 tons, and decorated with more than 1,000 ornaments,
More than 37,000 flowers planted over 4 days
100% of the lights used for the Christmas Season are energy friendly, with each show using less than refrigerator (3 hours).
Disneyland Paris Christmas Tree
Behold the majestic centerpiece of the season – a towering 24-meter Christmas tree adorned with over 1,000 ornaments! In the daylight, this festive giant showcases an array of adorable ornaments and Disney Easter eggs, with charming presents from our beloved Disney characters nestled beneath its boughs.
As the sun sets, the magic truly comes alive! The tree becomes a radiant spectacle, illuminating the night in a mesmerizing array of colors. Keep an eye out during the parade show stop in Town Square – a magical moment unfolds as the tree transforms, representing each member of the Fab Five in a dazzling display of changing colors. Christmas enchantment at its finest!
Main Street USA Christmas Decorations
Step into a winter fairy tale on Main Street USA! The entire boulevard sparkles with the glow of lights, adorned with festive garlands, ribbons, wreaths, and a sprinkle of Disney magic snow (snoap!) falling from the skies! Every half-hour, Santa himself spreads holiday cheer, accompanied by the enchanting sight of faux snow gently drifting along Main Street.
But the festive magic doesn't stop there – stroll past the charming windows of Main Street, where Christmas merch displays add an extra layer of enchantment. It's a visual feast of holiday delights, creating a picture-perfect Christmas atmosphere for all to enjoy!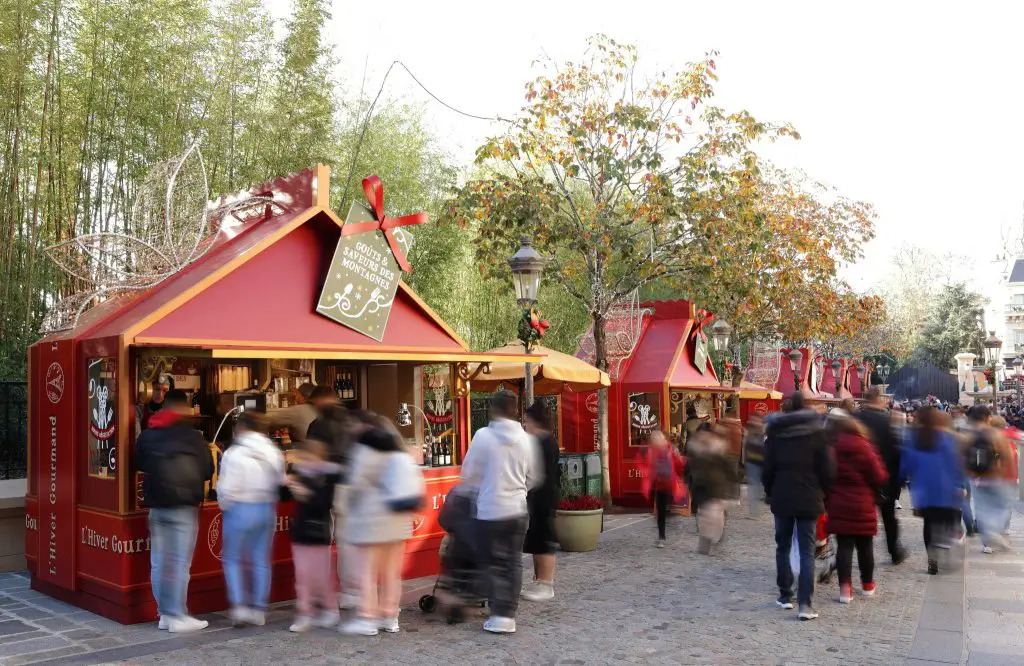 Walt Disney Studios
Walt Disney Studios takes on a more subtle holiday charm, with the main highlight being the enchanting winter market that transforms the Ratatouille area.
While it may be low key, don't underestimate its allure! As night falls, the Ratatouille corner of the park becomes a magical and Instagram-worthy Christmas haven, offering a different yet equally enchanting holiday experience.
Disney Village
Discover the enchanting Disney Village nestled between the theme parks and Disney Hotels, right outside the train station. When Christmas arrives, this lively hub transforms into a warm and festive Christmas Market adorned with charming decorations. Wander through wooden stalls offering delectable treats, Christmas sweets, and enchanting souvenirs.
Here's the best part – you don't need Disneyland Paris Park tickets to experience the holiday magic of the Christmas Market. No wonder it's a local favorite during the festive season, welcoming everyone to indulge in the joy of the holidays!
Disney Hotels
Step into a world of holiday elegance as Disneyland Paris hotels don their festive attire. Inside, enchanting decorations weave a tapestry of Christmas magic, with each hotel showcasing its unique seasonal charm.
From towering Christmas trees adorned with twinkling lights to cozy corners dressed in festive hues, the hotels become a haven of yuletide joy.
Guests are welcomed by the warmth of holiday spirit, making every corridor and lobby a picturesque setting that captures the essence of a Disney-infused Christmas celebration. It's not just accommodation; it's a magical retreat into the heart of the season!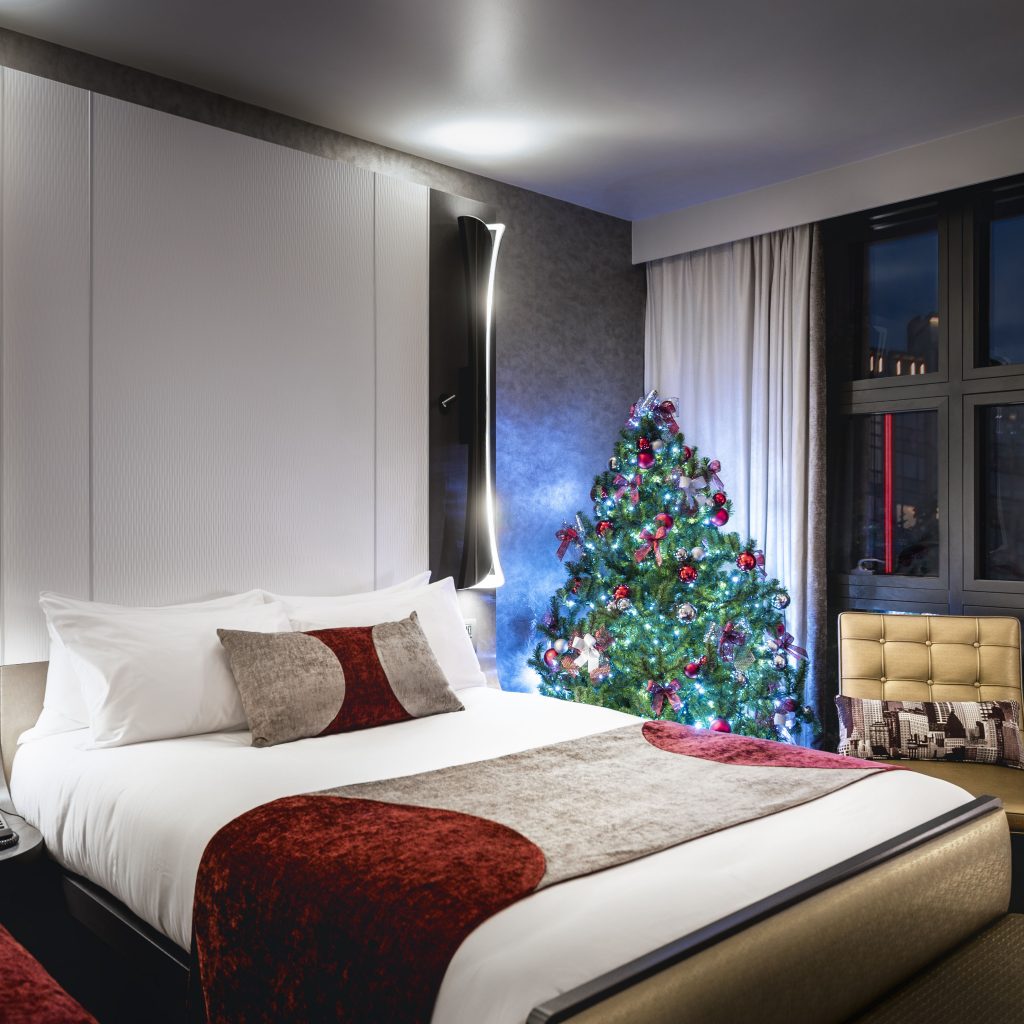 Disneyland Paris Hotel Holiday Gift Boxes!
Guests will be able to book a selection of rooms specially decorated and with surprise gift packages for both adults and kids for Christmas at Disney's Hotel New York – The Art of Marvel and Disney's Newport Bay Club
Picture the magic unfolding in your hotel room – a special delivery that turns your stay into a memorable celebration. It's a perfect way to treat your loved ones with a delightful gift box, brimming with festive Christmas surprises and exclusive souvenirs tailored to the unique theme of your Disney Hotel.
To unwrap this exclusive holiday treat, simply reach out to Disneyland Paris through their phone lines or speak to the concierge team at your Hotel. Act swiftly, though, as these magical gift boxes are in limited supply and we recommend booking these before you visit!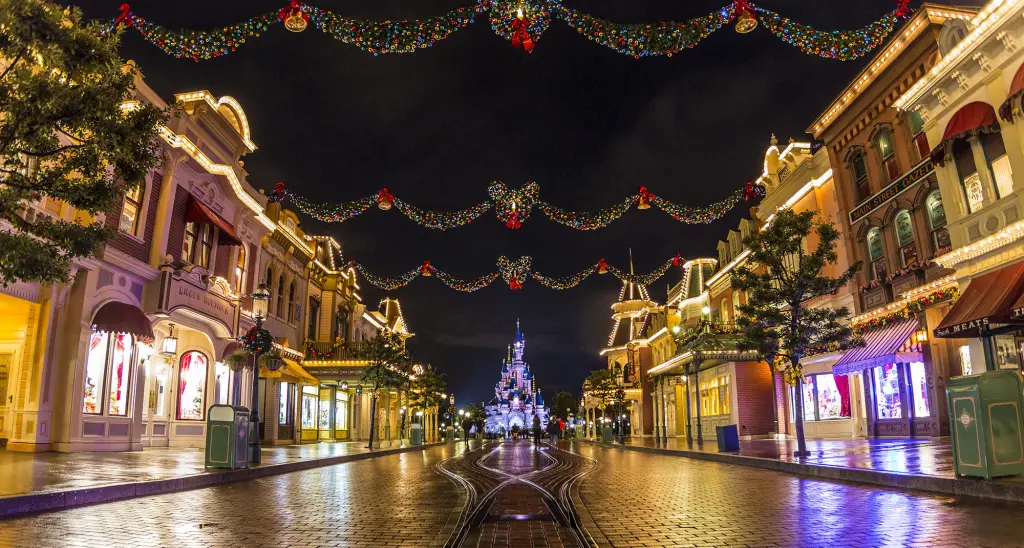 What's coming to Disneyland Paris in 2023 for Christmas? 
The 2023 festive them at Disneyland Paris is Disney's Enchanted Christmas.
Celebrate Christmas at Disneyland Paris with a magical lineup! Enjoy special entertainment, including the return of "Let's Sing Christmas" and Mickey's Dazzling Christmas Parade. Witness the enchanting Christmas tree lighting and savor new festive food delights. Don't miss the joy of Disney character meet and greets whilst they wear their charming Christmas outfits.
Frozen Celebration
27th of November to the 4th of December
Experience the magic of Arendelle with a special float and coach parade, weaving its way through the heart of the park. Immerse yourself in the wintry charm of Frozen as Anna, Elsa and Kristoff come to life in a dazzling spectacle.
Read more about the Frozen 10 year Celebration at Disneyland Paris
Mickey and Minnie Birthday 2023
Double the celebrations with the birthdays of the iconic duo, Mickey Mouse and Minnie Mouse, at Disneyland Paris on November 18!
Read more about Mickey & Birthday at Disneyland Paris 2023
Disney Princess Christmas Show
Show time: 14:45
Exciting news for the 2023 Christmas season at Disneyland Paris – a magical addition awaits with an exclusive Christmas Disney Princess Show! Get ready to be enchanted by the new and festive experience adding an extra layer of royal charm to your holiday!
From Ariel's underwater melodies to Cinderella's timeless tunes, the Castle Stage will resonate with the magic of the season, seamlessly woven into the beloved songs of the Disney Princesses.
The show will feature Cinderella, Aurora, Belle, Snow White,, Rapunzel, Jasmine, Tiana and Ariel
Town Square Christmas Show
Show time: 14:25
Another brand new show starts this year at Disneyland Paris! Join Santa Claus, Mickey Mouse and Minnie Mouse as the ensure everyone is ready for Mickey's Dazzling Christmas Parade.
The Town Square Gazebo comes alive ith festive cheers and your favourite characters including Donald Duck, Daisy Duck, Goofy, Max, Chip n Dale, Clarice, Stitch, Clarabelle, Horace, Gingerbread Men and more!
Mickeys Dazzling Christmas Parade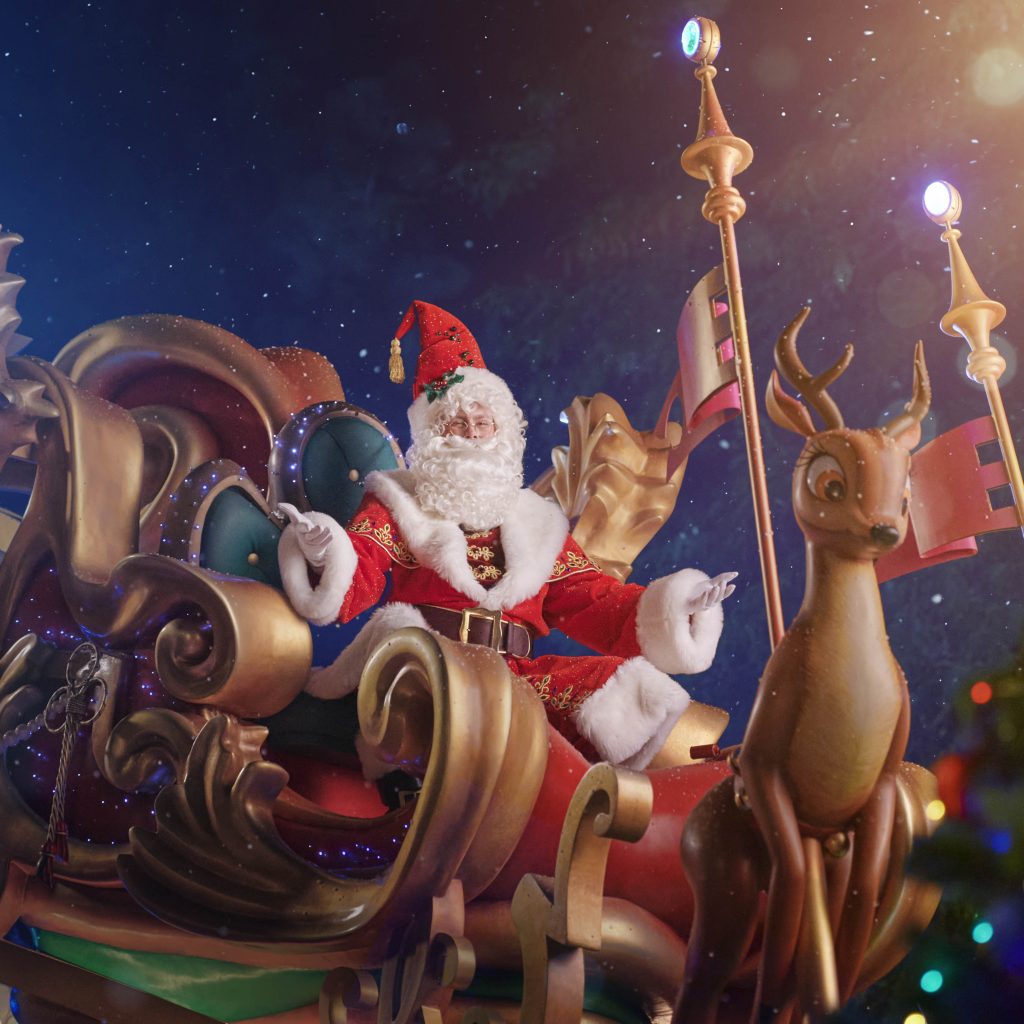 Parade Times: 17:20 and 19:10 daily
Twice daily, during the day and at night, the entrancing Mickey's Dazzling Christmas Parade will wrap guests in the magic of the holidays with its catchy song and five festive-themed floats featuring Mickey and his friends, Disney Princesses and even Santa Claus! Altogether, nearly 100 performers Disney Characters and artists will spread yuletide cheer for everyone's enjoyment.
Fun Facts about Mickeys Dazzling Christmas Parade
The Parade Won the International Association of Amusement Parks and Attractions (IAAPA) awarded the Brass Ring Awards for Mickey's Dazzling Christmas Parade and named the Most Creative Christmas / Holiday Show
Each Float is more than 6 meters high and weighs between 12-15 ton
Performers have spent a total of more than 5,500 hour in rehearsals
380 Costumes, 3000 costume pieces, 700 pairs of shoes and 90 hair accessories were specialy designed for the parade
Around 8km of fabric was used, embroidered and embellished for the parade
Mickey Mouse Christmas Float
Get ready for the grand entrance of the main mouse himself, Mickey, arriving in style on a giant Christmas steam train. Dressed in festive red and green, Mickey dons a sparkling Christmas tree top hat. His train pulls a splendid Christmas tree with Stitch and Pinocchio as passengers whilst Clarabelle Cow and Horace Horsecollar dance in tow.
Minnie Mouse Christmas Float
On the second float of the parade, spot the delightful duo of Minnie Mouse and Clarice, enchanting the crowd on their Christmas float adorned with sugar cookies and a festive Christmas tree. You may also see a few Gingerbread waving to you from the back of the float. Bringing up the rear with joyful footwork are Scrooge McDuck, Daisy Duck and the fan-favorite son of Goofy, Max, spreading holiday cheer along the route.
Donald Duck Float
On the third float, join the festive celebration with all your beloved ducks and the lovable Goofy. Donald and Goofy lead the way, while Huey, Dewey, and Louie add their spirited presence at the back. Embracing tradition, their float features a charming wooden Christmas tree, creating a heartwarming scene in Mickey's Dazzling Christmas Parade at Disneyland Paris.
Princess Time!
For the royal enthusiasts, a treat awaits as Snow White, Cinderella, Belle, and Aurora grace ground level in their opulent winter attire, a sight exclusive to the Christmas season. The magic continues with the next float, starring more Disney Princesses: Ariel, Rapunzel, Jasmine, and Tiana, each adorned in breathtaking winter dresses.
100 Acre Wood
On foot, the whimsical 100 Acre Wood gang follows, accompanied by a selection of wonderous iridescent snowflake dancers. Winnie the Pooh, Tigger, Eeyore, and Piglet bring their heartwarming charm to the Christmas parade.
Santa Claus
Bringing the grand finale to life is none other than the wish-granting maestro – Santa Claus! Perched atop a massive sledge pulled by three rocking reindeer, Santa leads the parade with holiday magic. At the back, the petite Tinkerbell adds a sprinkle of pixie dust in her special winter outfit, adding an extra touch of enchantment to Mickey's Dazzling Christmas Parade at Disneyland Paris.
Parade Show Stops at Town Square and Central Plaza
In a dazzling twist, characters along the parade route step off their floats for a lively performance of "Shine a Light" at two key spots. Town Square hosts a magical "Light the Tree" ceremony, where all parade floats encircle the 23-meter Christmas tree, each character mirroring the tree's vibrant hues.
The Central Plaza becomes a spectacle as characters light up Sleeping Beauty Castle in a showstopper. Picture the Princesses, Mickey & Minnie, and friends dancing on four stages, reminiscent of "Dream and Shine Brighter," accompanied by captivating pyrotechnics. It's a radiant moment in the heart of Disneyland Paris!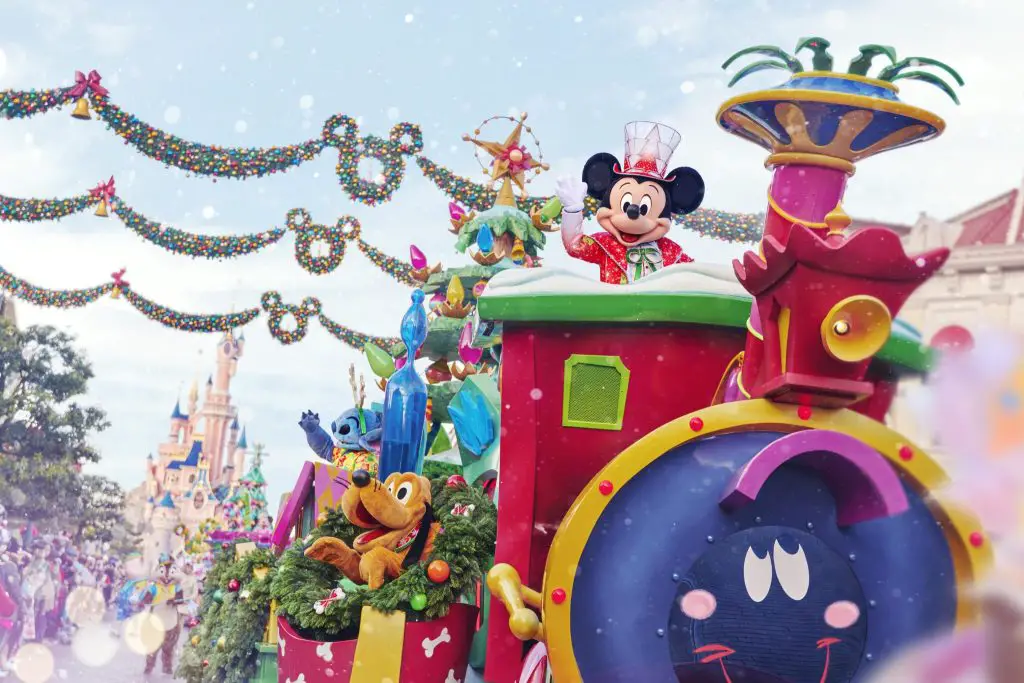 Mickey's Dazzling Christmas Parade at Night!
As the sun sets, brace yourself for a breathtaking transformation! Mickey's Dazzling Christmas Parade at Disneyland Paris becomes a mesmerizing spectacle at night. True dazzling light effects steal the spotlight, illuminating the parade and casting a radiant glow on the enchanting snowflake dancers. The magic of the season truly comes alive under the twinkling night sky.
Lets Sing Christmas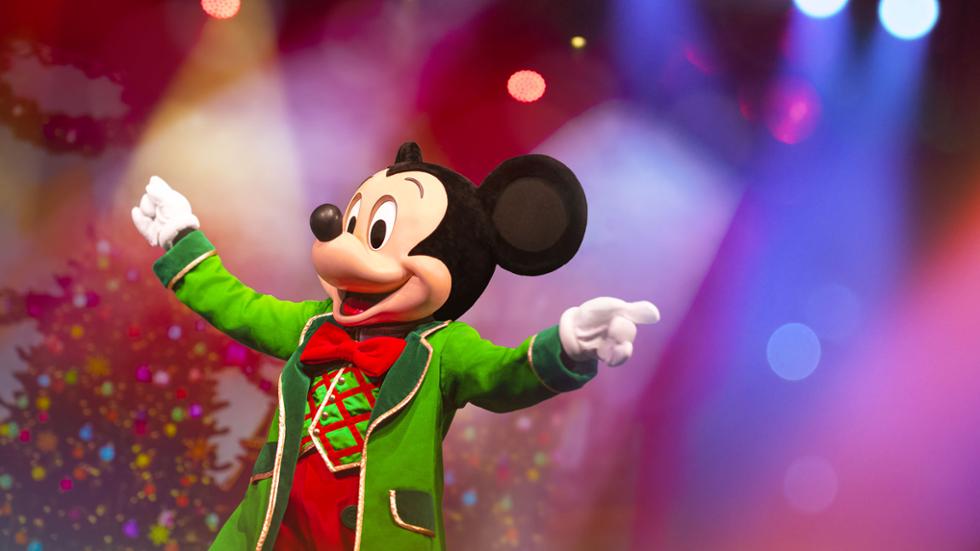 Current Show Times: 11:40, 14:10, 15:10 and 16:10
The magical merriment will not stop there! The traditional Let's Sing Christmas! show will invite guests to sing along to the most heartwarming Christmas carols. Experience the heartwarming magic of 'Let's Sing Christmas' at Videopolis Theatre, Discoveryland.
Join Minnie, Mickey, Goofy, and friends in a unique and emotional performance where choir singers infuse your favorite Christmas carols with that special Disney touch. The standout moment? Minnie, adorned in her stunning fur coat, serenading with 'All I Want for Christmas Is You (Mickey).' Pure holiday joy!
Christmas Fireworks at Disneyland Paris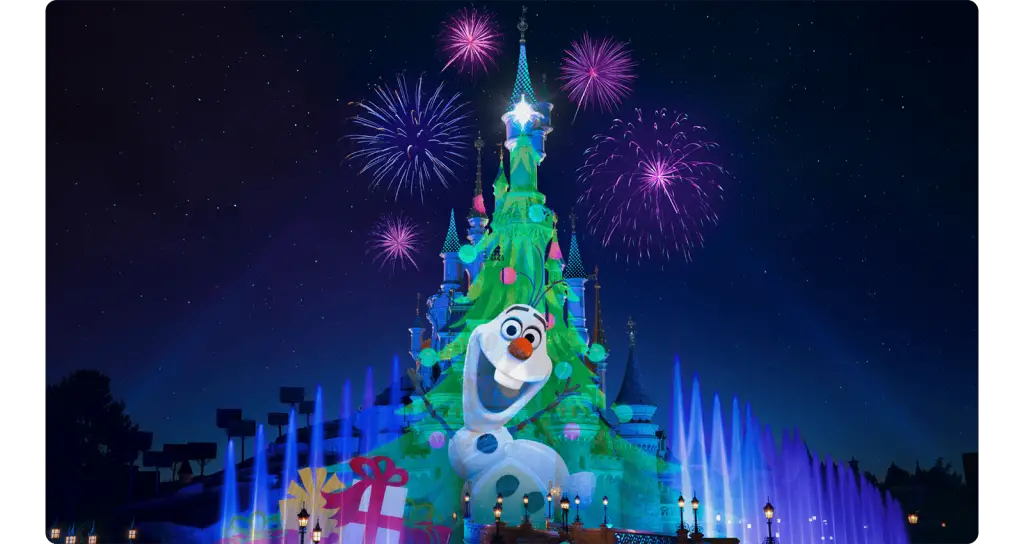 Prepare for a grand finale as Disneyland Paris dazzles with a spectacular fireworks show – the perfect way to conclude your Disney day! While the specific show hasn't been confirmed, 'Disney Dreams of Christmas' promises enchantment.
With castle projections, dancing fountains, fireworks, and beloved characters from Frozen and Toy Story, it's a magical experience. The show's finale turns the castle into a festive masterpiece with Christmas patterns and swirling snow globes, accompanied by epic overhead fireworks. A truly magical moment for Frozen fans and all who revel in Disney's holiday charm!
Unique Disneyland Paris Christmas Experiences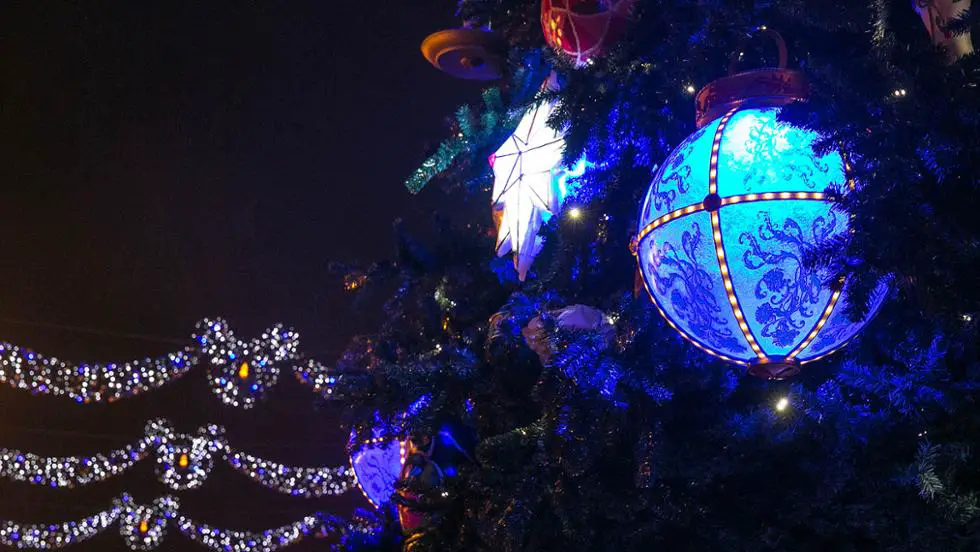 Immerse yourself in two enchanting Christmas traditions at Disneyland Paris. Witness the magical Christmas Tree Lighting ceremony, where the park illuminates in festive brilliance.
As you stroll along Main Street USA, experience the whimsy of snowfall, adding a touch of winter wonder to your holiday visit. It's the perfect blend of tradition and Disney magic!
Christmas Tree Lighting Ceremony
Guests are welcomed into Town Square by a majestic 78-foot-tall Christmas tree, decorated with more than 1,000 ornaments. As dusk falls guests will be able to experience a wonderful Christmas Tree lightening ceremony multiple times a night!
Snow on Main Street
Did you know at Disneyland Paris is snows on Main Street more than 16 times a day! Absolutely, it's one of the most enchanting surprises! At Disneyland Paris, Main Street transforms into a magical winter wonderland approximately every 30 minutes.
The atmosphere changes with a subtle music shift, and then, behold, the skies above Main Street USA come alive with delightful snowfall. It's a truly magical experience, turning every stroll into a snowy spectacle!
Disneyland Paris Christmas Character Meets 2023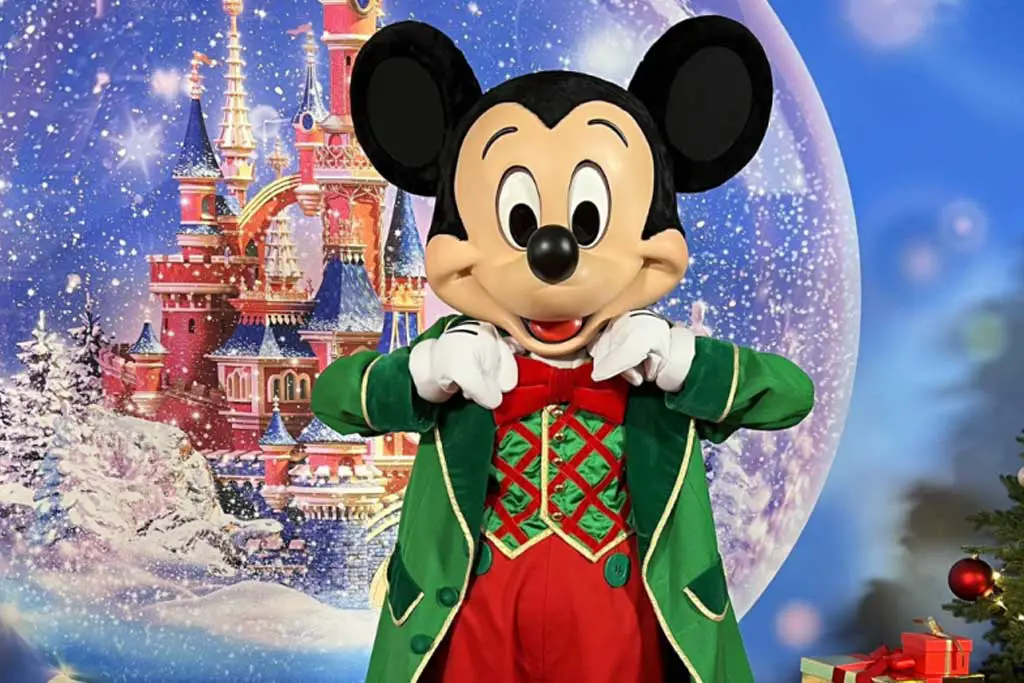 If you're keeping up with us on social media, you're well aware of our passion for meeting Disney characters. Christmas brings an extra special treat for fans as many of the characters don festive outfits, adding a magical touch to the holiday season!
This Disneyland Paris Christmas season, the special characters you can meet are: 
Meet Santa
Embark on a jolly adventure at Disneyland Paris as guests are welcomed to meet Santa Claus in the days leading up to Christmas. Find him in his Control Room at Arcade Beta, Videopolis in Discoveryland, where he eagerly awaits to discover whether you've been naughty or nice this year. However, on Christmas Eve, Santa bids adieu, returning to the North Pole for a well-deserved rest.
Winnie the Pooh
Don't miss the chance to meet Winnie the Pooh at the boarding house, where he'll be donning his festive outfit, spreading holiday cheer to guests at Disneyland Paris. It's a delightful opportunity to capture the magic of the season with everyone's favourite bear!
Santa Goofy
Get ready for a dose of Goofy's holiday hilarity! Find him by Cowboy BBQ Cookout at Disneyland Paris, all decked out as Santa Claus, ready to spread Christmas joy to guests in his own whimsical Goofy style. It's a festive encounter filled with laughter and merriment!
Santa Stitch
Get ready for a Stitch-mas! Stitch, everyone's favorite experiment, will be donning his Santa attire, meeting guests until Christmas Day by the Old Mill. Afterward, he'll be taking over the Santa Claus stop in Arcade Beta. It's a festive encounter with a touch of intergalactic charm at Disneyland Paris!
Jack Skellington/Sandy Claws
Get ready for a spooky twist to Christmas! Jack Skellington, the Pumpkin King, is invading Christmas land at Disneyland Paris in his Sandy Claus outfit. Meet this hauntingly festive character by Phantom Manor throughout the holiday season. It's a unique encounter where the magic of Halloween and Christmas collide!
Chip n Dale
Chip and Dale can't wait to share some Christmas spirit with you. Join the cheeky chipmunk duo near Casey's Corner on Main Street for a magically-merry festive Meet 'n' Greet!
Disneyland Paris Christmas Food 2023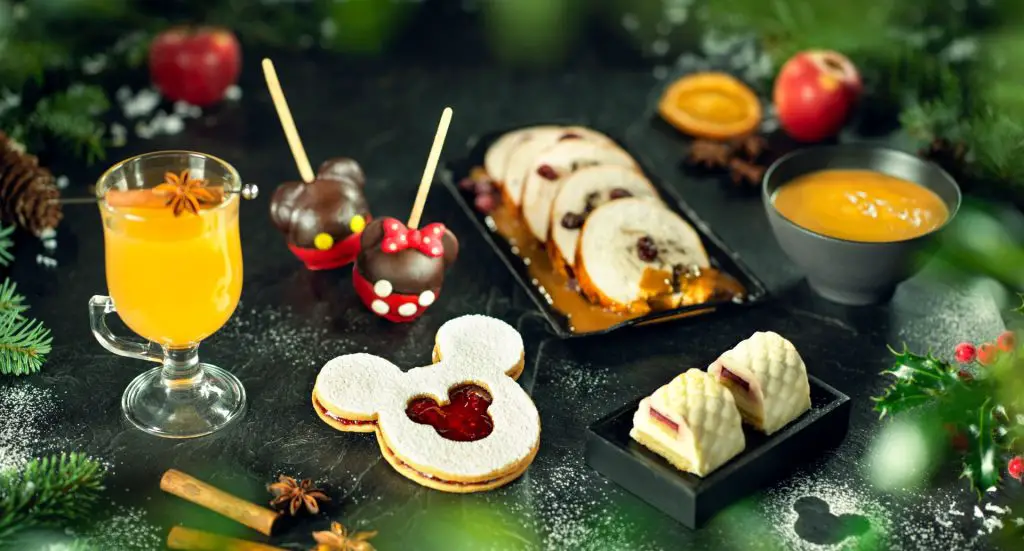 Indulge in the magic of Disneyland Paris this Christmas as we unwrap the enchanting world of festive delights! Our 2023 Disneyland Paris Christmas Treat guide is your passport to the most delectable Christmas foods, snacks, and drinks that will sprinkle joy on your taste buds. From Mickey-shaped treats to seasonal sips, embark on a culinary adventure that captures the spirit of the holidays at the happiest place on earth!
The magical winter market L'Hiver Gourmand will even return from November 10, 2023 through March 17, 2024, with its stylish chalets offering guests a wide selection of seasonal delights, spiced wine, hot chocolate, crepes, gingerbread and other delectable foods.
Which Disneyland Paris rides are closed at Christmas? 
Disneyland Paris tries to keep its ride refurbishments to an absolute minimum over their busy festive period. 
The attractions currently known to be closed at Disneyland Paris during the Christmas season are:
Orbitron: 20th – 24th Nov
Pirate Galleon: 1st Nov – 31st Dec
Star Wars Hyperspace Mountain: 6th – 7th Nov
Blanche-Neige et les Sept Nains: 6th – 17th Nov
Princess Pavilion: 27th Nov – 1st Dec
Les Voyages de Pinocchio: 4th-15th Dec

TOGETHER: A Pixar Musical Adventure – 1st-16th Dec
Disney Stars on Parade: 11th November 2023 until the 7th January, 2024
Is Disneyland Paris busy on Christmas Day? 
Absolutely, Disneyland Paris is buzzing with festive magic on Christmas Day! Expect special parades, Disney characters rocking festive costumes, limited edition merchandise, fireworks, and the highlight – Meeting Santa Claus (or any of the characters dressed as Santa!)
While it gets busy, arriving early is a smart move to beat the crowds, especially on Christmas morning.
Sure, you might encounter queues, but the enchantment of spending Christmas at Disneyland Paris makes it all worthwhile. Embrace the joy and create magical memories!
Park hours for Disneyland Paris during the Christmas season
The Christmas holiday is one of the peak seasons at Disneyland Paris, and to make sure you have ample time for the magic, Disney extends its opening hours.
It's their way of ensuring you can make the most of your festive visit amidst the joyful hustle and bustle of the season. Get ready for extended hours and extra enchantment!
Christmas Season Opening hours for Disneyland Paris (main park)
Open until 8 pm on most weekdays until 22nd Dec. Except these dates: 17th Nov (8 pm), 30th Nov (8 pm) and 19-21st Dec (6:30 pm)
Open until 10 pm every Saturday. Except for extended hours (see below)
Open until 9 pm on most Sundays. Except 7th Jan (9 pm) and extended hours (see below)
 Extended Christmas Hours: Open until 10 pm 23rd Dec to 6th Jan. Except New Year's Eve (open until 2am)
Christmas Season Opening hours for Walt Disney Studios
Open until 8 pm weekdays until 4th Dec
Open until 9 pm on weekdays 4th Dec – 18th Dec and 22nd Dec
Open until 7pm 19th Dec – 21st Dec
Open until 9 pm on Saturdays and Sundays, except extended hours (see below)
 Extended Christmas Hours: Open until 10 pm 23rd Dec to 6th Jan. Except New Year's Eve (open until 2am)
How much is Disneyland Paris at Christmas?
Consider this your magical cue – book your Disneyland Paris Christmas experience now! Disneyland Paris use an availability pricing model and with this limited season, the demand quickly soars, and securing your spot early is a must. Time is of the essence, and the enchanting gates of Disneyland Paris await those who act swiftly. Don't delay, make your Christmas dreams come true!
Read our guide on how much it costs to visit Disneyland Paris at Christmas
Are there any Disneyland Paris Christmas deals? 
While peak prices are expected for Disney hotels during the enchanting Christmas season, there's a glimmer of magic! Disneyland Paris currently offers a special deal for guests to stay at £132 per night, including hotel and tickets.
If you're planning for 2024, seize the savings by booking early for the best prices. Act now and secure your spot for a magical and budget-friendly Disneyland Paris experience!
Is Disneyland Paris open Christmas day? 
What's more magical than spending Christmas Day in the most magical place on Earth with your friends and family!
Yes, Disneyland Paris is open on Christmas Day, offering a magical holiday experience. Amidst special parades, festive Disney characters, limited edition merchandise, and unique surprises like Stitch in a Santa suit, the park welcomes guests to celebrate the season in enchanting style. Plan ahead, arrive early, and immerse yourself in the festive wonders of Disneyland Paris on Christmas Day!
What is Disneyland Paris weather like in December? 
Pack accordingly for Paris in December, as the weather mirrors the UK with variations from mild winter to snowy scenes. Anticipate temperatures ranging from a high of around 8°C to a low of 0°C. Prepare for occasional wet days and the drying effects of winter winds, which can be harsh on hands and lips.
Stay cozy and wrap up warm to make the most of your winter adventure in Paris!.
Is Disneyland Paris worth it at Christmas?
I hope this Disneyland Paris Christmas Guide has given you valuable insight into what the parks offer this festive season.
Is Disneyland Paris at Christmas worth it? The expense, the crowds, the planning?!!
100% yes.
Absolutely! Disneyland Paris at Christmas is a one-of-a-kind experience filled with enchanting festivities, special parades, Disney characters in festive attire, limited edition merchandise, and magical surprises. While it can be busy, the joy of celebrating the holiday season in the magical atmosphere of Disneyland Paris is truly worth it. The memories created during this festive time make it a magical and heartwarming adventure.  
Plan your stay with the Disneyland Paris price estimate calendar