So you have booked your trip and your main goal is to see Minnie Mouse at Disneyland Paris. We have some good news for you, its never been easier to see Minnie Mouse at Disneyland Paris and in this post we are going to show you some of the best places to see her to ensure you capture those magical memories!
Minnie Mouse Welcomes Guests into Disneyland Paris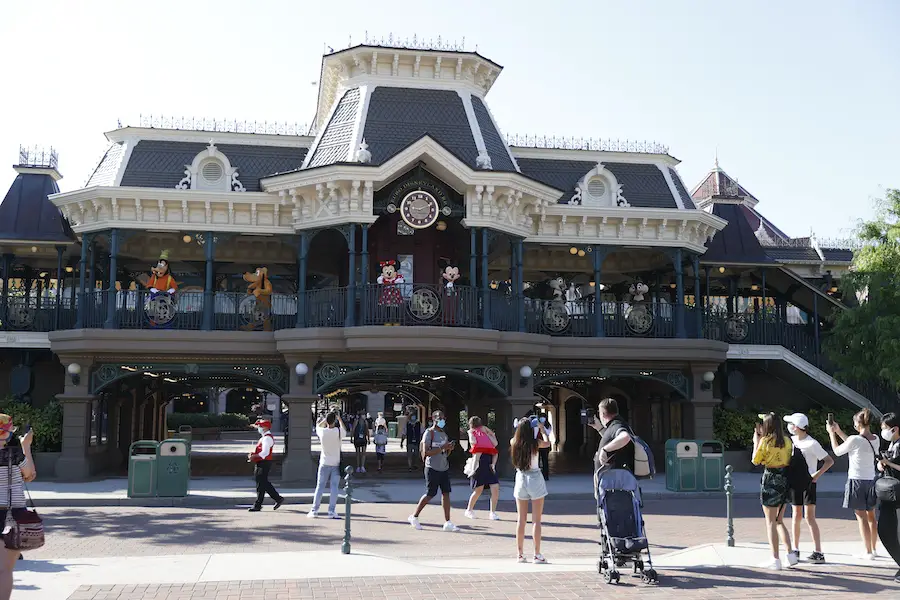 If your in the Parks early, you will be able to see Minnie Mouse straight away! When you enter Disneyland Paris, turn around and look up at the Disneyland Paris Main Street Rail Road Station balcony. Here you will see Minnie Mouse along with Mickey Mouse, Pluto, Goofy, Clip and Dale all waving and welcoming you into the park. What a fantastic way to start your day in Disneyland Paris!
Cowgirl Minnie Mouse by the Cowboy Cookout BBQ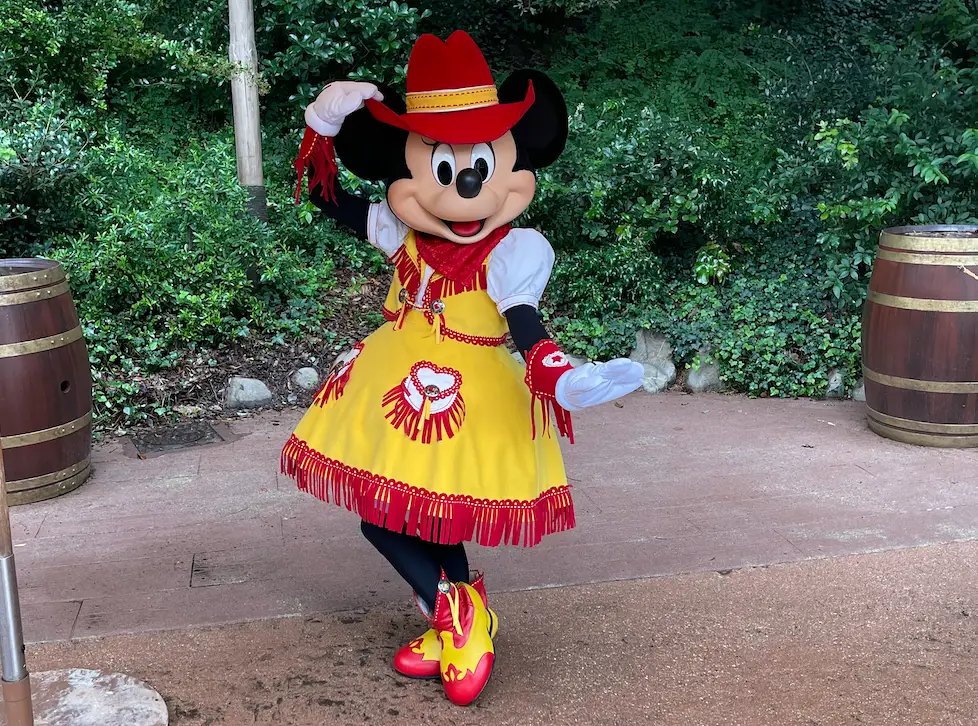 This selfie spot is our favourite place to meet Minnie Mouse. Just passed the Big Thunder Mountain Attraction and by the side of the Cowboy Cookout BBQ restaurant, you can find and meet Cowgirl Minnie Mouse! Due to the location of this selfie spot, we have always find the queue very short, and in most cases have been able to walk straight up and meet her. We have always found that we have been able to spend a good amount of time with Minnie Mouse in this selfie spot.
The timings for this selfie spot on our last visit were 10:45 to 13:15, and again at 15:15 to 16:45.
See Minnie Mouse at the Nautilus Selfie Spot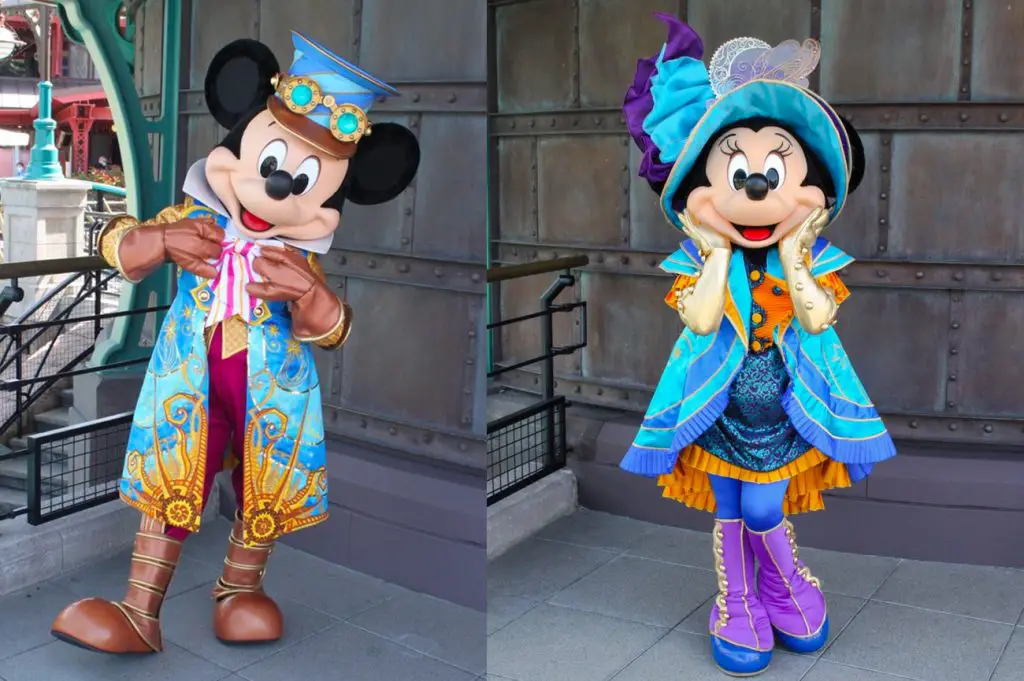 This selfie spot used to be outside, but recently the characters have moved inside the Nautilus. The Surprise Nautilus selfie spot features either Minnie Mouse, Mickey Mouse, Donald Duck or Daisy Duck. Please be aware that there is only one character inside the Nautilus as any time, so if you want to meet Minnie Mouse simply ask the Cast Members on the door who is there and they will let you know.
Minnie Mouse is part of the Fire Depot Cavalcade
This is the first of two cavalcades to feature Minnie Mouse. You will see her in the back of the Fire Depot car cruising down Main Street. This cavalcade also features Mickey Mouse and Pluto. Listen for the change of music around Main Street and entering into Fantasyland, as the Steamboat Willie tune plays whilst this cavalcade is happening.
See Minnie Mouse on the Bike Ride Cavalcade at Disneyland Paris
Minnie Mouse is out on a bike ride with Mickey Mouse and Pluto in this bike ride cavalcade. As an extra bonus you can also see Stitch following closely behind them in a car! The best friends song will play down main street when this cavalcade is in motion.
See Minnie Mouse and Mickey Mouse saying Goodbye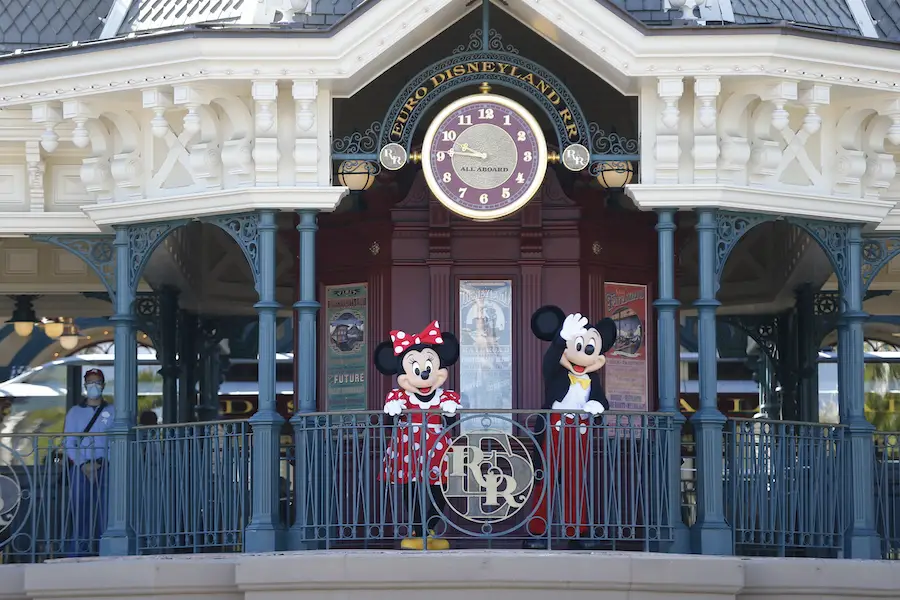 30 minutes before park closes Minnie Mouse and Mickey Mouse will be back on the Main Street Station platform waving goodbye to guests as they leave. Waving goodbye whilst walking under the station is a great way to end your day inside Disneyland Paris.
See Minnie Mouse at Hotel New Port Bay
Donald Duck has welcomed both Minnie Mouse and Mickey Mouse to his hotel. In an evening, you can meet all three characters in the Hotel New Port Bay lobby area. They rotate every 30 minutes, from around 7pm to 10:30pm.
---
MORE DISNEYLAND PARIS CHARACTER SELFIE SPOTS & MAGIC SHOTS
We have another post where we show you where you can meet all the characters at Disneyland Paris and the Walt Disney Studios park. click here to view our maps on the Disneyland Paris Character Selfie Spots