Are you looking for the best tips and tricks and the cheapest hotels when visiting Disneyland Paris in July? Then you have come to the right place. Our guide to visiting Disneyland Paris in Summer will cover everything you need to know including the cheapest dates to visit, busy periods, school holidays, usual weather conditionals and any special events you may way to attend!
Visiting Disneyland Paris in July
PROS
30th Celebrations taking place
Bastille Day on 14th July
Warmer weather
Less maintenance and ride closures
Cheap Disney Hotels, if you book early!
Visiting Disneyland Paris in the Summer months is popular for all types of guests, from Disney adults, couples and families. Many people think that visiting Disney in July is expensive, however, if you book early you can get some of the best hotel deals available at Disneyland Paris
If you are visiting the parks in July you should know that most attractions and shows are open. As most ride maintenance at Disneyland Paris is completed throughout the winter months, the only closures you usually find, if any, are due to temporary downtime for scheduled refurbishments.
The Cheapest Dates to Visit Disneyland Paris in July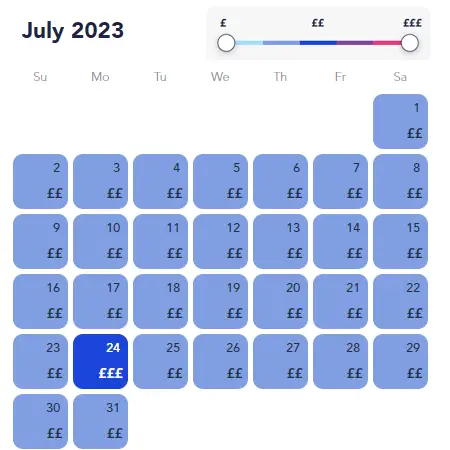 To get the cheapest hotel prices at Disneyland Paris in July, we would advise you book early. Guests will expect to see prices starting from around £950 (based on a 2-night/3 day stay for 2 adults and 1 child)
Disneyland Paris July Hotel Prices
Please be aware that Disneyland Paris hotel prices are based on availability, and the earlier you book the better price you will get. Remember, they also have a Hotel & Ticket Price Promise to ensure you always get the best prices when you book direct!
You can also get exclusive hotel discounts with a Disneyland Paris Annual Pass.
Disneyland Paris July Key Dates and Events
Disneyland Paris will celebrate Bastille Day on the 14th July. They usually celebrate this with a special nighttime firework show available to all guests with a valid park ticket. This is usually not an additional hard ticket event. In addition to this, the parks 30th celebrations will still be taking place until September 30th, 2023!
Is Disneyland Paris busy in July?
We are not going to set unrealistic expectations, July is one of the busiest months at Disneyland Paris, so expect to see high crowd levels during your stay. If you want to visit Disneyland Paris with lower crowds and warmer weather we would advice looking at either June or September.
They are multiple factors causing the high crowd levels during July at Disneyland Paris. Many families will travel to the parks during July and August due to the French school holidays starting in the middle of July. In addition to this, schools all over Europe will also be starting their summer vacations and be taking their holiday to Disneyland Paris.
July also see's one of the most popular French public holidays, Bastille Day, on the 14th July. You can expect to see higher crowd levels around this date.
Consider School Holidays and Bank Holidays Dates
Disneyland Paris is a popular holiday destination throughout Europe, with millions visiting each year from not only France but also from the surrounding nations including the UK, Spain, Germany, Portugal, Italy, Netherlands, and Belgium. They are several dates in July that you should be aware of when planning your trip to Disneyland Paris:
French Bank Holidays in July
Important School Holiday Dates to consider
Please note, these dates are used for a guideline as dates may vary slightly in certain counties and districts.
France:
 8 July – 4 September 2023
UK:
24 July – 31st August, 2023
Spain:
20 June – 7 September 2023
Germany:
6 July – 11 September, 2023
Portugal:
7 June – 12 September, 2023
Italy:
9 June – 18 September, 2023 
Netherlands:
15 July – 3 September, 2023
Belgium:
1 July – 31 August, 2023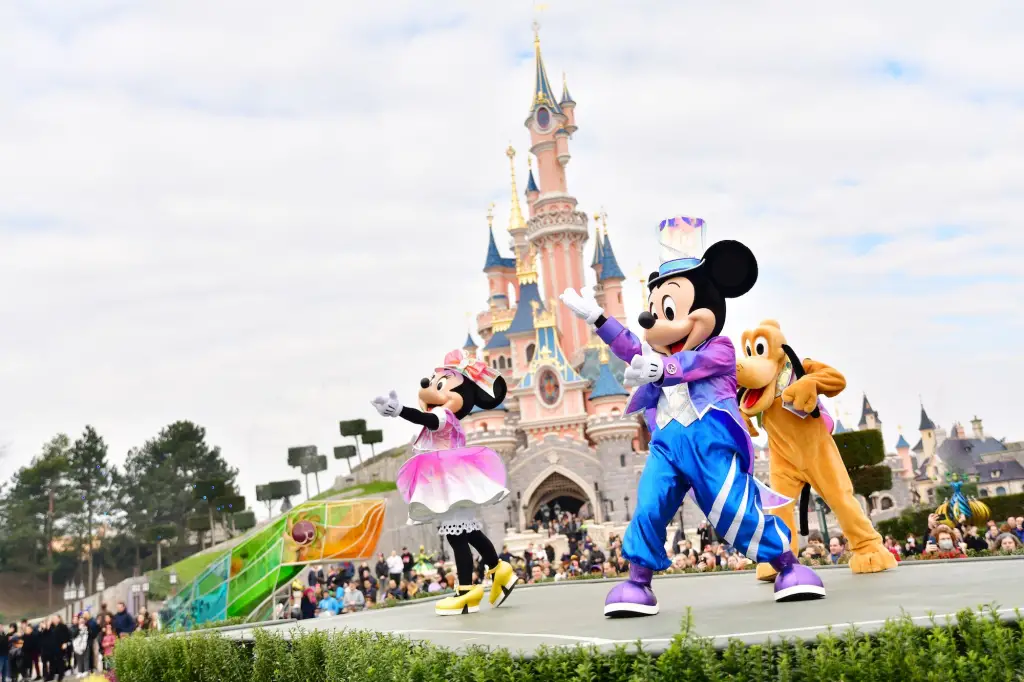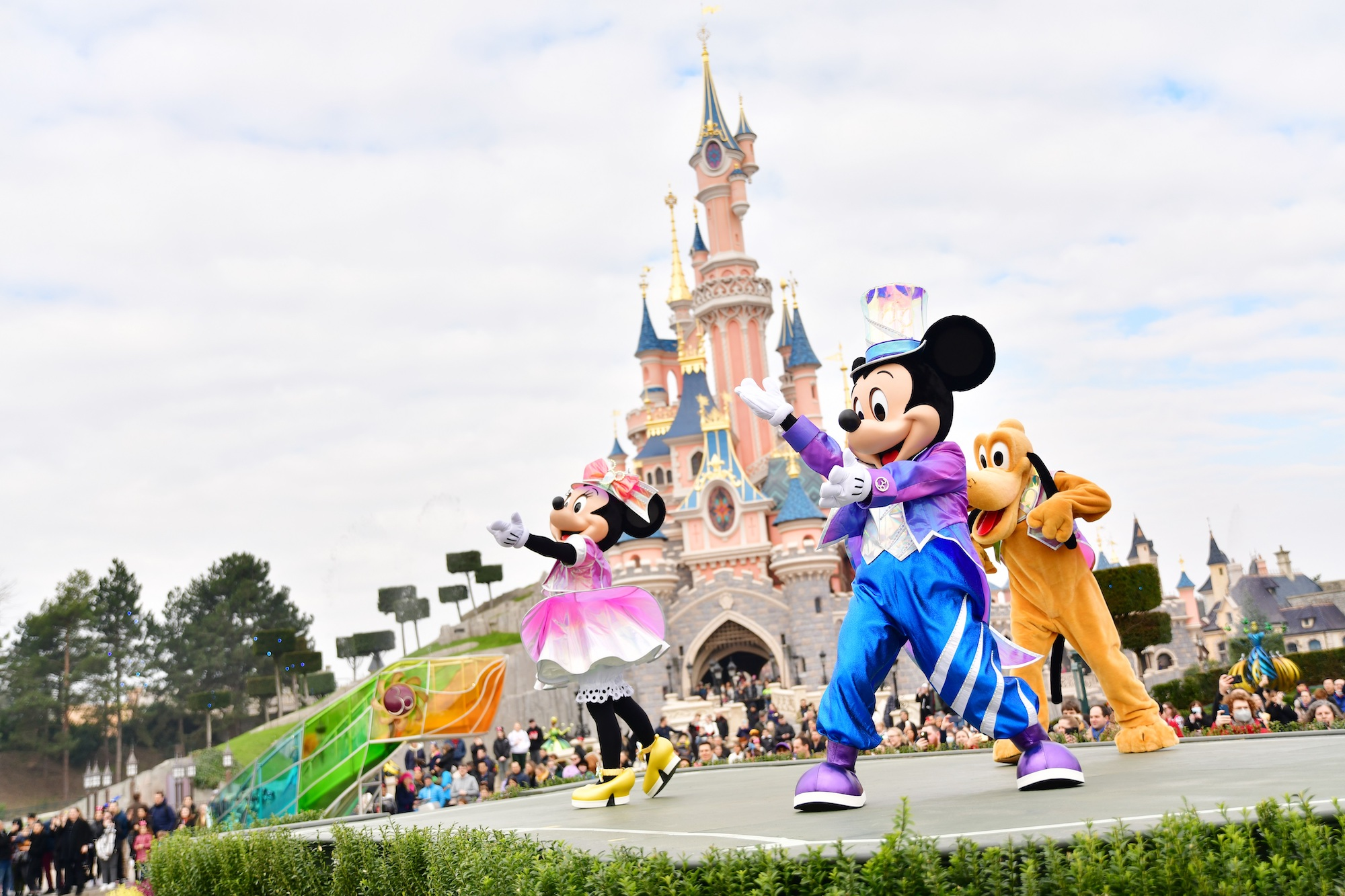 Disneyland Paris July Weather
July and August are the warmest months of the year at Disneyland Paris. The average temperature at Disneyland Paris in July is around 15-25°C (59-77°F). However, we have visited the park in July and see the temperate in the high 30's, and the next day was a day of non-stop rain.
As the weather can be unpredictable so we always advise checking the 14 and 7 day forecast before you visit to make sure you pack suitable clothing.
If you visit during July, you may still experience a rainy day, however, this is nothing like a rainy day in Walt Disney World. If any unexpected weather occurs, Disneyland Paris is located only a 5 minute UBER ride away from the Val d'Europe Shopping Centre, which allows you to quickly buy any essentials or additional clothing.
Our Top Tips for Visiting Disneyland Paris in July
One of our biggest tips for guests staying at Disneyland Paris during the month of July is to stay on-site, and book early, if you budget allows it. When creating this guide, we found that many Disney hotels were actually cheaper than partner hotels. The DLP Hotels are located very close to the parks with each only a short 5-10 minute walk or bus ride to and from the park, which makes it far easier to change clothes, add extra layers or take a break if needed!
Our other top tips include;
Try to book the first weeks of October for the lowest Hotel prices and lower crowd levels.
Take advantage of Extra Magic Time (EMT).
Meet Disney characters in your hotel. Each morning or evening you can meet a selection of Disney Characters with your hotel, and you can often find even shorter queue lines.
Take appropriate clothing and check the weather forecast
Visiting Disneyland Paris in July FAQ
Is Disneyland Paris open in July?
Yes, Disneyland Paris is open 365 days a year!
Are they any events at Disneyland Paris in July?
In July Disneyland Paris will celebrate Bastille Day. Disneyland Paris will also be celebrating their 30th Anniversary until the 30th of September, 2023
Is is cheap to visit Disneyland Paris in July
Book early to take advantage of the great deals when visiting Disneyland Paris in July.
Is 3 days in Disneyland Paris Enough?
Yes, three full days at Disneyland Paris allows you to spend two days within Disneyland Park and its five magical themed lands, and one day for Walt Disney Studios Park and its four action-packed zones.