The Ultimate Princess Celebration at Disneyland Paris was announced a few weeks ago and is due to start on the 23rd of August and run until the 29th August 2021. The celebration features princess themed entertainment, special treats, and surprises from Disney Princesses as well as Queens Anna and Elsa.
Updated 23rd August, 2021
---
Princess Celebration Soft Launch from the 18th August
Disneyland Paris are currently performing some of the cavalcades and selfie spots as part of a soft launch. This gave us a chance to gather all the information and share it with you before the start of this special event!
Princess Character Selfie Spots
One major change this celebration is going to bring to the Park is who you get to see waving good morning and goodnight from the Main Street Station. Since the parks reopening you have been able to wave good morning to Mickey, Minnie, Goofy, Pluto, Chip and Dale whilst only Mickey and Minnie wave goodnight.
With the Princess Celebration this will be changed, instead you'll see Aurora, Tiana, Rapunzel, Ariel and Belle in the morning and at night. You'll be lucky enough to see 5 Princesses in one go!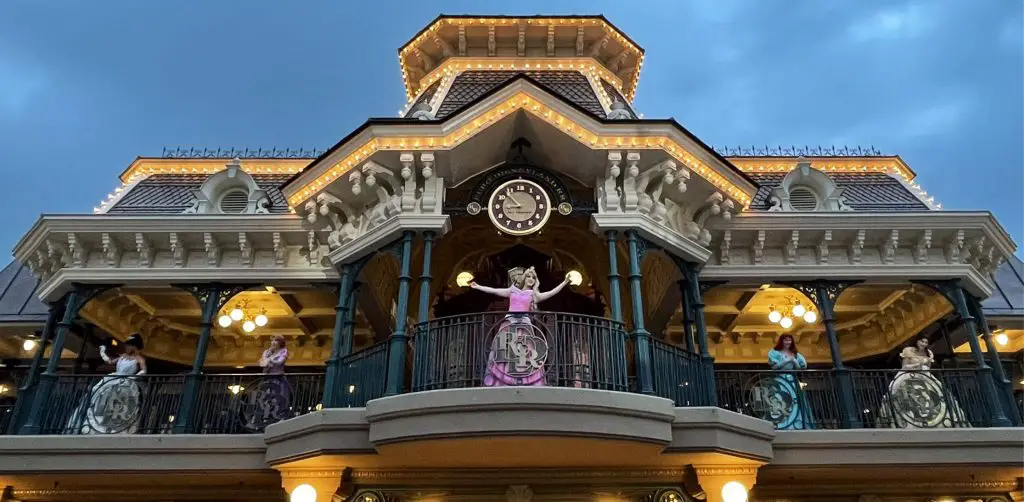 Princess Selfie Spot Locations
They'll also be specific Princess Selfie Spots and photo locations around Disneyland Park and the Walt Disney Studios Park. You'll be able to take a selfie with the Disney Princesses in the following locations!
Disneyland Park:
Merida in Fantasyland, 11:00 and 15:05
Jasmine in Adventureland, 11:30 and 15:30
Snow White at the Wishing Well, 11:15 and 15:25
Walt Disney Studios Park:
Enchanted Moments from the Kingdom of Arendelle, Toon Studio
In this location you will usually see Queen Elsa and Queen Anna
Magical Selfie Moments at Toon Studio!
In this location you will usually see either Cinderella (and the Fairy Godmother) or Belle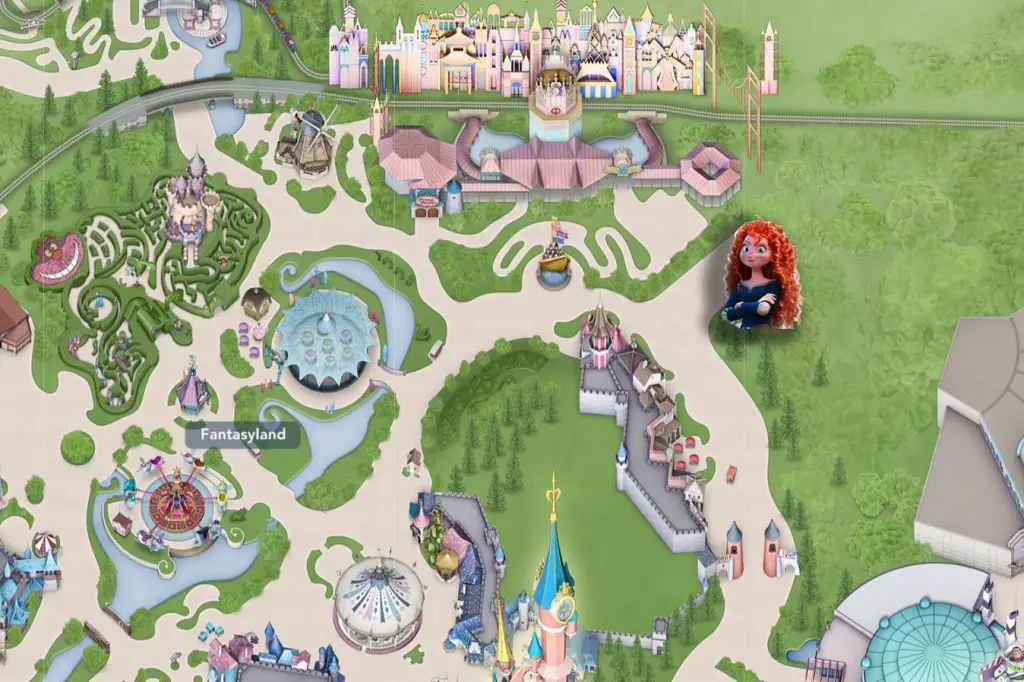 Princess Theme Magic Shots
Using the Disney PhotoPass, you can also discover 5 new Princess themed Magic Shots…
Sleeping Beauty at the front of Sleeping Beauty Castle
The Princess and the Frog by the Plaza Gardens Restaurant
Brave next to the Thunder Mesa Mercantile store
Frozen Snow Queen by the Cowboy Cookout Barbecue Restaurant
Moana Magic Shot in Adventureland
On the first day of the Princess Celebration we saw these Magic Shots.
Prince Imaginaire (Front of Sleeping Beauty Castle)
Naveen as Frog (Plaza Gardens Restaurant)
Les Triples – Harris, Hubert and Hamish as Bears (Frontierland)
Pua & Heihei (Adventureland)

Princess Pavilion Photo Spot
The background at the Princess Pavilion has also been updated for Princess Week. However, please be aware they are currently no princesses at this photo-location.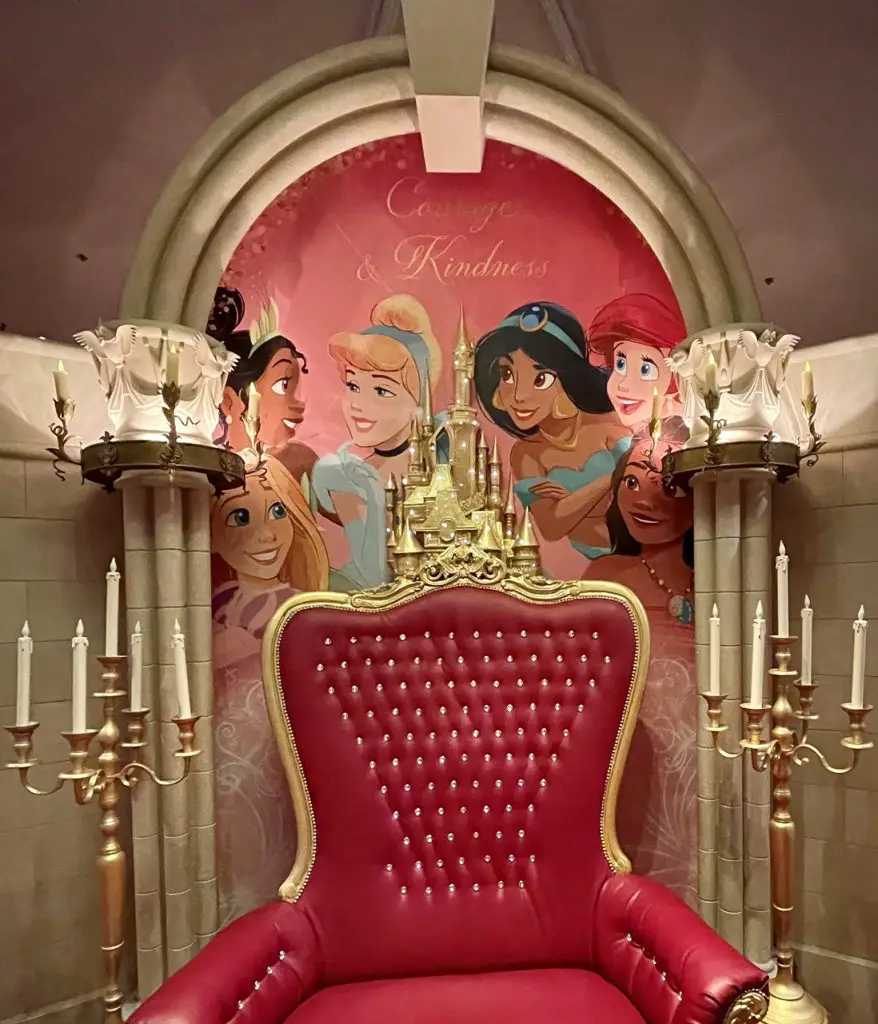 Princess Celebration Cavalcades
We've seen two Princess (and Queen) themed cavalcades so far in the soft launch.
1. The Princess Cavalcade
The Princess Cavalcade will now use the brand new song "Starting Now". If you hear the this catchy song below start playing down Main Street or in Fantasyland make sure you look around for the cavalcade.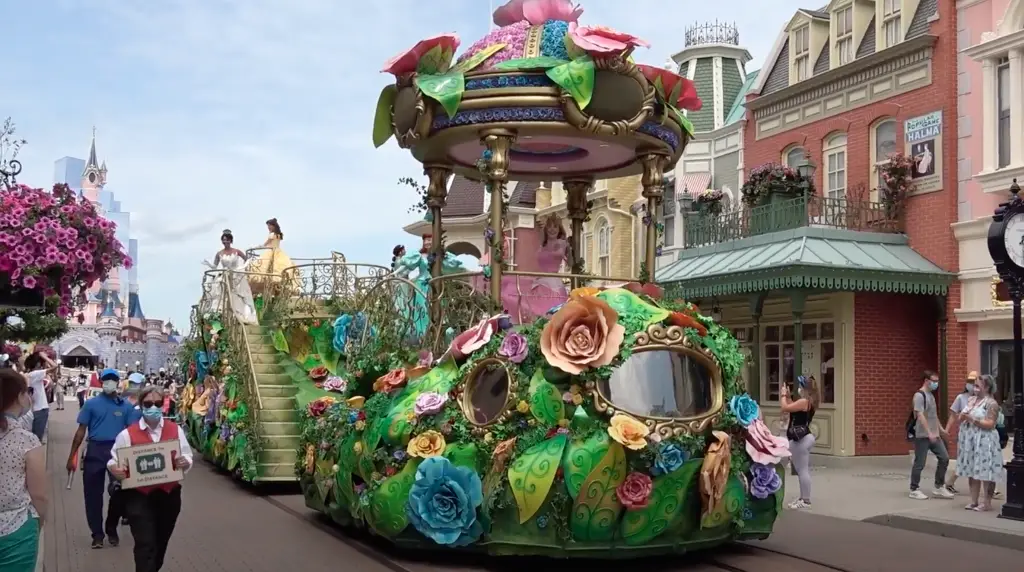 2. The Frozen Cavalcade
The Frozen Cavalcade has returned for this celebration and we've seen Anna and Else on the float which debuted in 2020 for the Frozen 2: An Enchanted Journey event. For this cavalcade make sure you listen out for "Into the Unknown"!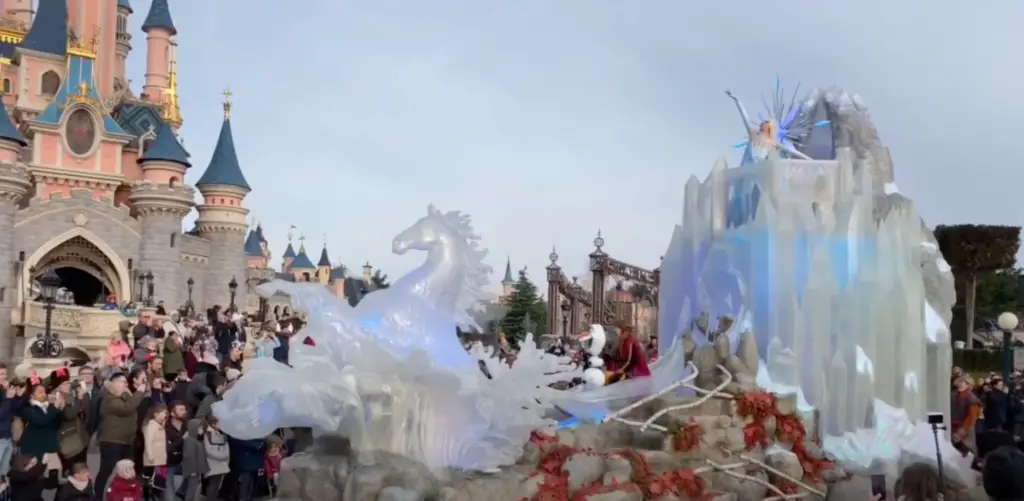 Ultimate Princess Celebration Treats
There are a few new treats heading to Disneyland Paris for the celebration including ice creams and milkshakes with Royal, Ariel and Frozen theme.
For Snacks you can enjoy Princess Inspired Afternoon Tea. This Royal tea includes a selection of Princess-inspired pastries and will be available from Plaza Gardens Restaurant or Victoria's Home-Style Restaurant 
In addition to this, Victoria's Home-Style Restaurant will also be serving a limited edition Beauty and The Beast Milkshake. This is a vanilla and mango puree semi skimmed milk shake, topped with a donut and whipped cream!
If you want something cooler Fantasia Gelati and March Hare Refreshments (both in Fantasyland) will be serving a special treat inspired by Queen Elsa, whilst the Gibson Girl Ice Cream Parlor (Main Street USA) will be offering an Ariel inspired Ice Cream!
Create your Own Disney Princess Cake with Disneyland Paris
Ultimate Princess Celebration Merchandise & Shopping
As well as unique photo opportunities and snacks, you'll also be able to purchase a wide selection of princess themed merchandise.
Disney Fashion in the Disney Village will also be offering guests the chance to buy and personalise your own Princess Theme T-Shirts!
---
D23 Princess Celebration
As explained by D23, the Ultimate Princess Celebration is:
The Walt Disney Company today announced the launch of the Ultimate Princess Celebration, a yearlong event spotlighting the courage and kindness these Disney heroines inspire in fans all around the world. From Cinderella's generosity and Belle's ingenuity to Mulan's selflessness and Moana's adventurous spirit, Disney is honoring these strong women through music, experiences, products, and a campaign to give back to children around the country.