Disney Village, situated between the Disney parks and hotels at the heart of the resort, is undergoing its most extensive transformation to enhance the overall dining, shopping, and entertainment experience.
After the upcoming opening of Rosalie, a new French-inspired brasserie set to debut by the end of this year, the next phase of this ambitious project will commence in early 2024 and continue for two years. The long term plan will focus on the gradual modification of all shops and facades including the Disney Store to Disney Fashion Jr.
Initially announced in 2022, the efforts to revamp and enhance the ambiance of Disney Village are about to take a significant leap forward. The forthcoming opening of Rosalie, an establishment drawing inspiration from traditional Parisian brasseries and located near Lake Disney, will be accompanied by a complete transformation of the adjacent block of buildings, spanning nearly 200 meters. These renovations will bring about refreshed shopping experiences for visitors.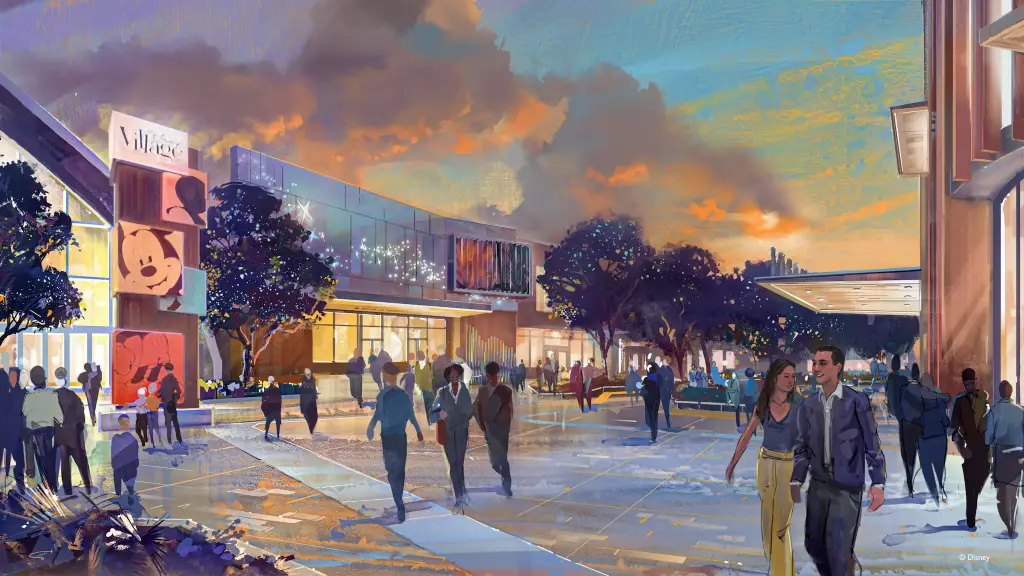 To ensure minimal disruption to the guest experience at Disney Village, the construction work for the transformation project will be conducted in two phases spanning approximately two years. The first phase, scheduled from early 2024 to the following autumn, will focus on revamping Disney Fashion, Disney Fashion Jr, and The Disney Gallery. These shops will undergo complete interior remodeling and feature large, transparent windows to enhance visibility from the main promenade. Once finished, the shops will introduce new shopping concepts, including Fashion & Lifestyle, Home Décor, Disney Art & Collectibles, and merchandise from popular franchises like Disney, Pixar, Marvel, and Star Wars. The shops will boast new layouts, fittings, and decorations.
The project also encompasses the creation of brand new facades, giving Disney Village a contemporary and inviting visual identity. The facades will incorporate natural tones, blending wood, brick, and metal elements, resulting in a dynamic and cohesive impression. Additionally, the inclusion of large awnings will provide guests with protection from inclement weather during their shopping experience.
To create an even more enchanting atmosphere, Disney Village will undergo extensive work in the main outdoor area, focusing on the grounds, surrounding landscape, and lighting. This endeavor aims to extend the celebration of beloved Disney stories and experiences that guests can cherish throughout the resort's Parks and hotels. Exclusive and original graphics, specifically designed for Disney Village, will adorn the main strip and facades, showcasing contemporary visuals that pay tribute to Disney characters and imaginary worlds. These unique graphics will captivate visitors, offering delightful surprises and enchantment as only Disney can deliver.

Plan your stay with the Disneyland Paris price estimate calendar
Compare and book your next Disney vacation today and benefit from the best price possible, with the DLP Price Promise, with the Disneyland Paris price estimator.
Compare different periods* and use the handy calendar to find the ideal moment for your trip to the heart of the Magic! You can now book your Disneyland Paris holiday for all arrivals until March 27, 2024!