Today, we were invited to the press conference for the Grand Reopening of the Disneyland Hotel, and we can't wait to share the main details with you in this post!
In a magical kingdom not too far from here, Disneyland® Paris is thrilled to announce the grand reopening of its iconic hotel on January 25, 2024!
Hurry, for reservations have now opened at www.disneylandparis.com! A fairy tale stay awaits!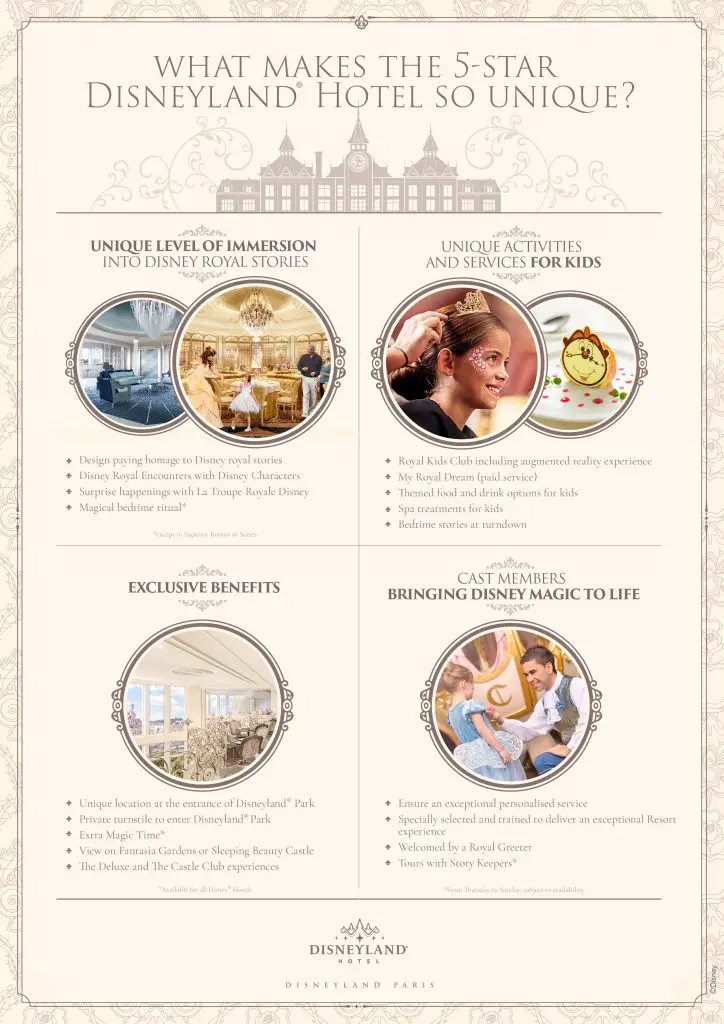 All are welcome, especially young dreamers, to embark on a wondrous adventure into the enchanting world of Disney's royal tales. Prepare to be enchanted by extraordinary hospitality, exquisite dining, and Disney-themed entertainment like no other.
In a spectacular leap forward as part of its magnificent transformation, Disneyland Paris is overjoyed to unveil the long-awaited reopening of its legendary, five-star Disneyland Hotel on January 25, 2024. Every inch of this iconic haven is in the midst of a wondrous 'reimagination,' from the awe-inspiring grand lobby to the opulent rooms and suites, all to present its cherished guests with a fresh luxury experience, beautifully intertwined with beloved Disney Characters, both timeless and enchantingly new!
"This marks a new chapter for Disneyland Paris, as we continue to be one of the leaders of the European tourism industry with our unique blend of immersive storytelling and world-class hospitality,".

"We are thrilled to unveil the newly reimagined Disneyland Hotel, a one-of-a-kind five-star property celebrating Disney's beloved royalty and storytelling. Our commitment to innovation and unparalleled guest experiences remains unwavering, and we look forward to welcoming guests to one of the most immersive hotels in Europe."

Natacha Rafalski, Présidente of Disneyland Paris
The Disneyland Hotel
The Disneyland Hotel proudly becomes the very first Disney Hotel to offer a five-star journey celebrating Disney royalty in all its splendid forms. From Cinderella to Frozen, The Sword in the Stone, and The Princess and the Frog, to the spirited Moana, our dear guests will be granted the enchanting opportunity to step into these cherished tales, where they can become a part of the story and craft their very own magical moments.
By blending their boundless creativity with the mastery of European artisans and craftspeople, the remarkable Walt Disney Imagineering Paris team has conjured a unique, immersive journey that splendidly honors Disney's royal tales and renowned European treasures like Le Château de Versailles and Neuschwanstein Castle. A harmonious fusion of magic and history awaits.
In the splendid makeover of our hotel, you'll step into a world of regal elegance, from the grand lobby to our enchanting restaurants, bars, and lounges. But the magic doesn't stop there! We're thrilled to offer our cherished guests an unforgettable entertainment program that will warm your heart and create everlasting memories.
You'll meet your favorite royal Disney Characters, like Mickey, Minnie, and their pals, all dressed in exclusive regal attire. And don't miss the exclusive La Troupe Royale Disney – a royal spectacle like no other!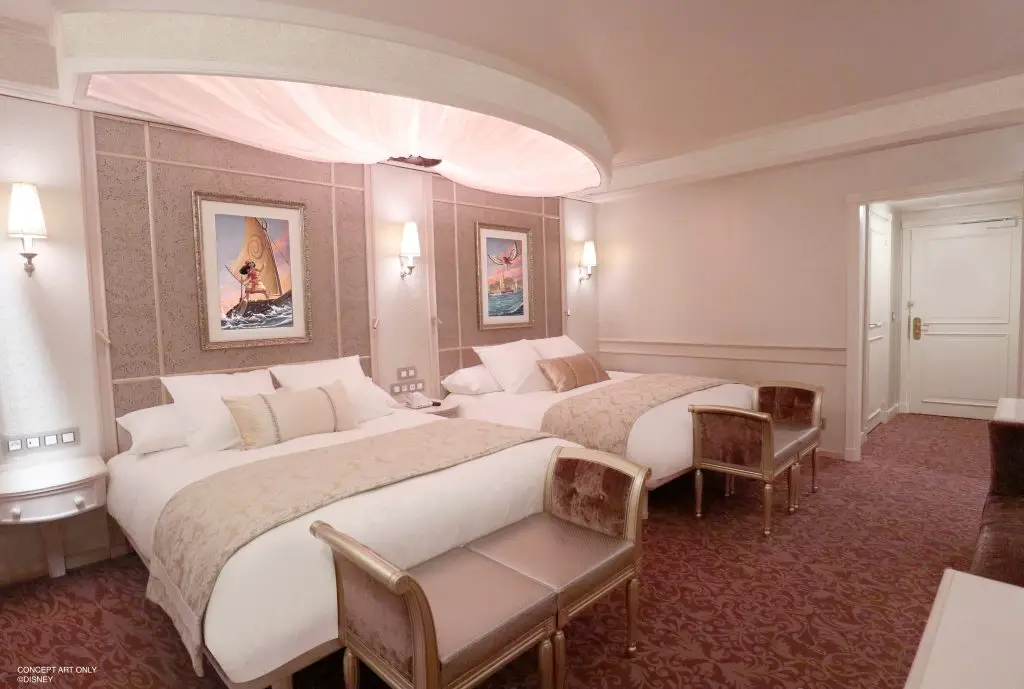 Rooms
All 487 rooms and suites are like pages from a fairy tale, with 346 Superior Rooms, 82 Deluxe Rooms, 41 Castle Club Rooms, 16 Signature Suites, 1 Princely Suite, and 1 Royal Suite, each completely reimagined to offer an elegant ambiance and modern comforts fit for royalty.
Inside every room and suite, the enchantment of Disney storytelling comes to life, from enchanting artwork to delicate details that pay tribute to the iconic elements of Walt Disney Animation Studios' royal stories, right down to the tiniest décor touches.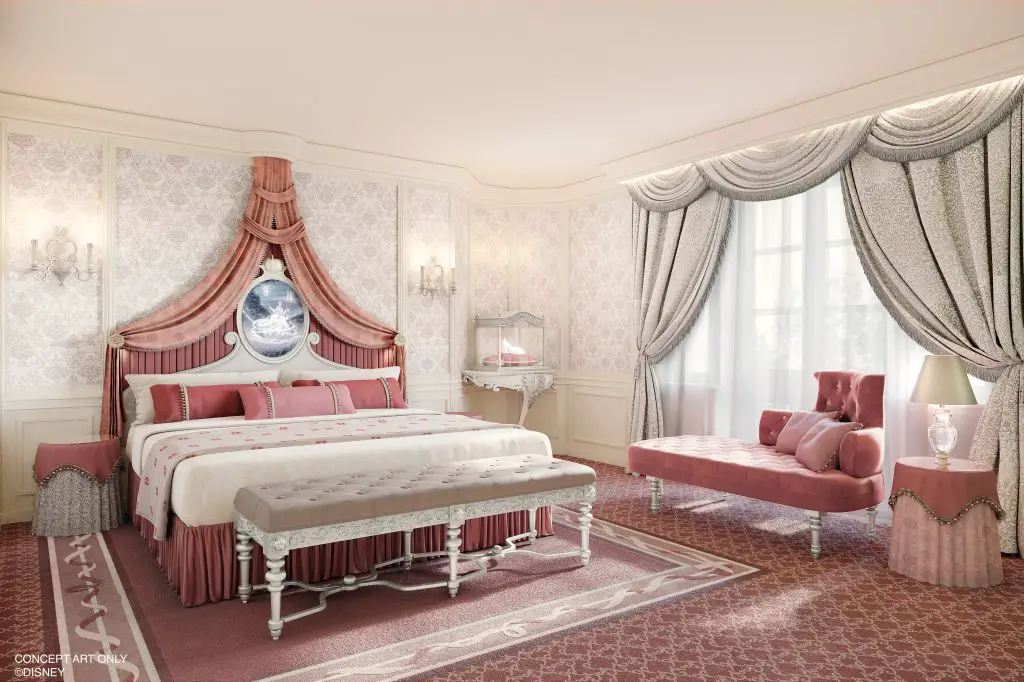 Castle Club
For honored guests residing in The Castle Club, a truly exclusive haven within our hotel, we've prepared a royal treatment like no other! You'll revel in VIP benefits and services, including a private elevator and check-in area for added privacy. Plus, a magical breakfast awaits you in the Castle Club Lounge, where you can dine alongside beloved Disney Princess Characters. And if you choose one of our suites, be prepared for an unparalleled immersion into the enchanting world of Disney's royal stories. Your fairy tale stay begins here!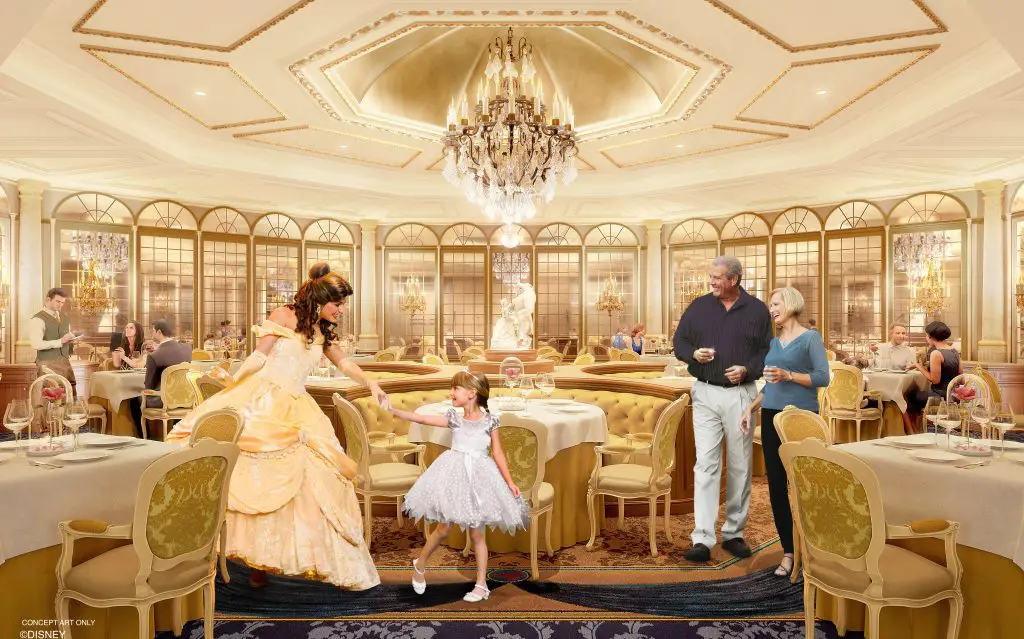 Restaurants
Continuing the enchanting storytelling that weaves throughout our hotel, both The Royal Banquet and La Table de Lumière restaurants invite you to savor a truly unique gourmet dining adventure. Infused with the artistry of French savoir-faire and the boundless creativity that defines all things Disney, your culinary journey promises to be a magical experience like no other!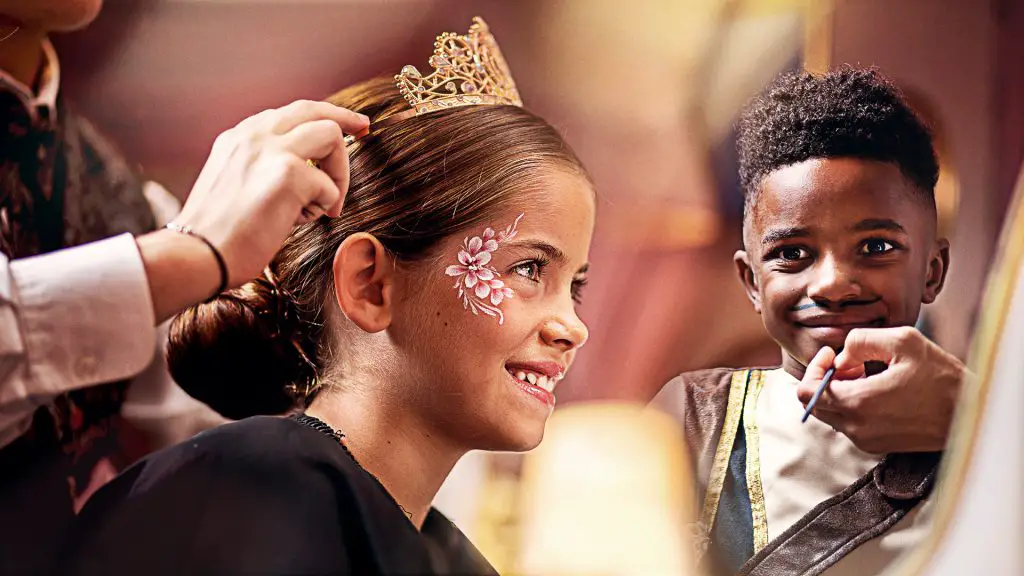 Children's Activities
Disneyland Hotel will set new standards in five-star hotel immersion with special attention to children. Every child who graces our hotel will be treated like royalty, with special spaces designed just for them. There's the Royal Kids Club, where they'll step into the wonder of augmented reality magic and unforgettable encounters. Then, the My Royal Dream experience allows young guests to transform into their favorite Disney royalty, thanks to regal hairstyles, special outfits, accessories, and a sprinkle of pixie dust!
And after a day filled with enchanting park adventures, families can come together for a spa experience at Disneyland Hotel Spa by Clarins or unwind in a dedicated relaxation space. To top it all off, our hotel's restaurants, bars, and lounges offer delightful treats and exquisite themed pastries that are sure to bring smiles to every young prince and princess!
Cast Members
At the very heart of this enchanting journey, a team of Cast Members, meticulously chosen from across the resort and beyond, stands ready to offer unparalleled service. From the warm welcome of our Royal Greeters the moment you arrive, to the devoted Concierge team who anticipates your every need, every guest is destined to receive the royal treatment.
For those eager to learn more about the hotel's secrets and stories, our dedicated Story Keepers will be at your service, guiding you through the incredible details and hidden gems that make our hotel truly magical.
---
Plan your stay with the Disneyland Paris price estimate calendar