Pixar: A Musical Adventure, a Disneyland Paris original and exclusive production, will celebrate some of the most beloved Pixar characters on the Studio Theater stage everyday at Walt Disney Studios Park from July 15, 2023. 
Quick Overview
Opening on July 15, 2023
The show will take place several times a day* with a live band 
Venue: Studio Theater, Walt Disney Studios Park
Limited number of seats
Duration: approx. 30 minutes  
Features more than 30 artists and Pixar characters on stage including characters from Toy Story, Coco, Up, Monsters Inc and Find Nemo!
Show Synopsis
Charlie, a child who is passionate about music, dreams of conducting the orchestra for their school's end-of-year gala. But something unexpected happens and Charlie loses the precious sheet music on the eve of the concert! As the child falls asleep, Woody and their Toy Story friends wake up and join forces to recover the scores scattered throughout various Pixar stories.
From the beloved Toy Story crew to Coco's vibrant decor, the world of Up, Monsters, Inc. or Finding Nemo's underwater reef, guests will be invited to embark on an immersive and multisensory poetic journey.
With more than 30 artists and Pixar characters on stage, this artistic and aesthetic live performance will take guests on an epic adventure through the worlds of Pixar, accompanied by a live orchestra.
Characters seen within the show
So far Disneyland Paris has confirmed the following Pixar characters will be performing during the show "TOGETHER: a Pixar Musical Adventure":
Toy Story: Woody, Jessie, Buzz Lightyear, Bo Peep, Lotso +more –
Up: Carl and Russell
Finding Nemo: Nemo, Marlin & Dory
Monsters, Inc: Sulley, Mike Wazowski, CDA Agents
Coco: Miguel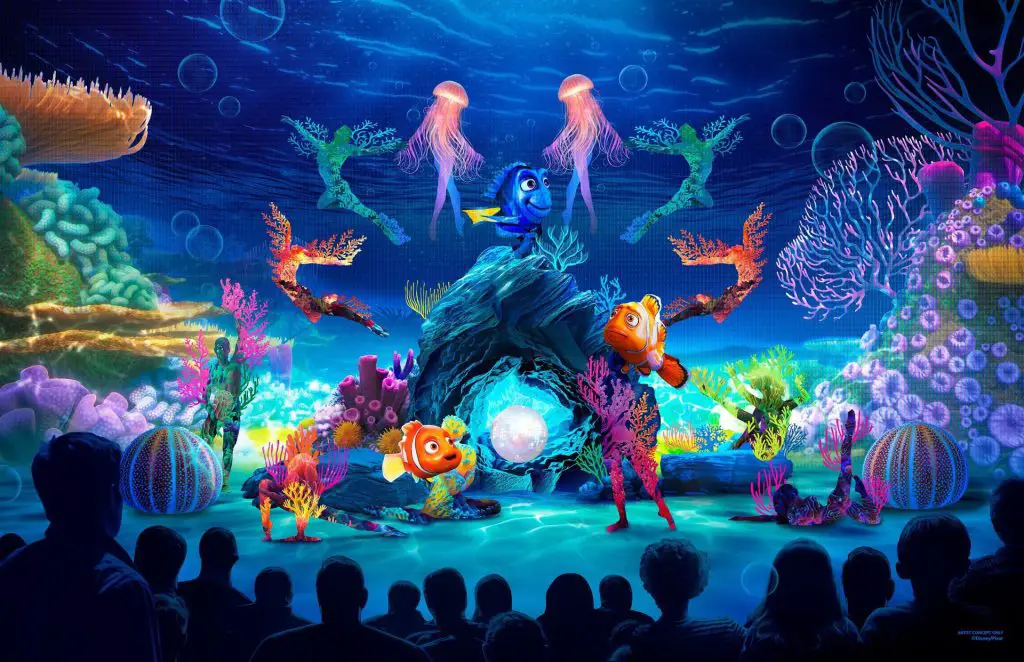 Live Orchestra!
Supported by a live orchestra, this innovative and creative show will invite guests to embark on a spectacular and poetic journey and experience how music and friendship bring us together, traveling into the worlds of Toy Story, Coco, Up, Monsters, Inc. and Finding Nemo. 
Show Times
The show times are yet to be confirmed, make sure you sign up to our email newsletter to stay up to date, but we do know that the show will be performed Five times a day, expanding the Disneyland Paris roster of high-quality shows and reinforcing the resort's position as a leader of entertainment in Europe.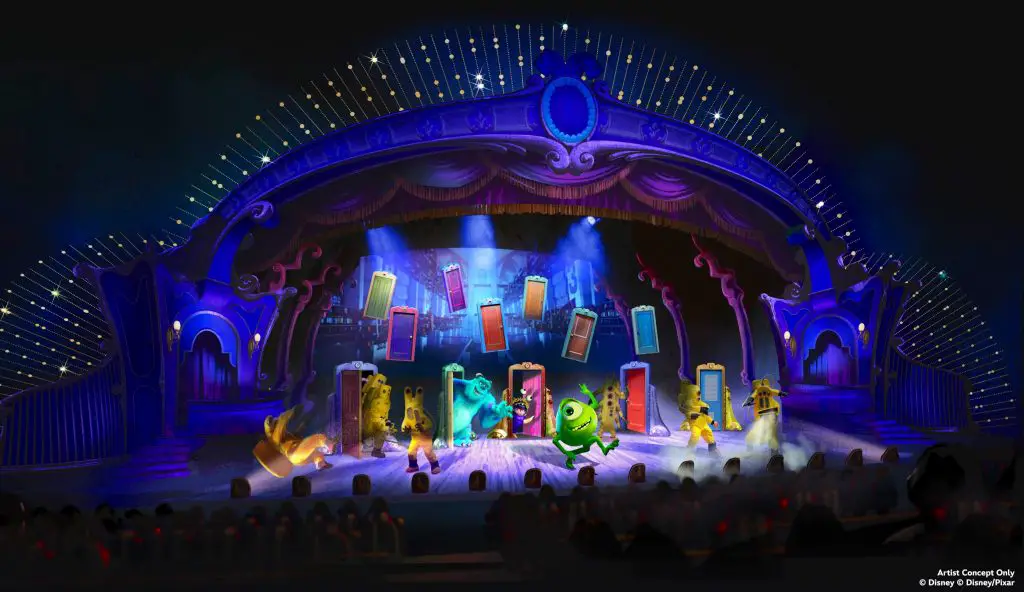 A MULTI-LAYERED SENSORY EXPERIENCE, ALONGSIDE BELOVED PIXAR CHARACTERS
"TOGETHER: a Pixar Musical Adventure" is guided by a bold artistic direction that blends traditional and state-of-the-art technology, creative lighting, multisensory effects and contemporary choreography, all accompanied by iconic music, as well as an original score. 
Arnaud Feredj and Matthieu Robin, show directors at Disneyland Paris, have brought their daring artistic vision to this project to create a fully immersive, surprising and heartfelt show. "TOGETHER: a Pixar Musical Adventure" has been imagined as a multi-layered sensory experience, stimulating guests' senses through live music, visual technologies, water effects, scents and more, blurring the line between fantasy and reality"
From full-sized mobile decorations that stand at 6.2 meters high and 30 meters wide, to 453sqm LED screensstretching from floor to ceiling, this 650sqm stage is the most immersive one ever created at Disneyland Paris.
The show is filled with poetry and creativity, whether through the state-of-the-art lighting design with 200 spotlights magnifying movement and music – leading to the seamless blending of surface and performers on stage – or the aerial view of the dancers that transforms them into a giant kaleidoscope.
This new daily show is a true testament to the talent of Disneyland Paris' artistic and technical teams of Cast Members – costume designers, puppeteers, dancers, musicians, prop decorators, lighting and special effects designers, engineers and many more. They have also worked alongside Pixar Animation Studios and renowned external talents such as Romain Rachline-Borgeaud, France's Got Talent finalist, tap dancer and founder of the RB Dance Company, Céline & Cain Kitsaïs, multidisciplinary choreographers and founders of "Le Labo" dancing concept, and Anne Gravoin, trained violinist and Executive Producer in charge of selecting the musicians for the ensemble. These successful collaborations of creative in-house and external talents have resulted in a powerful show with a French touch. Best-in-class suppliers have also been identified in France and Europe to bring the show to life. 
Music plays a major role in the show. During every performance, live musicians will pay homage to the timeless beauty of Pixar's most memorable soundtracks while also performing an original score. The mix of a live musical ensemble and a soundtrack recorded with 54 musicians at the Nashville Studios will truly bring guests on an emotional journey.
This large scale project has involved more than 30 professions, showcasing once again the excellence and devotion of Disneyland Paris in bringing unforgettable entertainment to its audiences, cementing its position as the leader of entertainment in Europe.
"We are thrilled to unveil "TOGETHER: a Pixar Musical Adventure", an innovative and immersive experience that brings to life the magic of Pixar's most iconic films. This new show perfectly illustrates our commitment to delivering world-class entertainment that connects with the hearts of our guests in such a unique and powerful way. It also showcases the exceptional talent of our cast members and creative teams who worked tirelessly to deliver this enthralling experience to our guests", said Natacha Rafalski, Présidente of Disneyland Paris.
"TOGETHER: A Pixar Musical Adventure" expands the presence of the beloved Pixar Animation Studios at Disneyland Paris, complementing the eight Pixar-themed attractions (Cars ROAD TRIP, Ratatouille : The Adventure, Crush's Coaster…) boutiques (Chez Marianne – Souvenirs de Paris, Toy Story Playland Boutique), restaurants (Bistrot Chez Rémy, the upcoming Casa de Coco – Restaurante de Familia), character greetings, andtwo hotels with Pixar touches (Disney Hotel Cheyenne, a Cowboy-town film-set inspired hotel with Toy Story characters, and Disney Hotel Santa Fe, a Route 66 motel-style hotel with several buildings regrouped in 4 accommodation zones represented by Cars characters.) 
Music is a universal language and, as an art form, it has the power to bring people from all generations together. This is what makes the show so special – a music-driven script designed to keep the audience engaged throughout the entire production.
On stage, music is at the heart of the story, as Charlie's friends do everything in their power to help find the lost music sheets and fulfill the child's dream of taking part in the school concert.
Music is also present in the theater space, with a live orchestra composed of eight musicians. Piano, violin, trumpet, cello, guitar, drums and saxophone are all highlighted as an integral part of the story and accompany the spectator throughout each scene. Each of these instruments serves the plot in a very specific way and blends harmoniously with the soundtrack, recorded with 54 artists at the Nashville Studios.
Plan your stay with the Disneyland Paris price estimate calendar
Compare and book your next Disney vacation today and benefit from the best price possible, with the DLP Price Promise, with the Disneyland Paris price estimator.
Compare different periods* and use the handy calendar to find the ideal moment for your trip to the heart of the Magic! You can now book your Disneyland Paris holiday for all arrivals until March 27, 2024!