Disneyland Paris Halloween season is in full swing from now through November 6, 2022, with the return of Mickey's Halloween Celebration and not one, but TWO iconic Disney Halloween parties. Halloween is one of our favourite seasons at Disneyland Paris and this year is sure to be a frightfully delightful time with many spellbinding villain encounters, a mischievous atmosphere, terrifyingly-fun shows, and haunting attractions.
Disneyland Paris Halloween Parties
This year, Disneyland Paris will be hosting two Disney Halloween Parties on October 29th and October 31st, 2022, with events and attractions open until 2 a.m.!
The Halloween parties not only give you the perfect opportunity to enjoy haunting attractions into the early hours, but also enjoy an exclusive parade and new shows prepared just for the occasion.
Spook zones will return to Disneyland Paris for the first time in many years! Adventureland's caves and crypts will have an extra chill-factor (not for the faint of hearted), whilst strange creatures and ghostly encounters will lurk throughout Frontierland. On the stroke of midnight Main Street USA will welcome even more ghosts!
Of course, it wouldn't be a Halloween Party if the Disney Villains plan to receive the attention they deserve across the park. You will be able to see meet many Disney Villains and popular Disney characters in their Halloween costumes!
Disneyland Paris Halloween Party tickets are still available to buy here!
Halloween Decor at Disneyland Paris
To celebrate this fa-boo-lous holiday, Halloween time décor can be found throughout Disneyland Park. From mickey pumpkins, garlands, lanterns, and joyful skeletons this is one of the most visually appealing and instagramable seasons at Disneyland Paris. Don't forget, for the very first time the Disney Hotels are also joining in the Halloween spirit with special fall decorations.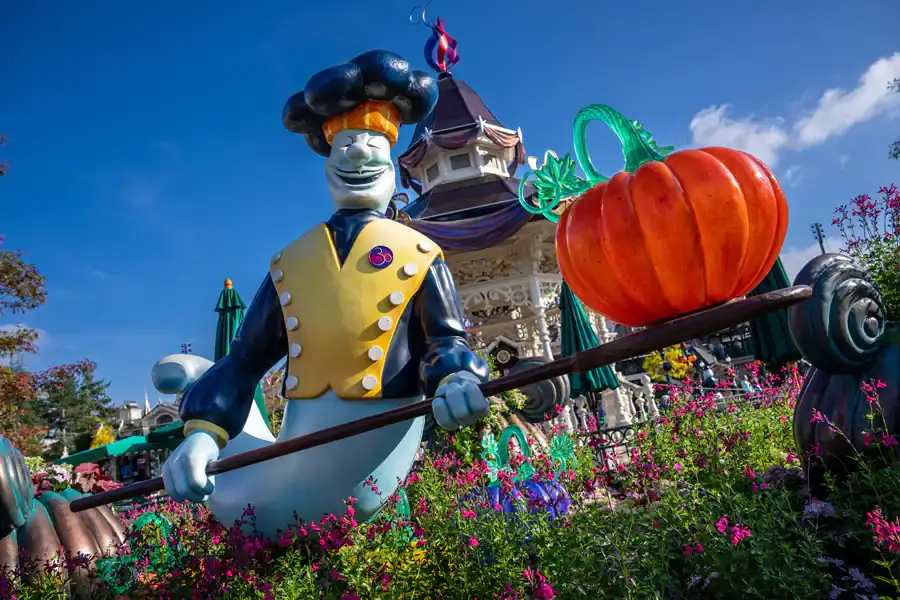 Halloween Parade
During Mickey's Halloween Celebration, be sure to catch the foot-stomping cavalcade, featuring Disney Characters decked out in their most boo-tiful Halloween costumes and even Mickey himself on his jaw-dropping "Mickey's Illusion Manor" float. See if you can count how many times he changes his costume!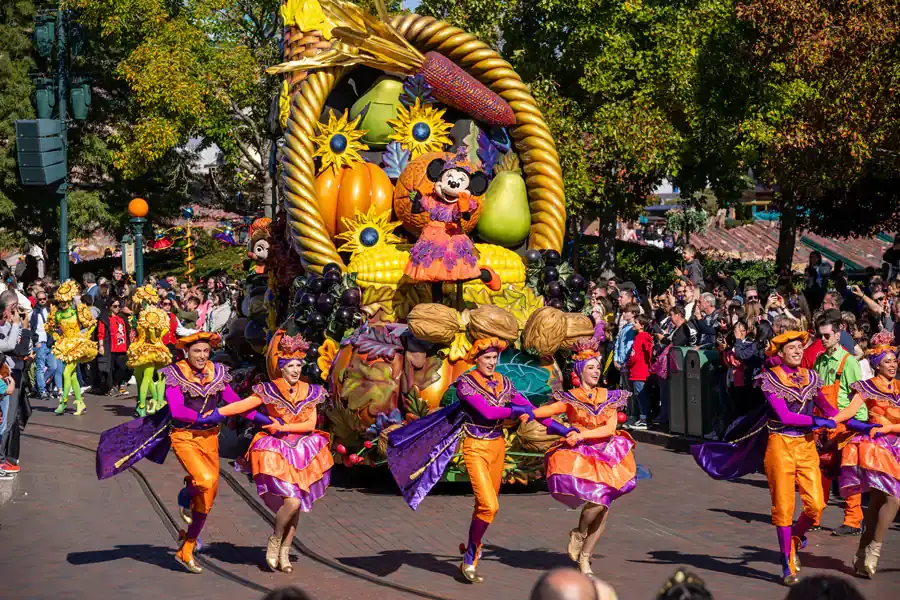 Villain Meet & Greet and Castle Show
The Disney Villains are making Disneyland Park their home this season as the Royal Castle Stage becomes the regular haunt of Maleficent, Captain Hook, the Queen of Hearts, Cruella de Vil, and many more! As the sun goes down and darkness envelops the park, the Disney Villains have one more trick up their sleeve: Nightfall with Disney Villains. Their devious plan to take over Sleeping Beauty Castle just may come to fruition with a sinister sequence of dancing fountains and wicked projections — all before Disney D-Light and Disney Illuminations.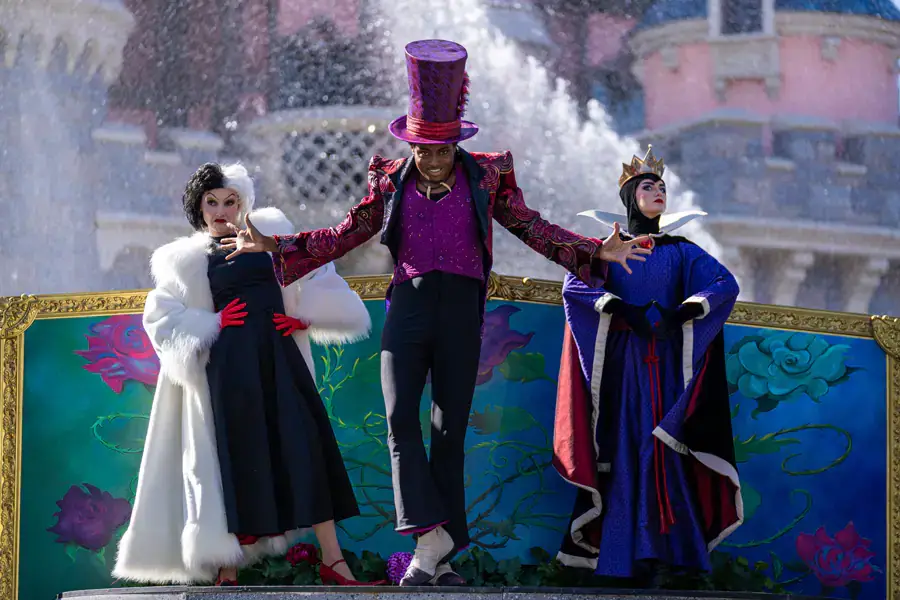 Halloween Snacks and Treats
Devilishly delicious delicacies await around the resort including the Wicked Whip, an incredible Maleficent Sundae at the Lucky Nugget, a "Mickey Mummy" lollipop and more! Fang-tastic beverages will also be added to select bar and restaurant menus, including the Little Devil Cocktail, the Poisoned "Apple" and the Oogie Boogie mocktail. You can read more about the Disney Halloween snacks here.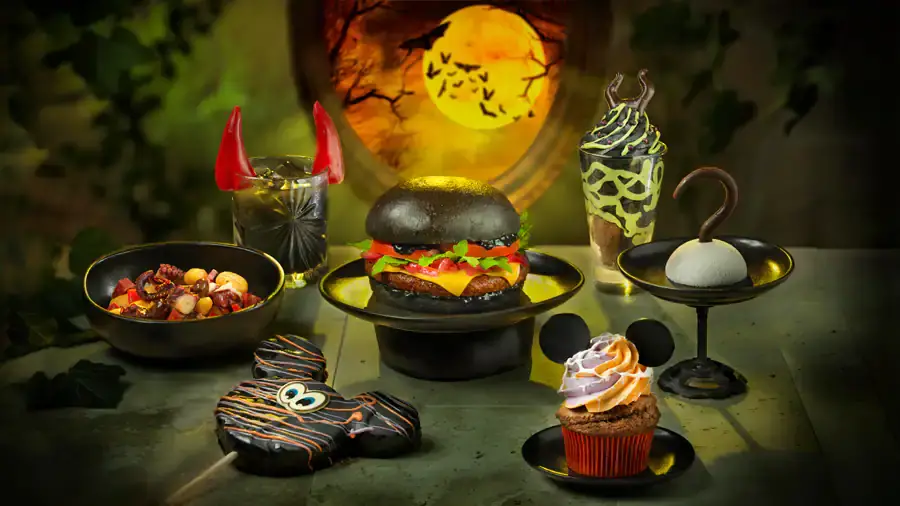 Halloween Merchandise
Shop a wide range of petrifyingly perfect merchandise from Mickey and his Friends to Disney Villains and more — guaranteed to haunt you!
Halloween Style Attractions
This dreadful celebration wouldn't be complete without a classic attraction or two. Test your courage traveling through the haunted forest of Blanche-Neige et les Sept Nains, discover the depths of Sleeping Beauty Castle at La Tanière du Dragon, and trespass through the gates of Phantom Manor at Disneyland Park. Once you're done there, hop over to Walt Disney Studios Park where you're invited, if you dare, to step aboard a maintenance service elevator traveling directly to another dimension on the Twilight Zone Tower of Terror.