November 18th is a day to remember for Disney fans around the world as its Mickey Mouse and Minnie Mouse's Birthday. Each year Disneyland Paris celebrates their birthdays with shows, MagicShots, treats and more, so lets take a look at whats happening this year…
"Let's Celebrate! It's Mickey and Minnie's Birthday!"
The surprise show feature Mickey Mouse, Minnie Mouse and many of their friends dancing within Central Plaza. You may have seen the Disneyland Paris dance competition with winners being announced on their socials this week. This is the show that will feature the 10 winners dancing with our favourite friends!
Showtimes are at 10:30am, 1:00pm and 2:15pm (shown on the App)
Please be aware the Press Release shows slightly different times of 10:15am, 1:00pm and 2:20pm
MagicShots & Filters
As with most Disneyland Paris celebrations, we will see the Disney PhotoPass Photographers located around the park offer exclusive magic shots!
Birthday Treats
We'll see two new Marshmallow treats, one for Mickey and one for Minnie. This year guests will be able to indulge on a Marshmallow pop with white chocolate frosting.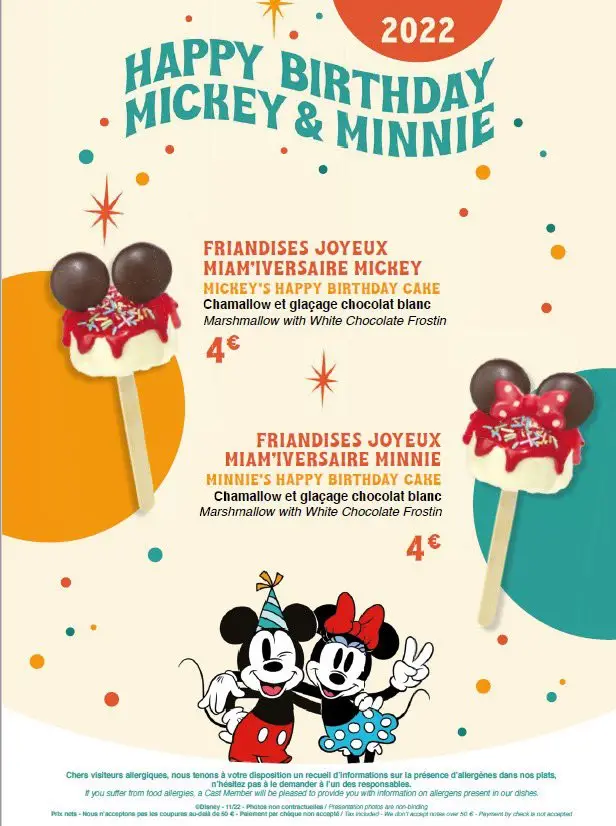 Collectible Card
Following the success of the other collectable cards, we're happy to see another exclusive card being released to celebrate their birthday!