While there are no hotels directly inside Disneyland Park at Disneyland Paris, there is an iconic hotel located above directly the entrance called Disneyland Hotel. This magnificent hotels offers a truly enchanting experience, and what makes it even more special is its prime location that can provide guests with breathtaking views inside Disneyland Park, or the magical Fantasia Gardens. From this vantage point, guests can soak in the beauty of the park while enjoying the luxurious amenities and immersive atmosphere from the 5 star Disneyland Hotel.
This hotel is currently closed for a Royal Transformation, and is due to reopen in 2024. Whilst we wait for more information on the opening, why not check out the latest Disneyland Paris promotions for the other on-site Disney hotels.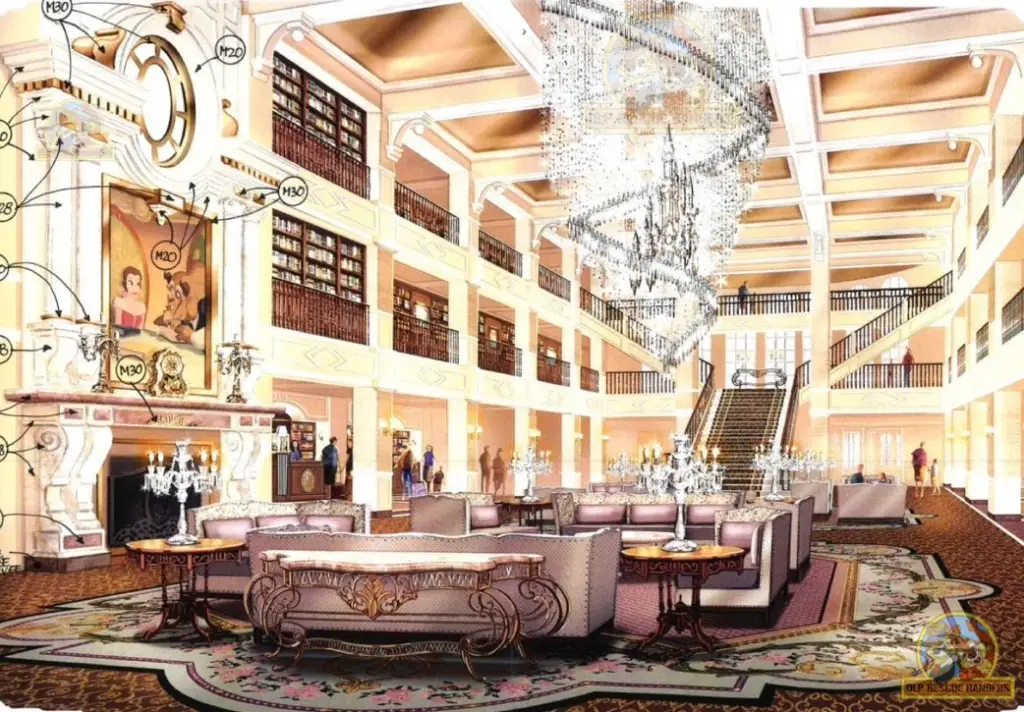 Other On-Site Disneyland Paris Hotels
If you've ever dreamt of immersing yourself in the enchantment of Disneyland Paris, you'll be thrilled to know that there are other hotels located within a short 5-10 minute walk from the Disneyland Paris. These delightful accommodations allow you to stay in the heart of the Disney magic, ensuring an unforgettable vacation experience like no other.
Hotel New York – Art of Marvel
Immerse yourself in the thrilling world of superheroes and iconic comic book art at Hotel New York – Art of Marvel, a one-of-a-kind experience within Disneyland Paris. This extraordinary hotel pays homage to the Marvel Universe, captivating guests with its contemporary style and immersive theming. As you step inside, you'll be greeted by larger-than-life statues of beloved Marvel characters and walls adorned with stunning comic book artwork. The rooms themselves are a haven for comic book fans, featuring stylish décor inspired by Iron Man, Spider-Man, and other legendary heroes. From the themed restaurants and lounges to the dedicated Marvel Design Studio, every corner of this hotel celebrates the artistry and excitement of the Marvel Universe, making it a must-visit destination for Marvel enthusiasts and adventure seekers alike.
Read more about Hotel New York – Art of Marvel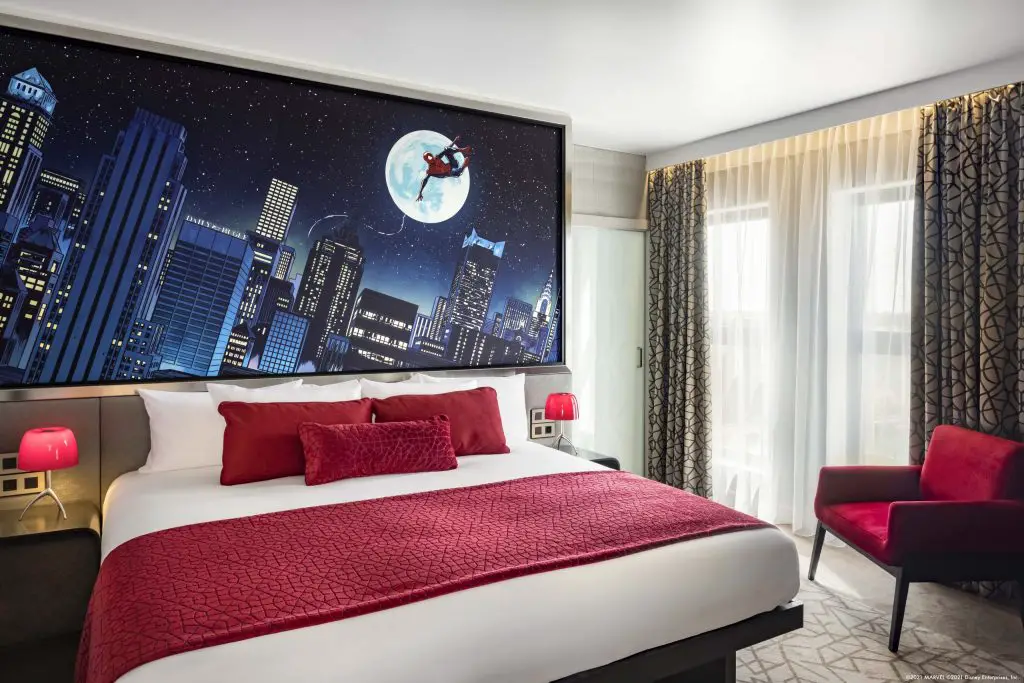 Newport Bay Club
Indulge in the elegance and nautical charm of Disney's Newport Bay Club, a waterfront retreat nestled along the scenic shores of Lake Disney. Inspired by the grandeur of New England seaside resorts, this exquisite hotel welcomes guests with its pristine white façade and majestic lighthouse. Step into a world of luxury and relaxation as you explore the beautifully appointed rooms, many of which offer stunning views of the lake or the hotel's tranquil gardens. Take a leisurely stroll along the promenade, enjoy a dip in the pool, or savor delectable cuisine at the hotel's restaurants. Disney's Newport Bay Club is the perfect blend of timeless elegance and Disney magic, providing a serene and enchanting escape for guests of all ages.
Read more about Newport Bay Club
Sequoia Lodge
For those seeking a touch of rustic charm and natural beauty, Disney's Sequoia Lodge is the perfect retreat. Nestled in a tranquil forest setting, this cozy lodge provides a warm and inviting atmosphere. Take a leisurely stroll around Lake Disney, unwind by the fireplace in the welcoming lounge, or relax in one of the comfortable rooms designed to evoke the spirit of the great outdoors. Disney's Sequoia Lodge offers a serene sanctuary amidst the excitement of the park.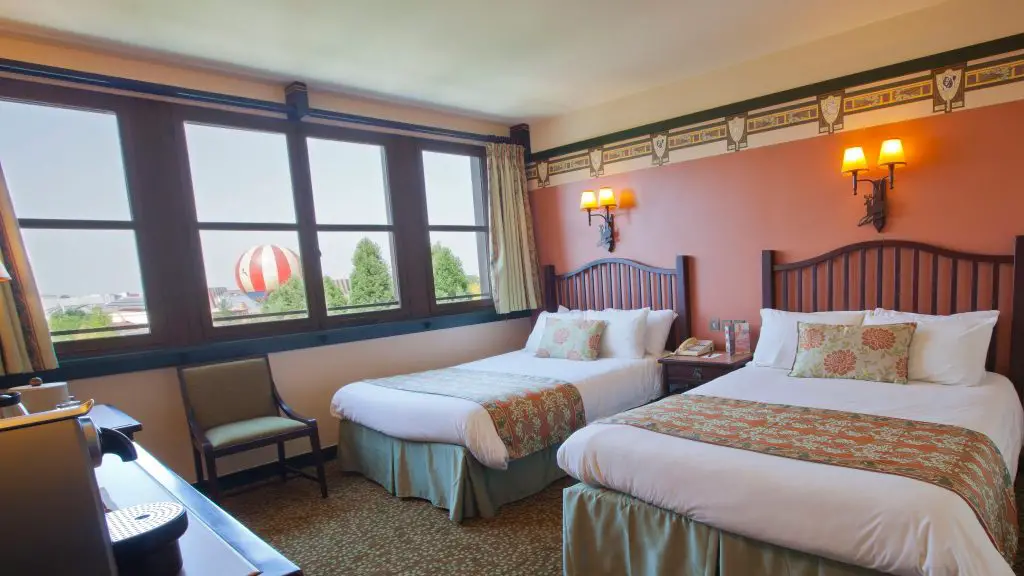 Hotel Cheyenne and Santa Fe
These are just three of the magical hotels awaiting your arrival within Disneyland Paris. Each hotel offers its own unique theme and ambiance, catering to a range of preferences and budgets. From the wild west charm of Hotel Cheyenne, to the vibrant atmosphere of Disney's Hotel Santa Fe, there's a perfect choice for every Disney adventurer. No matter where you choose to stay, you'll find yourself immersed in the wonder and whimsy that define the Disney experience.
Read more about Cheyenne
Read more about Santa Fe
Whether you're planning a family vacation, a romantic getaway, or a solo adventure, the hotels within Disneyland Paris provide an unparalleled opportunity to be fully immersed in the magic.
Plan your stay with the Disneyland Paris price estimate calendar
Compare and book your next Disneyland Paris vacation today and benefit from the best price possible, with the DLP Price Promise, Disneyland Paris price estimator and latest promotions you can compare dates, prices and ensure your find the ideal moment for your trip to the heart of the Magic!