The holiday season is a time of wonder and joy, and what better way to celebrate than at the enchanting Disneyland Paris? If you're considering a visit during the festive season, you're probably curious about whether Disneyland Paris is open on Christmas Day. In this article, we'll explore the magic that Christmas brings to Disneyland Paris and provide you with the latest information about the park's opening on this special day.
Is Disneyland Paris Open on Christmas Day?
Christmas is a time when Disneyland Paris radiates with extra enchantment, creating unforgettable memories for families and visitors of all ages. Disneyland Paris is open 365 days a year, including Christmas Day!
Christmas Day Opening Hours:
On Christmas Day, Disneyland Paris typically extends its opening hours to allow guests to experience the holiday magic. Park opening times may vary, so it's advisable to check our latest park hour updates, the official Disneyland Paris website or contact Guest Services for the most up-to-date information closer to your desired visit date.
Festive Offerings:
Decorations: Disneyland Paris transforms into a winter wonderland during the holiday season, with sparkling lights, festive decorations, and elaborately themed Christmas trees that add to the magical ambiance.
Entertainment: From special parades featuring beloved Disney characters dressed in their holiday best to live shows with a festive twist, Disneyland Paris offers a lineup of captivating entertainment options for guests to enjoy.
Dining: Indulge in delectable seasonal treats and traditional holiday meals at various dining locations throughout the park. From gingerbread cookies to festive feasts, there's something for every palate.
Booking a Christmas Get Away to Disneyland Paris
Given the popularity of Disneyland Paris during the holiday season, it's advisable to plan your visit well in advance. Booking park tickets and accommodations ahead of time ensures that you secure your spot during this joyful time of year. We also advise you check the latest Disneyland Paris Hotel & Ticket packages for any available discounts!
Sign up to our FREE newsletter and stay up to date with the latest Disneyland Paris News.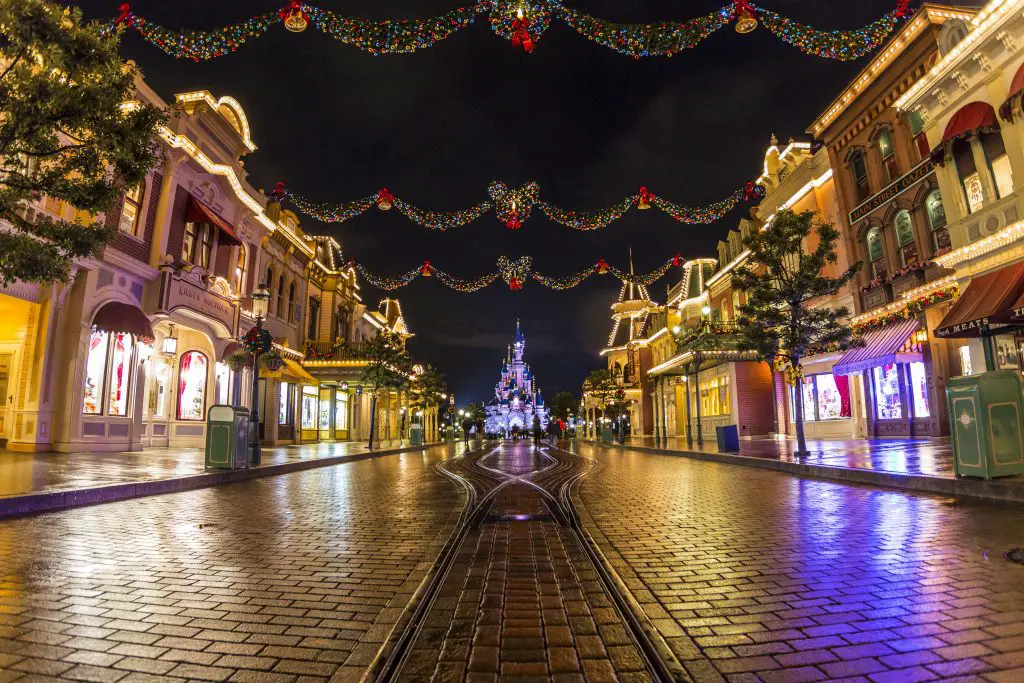 Plan your stay with the Disneyland Paris price estimate calendar
Compare and book your next Disney vacation today and benefit from the best price possible! As Disneyland Paris use an availability pricing model, the earlier you book the cheaper it will be!
Take advantage of current Hotel & Ticket Offers, DLP Price Promise, and the Disneyland Paris price estimator to build your next trip to the heart of the Magic!