With Disneyland Paris pausing the sales of new Annual Passes, guests have been searching for the best ways to save money on park tickets and how to buy their Disneyland Paris tickets online.
For those in a hurry
With many options including number of days and dated/undated ticket option, this can be confusing, but Disney have made the process of buying Disneyland Paris Park tickets online really simple, and the calendar makes it easy for you to find the best dates and prices for your next visit!
How to buy your park tickets for Disneyland Paris online
If you are looking to save money on your Disneyland Paris park ticket, dated tickets will always save you more money compared to un-dated tickets. Purchasing an dated ticket instead of an undated ticket can save you up to €49 for each day that you visit.

Dated tickets are also the easiest option for guests as they include your advanced registration. This means when you buy your park ticket, you are guaranteed entry into the Disneyland Paris! If your plans change and you can no longer make your pre-booked dates, you can also cancel or modify your dated tickets up to 3 days before your arrival for a complete refund and without any additional fees!
TOP TIP: Check Disneyland Offers and Packages – sometimes Disneyland Paris offers great packages!
Follow these steps buy your Disneyland Paris tickets online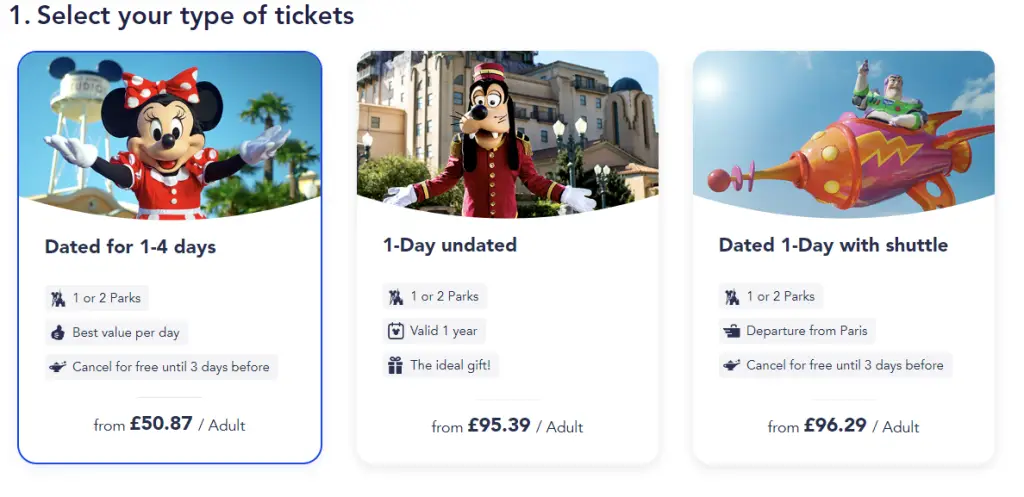 Choose "Dated" or "Undated" tickets or "Dated ticket with Shuttle"
Dated-tickets are cheaper and will allow you to choose either a single day ticket or a multi-day ticket up to 4 days, and include the advanced registration.
Undated-tickets can be used at any date including holidays, but you still need to reserve your entry into the park in advance and you can only get an Undated tickets for 1 day.
Dated-tickets with Shuttle includes a single dated park ticket and transfer to Disneyland Paris from 1 of 4 locations in Paris, the Eiffel Tower, Opera, Chatelet, or Gare du Nord.
Toggle how many parks and choose how many days you want to visit Disneyland Paris.
1 Park only allows you to enter one park at Disneyland Paris, Disneyland Park or Walt Disney Studios.
If you decide to visit only park, then definitely choose Disneyland Park, but we HIGHLY recommend to select 2 park tickets. You will also notice the longer you stay at Disneyland Paris, the cheaper your park tickets become.
Choose your date (assuming you chose the "Dated" ticket). Each day will be colour-coded and the price will be displayed at the side of of the screen.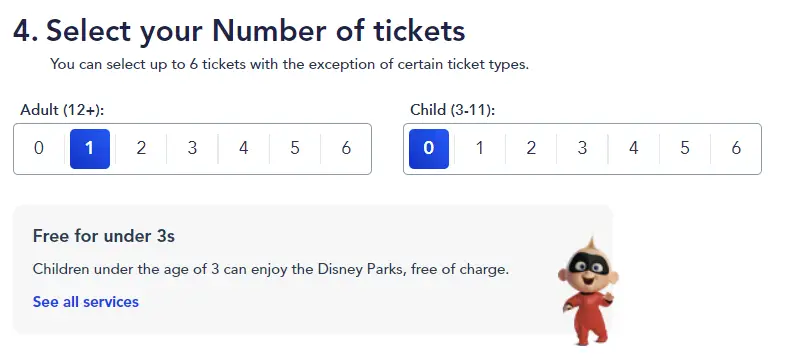 Choose how many Adults and Children (3-11 y.o) you wish to buy tickets for.
Remember Children under 3 do not need a park ticket or park reservation.
Press "Add to Cart"

Disneyland Paris will then provide you with additional options to make your visit to Disneyland Paris even more magical. You can choose to add or skip any of these options.
Please be aware that you can view the shows displayed within the 'Secure your Seat' option for free by queuing for the show. With limited seats available, some guests who queue may not be able to watch the show if it reaches capacity, this option guarantees your seat on a set date and time.
Complete the checkout process by providing your details and the names of each guest.
Pay with your credit card or PayPal and you will receive your park ticket with an entry QR-code by email!
That's it you have now bought your Disneyland Paris park ticket online!
Remember, if you purchased an undated-ticket, you will need to book your advanced registration at Disneyland Paris before visiting!
To enter Disneyland Paris, you simply just scan this QR code on the turnstile from your phone, or you can print this email if you prefer.
What happens if you need to change the date or cancel your tickets
A major benefit of buying your park tickets direct via the Disneyland Paris official website, is their price promise and zen guarantee, meaning you can cancel your tickets up to 3 days before your arrival for a complete refund and without any fees! Please note, undated tickets cannot be canceled!
Dated tickets 1-4 days can be cancelled and refunded up to 3 days before your chosen date (including the day of arrival, for example, if you have a ticket for 4 June, you have until midnight on 1 June to cancel). To cancel your ticket, you must send your names, 8-digit booking reference, visit date, a photo of your tickets (with the barcode clearly visible) or your PDF ticket, to the following address:  [email protected]. We will refund your tickets as soon as possible, via the same payment method used at the moment of booking. If you would like to change your visit date, you must cancel your existing tickets and purchase new tickets for a different visit date (subject to availability when booking). It is not possible to change your visit date by e-mail.