Breaking News : Disneyland Paris have updated their Health and Safety Policy which now allows guests to temporarily remove their mask at specific Selfie Spot and Disney PhotoPass Locations! This is the first time guests at Disneyland Paris have been able to take maskless photos with Disney characters since the parks reopened!
Updated 23rd September 2021,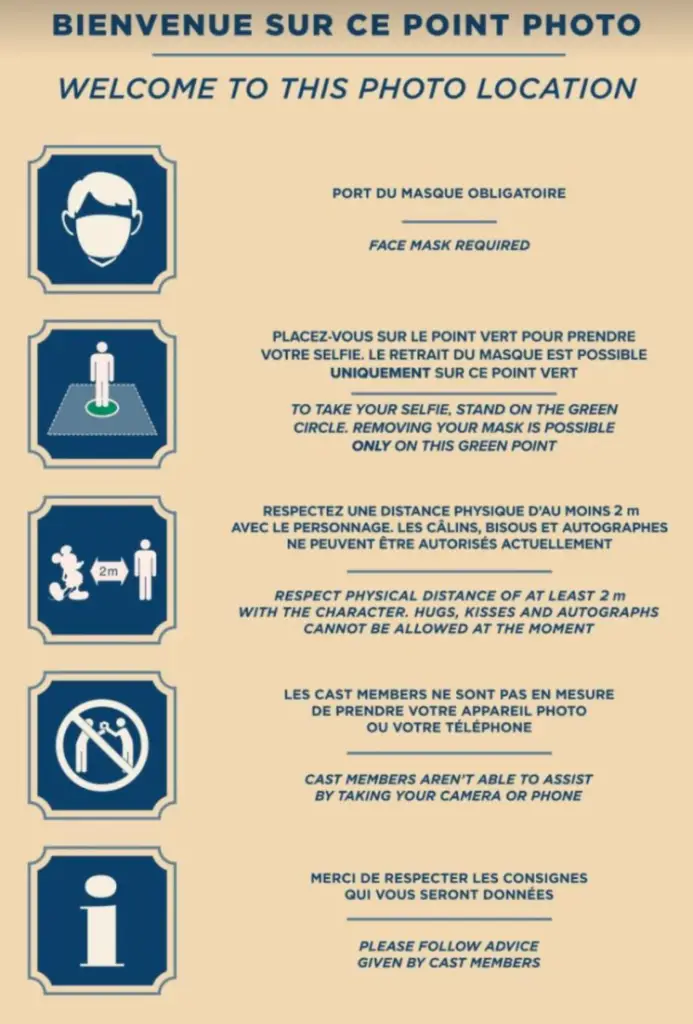 New Signs at Disney Photo Locations
Due to this update, each photo location now has additional signage explaining if you're able to remove your mask. This new signs will also explain the physical distance you need to adhere to and where to stand.
Please note, cast members are still unable to take photos with your own camera or phone. Hugging Characters and collecting autographs are still not allowed.
Mask Wearing Update
As well as being able to remove your mask at selected Character Photo locations, guests are only required to wear a mask when inside the Disney Parks, Disney Hotels, indoor locations at Disney Village and Golf Disneyland. This means guests will be able to remove their mask when walking between the parks as well as walking around Disney Village.
Disneyland Paris Face Mask Update
To promote the health and safety of guests and Cast Members, guests aged 6 and older will be required to wear a protective face mask at all times, in Disney Parks, Disney Hotels, all indoor locations at Disney Village and Golf Disneyland. Guests can temporarily remove their masks only when eating or when taking a picture at designated outdoor Selfie Spot locations. All Cast Members and third-party operators will continue to wear face masks in all indoor and outdoor locations across the resort.
Click here to read the full Disneyland Paris Health & Safety Measures.