Beginning January 8, 2024 until the 30th September 2024, guests can get ready for a burst of enchantment at Disneyland Park! Imagine your days transforming into a magical movie, as Disneyland Paris unveils the Disney Symphony of Colours. Watch as the sky dances with a dazzling nighttime drone sequence, be captivated by a new daytime show, and discover whimsical decorations spreading joy!
AN ELECTRICAL DRONE PARADE TO LIGHT UP THE SKY
From January 8th until 30th September, 2024
New nighttime show combing drones, video projections, lights and fountains!
Brand new technical innovations with pyrotechnics released directly from drones!
From January 8, 2024, brace yourself for the dazzling debut of Disney Symphony of Colours, starting with the spectacular Disney Electrical Sky Parade! Prepare to be enchanted as a mesmerizing nighttime drone parade takes flight above Sleeping Beauty Castle, transforming the sky into a vibrant canvas of colors.
This extraordinary show pays a brilliant homage to the iconic Main Street Electrical Parade, a beloved part of Disneyland Paris history from 1992 to 2003. Nostalgic fans can relive cherished memories, while younger enthusiasts can experience the magic in an all-new, never-seen-before format.
Picture up to 500 illuminated drones parading through the night sky, embodying the cherished icons of the Main Street Electrical Parade – from Mickey Mouse and friends on a dazzling train to Elliott, the lovable dragon, and Cinderella's enchanting carriage. The unforgettable electro-syntho-magnetic music, remixed for this special occasion, will once again set the rhythm for this magical nighttime festival. Get ready for a symphony of Disney delights!
The enchanting Disney Electrical Sky Parade has come to life through the creative collaboration of Disneyland Paris Entertainment teams and Dronisos, the official technology supplier known for mesmerizing drone shows. Building on the success of previous nighttime spectacles like Disney D-Light, Avengers: Power the Night, and the extraordinary Bastille Day drone show of July 14, 2023, this breathtaking new production promises to carry on the tradition of magical moments under the stars.
A NEW DAYTIME SHOW CELEBRATING DISNEY ANIMATION AND PIXAR
From 10th February until 30th September, 2024
Will take guests on a journey through time to discover the stories of Disney and Pixar
Brand new floats, each with its own visual identity and packed with Disney details
Over 30 Characters and Dancers
Starting February 10, 2024, get ready for a vibrant journey through the world of Disney Animation and Pixar with the lively daytime show, "A Million Splashes of Colour." This energetic spectacle, performed multiple times a day, will transport guests through the rich history of animated tales, from timeless classics to the latest hits.
Immerse yourself in the world of art, music, and writing as the colorful floats bring Disney Animation and Pixar's storytelling essence to life. Each float will boast its unique visual identity, brimming with Disney details and references. Picture giant paintbrushes and oversized paint pots, along with labels nodding to beloved Disney characters.
The heartbeat of this celebration will be the music, featuring two original scores and a mashup of iconic songs from Disney Animation and Pixar films. From classics like "The Bare Necessities" (The Jungle Book) to the recent sensation "We Don't Talk About Bruno" (Encanto) and the timeless "You've Got a Friend in Me" (Toy Story), these adapted tunes will captivate guests of all ages.
The show's dancers, adorned in a kaleidoscope of colors through costumes and makeup, will welcome guests with warmth and energy. With a cast of 30 dancers and characters, "A Million Splashes of Colour" promises a daily dose of joy and enchantment.
ENCHANTING DECORATIONS ON MAIN STREET, U.S.A.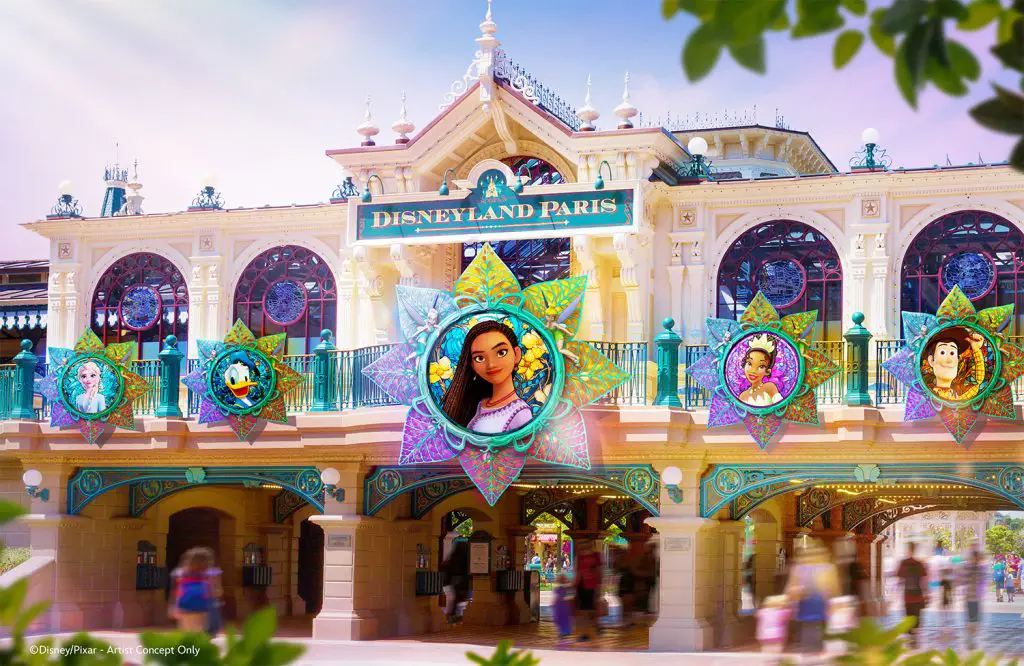 From 10th February until 5th May, 2024
Wake up winter with Pixie Dust sprinkled by Tinkerbell and Perriwinkle
Dazzling decorations with sprinkling of colour and twinkling of light and some flowery touches
Over 50 Disney and Pixar characters will inspire new decorations
Make sure not to miss Main Street, U.S.A. when you visit Disneyland Park, especially from February 10 until May 5th, 2024! This iconic land will be adorned with new, vibrant decorations—a delightful mix of colors, twinkling lights, and floral touches. Thanks to the magical Pixie Dust sprinkled by Tinkerbell and her twin sister, Perriwinkle, Main Street, U.S.A. will be a winter wonderland that truly comes alive with enchantment.
Embracing the wonders of Winter and Spring, the new Main Street, U.S.A. decorations draw inspiration from Art Nouveau, celebrating the richness of Disney's stories. With over 50 Disney Animation and Pixar characters, including Donald, Tiana (The Princess and the Frog), Elsa (Frozen), and Woody (Toy Story), the magic is sure to enchant all who visit.
Watch as iconic landmarks like the Gazebo and Main Street Station transform to celebrate Disney Symphony of Colours. Crafted by the Entertainment scenography team in collaboration with skilled French artisans specializing in sculpture and ornament modeling, these decorations bring a touch of artistic magic to Main Street, U.S.A.
Plan your stay with the Disneyland Paris price estimate calendar