Disneyland Paris has introduced audio description across the resort to help visually impaired and blind guests enjoy the magic. As part of the 'Magic for All' initiative, the park has already implemented French sign language and chansigne within the resorts entertainment. Disneyland Paris continues to research and introduce new technology for the visually impaired and blind to enjoy even more autonomy within the parks.
Our approach to accessibility is intended to empower those with disabilities and special needs through a collection of offerings and services provided for guests.
How does it work?
Disneyland Paris uses the AudioSpot mobile application and in-park installations to provide audio description (AD) information to visually impaired and blind guests about their environment such as:
AD for attractions in Disneyland Park and Walt Disney Studios Park
AD and interactive audio menus in restaurants at Disneyland Park and Walt Disney Studios Park
Synchronized AD of Mickey and the Magician show at Animagique Theater
This device currently offers French and English audio recordings made in Disneyland Paris studios and can share information about the surrounding environment via audio that can be automatically translated into 11 other languages – Spanish, Italian, German, Chinese, Japanese, Dutch, Portuguese, Russian, Catalan, Arabic and Danish – based on the default language in a guest's smartphone.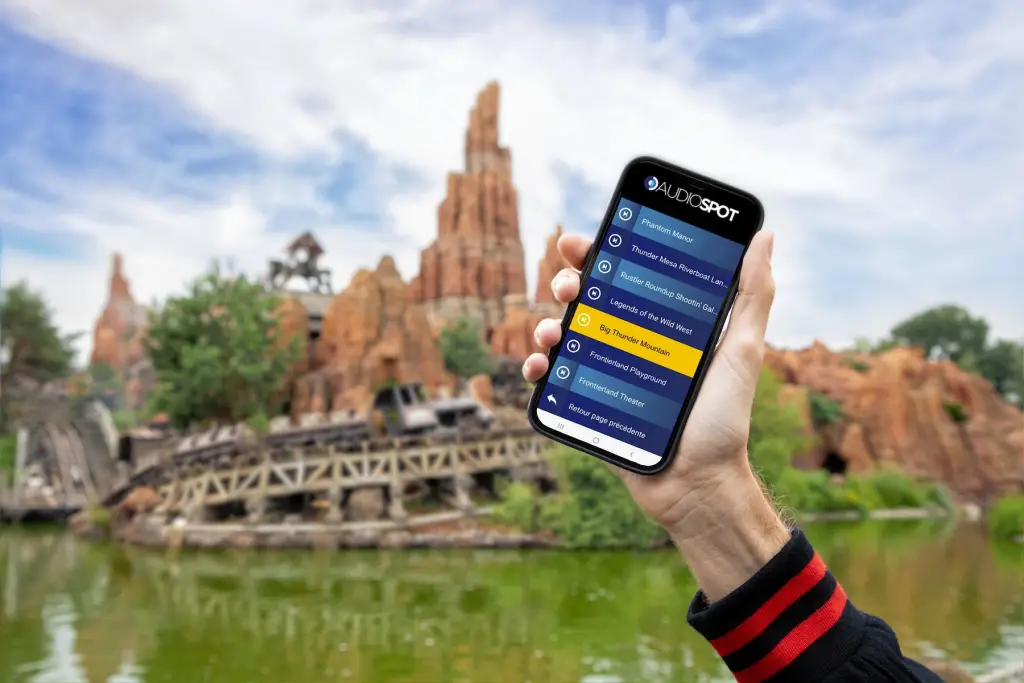 Did you know?
Disneyland Paris have been working for many years
In 2018, Mickey and the Magician received the "Coup de Coeur de l'Innovation" trophy from the French Association Tourisme et Handicaps for the use of French Sign Language in the show!
Both parks have received the "Tourisme et Handicap" state brand since 2004 for its compliance with French accessibility standards.
Guide and assistance dogs are allowed in about 40 different attractions and shows!
AUDIO DESCRIPTION AS THE NEXT STEP IN ACCESSIBILITY
Disneyland Paris now offers visually impaired and blind guests an enriched experience so that they can enjoy the resort even more. This includes providing access to audio description content at attraction entrances and inside to live the experience in total immersion, as well as in many restaurants to experience the atmosphere and menus.

Thanks to the combined work of Accessibility, Entertainment and Walt Disney Imagineering teams, guests can now enjoy audio description in many locations throughout the resort, at Animagique Theater in Mickey and the Magician show, as well as the brand-new Marvel Avengers Campus which has been equipped with audio description in its restaurants, attractions and Hero Training Center.