With the festive season just around the corner, we can now share the Christmas menus, treats, snacks and cocktails coming to Disneyland Paris this year. From November, guests will be able to enjoy these Christmas Disney Treats from select locations within Disneyland Park, Walt Disney Studios, Disney Village, and Disney Hotels.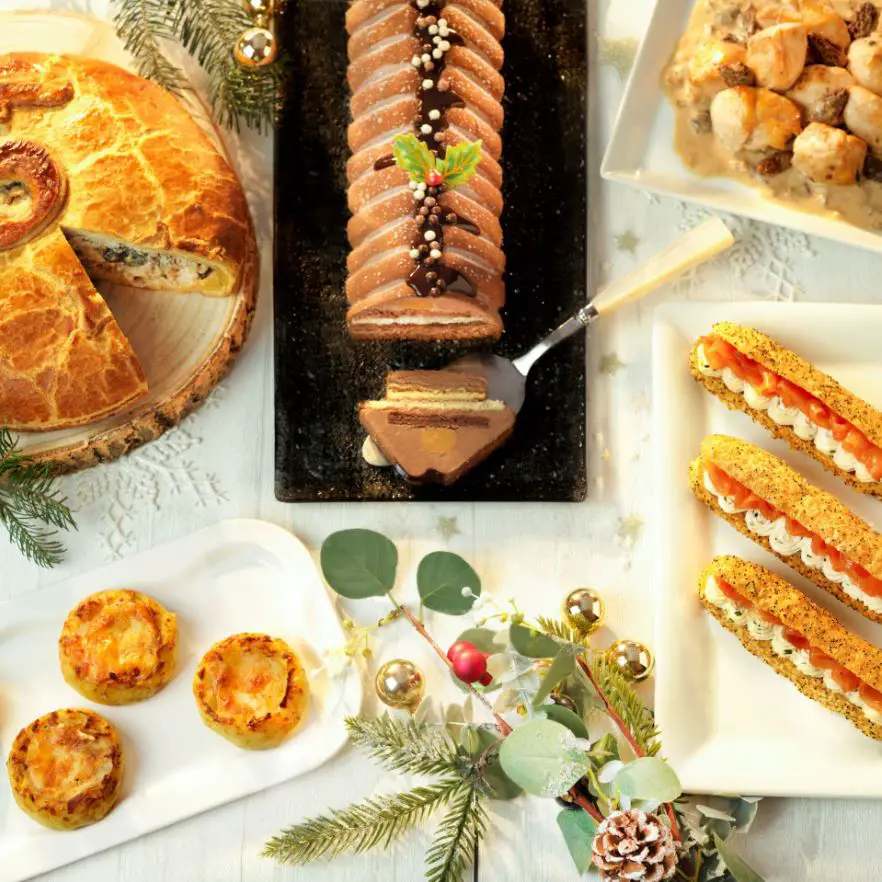 Disneyland Paris Christmas Snacks & Treats 2022
€5.00 – Winter Wonder Whip (Victorias)
€4.00 – Pluto's Christmas Cone (Old Mill)
€4.00 – Red Nose Macaron (Carts)
€4.50 – Mickey/Minnie Christmas Crispy (Arbre Ench.)
€3.80 – Return of the Gingerbread Trees (Arbre Ench, Café de la Brousse)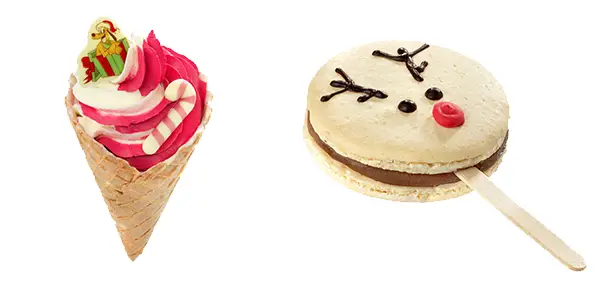 Victoria's Christmas Treats at Disneyland Paris
€7 for 3, €9 for 5 – Christmas Pastries assortments
€9.00 – Mickey's Christmas Waffle (Victorias)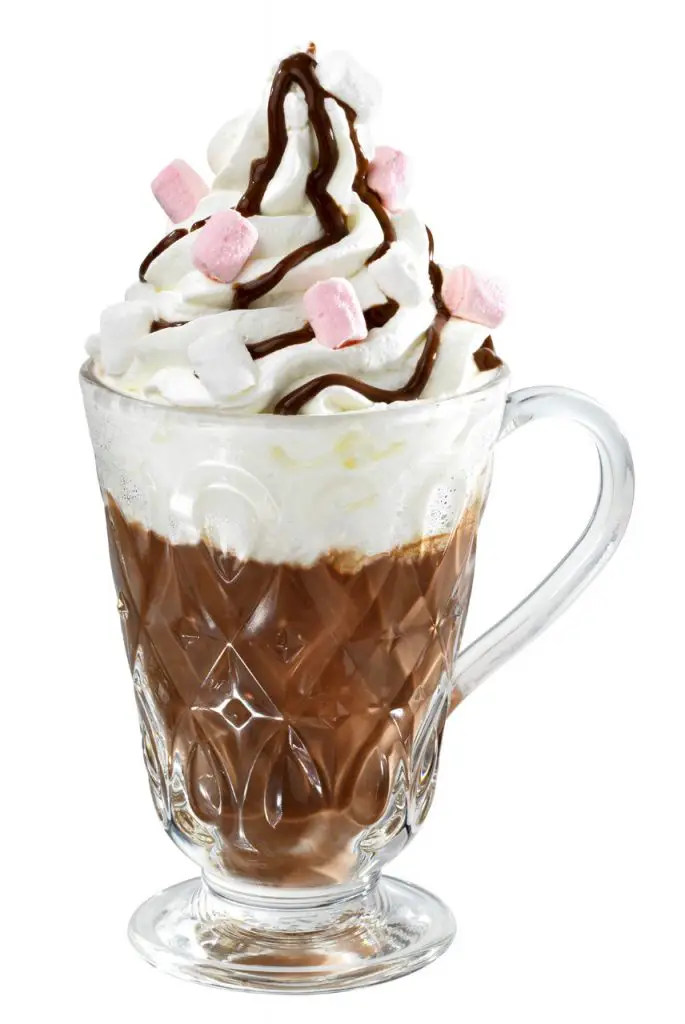 Disneyland Paris Festive Burgers and Mains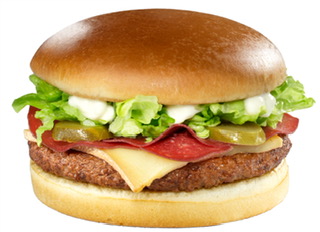 €14 – Raclette Burger (Cafe Hyperion and En Coulisse)
€23 – Festive Pesto Burger with potato pops (Annette's Diner)
€8 – Cheese and bacon Tartiflette (L'Arbre Enchanté) also available with drink for €10
Disneyland Paris Festive Deserts
€4 – Mickey's Choco Igloo dessert (Cafe Hyperion and En Coulisse)
€11 – Santa's Chocolate Pudding (Auberge de Cendrillon and Walt's)
€15 – Strawberry Snow Delight (Auberge de Cendrillon and Walt's)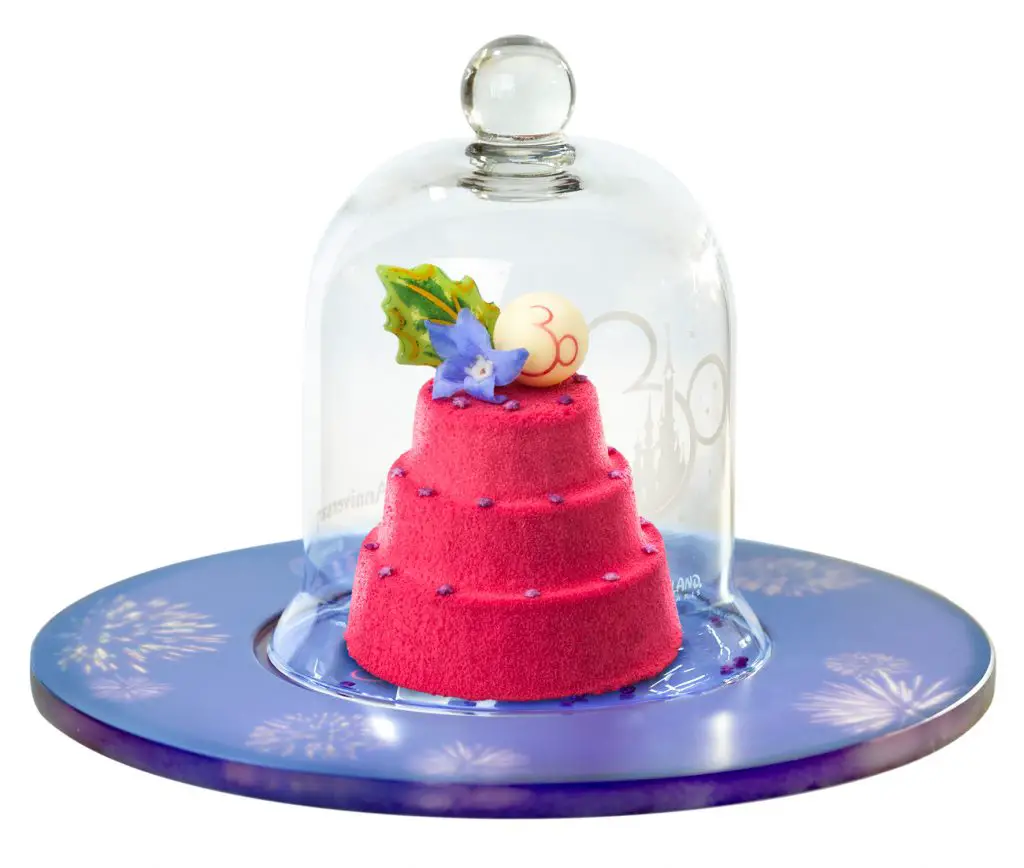 Winter Drinks & Cocktails
€13 – Gingerbread and Cherry Milkshake (Annette's Diner)
Merry Mint, Bailey's and Jet 27 (Table Service, Disney Village and Hotel Bars)
Christmas Spirit, Martini Fiero, Red Wine (Table Service, Disney Village and Hotel Bars)
Santa's Mocktail, Apple, Cranberry, Raspberry, Pumpkin Spice (Table Service, Disney Village and Hotel Bars)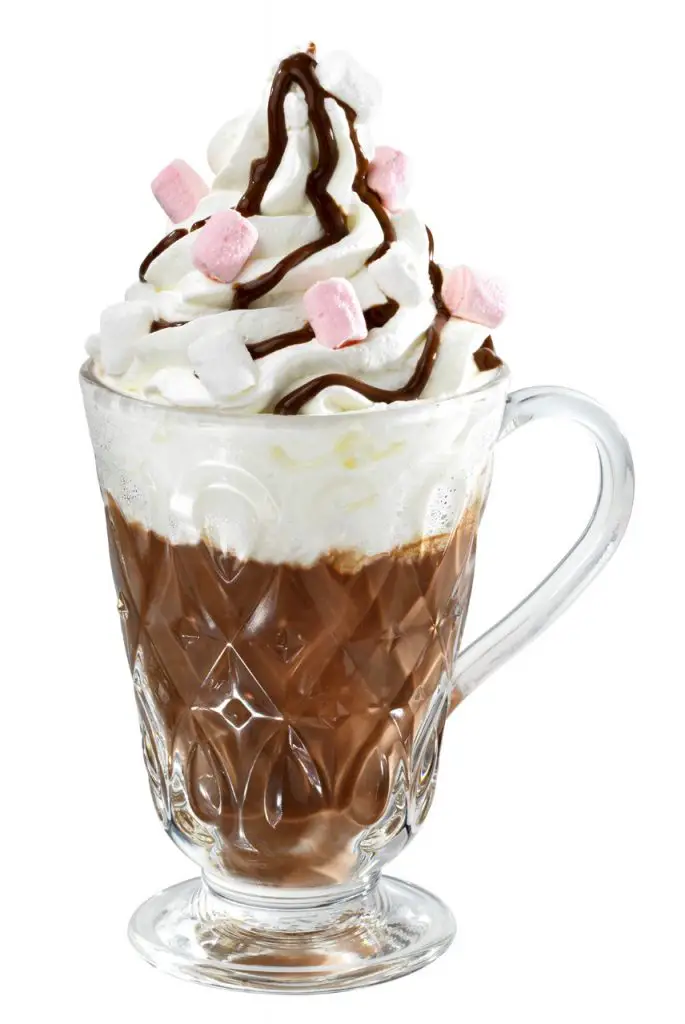 Christmas Specials available at Buffet Restaurants
Smoked salmon baguette
Mrs. Claus's poultry and mushroom pie
Chicken mushroom stew
Truffle cheese potatoes
Jolly chocolate log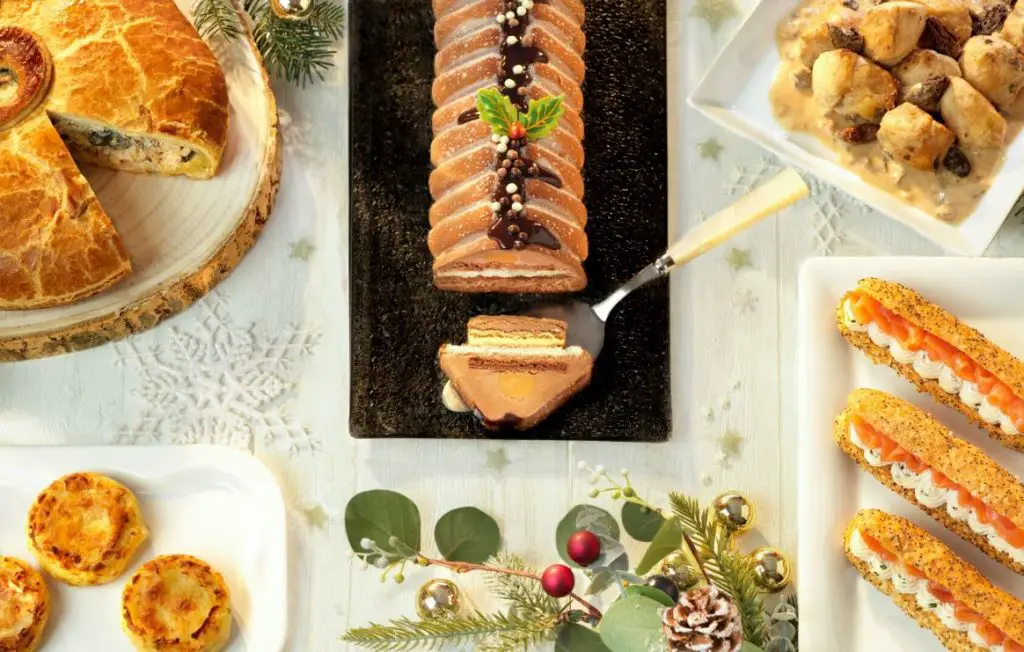 Golden Nugget Christmas Menu
A new 30th celebration menu has been released and is now available at The Lucky Nugget. The menu features a Pepper Rush Burger and an exclusive gold nugget-themed dessert. With the release of this menu, it appears that the Golden Nugget will not be offering a Christmas turkey meal this year.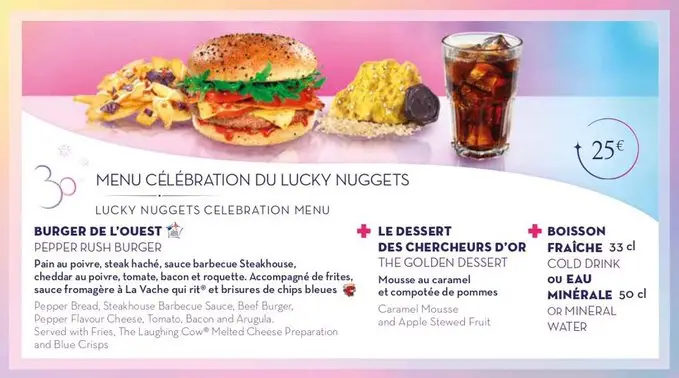 Disneyland Paris Hotel & Ticket Price Estimator
If you want to be in the most magical place on Earth at the most magical time of the year, why not compare prices and book a stay in one of the other Disneyland Paris hotels?
Plan your stay with the Disneyland Paris price estimate calendar. Easily compare different dates and hotels to create your perfect trip to the heart of the Magic! View the Disneyland Paris Price Estimator here.