The next Disneyland Paris Annual Pass Party will take place on the 10th of March, 2023. The party will take place within the Disneyland Park, with the event starting at 9pm. Similar to other Disneyland Paris parties guests will be able to enjoy special entertainment, shows and attractions until 2am. The complete theme and tickets release date will be announced soon.
<< CLICK HERE TO BUY YOUR ANNUAL PASS PARTY TICKETS >>
Please note the DLP Annual Pass Party Tickets will be listed under Experiences & Special Events.
An Immersive Disneyland Paris Annual Pass Party
Get ready to experience Disneyland Park like never before. During an epic scavenger hunt you'll collect clues from attractions, landmarks and even Disney characters! With research tasks, observation tests and surprise encounters, each adventure promises to take you to the heart of the 5 lands.
And that's not all. This is your chance to discover new adaptations of beloved shows from previous parties and seasons, from the jungle book jive to the festival of pirates & princesses!
Guests are also invited to come in fancy dress, to coincide with the main party theme!
Parc Disneyland Adventures: Annual Pass Party Details
? Main Disneyland Paris Annual Pass Party Details…
Disneyland Park
10th March 2023, 9PM to 2AM
?️ TICKETS
Priced at €55pp
Tickets sale open 11am, 18th Jan – Click here to buy your tickets
Booking sales link will be available next week
Magic Plus & Infinity Annual Passholders will be able to buy an additional 2 companions tickets.
Accompanying persons must arrive with the Annual Passholder to validate their ticket and collect their bracelet.
Annual Passholders holding an official proof of disability can get 25% off tickets for themselves and 1 companion. They must purchase their tickets at the entrance of the Disney Parks on the day of the event (no pre-sale or reservation required).
?NO CHARACTER MEET & GREET
Please note that there will be no traditional encounters with Disney Characters: you will meet many characters in their universes and settings during the adventures but you will not be able to pose with them or ask for an autograph.
---
Book your Hotel early and get the best price possible!
OUR TOP TIP: If you plan on visiting for the complete weekend and are wanting to stay off-site, make sure you book your advanced entry early to avoid disappointment or book into a Disney hotel now to make sure you get the best price possible!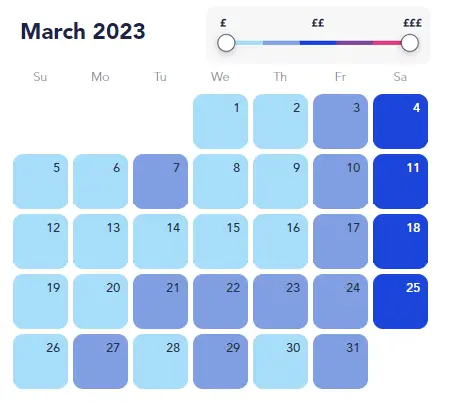 Disneyland Paris March Hotel Prices
---
Disneyland Paris 2023 Annual Pass Party

? Mark your calendars!
You guessed it, the 10th Annual Pass Night is coming up! See you on Friday, March 10, 2023 from 9pm to 2am at Disneyland Park! ✨

The theme and program of the event will be revealed in a few days, as well as the opening date of sales and the conditions of participation.

 ?  In order to allow a faster access to the party, a screening with a wristband will be set up and access to Disneyland Park will happen from 5pm.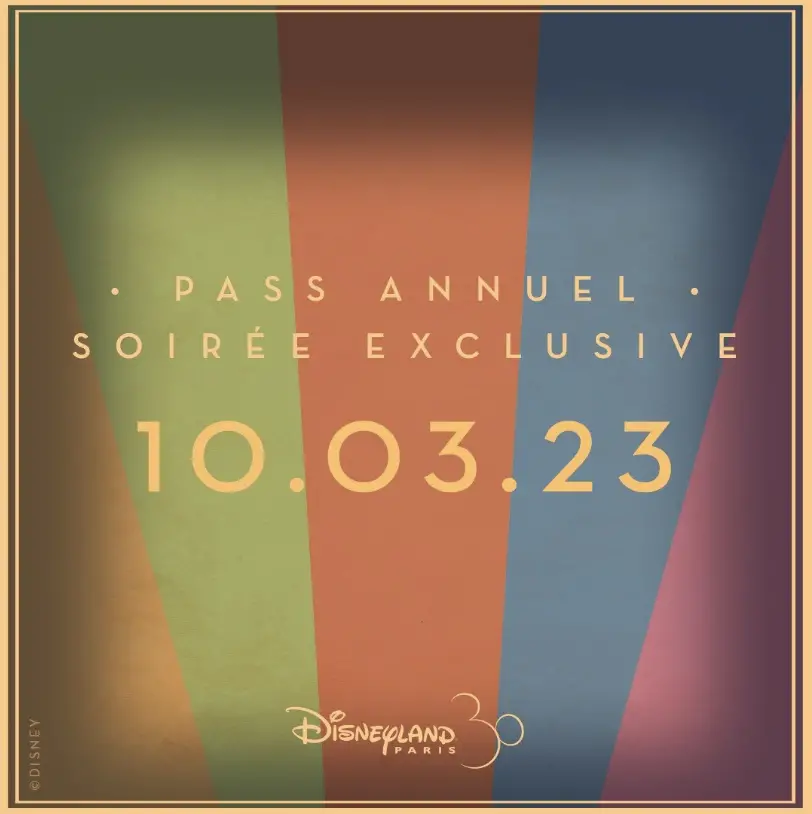 Does the Annual Pass Party Promo looks familiar?
Looking at the design it reminds us of the cancelled 2020 Annual Pass party poster, so maybe we will be getting the party that never was!
Vous l'avez deviné, la 10ème Soirée Pass Annuel est en approche ! Rendez-vous le vendredi 10 mars 2023, de 21h à 2h au Parc Disneyland ! ✨

Le thème et le programme de l'événement seront révélés dans quelques jours, ainsi que la date d'ouverture des ventes et les conditions de participation.
Restez connectés sur nos réseaux sociaux Pass Annuel !

 ?  Afin de permettre un accès plus rapide à la soirée, un filtrage avec bracelet sera mis en place et l'accès au Parc Disneyland sera possible dès 17h.
Disneyland Paris Annual Pass Party FAQ
When is the next Disneyland Paris Annual Pass Party?
The next Disneyland Paris AP Party will take place on the 10th March, 2023
When are the Disneyland Paris Annual Pass Party Tickets available?
The tickets for the AP Party on the 10th March 2023 will be available soon!
Do I need an DLP Annual Pass to attend the party?
Yes, you need an active AP to attend the party and buy tickets. However, each passholder can usually buy an additional guest ticket. You can purchase an annual pass online and we have a helpful guide on our website which shows you how.
How do you buy DLP Annual Pass Party Tickets?