Since Disneyland Paris surprised everybody with the announcement that the sale of Annual Passes will be paused until further notice, the most popular question we have been asked is when will the sale of a new Disneyland Paris Annual Pass return? Today, we have heard some promising information that Disneyland Paris is about to launch a whole new range of Annual Passes in the coming days.
Check out our guide and discover is the new Disneyland Pass worth it?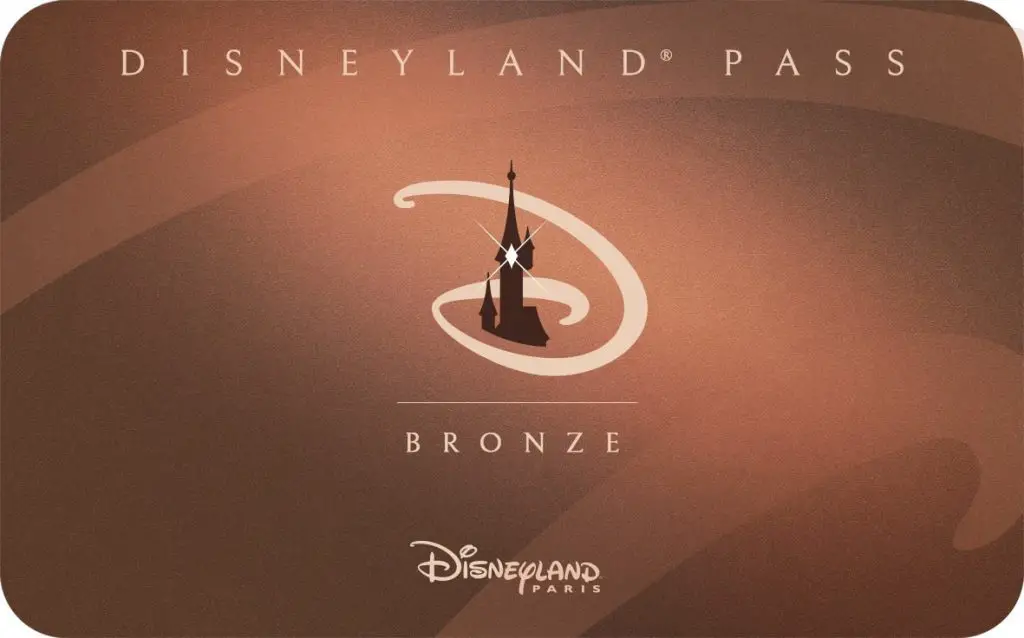 When will the Disneyland Paris Annual Pass Return?
Disneyland Paris Annual Pass will return on the 19th of July!
Who can currently purchase the new Digital Disneyland Paris Annual Pass?
Annual Pass holders who are within their renewal period
Current Annual Pass holders will be able to upgrade to the new range in person from July 19th. The cost of the remaining days on their pass will be deducted from the cost of the new pass (prorated)
New sales for non-passholders will begin later this summer
Disability Discounts remains at 25% off for the person and 1 carer. (Purchase on-site only)
Total number of passes available will be limited.
Disneyland Paris Reservation System
New Disneyland Pass Annual Pass holders will now have unlimited access to the Disney® Parks on all eligible access days, as indicated in the validity calendar for each Pass type and until the Disney® Parks capacity is reached.
The new Annual Pass will keep the 3 date reservation system, however, the number of available tickets is increasing! The new annual passes will have access to the full capacity of the park and all available tickets into Disneyland Paris. This will avoid the frustration of seeing booked out dates on the Annual Pass reservation system, when tickets are available to purchase.
However, the 'old' annual pass will remain on the current 'quota' system, and guests may continue to experience this issue.
The New Disneyland Paris Annual Pass
The new Disneyland Paris Annual Pass range will now be composed of 3 passes:
Disneyland Pass Bronze Annual Pass €289
Disneyland Pass Silver Annual Pass €499
Disneyland Pass Gold Annual Pass €699
The new annual pass names seem fitting that the 2024 Olympic Games will be held in France.
This new range would be the first digital Disney Annual Pass at Disneyland Paris, providing guests the possibility of registering completely online. Physical cards will still be available, however, guests will be required to visit Disneyland Paris, as the latest news suggest they will no longer be shipping physical Annual Passes to guests.
Disneyland Paris Annual Pass Benefits Updated
The benefits of an Annual Pass is always a key deciding factor for guests and our first information tells us that they will unfortunately be reduced to what guests have come to expect currently. In return, there would be an increase in the number of possible simultaneous reservations, as we have seen in the Disney parks within the USA.
Disneyland Annual Passholders will also have the chance to attend 4 AP Parties each year, with each party focussed on the seasons at Disneyland Paris. The first AP Party will be on the 29th September.
We will also see the introduction of Exclusive Meet and Greets, several times a year, only available to Annual Passholders!
Bronze Annual Pass
170 days a year
NO discounts
Silver Annual Pass
300 days a year
10% discounts in shops and restaurants
Gold Annual Pass
365 days a year
15% discounts in shops and restaurants
Parking Included
PhotoPass Included
Extra Magic Time included
Annual Pass Benefits Removed
A number of Annual Pass benefits have been removed from the overview image released today. Most notoriously these include…
Bag Storage
Wheelchair / Stroller rentals
Privilege Tickets
Discounted Park Tickets
Hotel Discounts
Dedicated Entrances
Reserved Areas for fireworks and shows
Infinity Parking
We'll have to wait until the 19th of July to see if this is the full list of Annual Pass benefits.
It is also important to note that this new range will completely replace the old one: it will no longer be possible to renew your Magic Plus, Infinity, Discovery or Magic Flex pass as soon as it is released.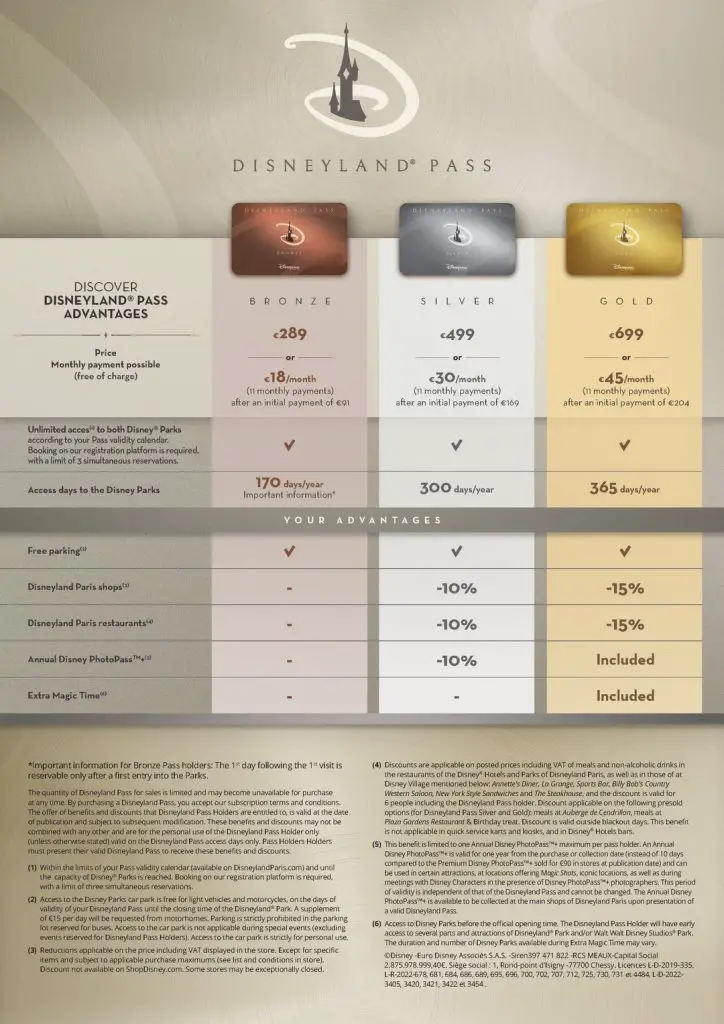 What will happen to my current Annual Pass benefits?
If you already have a Disneyland Paris Annual Pass you will keep some benefits for the complete duration of your pass. This includes Privilege Tickets, Extra Magic Time, and discounts.
However, some general benefits will be removed from July 19th. This includes Annual Pass entrance, Infinity Parking, Rental discounts, bag storage etc.
The VIP Viewing areas for Infinity Passholders will also be removed from the 1st of August.
Disneyland Paris Official Statement

The Annual Pass program is evolving with the Disneyland Pass, on sale from July 19 only for the current passholders. Find the visual identity of this new product as well as the comparison of the advantages.

Discover Disneyland Pass

DISNEYLAND® PASS AVAILABLE ON YOUR SMARTPHONE 

Disneyland Pass Members will be able to view and use their new Pass directly from the Disneyland® Paris mobile app, as well as discover their  benefits and access days. 

UNLIMITED ACCESS* TO THE DISNEY® PARKS according to the Pass validity calendar

New Disneyland Pass Members will now have unlimited access to the Disney® Parks on all eligible access days, as indicated in the validity calendar for each Pass type and until the Disney® Parks capacity is reached. To provide a great experience for all of our guests, the existing reservation system* will remain in place.  

DISNEYLAND PASS AVAILABILITY 

As we look to provide a magical experience for all our guests, there will be a limited quantity of Disneyland Passes available for purchase. It is therefore possible that one or more types of Pass may become unavailable during certain periods of time.

THE FIRST DISNEYLAND PASS MEMBERS

To thank them for their loyalty, upon the launch of this new programme, Disneyland Passes will only be available for purchase by current Annual Pass Members: 

–  If the Annual Pass is set to expire, you can renew onto a Disneyland Pass online, between one month before and one month after the expiration date. You will then receive a personalised email soon. 

– Otherwise, a Disneyland Pass can be purchased by cancelling the current Annual Pass at the ticket offices by the entrance to the Walt Disney Studios® Park from 19th July, 2023. 

SURPRISES ONLY FOR THE MEMBERS 

Throughout the year, surprises will be arriving for Annual Pass and Disneyland Pass Members, including unique encounters with Disney® Characters and exclusive events.

From September 29th, the unmissable Annual Pass Events will be making a big comeback! And what's more, from now on, we'll be bringing you new and exclusive events four times a year, inspired by your favourite themes.

So, mark your calendars for the event sales opening at the end of August and stay tuned to find out more soon! 

IMPORTANT INFORMATION

Please note that certain complimentary services that were available in addition to the Annual Pass benefits, such as access to priority parking, a dedicated entrance to the Disney® Parks, free luggage storage and kennels and stroller and wheelchair rental, will no longer be available from July 19th 2023, and VIP areas from August 1st 2023. 

THE VALIDITY OF CURRENT ANNUAL PASS

Although renewals of the former Annual Pass range have now been suspended, please rest assured that current Annual Pass will remain valid until its expiration date without any action required on your part. This Annual Pass cannot be digitalised.

*Until the capacity of the Disney® Parks is reached. Reservation on our registration platform is required, with a limit of three simultaneous reservations. See details in the General Subscription Conditions.
Plan your stay with the Disneyland Paris price estimate calendar
Compare and book your next Disney vacation today and benefit from the best price possible, with the DLP Price Promise, with the Disneyland Paris price estimator.
Compare different periods* and use the handy calendar to find the ideal moment for your trip to the heart of the Magic! You can now book your Disneyland Paris holiday for all arrivals until March 27, 2024!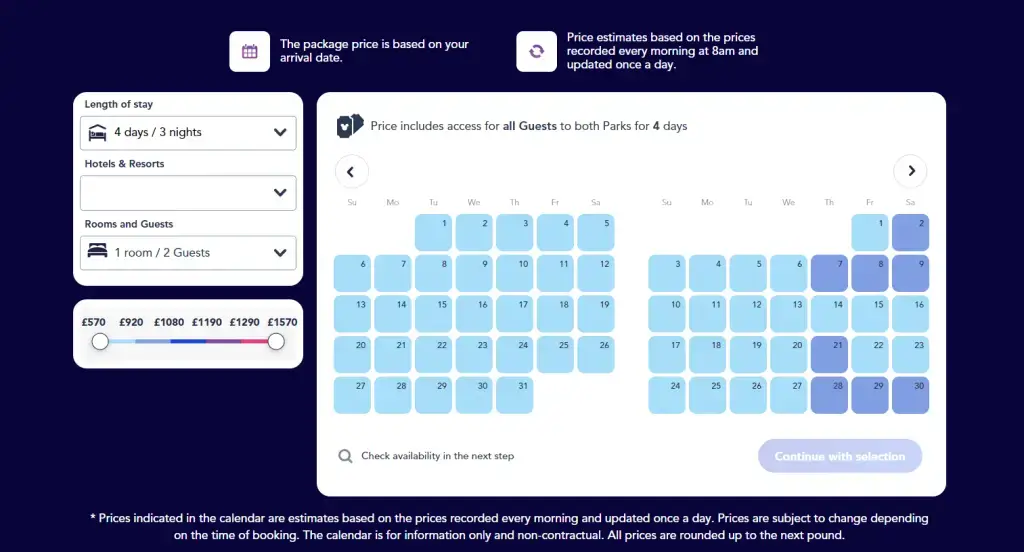 When will the Disneyland Paris Annual Pass return
We have heard some promising information that Disneyland Paris is about to launch a whole new range of Annual Passes in the coming days. With a date of July 19th been discussed.
Do I need to visit Disneyland Paris to get an Annual Pass
If you want a physical card yes, however, the new platform will allow guests to purchase a Digital Annual Passes from anywhere in the world