At Disneyland Paris, their MagicALL experience is their approach to accessibility requirements and is intended to empower those with special needs and disabilities through a collection of services and offerings to guests, cast members and the community.
"We continue to address a diverse range of disabilities and special needs – including hearing, mental motor and visual – to deliver an exceptional guest experience. This encompasses how we think about our attractions, entertainment, shopping, dining, hotels, transportation and even booking process, with dedicated Cast Members to provide support every step of the way".
Accessible Rooms at Disneyland Paris
All of the Disney hotels welcome guests with disabilities and special needs, service dogs are also welcome at many of the hotels.
All hotel have accessible rooms, however we always recommend letting the cast members know that you have specific needs as some hotels will need to make adjustments ready for your stay. For example, the Hotel Cheyenne doesn't have any lifts, therefore their accessible rooms are located on the ground floor.
All accessible friendly rooms have been designed with space in mind to meet the needs of any guests with limited mobility. These rooms also incorporate an extra large bathroom with hand rails and a raised toilet.
For some guests distance is important, so please use the quick guide below to show which hotels are closest to the parks.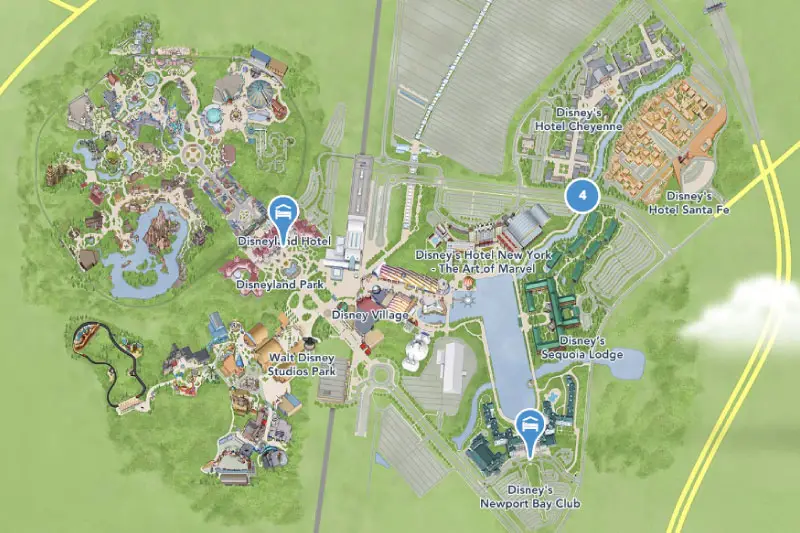 Additional Equipment Available
Specialist equipment available in the hotel rooms includes:
Kits for guests with hearing impairments are available upon request
Adapted bath seats can be provided but must be requested at the time of booking
Adapted showers
Specialist equipment available in the hotel swimming pools includes:
Pool hoists are available to ensure easier access (subject to availability)
Adapted changing rooms
Dog crates are available for service dogs upon request
Priority and Easy Access Cards
Guests with disabilities or a long-term chronic disease can request a Priority card or Easy Access card for certain attractions, activities and services. This is dependent on your specific accessibility requirements and the official document you can provide.
What is a Priority Card and am I eligible?
Provides priority access to attractions
Character meet and greet return times available
Specific locations for Disney Parades
Specific locations for Disney Firework shows
Discounted park tickets
The Disneyland Paris Priority card gives priority (but non-immediate) access to attractions, shows, parades, selfie spots, restaurants and boutique cash desks. Guests must provide an official accepted document proving the disability.
Guests and an accompanying person are also entitled to 25% discount on their park ticket or Annual Pass with valid documentation.
They are multiple ways you can request a Priority Card. The easiest method is to request your card online up to 1 month before your visit! Please remember to take an original document issued by the government or medical authority upon arrival in order to collect it. If you do not want to upload documentation, you can also speak to the cast members upon arrival at your Hotel, Disneyland Paris ticket office or at City Hall.
Click here for more information on what documentation Disneyland Paris require from your country.
Who can accompany me?
Priority Card holders can be accompanied by up to 4 people for attractions and shows, and up to 2 people for Parades.
What is an Easy Access Card and am I eligible?
Attractions return time available
Character meet and greet NOT available
Discounted park tickets
If you have a recognised Long Term Chronic Disease, Disneyland Paris can support you with simplified (but non-immediate) access to our attractions. Present your Easy Access Card and 'appointment book' at an attraction, and we'll give you a timeslot during which to come back and ride. You can make a 2nd reservation when the 1st is over.
To get your Easy Access Card, you'll need an original medical certificate in French or English signed and stamped by a medical doctor and less than 3 months old, indicating the Long Term Chronic Disease and the number. You can find the list of Long Term Chronic Diseases here.
Who can accompany me?
Easy Access Card holders can be accompanied by up to 4 people for attractions.
Accessibility Guide & Park Map
This accessibility guide provides an overview of the specially adapted facilities and services that Disneyland Paris offers to help guests have a safe and Magical time throughout their stay. To access the guide please click here
The accessibility park map aims to help guests plan their trip by providing them with helpful information and telling them everything they need to know about access in the Disneyland Paris parks.
The Disney Parks Accessibility Maps are available at City Hall, Studio Services, all Disney Hotels and as well as the ticket counters at the Disney Park entrances. You can also download them via the accessibility page on the Disneyland Paris website or via a QR code on the MagicALL signs at the entrance of each attraction.
It contains information about all the facilities and services they provide for guests with disabilities and/or specific needs. Please click here to print and download the map.
Attraction Access
It's important to note, that certain attractions are subject to specific access procedures and restrictions, in order to guarantee guest safety. To help with this we and Disneyland Paris recommend you check the Disney Parks Accessibility Map to help you plan your trip.
To help you understand any specific access or restrictions Disneyland Paris display warnings and instructions at the entrance to each attraction as well as the information published in the Disney Parks Accessibility Maps.
Transfer boards are available for those guests who may require support to facilitate boarding and disembarking from their wheelchair (available at selected attractions only). Please speak to a cast member about this should you require one or any further information.
There are also specially adapted vehicles on some attractions where guests can board the attraction vehicle directly with their wheelchair.
For certain attractions, Guests will need to:
Transfer from the wheelchair to the attraction vehicle, either alone or with the help of their accompanying person as well as transfer from the wheelchair to the attraction vehicle within a limited time.
These attractions are identified with the symbol T in the Disney Parks Accessibility Maps.
Many attractions throughout the parks use visual and lighting effects, such as:
– Strobe lights
– Flash photos
– Exterior building illuminations
– Various effects used in our attractions and shows (such as flashes of lightning or explosions)
Therefore, certain attractions may affect Guests who are prone to epilepsy. Guests must check the Accessibility Map, the Accessibility Guide or the Blue Booklet for more information.
For your safety, certain attractions require you to be in good health and are not recommended for guests with high blood pressure, heart, back or neck problems, motion sickness, or other conditions or disabilities that could be aggravated by the attraction.
Further accessibility around the parks
Restaurants – All table services restaurants throughout the parks are wheelchair accessible and welcome service dogs. Many cash desks are equipped with an induction loop and handsets.  An Audio description service is also available in all restaurants via the free Audiospot application. When you arrive at the restaurant, simply let it guide you.
Boutiques – Every boutique throughout the parks welcomes service dogs and all can be accessed via wheelchair. In most boutiques, you can find specially adapted cash desks that are equipped with an induction loop and handsets.
Theatres – All theatres and equipped with induction loops and have dedicated spaces for guests with reduced mobility as well as their accompanying person, service dogs are also welcome in all theatres. It's important to note that shows may contain many sound and visual effects, so remember to check this before you attend.
Parades and Fireworks – For both parades and fireworks there are designated viewing areas available for those guests with a Priority card. You must speak to a cast member in advance if you wish to access these areas as spaces are limited!
Character Meet and Greets – All character meet and greets and selfie spots are accessible. To find out further information, simply speak to the cast members at the specific location who'll be more than happy to help.
Transportation
Disney offers a free shuttle bus service to and from all Disney hotels (apart from Davy Crockett Ranch). All shuttle buses are wheelchair accessible.
Where required, if needed an adapted minibus can be arranged, this is subject to availability. If you require this service, you'll need to enquire at your hotel reception desk or speak to a cast member at City Hall or Studio Services. It's important to note that this service cannot be booked prior to your arrival and where available waiting times may vary.
For any further information about all accessibility facilities at Disneyland Paris, follow the links in this guide or speak to a cast member when you arrive at your Hotel or throughout the parks. 
Plan your stay with the Disneyland Paris price estimate calendar