Behold, a grand reveal like never before! The enchanting Disneyland Hotel, nestled at the doorstep of Disneyland Park, is set to reopen its doors in the first quarter of 2024, showcasing a splendid and regal transformation.
Bookings are now open until March 2025 at Disneyland Paris, but mark your calendars for September 12, as we promise more exciting updates about the Disneyland Hotel, make sure your signed up to our FREE Newsletter as we'll be getting an exclusive look inside the hotel!
Join us on a magical journey guided by Thomas Muller, the visionary set designer of Walt Disney Imagineering, as he unveils the secrets of this majestic realm, from the resplendent lobby to the graceful Rotunda.
But that's not all! Prepare to be dazzled by your first glimpse of The Royal Banquet (previously named Inventions), where you'll dine like true royalty amidst a captivating gallery adorned with portraits of Disney's beloved royal families. Picture feasting alongside luminaries like Kronk from 'The Emperor's New Groove' and the talented Chef Louis from 'The Little Mermaid'!
When the Disneyland Hotel reopens, it will become the very first Disney haven to celebrate the rich tapestry of Disney royalty in all its splendor. Embark on a majestic journey through time, woven with the tales that have made Disney an enduring success story.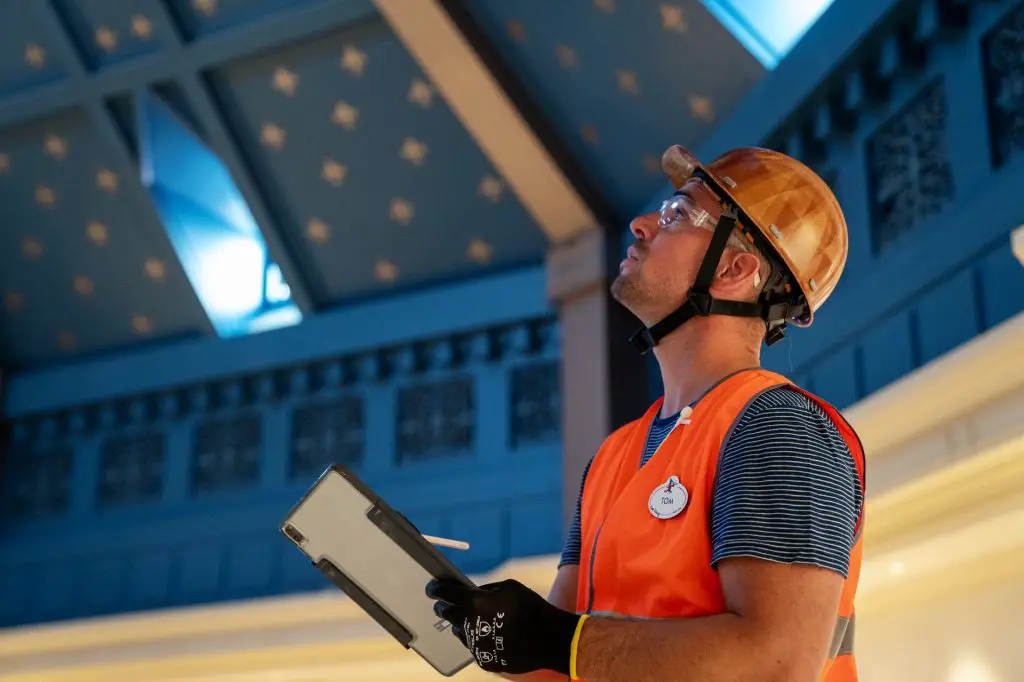 Official Disneyland Paris Disneyland Hotel statement
This is the first time it has been shown from the inside: the Disneyland Hotel, located at the entrance to Disneyland Park, will reopen in the first quarter of 2024 after having undergone a complete, royal transformation. Thomas Muller, set designer for Walt Disney Imagineering, takes us to the construction site of what will become the ultimate royal Disney address, through the majestic lobby, and the elegant Rotunda. The tour also offers a first glimpse at The Royal Banquet, which will invite guests to attend a royal feast amidst a gallery of paintings portraying numerous Disney royal families, including their famous chefs such as Kronk from The Emperor's New Groove or Chef Louis from The Little Mermaid!

When it reopens, the Disneyland Hotel will be the first Disney hotel that invites guests to celebrate Disney royalty in all its diversity, taking part in a majestic journey through time and the stories that make Disney so successful. Stay tuned on September 12 for more updates regarding Disneyland Hotel!
Plan your stay with the Disneyland Paris price estimate calendar