Breaking News. After confirmation that Disneyland Paris will remain closed over Christmas, there has been a touch of good news that Disney Village will open until the 23rd of December 2020. However, this will only include World of Disney Shop and 2 chalets with delicacies or candles.
In addition to this, as well as opening, World of Disney will have up to 40% off sales of in store merchandise. This means, if you are local to Disneyland Paris you can grab some great discounted gifts as well as some gifts yourself at the fraction of the price.
Disneyland Paris Annual Pass Holders Discount Increased
Disneyland Paris have also announced they will be increasing the annual pass discount for this short period. Depending on your level of pass you would usually receive between 0-20% discount in all Disney shops withing Disneyland Paris. (Discovery 0%, Magic Flex 10,% Magic Plus 10%, Infinity 20%).
However, for this short period in the lead up to Christmas all pass holders will receive a 30% discount on purchases within Disney Village at Disneyland Paris. This is in addition to the already displayed offers and discounts!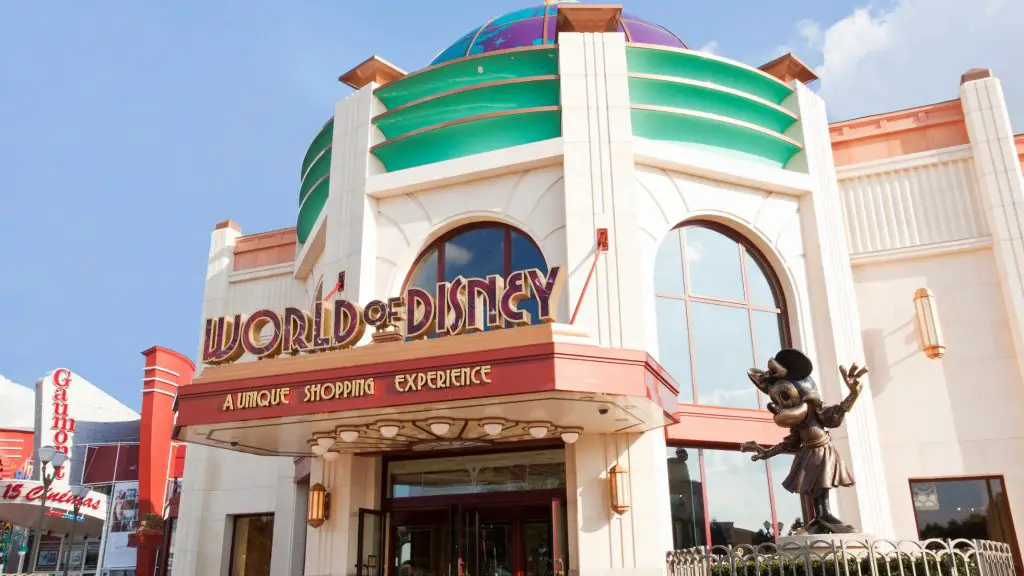 World Of Disney Opening Times
We have been told that the World Of Disney at the Disney Village will be welcoming guests from 2 pm to 8 pm (french local time) each day.
Click and Collect at World Of Disney, Disney Village, Disneyland Paris
We can see the store being very popular when this opens, with queues likely to be very long. However for guests not wanting to queue, they will be a click and collect service.
This is a 6 step process, but will be far easier if you know what you want to buy and do not want to browse the store.
Reserve products online at https://store.disneylandparis.com
Choose a collection Time Slot
Make a Note of your reservation number
Meet a cast member in front of the World of Disney store
Pay for your items
Leave happy with your products!
Unfortunately, Disneyland Paris is not offering a postal service for annual pass holders or guests unable to visit the store.