As you step into the whimsical world of Disneyland Paris, you'll be surrounded by the enchantment and wonder that Disney parks are renowned for. One common question that visitors often have is about the language used in the rides and attractions. In this article, we'll explore whether Disneyland Paris rides are in English, ensuring you're well-prepared for your magical adventure.
Language used on Disneyland Paris Rides and Attractions
The multilingual nature of Disneyland Paris is a testament to its commitment to welcoming visitors from around the world. While the primary language spoken in the park is French, you'll find that many of the rides and attractions offer experiences in multiple languages, including English.
Are Disneyland Paris Rides and Attractions in English
Many of the attractions and shows at Disneyland Paris incorporate both French and English. They use language in a very unique way, where the dialogue can be understood whether you speak only french or only English. This is easily explained by using dialogue used within the Avengers Assemble attraction, where Iron Man speaks in French and Captain Marvel 'responds' in English with the same information. For example, she'll say things like "that's right Tony, you'll be joining us on this mission. Tony has built the transponder that the system targeting will lock onto…"
In addition to this, you can expect to hear announcements, safety instructions, and important information presented in both French and English. This ensures that all guests can fully enjoy the experience and understand the necessary guidelines.
Choose your Language!
At certain attractions, you might have the opportunity to choose your preferred language before the ride begins. For example Star Tours can be performed in multiple languages, such as English, French and Spanish. The Cast Members who operate the attraction will choose the language based on the guests within the attraction vehicle. You can request the attraction to be played in your preferred language.
In addition to this specific attractions and live entertainment shows, such as Stitch Live, will have multiple performances throughout the day, with each performance assigned a specific language.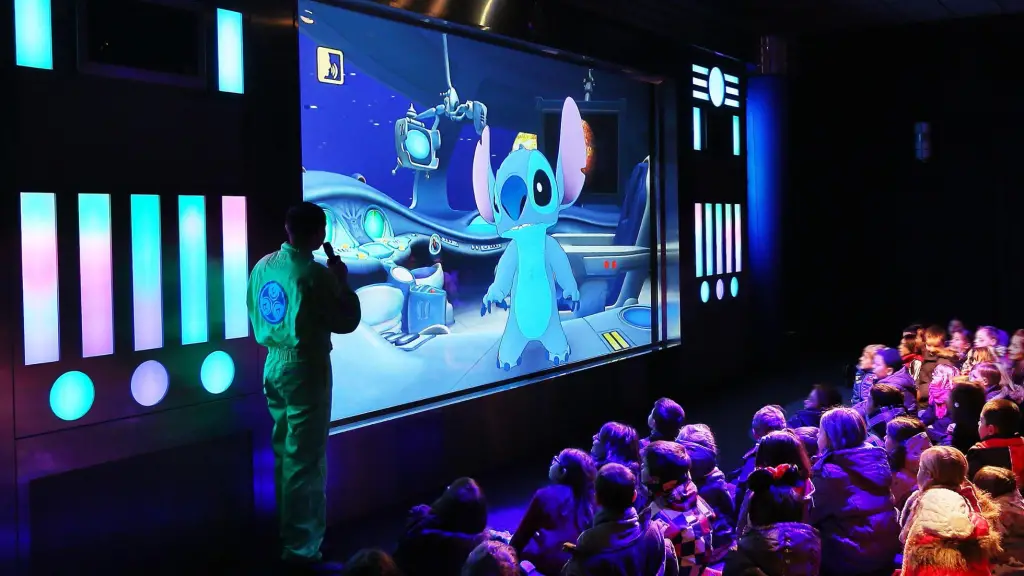 Character Meet & Greets
The Cast Members and Characters at Disneyland Paris are very talented and multilingual. During character interactions, Disney characters often communicate through gestures, expressions, and universal language, creating magical moments that transcend language barriers.
Rest assured that the enchanting experiences of Disneyland Paris are crafted to be accessible and enjoyable for visitors of various linguistic backgrounds. While French is the primary language, the park's commitment to offering bilingual experiences ensures that you'll have no trouble enjoying the rides and attractions in English.
Sign up to our FREE newsletter and stay up to date with the latest Disneyland Paris News.
Plan your stay with the Disneyland Paris price estimate calendar
Compare and book your next Disney vacation today and benefit from the best price possible! As Disneyland Paris use an availability pricing model, the earlier you book the cheaper it will be!
Take advantage of current Hotel & Ticket Offers, DLP Price Promise, and the Disneyland Paris price estimator to build your next trip to the heart of the Magic!