Disneyland Paris is celebrating with 900 cast members who have worked there since the Parks opening in 1992! Disneyland Paris Ambassadors shared a post on Instagram recreating the iconic photo taken 30 years ago with the Cast Members who are still working at Disneyland Paris, and have been working at the resort since it opened its doors 30 years ago.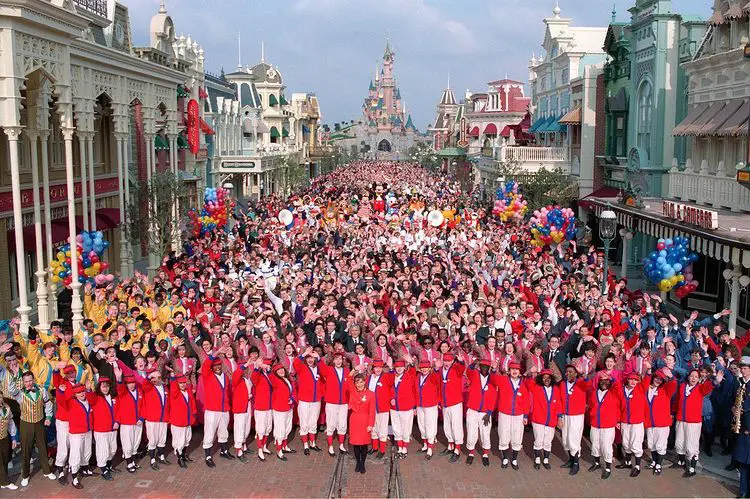 DLP Ambassadors
16000 Cast Members make @DisneylandParis shine bright and today we want to celebrate the 900 of them who've been here since the very beginning… and even before! These Pioneers took part in the opening of Disneyland Paris on April 12th 1992, and have been making the magic ever since.  Just one week before the 30th Anniversary, we invited them for a group picture that will surely make history!  Thank you Pioneers for all those years filled with emotions and unforgettable memories ✨
Disneyland Paris Statement
Our 16,000 employees – called Cast Members – are at the heart of an unforgettable experience that has been delivered to Guests across the resort for 30 years. They work in 500 different professions and represent the diversity of our Guests through 124 different nationalities and 20 languages spoken. 84% of them are employed under permanent contracts and 78% of managers have been assigned this role through internal promotion1. They all have unique career paths and professional experiences, which shows how numerous the opportunities to grow within the company can be.  

This can be evidenced by the fact that more than 900 Cast Members joined Disneyland Paris 30 years ago or more. To celebrate together this milestone in the resort's history, along with their professional journey, they gathered to take a souvenir photo on Main Street, U.S.A.: this was a moment during which they got to reunite, laugh, enjoy everyone's good spirits, share fun facts and life stories. Therefore, a positive energy was conveyed by these pioneers of Disneyland Paris, who are always very proud to be a part of such a unique company.