Our Ultimate Disney Pin Trading Guide providing questions to the most common questions. We also outline some 'rules' of Disney Pin Trading as well providing many useful hints and tips to get the most from this popular activity whilst in Disneyland Paris and other parks around the world.
Disney Pin trading is exactly as it reads. It is basically a fun; interactive way guests can interact and trade Disney Pins with Cast Members and other Guests within Disneyland Paris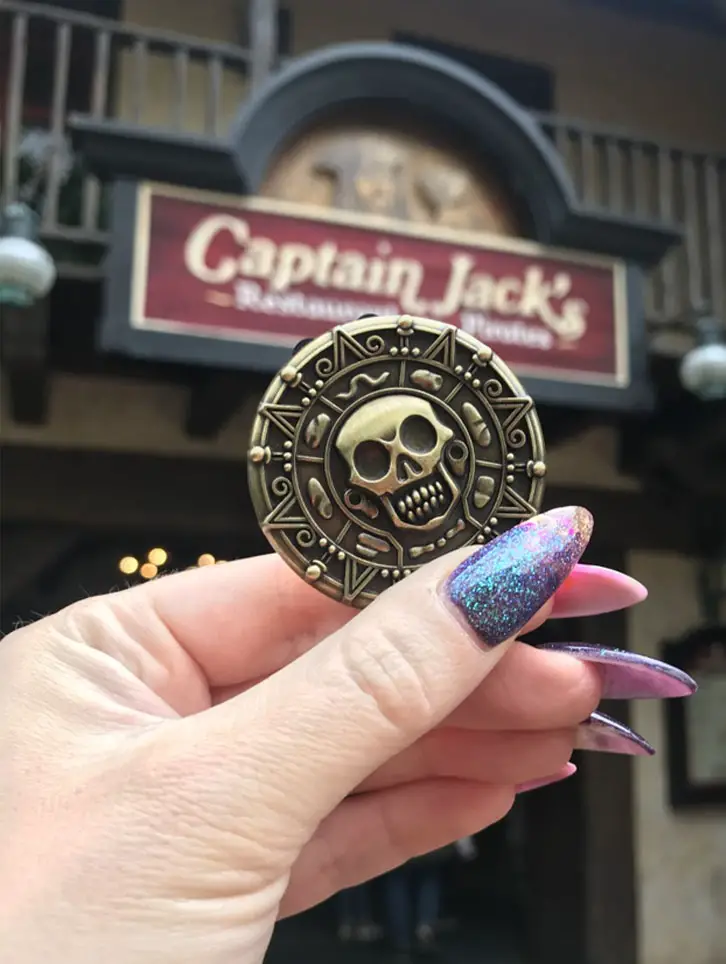 Contents
Use these quick links below to jump to sections you are most interested in.
Disney Pin trading has grown to be one of the most popular activities for guest visiting the Disney parks, as it's a great way to collect unique souvenirs and share stories. Whether you want to commemorate a vacation or holiday, or simply collect and show off your favourite Disney characters!
A fantastic thing about this activity within all the Disney Parks around the world, is that there is no age limit! You will see young children trading alongside older guests, and has therefore grown to be a great family activity within the Disney parks.
You can trade your Disney pins in the Disney Hotels, Disney Shops and with Cast Members within the park. As you can do this all over Disneyland Paris, this makes it one of the easiest activities to do, no matter your plans!
On this page we will try to give you as many hints, tips and tricks as possible, and be your Ultimate Guide to Disney Pin Trading in Disneyland, with additional focus points for Disneyland Paris. This guide ensures you will learn the basics to Disney Pin Trading as well as how to get the most from your pin trading activities in Disneyland. In addition to this, we will try to show you ways lower and keep the costs down and where/when to find the best pins for your ever-increasing collection!
Is Disney Pin Trading still happening the COVID-19 pandemic?
Yes, Disney Pin trading is still occurring within the open Disney parks, hotels and retail stores. However, this is very different than what we are used to and some parts of this guide will not be applicable at this time. At the moment you cannot Pin Trade with Cast Members. Any Pin that is traded is placed into quarantine for a number of days. It is then cleaned before being placed on any pin boards and made available to trade to guest.
---
Pin Trading Rules and Etiquette
Disney Pin trading is a fun way to interact with cast members and other pin traders. However, I do need to tell you that they are some rules and pin trading etiquette all traders try to follow whilst pin trading. We have seen many new and veteran pin traders who do not follow simply courtesies, so please make sure you are not one of these. Ensure you keep this a fun and enjoyable experience for everybody.
Pin Trading is Free, you should never pay for a trade
You should only 'trade' pin for pin, and never trade for cash with other pin traders. We have seen some professional pin traders who will find loopholes and may ask you to purchase a Pin from the Disney shop in exchange for a pin.
The Pin must be an authentic "©Disney" Pin.
You can only trade official Disney pins within the resort. These pins will have the Disney copyright engraved on the back. Although they are some fabulous third-party Disney pins, these are unfortunately not eligible to trade.
Disney Pins must be in 'good' condition.
As part of the etiquette of Disney Pin trading, the pin you trade does have to be of good quality and without a lot of damage
Cast Members must agree to trade any "©Disney" Pin on their lanyard.
As we have said above, cast members have to trade pin for pin. However, they will not trade any service or personalized name pins they place on any other part of their uniform.
It is your choice to trade, if you do not like any, you don't have to trade!
If you ask to see a cast member Lanyard or Pin Board, this does not mean you have to trade with them. If you don't see something you like, you don't have to trade. Cast members will not get upset if you don't trade!
You can only trade 2 pins with a single Cast Member or Pin Board.
You can only trade a maximum of two pins per cast member or pin board. However, in some instances if you see many pins you like they are little tricks to get more. You can ask the cast member to trade a pin with the board, and the trade a pin with the cast member.
You cannot trade two of the same pin with the same Cast Member.
This only really applies to when you bulk buy pins in a Disney sale. A cast member can only have 1 of each pin on their lanyard, so you cannot trade two of the same pins with them.
Do not touch pins on a Cast Member Lanyard or Pinboard.
We all like a bit of personal space, even more so in times like we are in. This is no different with Cast Members. Please do not touch or grad a pin off a Cast Members lanyard. Simply just point to the pin or describe the pin to them.
Green lanyard Cast Members.
These Cast Members are trained for Pin Trading with children, and will mostly only trade with them. Although we have seen some trade with adults, please do not pester these cast members to trade with you!
You keep the Back!
When you trade a pin with another pin trader, Cast Member or to a Pin Board, remember you only swap the face part of the pin. You keep the backing of your pins!
Be Patient ad kind at all times
If you want to trade with a Cast Member of another Guest, please do wait your turn or until they have finishing speaking with other people.

---
Disney Pin Trading Hints and Tips
Our Disney Pin trading guide, wouldn't be useful if we didn't include some hints and tips to get the most from this activity. As we have only recently started to pin trade within Disneyland Paris, these are some tips we have picked up whilst learning the ropes.
Please do leave us a comment if you have of anymore tips you think Disney Pin Traders may need to know.
Start with cheapish Pins you don't like!
You need pins to start pin trading, and if you buy pins you like, you will not want to trade them. Our first tip would therefore be start with pins you don't like. A great place to start is to look on the Disney store for 'starter' packs. These often come in packs ranging from 4 to 7 pins, and gives you a great stating point to begin trading.
Keep an eye out of Pin Trading Cast Members
As you walk around the Disney park, you will notice a lot of Cast Members wearing lanyards full of pins. However, some Cast Members will wear pin pouch or pin boards around their waists. All the pins on the lanyard/board/pouch are available to trade.
Not all Trading Pins are Displayed on Lanyards or Boards.
We have seen a selection of 'Trading Pin Holders' whilst in and around Disneyland Paris. These have included Traffic cones near Toy Story Land, Shield by Cinderella Castle, and even Plush toys within the retail outlets. If you only look for Lanyards or Boards, you may be missing out on some great trading opportunities
Trade Early with Cast Members
Cast Members are provided with pins for their lanyard at the start of their shift. This means, you have more chance of a 'fresh' pin at the start of the day and before many trades have taken place
Hidden Mickeys on Pins.
You may notice on some pins that there is a little hidden micky. With a small Micky head displayed on the pin these Pins are cast member only pins, and cannot be purchased in any Disney Store. The only way to collect these is through Pin Trading.
Mystery Pins
Sometimes a Cast Member or shop will have a pin on backwards or hidden inside a box. These are Mystery Pins and add another level of surprise to the activity. However, unlike other pins Cast Members will make you work to see the pin! From Disney trivia questions to quests, we have seen and done it all, but it also makes these interactions some of the best! Once you have earned the right to see the pin, you do not have to trade for it.
Watch your back!
Not as bad as is sounds, nobody is going to come running up to you and run off with your lanyard full of pins. However, we have experienced losing many of our Disney pin backs. Spare backs can be picked up in most Disney shops within the park, and it's a great idea to have a few spare in your bag.
Counterfeit Pins or 3rd Party Pins
Cast members will be not trade any of these. We have seen some fantastic 3rd party pin designs, however, Cast members will not be able to trade these with you as part of the Pin Trading program.  This is the same with Fake Disney pins.
Know the Release Schedule and What you want.
Whenever you have a trip planned to Disney keep an eye out on the Pin release schedule. This link will help you discover this months new Pins released in Disneyland Paris. It is best place to see what Pins are being released within Disneyland Paris, and advises you of the cost and date of release.
Learn about Disney Pins and look on the back
Cast Members can often end up with Rare or Special Edition pins on their lanyard which is great for traders like you and me. This works both ways you also do not want to trade away a valuable pin! However, be realistic as you are not guaranteed to see or trade these.
---
Before You Start Pin Trading
The first thing you need to start trading are some Disney Pins. This is only downside to Pin Trading in Disneyland Paris, is that Pins can be expensive. In general, you will see pins starting from 7 Euros each and go up further in price!
However, please do not let this put you off experiencing this activity. When you want to start pin trading, simply look for the 'starter packs' within the Disney shops. You can usually pick up a lanyard with anywhere from 4-8 pins on for around 20 euro! You can also purchase 'booster' packs from inside the Disneyland Paris shops. They often contain more pins than a starter pack and are also often cheaper than starter packs. It just depends if you already own a lanyard! Remember, try not to pick a Disney Pin Starter Pack you like, otherwise you will not want to trade the pins, but keep them!
Wearing this lanyard will also help Cast Members identify you as a Pin Trader or Pin Collector and they may even approach you and ask you about some of the pins your displaying.
You can also save even more and buy Disney pins in the sale within the shops. In the past we have seen massive reductions with pins usually worth 8 euro for only 1 euro! These are great to pick up and trade! If you do see this type of offer, try to select different pins, as you cannot trade multiple of the same pin with the same pin board or cast member. If they are limited number of designs in the pin sale, you can still pick up a few, but remember you will have to trade these with different Cast members or pin boards.
One of our best tips would be not to buy pins online. They are many sellers on popular online sites such as Amazon and eBay, who offer a large number of pins at a cheap price. This can be very tempting, as a bulk buy of 25 or 50 pins could set you back over 200 euro in the park. However, we have tried a few of these sellers and purchased these packs. In most cases when showing these pins to cast members, they have been highlighted as fakes, and therefore unable to trade. In one purchase we bought over 50 pins, only to have 4 pins actually being real Disney pins and available to trade. This ratio does then make the bulk buy far more expensive than buying the pins online at ShopDisney or within the Disney Parks.
---
Who can I Pin Trade with?
They are many ways in which you can Pin Trade whilst in the Disney Parks, Hotels and retail stores. Below we will outline some of the most popular methods of Pin Trading.
Disney Pin Trading with Cast Members
One of the easiest ways to trade is with Disneyland Paris Cast Members. These can be found all over the park, and within the Park shops. These Pin trading Cast Member will easily be spotted as they are always wearing pins on their lanyard. They will also be very welcoming and happy to show you their collection of pins, as well as always ready to trade any pin with you. However, please stick to Pin Trading etiquette and never grab their lanyard for a closer look. In some cases, Cast Members will be wearing a small Pin Pound or Pin Board. You can also trade for any pin on these.
Please note, they will not trade any pin which is on the uniform, as these are often their own pins or service pins they have earned whilst working at Disneyland Paris.
Disney Pin Trading with Guests
This one is slightly different to trading within Disney shops or with Cast Members. As these will always trade an approved pin with you. Fellow guests do not have to do this and they can refuse to trade with you if you don't have a pin they want.
The other difference with trading with other guests is that you can trade as many pins as you want. Therefore, if you both have time a wide selection of pins you can trade to your heart's desire.  In most cases, guests will trade on a perceived value basis. For example, they will trade a limited-edition pin, for another limited edition pin. However, some guests will simply trade if you have a pin of a character or ride.
However, please remember this was created for a fun and enjoyable way to interact with Cast Members and other guests, and always try to be polite and please try to ensure you don't take up too much of their time, and never pay for a pin from another guest.
Location, Location, Location : Trading in Shops & Hotels.
They are many places you can experience Pin Trading. Pin trading is available in all Disney parks around the world, and in some cases even in flagship stores, this is what makes this so exciting. You can find Disneyland Shanghai pins on a lanyard of a cast member in Disneyland Paris!
Pin Displays are not always Pin Boards!
In some shops the Pin board may not be fully visible and may be behind or under the counter. Simply ask one of the Cast Members if they have a pin board and they will be happy to show you. These follow the same principle as trading direct with a cast member, but in some cases gives you a much wider selection of Pins to choose from.
In some locations we have found they have used to different objects to display their pins. We have seen everything from a Dogs Jacket, a Mickey plush toy, and even a treasure chest!
One of our best experiences of Pin trading has come within Disney retail stores within Disneyland Paris. In this cases the store has had Mystery Pins available to trade. These have been be hidden inside a box or only displaying the back of the pin, so you do not know what the pin is, exciting! In one store we had to point out a hidden Mickey, where as another one asked us some Disney trivia! These kinds of interactions we would never have had without Disney Pin Trading. Again, like any other trade, once you have correctly answered the question, YOU have the choice to trade. If you don't like the pin, you do not have to trade it.
Disney Pin Trading in Disneyland Paris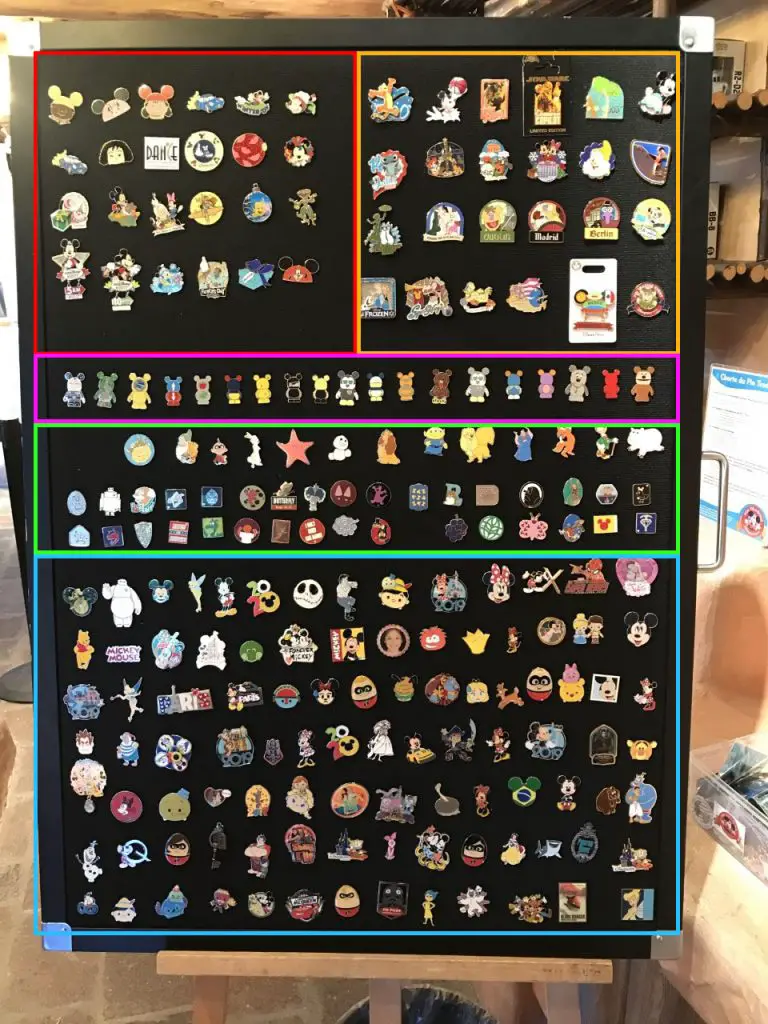 You can trade in many shops within the Disneyland Paris park, however, one of the best places to trade pins in Disneyland Paris is at Pueblo Trading Post. Located at the rear of Frontierland just past the Cowboy Cookout Barbecue and just in front of the Frontierland Playground. If you are unsure of these areas within Disneyland Paris, just head towards the indoor show building in Disneyland Paris Frontierland. The Pueblo Trading Post is the resort's largest Pin Trading station. As well as having the largest selection of Disney Pins within the Park, including those limited-edition releases. It also recently stocks other Disney collectables.
One thing to note, that Disneyland Paris does things a little different to other parks. They trade like for like. For example, this pin board at the Pueblo Trading Post has 5 sections.
Red Box : Special Editions
Orange Box : Limited Editions
Purple Box : Vinylmation Pins
Green Box : Hidden Micky (Cast Member Pins)
Blue Box : Open Edition Pins
---
Displaying your Pins
Once you have purchased or traded for your favourite Disney Pins, what do you do with them now? They are many ways of displaying your valued Disney Pins wether you are in the Park or at home.
How to Display your Pins within the Park
They are many ways people like to display their pins, and we have seen some fantastic and unique ways people do this whilst walking around Disney. As well as the popular lanyards, we have seen people use their hats, bags, jackets and more.
Display your Pins at home
We know of few main ways people store their pins at home, and this does depend on if they are for keeps or to continue to trade. However, if you know of more please do let us know in the comments section below!
Disney offer official Pin Trading books where you store all your pins. Available in a wide selection of sizes, you can easily find a book to suit your collection, or one to grow into! You will see a lot of professional pin traders use this method, as it is an easy way to take these to the park and show off the collection.
Use a Pin Board. Many of us who enjoy pin trading often have a pin board at home. This is an easy and space saving way of storing your pins, whilst also being able to view them.
---
What Types of Disney Pins are they?
Disney Pins can be grouped into around 6 mains types of pins, Open Release, Limited Release, Hidden Mickey, Artist Proof, Scrapper, and 3rd Party. This could go into the hundreds, or thousands, if you counted attractions, characters, parks etc as a type. However, for ease of use and in most trader's opinion they are around 6 types of Disney Pins you will find in and around the park. Whilst some of these Pins are hard to find, others are quite easily located.
What are 'Open Edition' Disney Pins?
An Open Edition pin is the term used for general Disney Pins which have not been given a limited run, and therefore they are often thousands of these pins. You will often see racks and racks of these pins within the Parks. These are typically the single pin packs you find for sale in Disney shops. These are mass produced and can be found all over the parks and hotels. These also tend to be of Popular Disney characters, however, they have started to introduce rarer characters into this collection.
What are Disney Limited Release Pins (Limited Edition)?
These are special pins in which Disney makes a set number pins. Depending upon the Pin, Disney will choose to release these in the parks only, online only, or in some cases both
We have releases from as little as 300 to limited releases of 5000. The number of pins depends upon the release, and this information is often displayed on the back of the pin. As these are much rarer than the standard Disney pins, they are often sold at a higher price. These pins tend to cover a vast range of Disney Rides, Hotels, Characters or Ride Anniversaries, Special events, as well as for exclusive Disney Groups such as Passholders or Disney Vacation Club members.
Recently they have also introduced limited release collection sets, where a pin from the collection is released once a month, or once every other month. These types of pins are harder to collect, and take a longer time to collect. However, these pins are often far more detailed than a standard pin, and worth the wait. For example, take a look at the Castle Collection Pins as part of this type of collection.
Please note, Disney usually has a policy when buying these pins. When looking at this we have found it is either, (option 1) two limited edition pins per person, or (option 2) one limited edition pin per person and 2 per household.
Disneyland Paris Limited Edition Pins are usually released on a Saturday in Disneyland Paris and are often available first at the Pueblo Trading Post. However, this is not always the case, as some Pins are given a unique release date.
If you want to ensure you get your hands on the exclusive pins, we would suggest arriving and entering the park during Extra Magic Time. In some instances, Disney do a queue system to enter the trading post. If this is in place, ensure you collect your wristband and ticket from the Liberty Arcade, located to the left of Main Street.
What are Hidden Mickey Pins (Disney Cast Member Pins)?
We all love searching for hidden Mickeys throughout Disney, whether it is in a ride queue, or within a film. This is no different when Pin Trading, and we will all love to find them on a Pin too. This is because they are very special pins. These Cast Members Hidden Mickey pins can be spotted by looking for the hidden Mickey on the Pin.
These pins are only released to Cast Members for the purpose of Pin trading. This means you cannot buy them anywhere in the world, you can obtain these through this activity. These types of pins are usually released in a collection, ranging from 6-18 pins. As you can only collect these pins via trading with Cast Members this makes these pin much harder to find and complete the collection.
You can easily spot a Hidden Mickey Pin as it would contain a silver Mickey head on the front of the pin. This is usually in an obvious location, and not hidden away like Hidden Mickeys within the Park. You can also check the back of the Pin and it will display "Hidden Mickey Pin" with a number and series engraved onto the back.
Hidden Mickeys Pins are just like finding Hidden Mickeys around the park, you have to hunt for them, but it can make the experience much more enjoyable at times!
What are Artist Proof Disney Pins?
These are "Proof" Pins Disney will make to test out the Pins they want to release in the future. An Artist Proof pin is usually a special early sample of the Pin, and tends to be used to check the design and colours. These are very rare, and therefore very valuable to Pin Traders. If you do ever fin one, make sure you keep it well and do not trade it!
What are Scrappers?
You may hear this term used a lot whilst talking about Disney Pin Trading. But what is a scrapper? A Scrapper is a Disney Pin trading term for 'fake' pins. I say 'fake' as in most cases these are the imperfect pins not suitable for the Disney store, but have been produces from the same supplier using the same moulds. In some cases it has been found that factory workers are able to take the mould after the run is complete. They then make their own version using the mould but with different materials, contributing the 'fake' pin market. Due to this Scrapper pins are often lighter in weight, or have a slight colour difference.
A good way to spot a Scrapper Pin is to look for these points
The copywrite symbol is not fully CLEAR
The colour looks faded and paint has chipped or flaked off
Edges are not smooth, and can often be jagged and catch on clothing
Don't come with the Mickey Rubber Backing
Character errors, for example Snow White hair is not fully black
The Magnet Test. Not always 100% but if it sticks to a Magnet, it tends to be fake
It is good pin trading etiquette to not contribute to this growing issue by not knowingly putting more scrappers into the market.
What are 3rd Party Pins?
These a pins created by Disney Lovers. Although they are not genuine Disney pins, these don't tend to be classified as scrappers, as they are often well produced and not a copy of a Disney Design. We have seen some fantastic 3rd party pins, and although they are great to display on your lanyard, please be aware that Cast Member will not trade these pins with you and other Pin traders may not also want to trade this type of pin.
However, if you like the design of the pin, and don't want to trade it, go ahead and get it and display it like your others. I love Halloween and therefore I do have a few 3rd party pins from Hocus Pocus themed to Nightmare before Christmas. I do keep these separate to my Official Disney Pins and they are ones I would never want to trade. 
---
Disneyland Paris Pin Trading Events
They are 3 main types of Pin Trading events at Disneyland Paris. These are Pin Trading Days, Pin Trading Nights and Special Pin Trading Events.
Pin Trading Days are annual events at Disneyland Paris and usually take place during the month of April. Although the event is free to attend, the places do get filled quickly and we recommend arriving early and securing your ticket at the Liberty Arcade. During the Pin Trading Day Events they are usually a good number of limited edition pin releases based on the annual theme, as well as a few games to play in and around the venue.
Pin Trading Nights, are very similar to the Day events, and usually take place on the last Friday of the month. However, this doesn't tend to take place during the month when the annual Pin Trading Day has taken place. Again, more limited edition pins are released and only available at this event so spaces fill up quickly!
Pin Trading Special Events are a must do for pin lovers. These special events usually take place a few times a year, and includes a traditional Christmas event. During these special events you get a chance to purchase rare and collectable pins as well as enter competitions and encounter special character meet and greets. The events are usually announced a few months in advance, and do incur an additional fee on top of the park entry ticket
---
Common Disney Pin Trading Questions and Answers.
These are some of the most common questions we have either asked ourselves or have been asked whilst pin trading. If you have any other questions please do leave us a comment at the bottom of the page and we will try to answer this for you too!
How Did Pin Trading Start?
During the Millennium Celebration in 1999-2000 Walt Disney World introduced pin trading. Since this date, it has spread throughout the world to all other Disney parks and even on the Disney Cruise Ships! This activity continues to grow each year, with more and more people joining the graze. With the increase hype around Disney Pin trading, Disney started to hold events and designate areas within and outside the Disney parks for pin traders.
Since the introduction of Disney Pins, they have quickly become of the most popular collectibles and Disney merchandise, with many limited-edition pins selling out within minutes!
Why Trade Pins?
Firstly, let me ask, why not?! For people like me, this is mainly a fun way to meet and interact with Cast Members around the park, whilst also looking for my favourite character pins and mementos of our trips which we could not buy within the shop. However, for others this is a serious hobby, and you can easily get addicted to trying to collect all the pins within a collection.
Each Disney park around the world has their own exclusive pins and pin designs. This includes Walt Disney World, Disneyland, Disneyland Paris, Hong Kong Disneyland, Shanghai Disneyland, and Tokyo Disney. Via Disney Pin trading we have seen pins from all of these destinations within Disneyland Paris. Although we would love to visit all of these parks, we have not yet been able to do so, but by trading we have got exclusive character designs from some of these locations.
Our Final Thoughts
Within this post we have tried to provide the ultimate Disney Pin Trading Guide. Covering all aspects of Disney Pin Trading in Disneyland Paris, and around the world. We have looked beyond the lanyards and learned about all the different types of Pins that are available.
Just before you head off and start your first, or 1000th pin trade at Disney, here you can see our little key notes and must have recaps
Start with pins you do not like, otherwise you will not want to trade them.
They are 100,000s of Pins, so try to focus on a small collection at first, or characters and rides you enjoy the most.
Trade up to two pins per Cast Member, and green lanyards are for children trades only.
Be polite to Cast Members and Guests who are trading
Check the pins you trade, they may be from around the world, and you don't want to trade for a Scrapper or Trade away your Artist Proof!
Keep your back during the trade
So lets start Pin trading. Put on your lanyard and display your pins!