FIRST LOOK of the new Stitch Crashes Disney Jungle Book (Series 9 of 12) Plush and Pin. Stitch will get a jungle theme make over with an all over jungle pattern and a banana peel hat.
This new ShopDisney series will be available at around 8am on the release date. We have been told that the release will happen on the 3rd Saturday of each month throughout 2021. Therefore, Stitch Crashes Disney Jungle Book is due for release on the 18th September 2021.
Shop Disney have also released many new products in the Stitch Crashes Disney Range, including mugs and clothing including T-Shirts and hoodies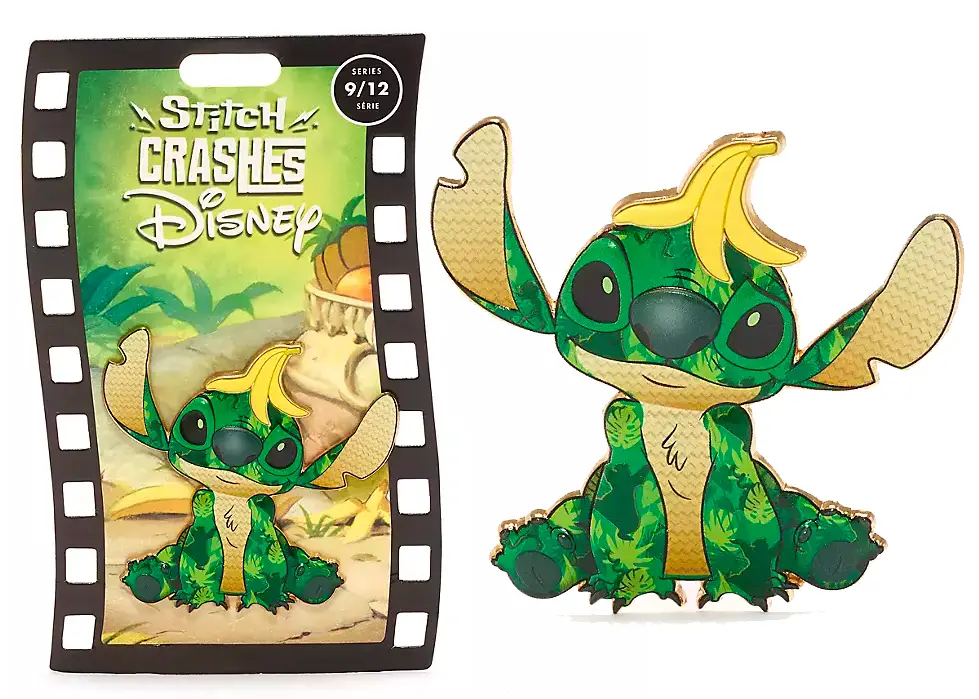 ---
Stitch Crashes Disney Facts
This is another year long Series. Stitch will be crashing 12 classic Disney films we are all invited join in the fun with him and collect all 12 styles!
Each series will be released on the 3rd Saturday of each month.
this ranges includes a Plush and Pin for UK customers
USA ShopDisney customers also have the chance to purchase a Magic Band, T-Shirts and Mugs
Popular Questions
These are some of the most common questions we are asked about the Stitch Crashes Disney series. Therefore, we have answered these with the most up to date information.
When is the Stitch Crashes Disney : Jungle Book Released?
The release date of this collection is the 18th September 2021.
What is included in this Series?
This series has a total of 2 products available to UK customers. These are…
Stitch Pin
Stitch Plush Soft Toy
The series features additional products for USA customers only
---
Other Series within the Stitch Crashes Disney Collection