update 18th January 2022,
Inline with the latest French COVID restriction, Disneyland Paris now requires all guests aged over 16 to provide a proof of vaccination (Vaccine Pass) before entry into the Parks. Guests aged between 12-16 can still provide a Health Pass.
updated 5th August 2021,
Disneyland Paris has confirmed that all guests over the age of 18 will need a Health Pass to visit the resort from the 21st July, which extends to all guests over the age of 12 from the August 30. In this article we'll answer all the questions we've been asked via email and on our instagram page such as, How do you make sure you can enter the park? How do I get a Disneyland Paris Health Pass? Where is the Disneyland Paris Covid-19 vaccination centre? Where is the Disneyland Paris COVID-19 PCR Test Centre? What is a Disneyland Paris Health Pass? What if I am unvaccinated and visiting for more than 2 days?
updated March 3rd, 2022
Disneyland Paris no longer requires guests to wear face masks and from today guests will be able to experience traditional character meet and greets including hugging and autographs! This has been made possible due to the vaccine pass requirement at Disneyland Paris.
Contents
What is a Vaccine Pass?
The current vaccine pass states the holder must provide one of the following to enter Disneyland Paris,
– Proof of full vaccination (plus a booster if your second vaccination is more than seven months old), please note, Starting February 15, a booster dose will be required after four months
– Certificate of Covid recovery less than six months after an infection.
What is a Health Pass?
A Health Pass must be presented in digital or paper form to enter Disneyland Paris and verifies one of three things:
A Guest is fully vaccinated (with an EMA-approved vaccine)
– 7 days after the second shot for two-shot vaccines (Pfizer, Moderna, AstraZeneca);
– Four weeks after the shot for one-shot vaccines (Johnson & Johnson);
– 7 days after the shot for vaccines administered to people who have already had COVID-19 (only one dose is necessary)
– Proof of vaccination can be provided via government mobile apps such as NHS App or via the French AntiCovid application.
That a guest has been tested (PCR or Antigen) and has a negative results within the last 48 hours.
– For people visiting Disneyland Paris for more than 2 days, you may be required to complete a test to enter the park during your trip.
– Test results from the PCR centre within Disney Village will be supplied to you via email within 24 hours. Within this email you do have an option to add your results to the French AntiCovid App Health Pass Wallet. This will provide a QR code and details for Cast Members to check.
For person who have had COVID-19, a Recover certificate. This is proof of the positive test result date and must show 11 days have passed and is not older than 6 months.
Guests can present any form of Health Pass, including the EU digital COVID-19 certificate, or equivalent for non-European Union countries, which fulfils the criteria outlined above and must be presented in English or French.
Who needs a Health Pass to visit Disneyland Paris?
Update Jan 2022.
Only guests ages between 12 and 16 can use the French Health Pass to Visit Disneyland Paris
What does Disneyland Paris Say?
Disneyland Paris has updated its Health & Safety Measures page with details of the Health Pass and PCR Vaccination Centre including an FAQ on who's eligible and what's required.
They have also posted a number of helpful images to its social media channels to help explain this update.
What does this mean for UK visitors?
The French Consulate has confirmed that the NHS COVID Pass will be accepted as proof of vaccination. You can download your pass from the NHS website or the main NHS App, please be aware this is not available on the "test and trace" app.
After logging into the App at the bottom of the screen will be a 'Popular Services" section, which will show "Get your NHS COVID PASS". You are then show two options, Domestic and Travel. Simply click the Travel option to be shown further options to download or print a PDF certificate of vaccination. We would advise you also print this, incase your phone battery dies.
With the recent update to France COVID travel list, fully vaccinated travellers returning from France will NO LONGER need to quarantine on arrival into the UK. However you must still
For more information please check the latest information on the UK and French Government Websites.
Can I get a PCR Test at Disneyland Paris?
Disneyland Paris has made it as easy as possible to book and take a test. Within the Disney Village is a PCR testing centre which is available to all guests between 8am and 8pm, providing both PCR and Antigen tests. Booking time slots are available in 5 minute intervals with a maximum number of 10 people being able to book within a single 5 minute time slot.
Where is the PCR Test centre at Disneyland Paris?
The Disneyland Paris test centre is located within the Disney Village. The precise entry location is inside the Cinema. As you look at the cinema, the doors to the left hand side will have a sign post stating PCR centre.
We have marked the location with the Mickey head on the map below…
How do you take a PCR Test at Disneyland Paris?
Unlike some PCR centres within the UK, the PCR test centre at Disneyland Paris has professionals who take the swab test for you. After being greeted at the reception desk and confirming your order and personal details you are taken into a cubical with a health professional and the test only takes a few moments to complete.
On our recent visit, we booked the 8:05am time slot (first available), to make sure we could complete our tests and still take advantage of the Extra Magic Time within the park.
Your results are emailed to you within 24 hours of the test being taken. Please ensure if you are not fully vaccinated and require a PCR test to enter Disneyland Paris to keep this timescale in mind and ensure you book your test early to avoid disappointment.
How much is a PCR Test at Disneyland Paris?
French nationals with a french social security number: €20 (administrative cost)
Persons without a valid French social security number: €63.89
Can I visit Disneyland Paris if I've not been vaccinated?
If you are not vaccinated you can still enter Disneyland Paris if you are meet any of the criteria of the Vaccine Pass.
Persons who have had COVID-19: the result of a positive RT-PCR or Antigen test, attesting that the individual has been infected, and that a period of time of at least 11 days and less than 6 months has passed since the test result was obtained (considered as a recovery certificate.)
How do I add my NHS COVID Pass to the AntiCovid App?
The process is really easy to add your NHS COVID pass to the French TousAntiCovid app.
Log into the NHS App and choose the option "Get your NHS COVID Pass"
Choose the Travel option, to share the pass the pass for use abroad
You can then choose to download a PDF Copy to your phone, or have a copy emailed to you.
On both options you will provided a PDF document to proof of your vaccinations. Each vaccination will have a QR code next to it. You will need load this PDF on a second devise or print this document.
Open the TousAntiCovid app and choose the "open my wallet" option under the Health Pass heading
At the bottom of the screen choose "Add a certificate"
Scan the QR code provided, and add it to your wallet. Repeat for any further vaccinations.
TousAntiCovid Application within Disneyland Paris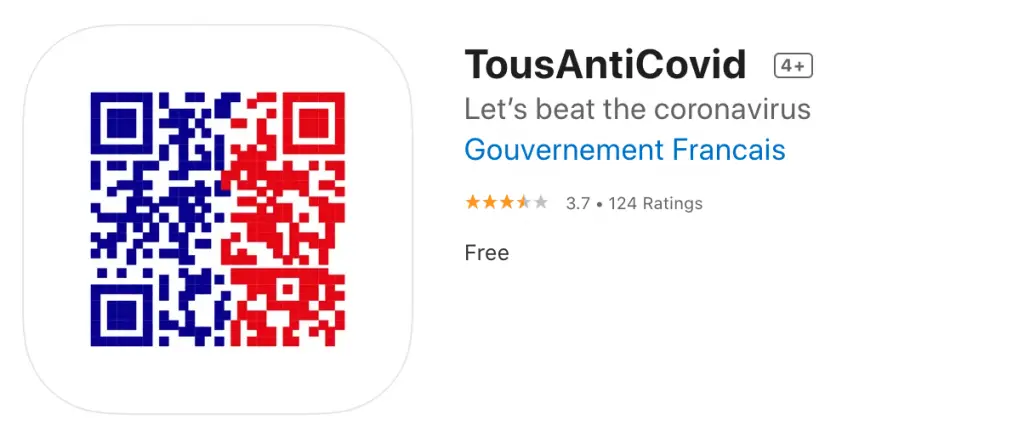 Before visiting Disneyland Paris we advise you download the TousAntiCovid mobile app. Similar to bars and restaurants within the UK, you are required to 'check-in' to hotels and restaurants around the park. This app makes it quick and easy to do this by scanning the QR located by the entrance. If you do not download the mobile app, you are required to complete and sign a paper form before entering the premises.
Have any other questions?
Leave a comment on this article, and we will try to help as much as we can…