There has been many small updates and rumours coming from Disneyland Paris in the last week, so rather than create loads of posts about each one, we thought it would be best to put them all in one location.
RUMOUR: Possible Plans Revealed for the Expansion of Disney Village and New Disney Hotel at Disneyland Paris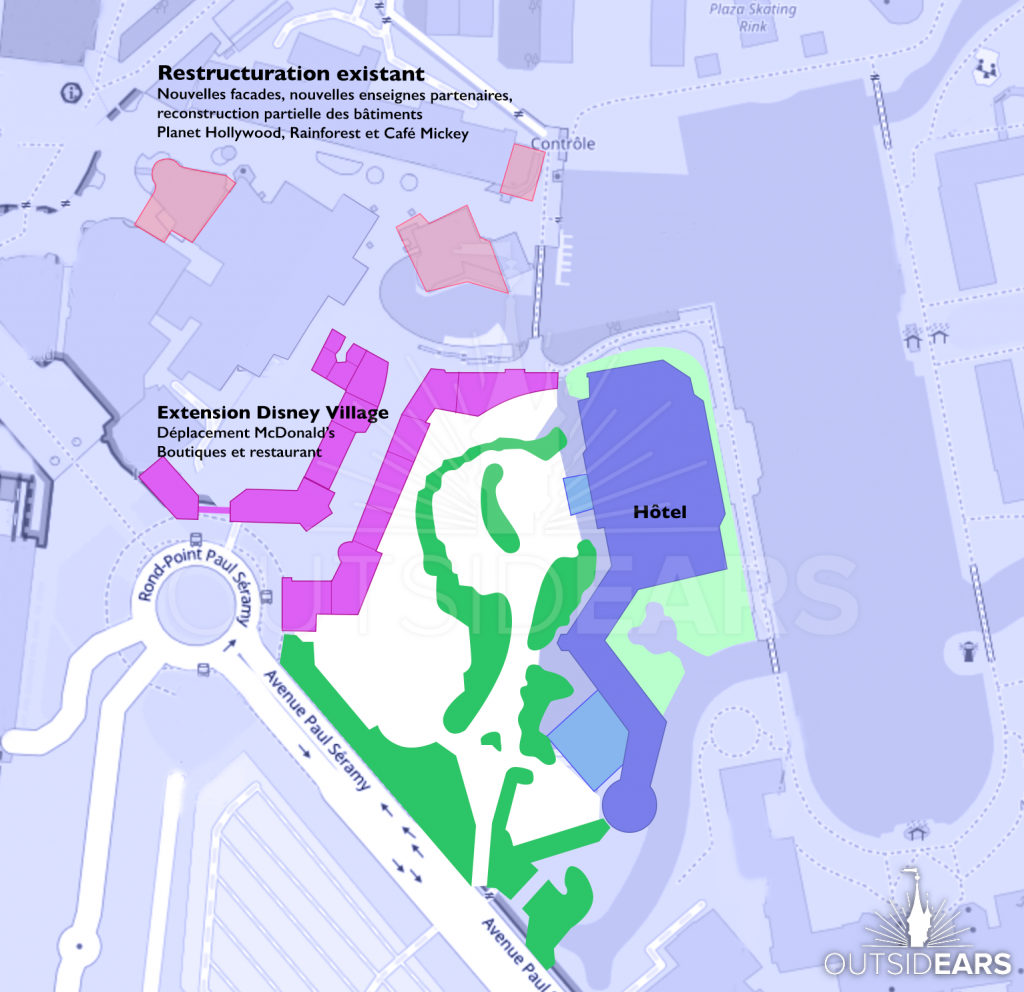 Over three years ago Disney officially announced their expansion plans for Disney Village at Disneyland Paris. Since this announcement, news regarding this have been kept relatively quiet. However, with our friends over at OutsidEars have revealed the possible plans.
This new expansion and refurbishment will be a complete overhaul, right down the patterned walkways. This would involve removing some bold structures such as the Frank Gehry's columns, Planet Hollywood globe and more. The facades of Cafe Mickey and Rainforest Cafe could also be updated, and it appears they want to create something similar to the appearance of Disney Springs.
The Lakefront will also be part of the Disney Village overhaul. By relocating McDonalds and removing Dôme Disney Village tent, Disney will be able to open a new 'street' of shops and restaurants between the Steakhouse and the Lake Bridge.
NEW DISNEYLAND PARIS HOTEL
A hotel that was planned for the resort's opening in 1992, may be reconsidered. This is planned to be built by Lake Disney, on the location of the Disney Event Arena tent. The activities usually held within the tent will be moved to the future Convention Center.
Timeframe
The expansion will be planned over multiple phases, and should not take place for several years. We assume this is to go alongside the expansion of the Walt Disney Studios Park. With 3 new massive lands coming over the next several years, it makes sense for Disney to increase the shopping area and add a new hotel.
Phase 1 – Refurb of the existing buildings
Phase 2 – Introduction of the new 'Street',
Phase 3, New Hotel
In the time leading up to this, the new Disney Village Tiny Shops will allows retailers to 'test their popularity' in the parks.
RUMOUR: Disneyland Paris buys Tokyo DisneySea "Fantasmic!" Barges to use on future shows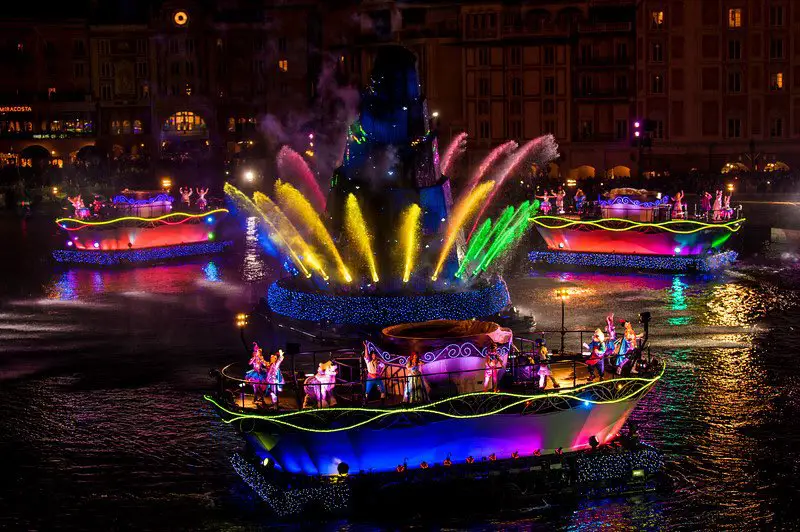 As a result of COVID-19, Tokyo DisneySea Fantasmic! show came a premature end. In April the barges were removed from the backstage docks, and it appears they are heading over to Disneyland Paris. According to RichyDisney, the four core barges which once surrounded Mickeys Sorcerer Hat are on the way to the Walt Disney Studios Park for a future nighttime show.
This is not the first time the Oriental Land Company has sold assets to Disneyland Paris. In 2001 they sold multiple parade floats forming Disney's Fantillusion!
With the Walt Disney Studios Park massive transformation well underway, could these barges be part of a new show planned on the large central lake?
Construction starts on the berm for a Potential 3rd Theme Park at Disneyland Paris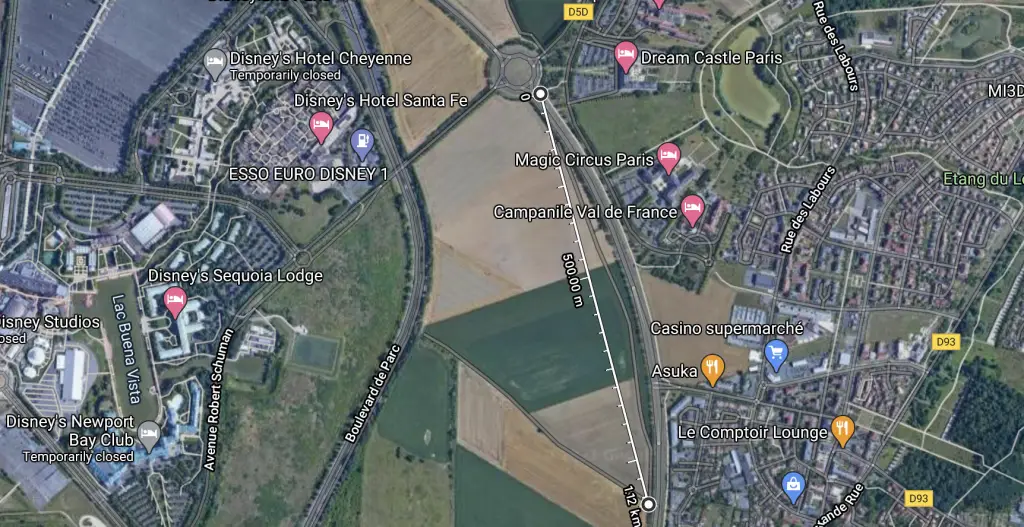 Disneyland Paris has started construction on a large are of land between Disney's Sequoia Lodge and the Dream Castle Hotel. It is rumoured that this could part of the new theme park they are required to build by 2036.
The construction is building a barrier, visual and sound, to minimise the impact for locals and guests. The achieve this the barrier is planned to be 5m high.
Disneyland Paris Reopening April Reopening Unrealistic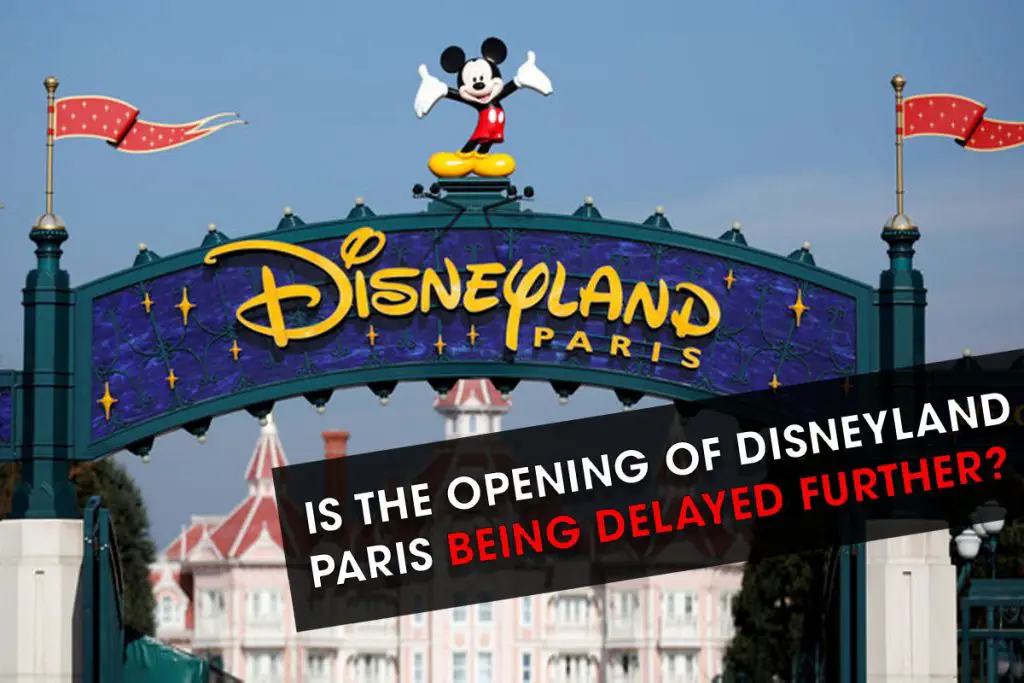 The reopening of Disneyland Paris is expected to be delayed once again as France's health minister has said they may not lift specific restrictions until mid-April at the earliest. Read more about this on our recent will Disneyland Paris reopening be delays further post.