Disneyland Paris have released "Celebration Quest", a fantastic Treasure Hunt in partnership with Orange. Bringing a new interactive adventure to the park's 30th Anniversary celebrations, guest will have the chance to solve puzzles to unlock exclusive photo filters and win unique prizes!
The "Celebration Quest" free app is now available to download from the app store.
Disneyland Paris Celebration Quest Release Video
Celebration Quest App Details
The new digital and interactive app encourages guests to complete a magical treasure hunt across both parks to reveal some Disney secrets, exclusive photo filters and even a chance to win a Magical Stay at Disneyland or a brand new 5G smartphone!
Follow the clues and solve the puzzles to unlock surprises during this fun-filled magical treasure hunt celebrating 30th Anniversary at Disneyland Paris. Solve all 30 puzzles across both Disney Parks (25 in Disneyland Park, 5 within Walt Disney Studios) to light up the areas on the map to make the magic shine brighter than ever.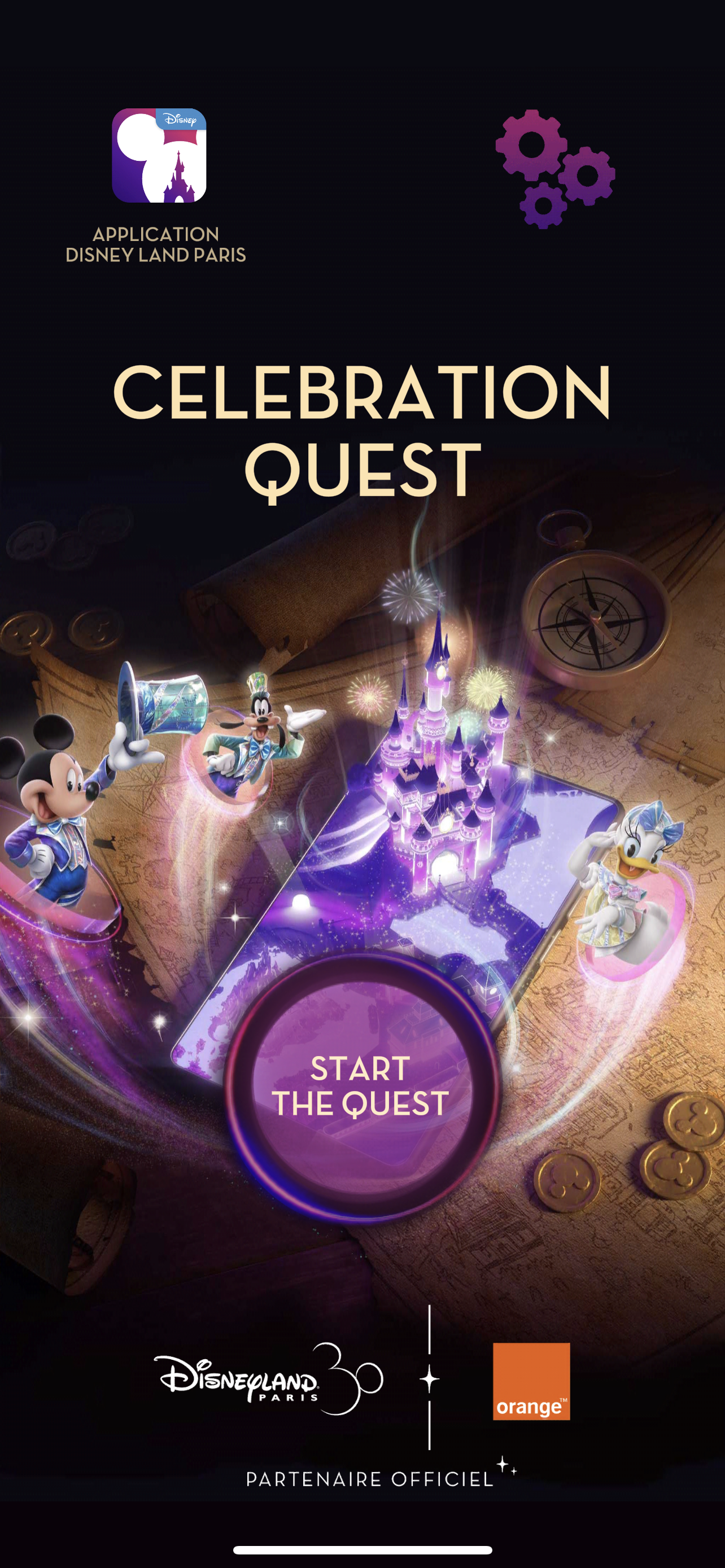 Unlock a digital badge, and a fun fact, by scanning one of the many decor elements located around the parks with your phone's camera and solving the puzzle. If the puzzle is too difficult, you can use your "Magic Book" to help you!
They are 5 badges to collect in each land with an extra 5 rare badges for you to find! Some badges are hidden and will only appear on the App when you enter that land, so make sure you keep checking the App.
After solving and collecting all the badges within a specific land you will unlock an exclusive photo filter with a fan favourite Disney character in their 30th Anniversary Costume! They are a total of 7 filters to unlock, 5 from within Disneyland Park, 1 for Walt Disney Studios, and 1 for completing the "Treasure Hunt".
Once you have completed the "Treasure Hunt" and/or the "Collection" you will be able to enter the prize draw to win a fantastic prize such as Park Tickets, a stay at Disneyland Paris or a 5G smartphone.