A dream is a wish your heart makes, and many peoples wish has come true with the return of the Royal Breakfast, breakfast with the Disney Princesses at Auberge de Cendrillon is now available to book for guests booking direct with Disneyland Paris for stays on or after the 8th of June (€50/adult, €40/child).
A magical breakfast with Disney Princesses at the Auberge de Cendrillon
Get ready for a royal breakfast in the company of the Disney Princesses in this majestic medieval banquet hall. Soaring stone archways, house flags and spectacular stained-glass windows provide a royal backdrop, as you perfect your taste for the finest in French cuisine. Remember, you'll be holding court in the company of the Disney Princesses in their finest attire, so young Guests are encouraged to dress for the occasion.
As a one-of-a-kind table-service Disney Princesses breakfast, this is quite simply a not-to-be-missed experience you'll remember happily ever after.
Two Royal Sittings for Breakfast with Disney Princesses
Similar to character dining at Plaza Gardens, guests will be able to book either a 8:15am or 9:45 breakfast sitting at the Auberge de Cendrillon!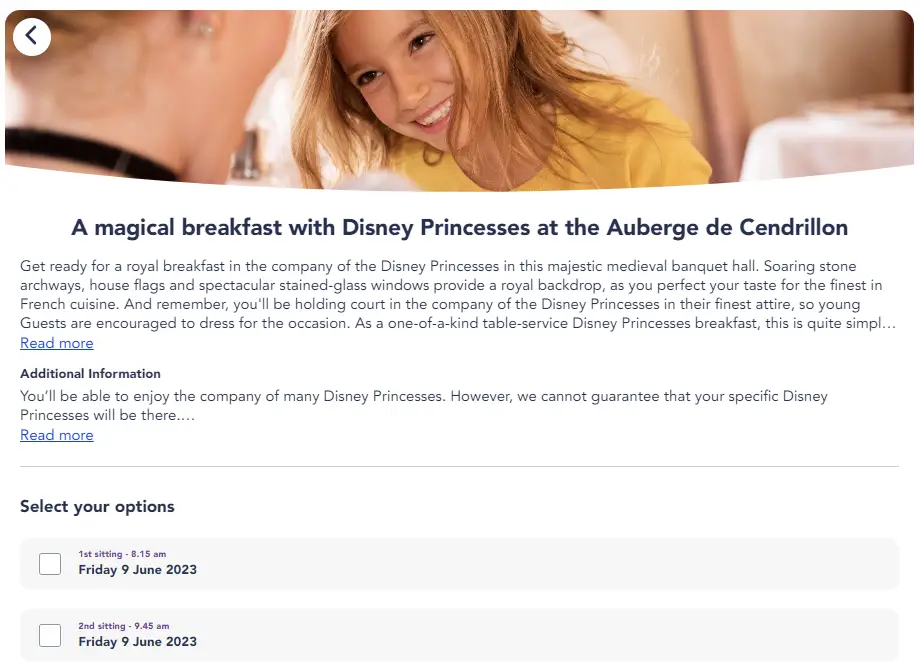 Additional Information
Breakfast pricing starts from €50 per adult, €40 per child
You'll be able to enjoy the company of many Disney Princesses. However, we cannot guarantee that your specific Disney Princesses will be there.
Children under three eat free (sharing a plate with their parents).
Supplement pricing available for guests with meal plans or with Suite or Club Room bookings.
Cannot be exchanged or refunded.
A valid entry Ticket for Disneyland Park is required to access the restaurant.
Please note: Character Dining experiences may be temporarily modified or unavailable in line with the changing health situation