Following its refurbishment, the Newport Bay Club has quickly moved to into the top two hotels available at Disneyland Paris, alongside the flagship Disneyland Hotel.
With over 1000 rooms, the Newport Bay Club Hotel is the largest hotel at Disneyland Paris, and this 4-star hotel aims to immerse you into a luxurious coastal experience. The hotels yacht club theme, will bring back memories of the Yacht Club at Walt Disney World, and features a wide selection of restaurants, bars and lounges.
Situated next to Lake Disney, The Newport Bay Club is only a 15-minute scenic walk to the Park. The hotel also offers a free shuttle bus for those who love Disney transport.
Newport Bay Club During COVID
The Newport Bay Club was one of the first hotels Disneyland Paris opened after the forced closure during COVID. Whilst other hotels have experienced delayed openings, or are still closed, this hotel has remained opened throughout the pandemic whilst the Parks have been opened. Due to the location and size of the hotel, this was an obvious choice for Disney to open, whilst the main Disneyland Hotel remains closed.
Newport Bay Club Hotel Booking and Price
When looking to visit Disneyland Paris, the dream for most guests is the stay in the Disneyland Hotel. However, not far behind this is the Hotel Bay Club. However, when we booked our stay we were pleasantly surprised at the pricing model set against this hotel. For the quality of the hotel, location and views of lake Disney we feel this hotel offers great value for money.
So lets take a look at the price. When writing this, our next stay in this hotel is for February 2021. Like most of us, we all want to find the best deal and save as much money as possible. Whenever we book a trip, we always compare, and we advise you to do the same.
When we made this booking this Disney, they were offering some fantastic deals. However, you can also grab some great deals on this fantastic hotel, with rooms from as little at £180 per night via 3rd party websites such as Agoda and Booking.com. However, when you dig into it and compare the options, booking with a third party may not always be 'cheaper' overall.
For example…
Booking directly with Disney can be done online on their website, or via their telephone booking line. The example stay we have chosen is for a 2-night stay in Feb 2021. (This is a Monday-Wednesday stay) without transport.
Booking Directly with Disney, this hotel bookings have special offers. For a total price of £735.02, you get 2 nights in the Hotel Bay Club, 3-day (2 parks) theme park tickets, free half board meal plan, and a gift card for €100.
If you decide to book with Agoda, the hotel is priced at £185 per night, totalling £370. However, this does not include theme park tickets or meal plan. A meal plan for this period would be priced at around £200 and theme park tickets would be £390 (with Disney). This would make the overall cost £960 and you don't get the Disney gift card. 
This is a great example where 'low' third party hotel prices are not always the best option for most guests to the park. It is always best doing your research and comparing the current offers. .
TIP – How we Save and Stay in The Newport Bay Club hotel far cheaper
This year is the first year we have purchased the annual pass as we plan on visiting the park many times. At the time of writing this review currently have a booking visiting each month for the next 5 months. Each stay in a selection of Disney hotels.
Our tip to you would be to buy an annual pass. With the annual pass you get exclusive offers and up to 50% discount when booking any Disneyland Paris Hotels. When I called and enquired about this date, I was offered this for less than £180 per night direct with Disney! This basically means if you visit Disneyland Paris more than once a year you will be saving hundreds of pounds!
Location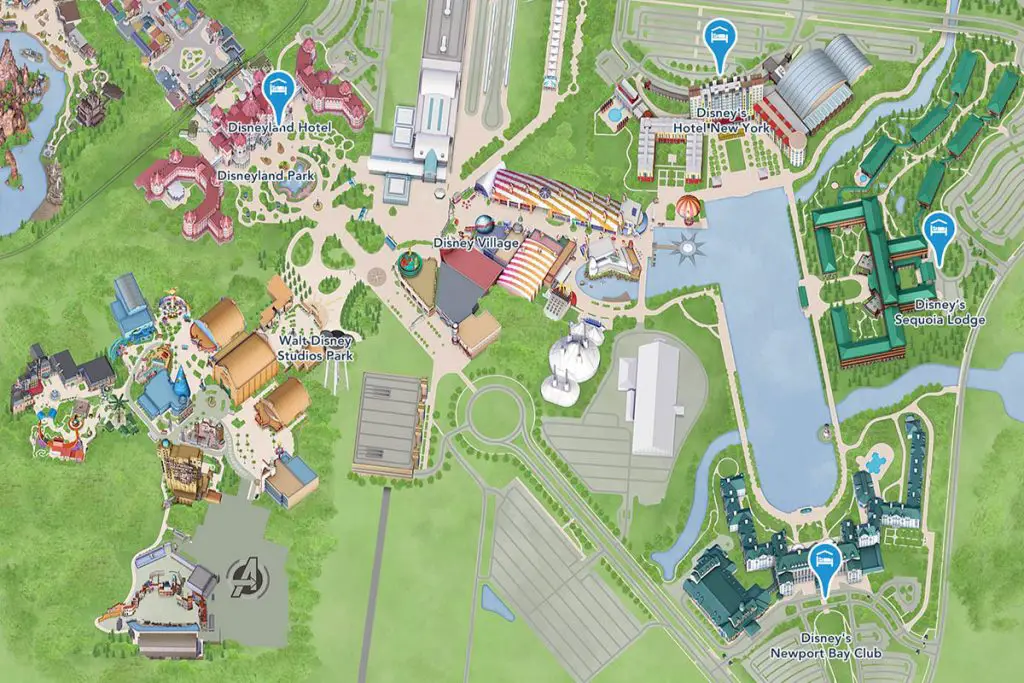 Wow! Situated on Lake Disney, the hotel offers one of the most beautiful views of any hotel at Disneyland Paris. Placed alongside Lake Disney you are placed directly in the middle of a luxurious coastal area, which even has its own small lighthouse!
As if any stay at Disneyland, the location of your hotel plays a big part in your trip. The closer you are to the park, the easier it is to change outfits, or simply grab things you have forgotten, or even just to take a quick hour to relax out of the park. We have found this location to be one of the best available at Disneyland Paris.
If the weather is nice, it will only take a 10-15 minute stroll alongside Lake Disney and through Disney Village to get to the Park from the Hotel. However, due to the theming and views you will feel likes it's much shorter. Again, you can take a 5 minute Disney Bus.
Hotel Theming and Design
In our intro we said that the hotel will remind you of the Yacht & Beach Club Resort at Walt Disney World, and as they were both designed by Robert A.M. Stern Architects its clear to see why. Looking into this in more detail, we have read that they did use different colour tones on the hotel. However, this has been done for a specific reason. In Disneyland Paris, the Newport Bay Club uses a warmer colour palette, to try and give the impression of warmth to the usual cooler weather. Whereas in Walt Disney World, a cooler colour palette is used to help you seem cooler in the warmer weather.
The design of the hotel easily brings a 1900s coastal mansion theme onto Lake Disney, and adds a touch or maritime romance to the air. With over 1000 rooms it was the biggest hotel in France after its refurb in 2016. However, by strategically placing all rooms off the main building or within the wings you will find walking to your room much closer than other Disney hotels such as Hotel Cheyenne.
Drinking & Dining
Dining at the Newport Bay Club has two restaurants and a lounge bar. As with most Disney hotels within the Paris resort, they have a buffet style restaurant and table service option.
Cape Cod is the buffet style option, which offers a nautical Mediterranean style food options. It has quickly become a fan favourite for seafood specialities. With fresh fish, salad and wonderful deserts, all brought to land and served within nautical platters such as mermaids, giant shells and golden anchors.
The Yacht Club, is the fine dining table service option at Newport Bay Club. Similar to Cape Cod, you have seafood delicacies inspired by New England and the Mediterranean. 
The reviews from these restaurants have been outstanding, with many people stating it's the best place to eat in Disneyland Paris. However, if like myself, and you are not a lover of Seafood, you may find it hard to satisfy your appetite, but the deserts help!
At the end of the day you can 'sail over' to the Captain Quarters, the nautical themed lounge bar. Offering a perfect mix of hot and cold drinks, those Disney Cocktails, as well as bar snacks. It's a perfect spot to relax at the end of a busy park day.
Newport Bay Club Hotel Park Privileges
All guests who stay at Disneyland Hotel Paris will have access to some fantastic perks! As with any stay in a Disney hotel, you will have access to the Extra Magic Time. This allows you to enter either park an hour before it opens to the public. This is a great time to get on those long queue time attractions such as Crush's Coasters, Thunder Mountain and Ratatouille.
They are also added benefits for guest staying in Compass Club. This club is the name of the suites within Newport Bay Club. Guests staying here are also provided with free VIP FastPass. This provides them with unlimited FastPass access to any of the Disneyland Paris FastPass queues.
On top of this, you also get a special, faster, private check in service and access to a dedicated lounge. This lounge provides you with free (non-alcoholic) drinks all day, as well as afternoon tea each day.
Check-in
If like us, you always arrive early to get the most from your first day at Disneyland Paris. This does usually mean your room will not be ready, as rooms are usually ready after 3pm.
As the Newport Bay Club has standard rooms and Compass Club suites, you will find differences in the check process depending upon your room type.
We have found, that due to the size of the hotel, you often wait over 30 minutes to queue and check into the hotel when you arrive. In addition to this, if you arrive with luggage you will have to go through an x-ray machine first. Similar to other Disneyland Paris Hotels, the hotel does offer a service to store your luggage and provide you with a MagicPass card. This will provide you with all perks as hotel guests before you check in. This includes access to Extra Magic Hours as well as the other amenities such as swimming pools.
If you are lucky enough to stay in a Compass Club room, your check in will be different. You are greeted upon arrival to the hotel, and taken to a private check in desk within a small room off to the side of the hotel entrance. When we stayed, we were offered a drink whilst they went through all the hotel has to offer. They spend as much time as you want to go through all the added extras you have as well as great tips to get the most from your stay at the hotel. This private desk is only available to Compass Club guests, and quickly becomes a key part of your trip, as they are available for questions and make reservations or requests at any time of the day. 
Newport Bay Club Hotel Paris Rooms & Compass Club Suites
As the hotel as recently gone through a refurbishment, it is no secret that the rooms are spotless. Following the nautical theme, the rooms give an impression of being in a seaside mansion or inside a ships cabin on one of the Disney Cruise Ships. Every detail points back to the nautical theme, from the hidden Mickey Steamboat Willie Helm used as the headboard for the beds, to the portholes near the top of the room. All in all, the distinctive top class styling we come to expect from a Disney Hotel.
Newport Bay Club offer multiple standard room types suitable for 2 to 5 people. Each room has the charming nautical theme for you and your family to enjoy. Within the 'standard' room options you can upgrade to a room with a Terrace or Lake View. A Lake view is a must, you cannot beat waking up or just sitting looking over Lake Disney. I say that, but in my honest opinion, it's the second-best room view, alongside looking down main street and to Sleeping Beauty Castle. However, you pay double or triple the cost for that, and you have to ask yourself is that view worth the extra price?
As with the Disneyland Hotel, this hotel also has Suites available. Suitably named 'Compass Club' these rooms are suitable for 2 to 6 people. Once again offering Lake view rooms, along with a selection of high-class Presidential Suites which provide over 890 square foot of space! All these rooms are located on the top 2 floors of the hotels, which ensures the best views across the lake. Another bonus is that you will be able to see the nightly fireworks direct from your room!
Newport Bay Club Hotel Paris Amenities
New Port Bay Hotel has some of the best amenities of any hotel at Disneyland Paris. With both an outdoor and indoor pool, with the later offering a stylish pool featuring a large boar at one end.
Newport Bay Club Paris Hotel Conclusion
If you are thinking about which hotels to book for your Disneyland Paris trip, then this hotel is one we would highly recommend. As a bonus, and at certain times of the year you could also stay in Compass Club for the same price as a standard room in the Disneyland Hotel, which provides you with all the additional extras and import VIP FastPass.
The hotel is beautiful inside and out, and in addition offers stunning views across Lake Disney.