Designed to glide you into a magical life of luxury The Disneyland Hotel is the flagship hotel at Disneyland Paris. The Victorian style hotel features elegant theming and sumptuous décor of the of the late 1880s. With decadence rooms designs you would expect from a classic country hotel. As the only hotel offering views of inside the theme park, and Sleeping Beauty Castle view rooms available this hotel you can easily add the pixie dust on top of a magical visit. 
With character meet and greets, character dining, selfie spots, and optional extra upgrades such as Princess makeovers, you will never be far from a classic Disney character whilst inside the hotel. However, this hotel is not just for character meets. Featuring an indoor swimming pool, spa, sauna and steam rooms, fitness centre, two excellent restaurants and piano bar areas you can easily take some time out of the park and relax in the hotel.
Staying here is the dream for most guests at Disneyland Paris and Disney fans alike. It was also our favourites place to stay at Disneyland Paris but it is important to note this also one the most expensive hotels at Disneyland Paris.
Disneyland Hotel Booking and Price
This is one of the most expensive hotels at Disneyland Paris. However, in our opinion, and many Disneyland guests agree, to stay here is the ultimate dream.
As we say with many of our hotel overviews, any trip we book to Disneyland Paris, we always compare all options available. Do we book direct with Disney, or build your own package. Depending upon the Disney offers available at the time either method can save you hundreds of pounds and make staying at the dream hotel, so much cheaper!
Booking direct with Disney can be done online on their website, or via their telephone booking line. Other websites also offer stays this hotel, such as Kayak, Agoda or Expedia. Please be aware you only get the exclusive offers such as free dining when you book direct with Disney.
People often say that booking direct is more expensive, however, this is not always the case and we would recommend you check your dates before you book to see what is the best option for you.
For example, a stay in Jan 2021 for 2 nights. (This is a Monday-Wednesday stay) without transport
Booking Direct with Disney, this hotel bookings has special offers. For a total price of £1350.46, you get 2 nights in the Disneyland hotel, 3 day (2 parks) theme park tickets, free full board meal plan, and a gift card for €100.
If you decide to book with 3rd party, such as Agoda, the hotel is priced at £794. However, this does not include theme park tickets or meal plan. A meal plan for this period would be priced at £460 and theme park tickets would be £390 (with Disney). This would make the overall cost £1644.
TIP – How we saved over £600 and stay in this hotel far cheaper
This year is the first year we have purchased the annual pass. As we plan on visiting the park many times , and we currently have a bookings visiting each month for the next few months (not all in this hotel).
Our tip to you would be to buy an annual pass. With the annual pass you get exclusive offers for all Disneyland Paris Hotels. When I called and enquired about this date, I was offered the same room at Disneyland Hotel for less than £600! This makes this dream hotel so much more achievable. If you plan on going to Disneyland Paris more than once a year it also makes it even more of a deal!
Disneyland Hotel Paris Location
Disneyland Hotel is the fairest of them all and built directly above the entrance to Disneyland Paris. As well as been famous for its elegant design it is also high recommend for its location.
This is the only hotel which looks directly into the Disneyland Paris theme park. Due to this it is also located very close to the Disneyland Paris Walt Disney Studios, a quick 5 minute walk from your room. As a comparison to this, the next closest hotel Disney's Hotel New York (Art of Marvel) which is about a 15 minute walk to Disneyland Paris and a 10 minute walk to the Studios Park.
From this hotel you can get fantastic views of the park and Sleeping Beauty Castle from the hotel's lobby areas as well as restaurants.  As a special touch you can even book rooms which look directly into the theme park, where you can see down main straight, the Disney Castle, and see many attractions.
No security lines, no shuttle buses!
Location, location, location is what they say and you cant get much better than this hotel. However, one of our favourite reasons to stay at this hotel is that the entire hotel is located within the security area of Disneyland Paris. This means you pass through security when you arrive at the hotel, however, once your checked in you won't have to see that security line again!  You simply leave your room, and walk straight to the entrance of a park or Disney village. This is great after a long day on your feet, as it only takes a few minutes from leaving the park to be sat in your room.
Hotel Theming and Design
The Disneyland Paris Hotel has taken inspiration from the Victorian period. With the usual high standards of theming and decadence from the Imagineers, you are whisked away to the luxury of the late 1800s.
Character Meets
This hotel Great for character experiences. Every morning and at periods throughout the day you will see one of the famous 5 by the fireplace with a photographer ready to take your picture.
You also have a character dining experience within the hotel. Inventions is a buffet style restaurant featuring many different characters. We have seen everybody from the famous five such as Micky and Donald, to Captain Hook, Stitch, Tigger and Gepetto. I am unsure if they have a routine for which characters are there, but each time we have gone they have been a mix of characters which gives you great photo and interaction experiences
You also have a special character meet at Breakfast for guest staying within the Castle Club suites.
Drinking & Dining
They are 2 restaurants and a Bar within The Disneyland Hotel available to all. This also does feature a special restaurant available to Castle Club Suite guests only. This provides you with a great mix of buffet style and table service options, and a special Character Dining Experience. All of these are located on the 2nd floor and are situated next to each other around a seated area.
Inventions is a character dining experience, and offers an all you can eat buffet style Breakfast, Lunch and Dinner. Please be aware that character dining is only available at Lunch and Dinner.  This buffet offers wide range of food selections from around the world and has something for everybody!
California Grill is a table service restaurant offering sophisticated and family-friendly dining. Whilst dining here, you will have great views overlooking main street and the Disneyland Paris Park. However, the menu is focussed towards guests who appreciate fine dining with choices of Lobster, Duck terrine or the classic Angus fillet. It is also worth mentioning that California Grill does have a Dress Code.
Café Fantasia is a must for all guests. The softly-lit piano cocktail bar, inspired by, you guessed it, Fantasia. With relaxing musical notes from classic Disney films it is an ideal place to sit, relax and ensure a nice cocktail whilst taking about your day.
Disneyland Paris Hotel Park Privileges
All guests who stay at Disneyland Hotel Paris will have access to some fantastic perks! As with any stay in a Disney hotel, you will have access to the Extra Magic Time. This allows you to enter either park an hour before it opens to the public. This is a great time to get on those long queue time attractions such as Crush's Coasters, Thunder Mountain and Ratatouille.
They are also added benefits for guest staying in Castle Club. This club is the name of the suites within Disneyland Paris Hotel. Guests staying here are also provided with free VIP FastPass. This provides them with unlimited FastPass access to any of the Disneyland Paris FastPass queues. You also have a key card elevator which takes you directly from the castle club lobby, to the park turnstiles.
On top of this, you also get a special, faster, private check in service and access to a dedicated lounge. This lounge provides you with free (non alcoholic) drinks all day, as well as afternoon tea each day.
Check-in and Rooms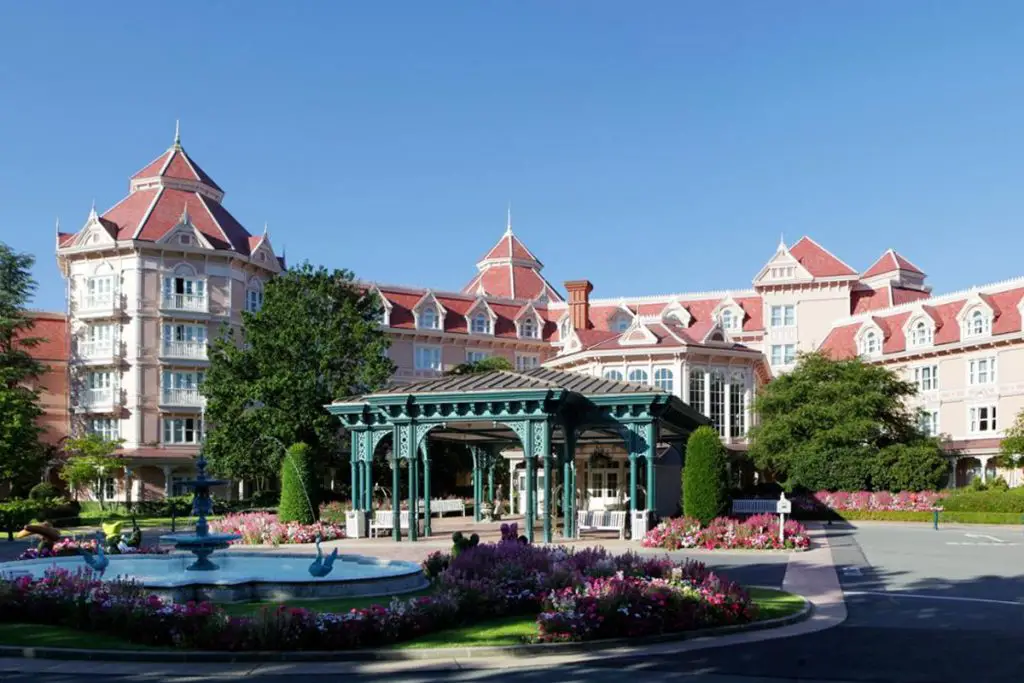 As we previously advised, this is the only hotel which requires you to pass through security before entering. If you arriving by car, the hotel has its own entrance and valet parking. You will pass a security check point before reaching the hotel where they will confirm your stay within the hotel. Once you arrive your bags will get scanned, similar to an airport.
If you arrive by train to you will arrive at Marne-la-Vallée, Chessy station. Before you reach the hotel, you will need to go through the security checkpoint. After this, and as you walk towards to the hotel building, you will easily notice the entrance to the hotel is to the right hand side of the building. Please don't want under the Disneyland Park sign as you will just end up at the turnstiles and will need to backtrack.
If like us, you always arrive early to get the most from your first day at Disneyland Paris. This does usually mean our room isn't ready (rooms are usually ready after 3pm). However, the hotel does offer a service to store your luggage and provide you with a MagicPass card. This will provide you with all perks as hotel guests before you check in. This includes access to Extra Magic Hours as well as the indoor pool and spa.
Disneyland Hotel Paris Rooms & Castle Club Suites
Disney list that they are 6 rooms types available, all which are styled in the classic 1880s railroad Victorian era. However, this can easily be just 2 room types. A Superior Room or a Superior Room with Terrace. The other room types just change based on number of guests. This includes rooms designed for 2 people, 4 people (two double beds), or 5 person family room (2 double beds, 1 sofa bed)
They are Castle Club rooms and 5 suites rooms available as Disneyland Paris. The suites include, Junior Suite, Tinker Bell Suite, Walt's Apartment, Cinderella Suite, and Sleeping Beauty Suite. The Castle Club rooms are available with Park or Garden views, where all suites have Park views.
Each room is decorated beautifully with many hidden gems within the décor. From designs within the wallpaper to little ornaments and design nods to films or Disney designs throughout. 
Each room has what we call the 'essentials'. This includes air conditioning, free WiFi, safety deposit boxes, and a hair dryer. However, you will also find many other add-ons such as slippers, bathrobes, tea and espresso coffee facilities as well as Disney tv channels.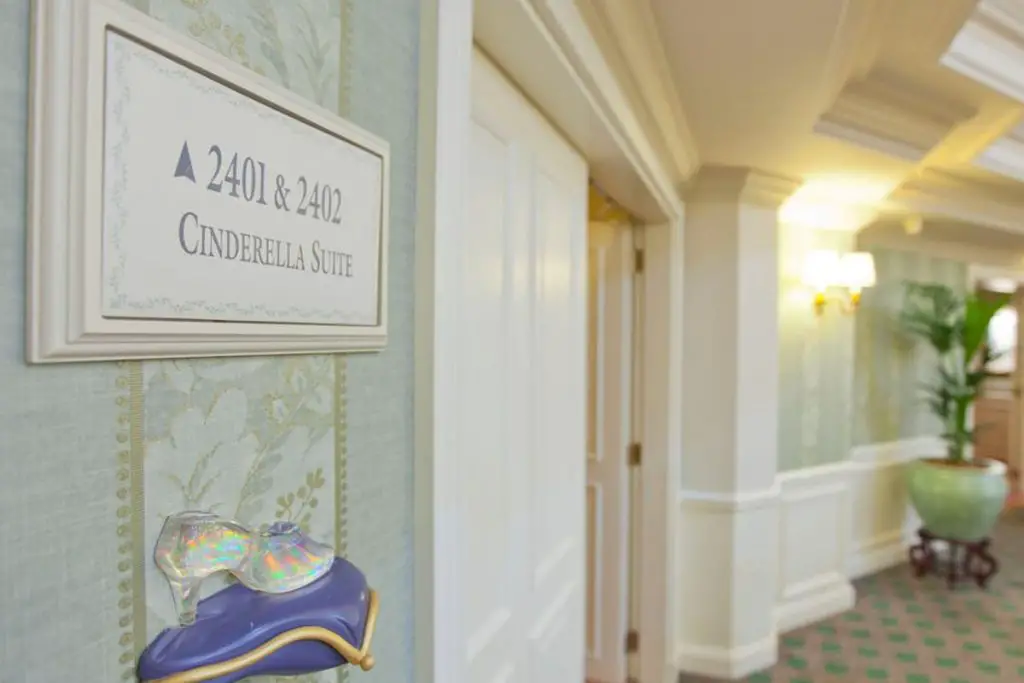 As well as the in room options standard rooms provide, the Castle club rooms and suites also offer a Private reception desk, and complimentary sweet and savoury snacks, and that all important VIP FastPass.
One thing we have found, any many other guests, that the rooms do lack electrical plug points. However, they are starting to add more to the rooms, as well as additional USB plug options. 
Disneyland Paris Hotel Conclusion
We are often asked is this hotel is "worth it" or "where is best to stay at Disneyland Paris", and it is not always easy to answer.
We have stayed at a wide range of hotels whilst visiting Disneyland Paris, and I have to admit this hotel tops the lists of places. With the combination of décor and location, and has to be the dream place to stay. However, we only stay here for special occasions due to the price.
For quick trips, they are much cheaper options which give you the same perks without the location. For dining options, as with all things Disney you don't need to be a guest to eat in the hotel and take advantage of the fantastic views.
Many people like ourselves, probably don't get the most out of the hotel. We only stay for a few nights and spend most of our time in the parks. Most people we talk to have not taken advantage of the swimming pool, spa or fitness centre. That said, I think we do enough exercise walking around all day!
That said, if money wasn't an option. I would stay here every time! There is just something magical about staying in this hotel. You never leave the Disney experience throughout your trip, by going through or seeing security check points.